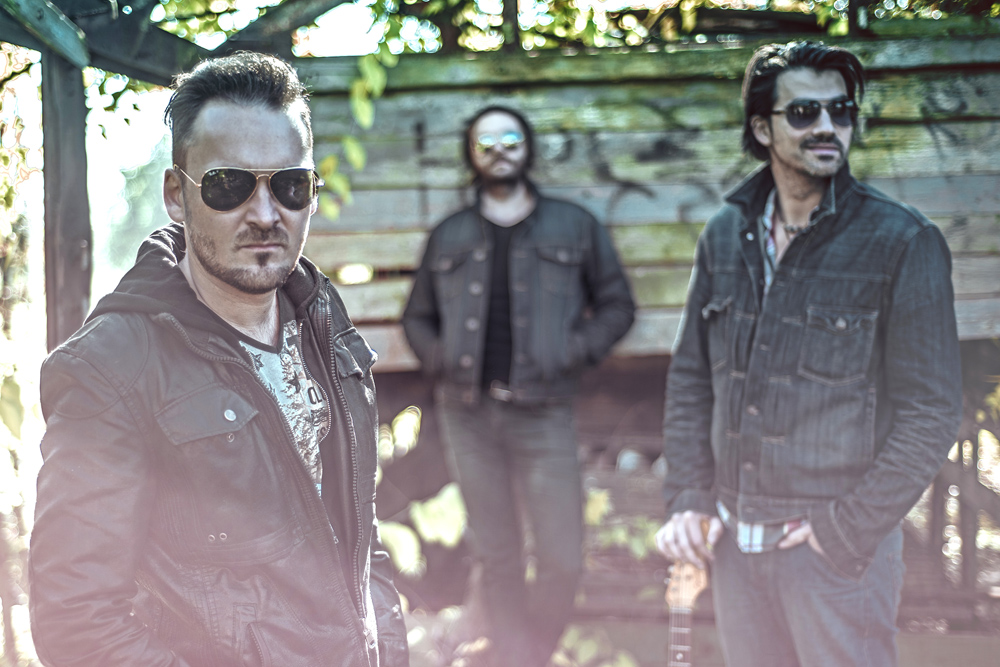 A blues és a blues-rock manapság nem tartozik a legnépszerűbb műfajok közé, így mindig nagy örömmel tölt el, ha egy új zenekart mutathatok be az olvasóknak. Vagy nem is annyira új? Erről majd Géczy Viktor mesél nekünk, akik a Jazztelen power-triojának gitárosa.

OTRNR: - Szia Viktor! Még 2013-ban hoztátok össze a csapatot, utána jött egy kisebb szünet és most újra aktívak vagytok. Mesélj egy kicsit arról, hogy milyen apropóból alakult meg a Jazztelen!

Géczy Viktor: - Valóban, a színpadra lépésünket pár éves műhely munka előzte meg, számokat írtunk, kigondoltuk, hogy milyen formációban és hangszerelésben állunk színpadra és amikor összeállt a bő órás műsorunk, elhatároztuk, hogy belekezdünk a közönség toborzásába, elsősorban klubkoncerteken keresztül. Kell hogy az ember az álmainak is éljen, írtunk egy csomó dalt és nem szeretnénk, hogy egy fiókban porosodjanak. Megértünk arra, hogy megalkossuk a "rádióbarát" blues-rock muzsikát - hatalmas szájharmonikázással, virtuóz gitárszólókkal, eszement dobolással - egy power-trióban.

OTRNR: - Kérlek mutasd be a tagokat, illetve arra volnék kíváncsi, hogy milyen zenei előélettel rendelkeztek?

Géczy Viktor: - Bűdi Szilárd (ének, szájharmónika, basszusgitár), Géczy Viktor (gitár), Kottler Ákos (dobok). Mindannyian hosszú évek óta a hazai könnyűzenei életben jeleskedünk, de többnyire session zenészként láthattatok minket, sok feldolgozást játszva. Szili közismert a médiában, sok TV-s produkcióból és rendezvényekről, akár egy polihisztor: énekel, szájharmonikázik, gitározik és nem utolsó sorban basszusgitározik; Viktor (jómagam), funk és blues szerelmese, a Lee Ritenour gitárversenyen nagy büszkeségemre második lettem a blues kategóriában az Egyesült Államokban; és Ákos, aki "csupán" a kontinensünk egyik legjobb (hanem a legjobb) dobosa:)  

OTRNR: - Stílust tekintve a blues-rock műfaj útján indultatok el. Milyen zenekarokat hallgattok, kik az abszolút kedvencek, milyen előadók befolyásolnak titeket?

Géczy Viktor: - Természetesen visszanyúltunk a 80-as évek magyar rock-blues ikonjaihoz, (Hobo Blues Band) de az időszak nemzetközi előadói (Led Zeppelin, Rolling Stones, Deep Purple, Jimi Hendrix) mellett az újkori nagyok (The Winery Dogs) is ihletet adnak.

OTRNR: - 2016-ban egy két hónapos közös turnéra indultok a Kowalsky Meg a Vega-val. Hány állomást érint a turné és merre mutatjátok meg magatokat?

Géczy Viktor: - Hatalmas megtiszteltetés hogy Kowáék választása ránk esett és 10 állomásos vidéki turnéra indulhattunk vendégükként az NKA Cseh Tamás program támogatásával. Ezeken az klubhelyeken biztosan találkozhattok velünk (a többi egyeztetés alatt): Ajka, Székesheférvár, Dombóvár, Balassagyarmat, Tatabánya, Szombathely, Gödöllő, Budaörs. Igazán közel került egymáshoz a 2 banda, sok segítséget kapunk tőlük! Nagy ajándék, hogy a közönségük előtt bemutatkozhatunk!
OTRNR: - Ha jól informálódtam folyamatosan születnek az újabbnál újabb dalok. Hogyan áll össze egy Jazztelen nóta?

Géczy Viktor: - Többnyire Szili a fő dalszerző, évek alatt összegyűjtött ötletekből (olykor csak egy kis riff-ötletfoszlányból) közös munkával dal születik, magyar szövegekkel.

OTRNR: - A koncerteken feldolgozásokat is játszotok? Miket?

Géczy Viktor: - Egyelőre csak saját dalok vannak a műsoron, de tervezzük hogy egy-egy feldolgozást becsempészünk a repertoárba, ezzel is népszerűsítve a zenekarunkat - egy-két Rolling Stones,  Jimi Hendrix , Deep Purple és Hobo Blues Band dal lesz és bővül a saját repertoár.

OTRNR: - Terveztek mostanában valamilyen kiadványt? EP-t, esetleg nagylemezt?

Géczy Viktor - Több számunkon is vendégelőadók ("ikonok") szerepelnek, többek között Tátrai Tibor, Póka Egon, Premecz Mátyás - ebből szeretnénk egy ütős EP-t kihozni, amit összekötünk egy lemezbemutatóval. Természetesen minden népszerű csatornán megjelenik albumunk, ahogy az manapság egy valamire adó zenekartól elvárható (Spotify, Deezer, …)

OTRNR: - A legtöbbször megszoktam kérdezni az interjúk során. Hogyan látod a könnyűzenei helyzetet ma Magyarországon? Milyen nehézségei vannak a zenekaroknak?

Géczy Viktor: - Megszámlálhatatlan kincs található minden műfajban, de a legtöbb esetben ezek nem jutnak el a hallgatósághoz - felértékelődött a tudatos menedzsment, a hosszútávú, jól átgondolt stratégia szerepe, rengeteg háttérmunka és kitartás szükséges ahhoz megismerjen a közönség. A kiadók már sokszor kész, befutott termékeket várnak, szeretnék ha minél kevesebb invesztíciójukba kerülne egy zenekar befuttatása - ami részben érthető. Viszont azt gondolom hogy az "élő magyar zene" egy új korszaka köszöntött be, soha nem látott tömegek mennek el koncertekre, fesztiválokra.

OTRNR: - Mik a terveik az idei évre nézve?

Géczy Viktor: - Nemrég Tátrai Tiborral vettünk fel egy számot és egy klipet forgattunk - Tibusszal jó kapcsolatot ápolunk és ő egy nyitott ember így akármi elképzelhető. Nagy öröm volt vele a munka, hihetetlen volt, hogy a gyerekkori példaképünkkel stúdiózunk. A klip hamarosan megjelenik, ami werkszerűen dolgozza fel a közös stúdiómunkát.
Emellett nekilendültünk az országnak, lemezbemutatóval készülünk,  tervben van hogy vendégül hívjuk a már említett  "ikonokat"; A vidéki klubturné után egy budapesti bemutatkozó koncerttel szeretnénk "megérkezni" fővárosunkba, az eseményt egy klippremierrel népszerűsítve - hamarosan elárulunk több részletet, kövessétek a facebook oldalunkat