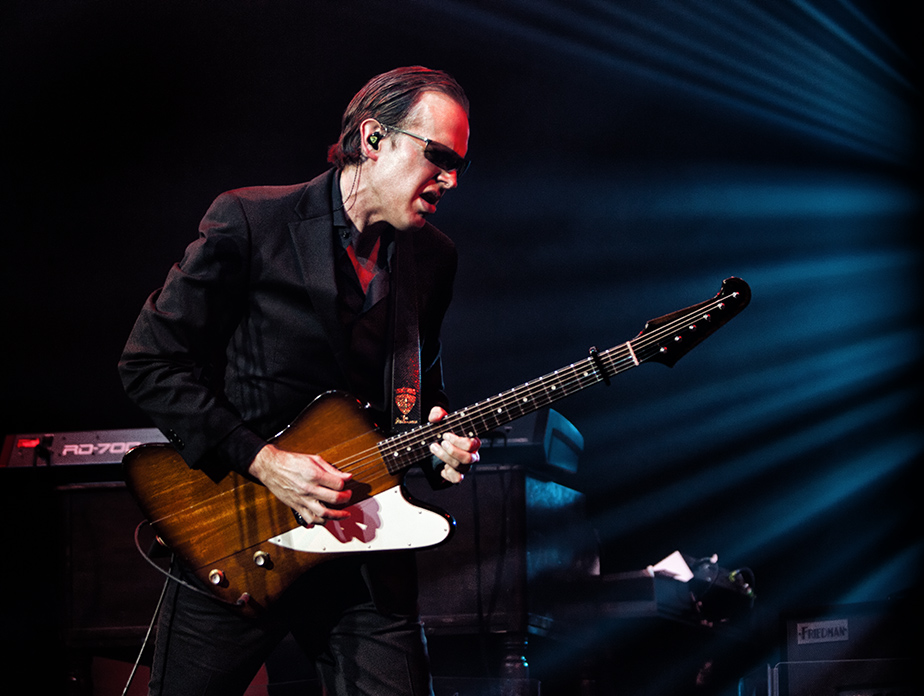 Bár még csak 38 éves, máris 13 nagylemezt tudhat magáénak, ezek mellett a blues zene világméretű rajongótábora is elismeri, a fiatalok példaképként tekintenek rá. Joe Bonamassa március végén adta ki 'Blues Of Desperation' című új albumát, mellyel megmutatta egyik koszosabb, mocskosabb zenei oldalát. A lemez az óta egyre feljebb kúszik a zenei listákon, valamint a szakma is előkelően nyilatkozik róla. Joe elmondta az előzetes interjúkban, hogy szeretné megmutatni a közönségének, hogy nem ragad meg egy szinten. A zenei fejlődést tűzte ki célul.
Összességében elmondhatjuk a lemezről, hogy Joe a tradicionális blues dalok mellett a brit blues-rock irányába vitte a lemezt, ami persze eddig sem volt szokatlan tőle, most inkább azt mondhatjuk, hogy egy kicsit élesebben vette ezt a kanyart. Többszörösen visszaköszön a Led Zeppelin hangulata, de mindezek mellett az akusztikus old-school blues nóták jelenléte egy igen változatos lemez összképét képezik.
Tizenegy dal foglal helyet a Blues Of Desperation-ön. A 'This Train' egy jól megszokott Bonamassa-s hangzásvilággal, technikával megáldott blues-rock himnusz. Boogie-s ritmusa, dallamvilága teljesen jól illeszkedik egy lemez nyitódalához. A szövegvilágában szomorúbbra, zeneileg azonban igen dühösre sikerült 'Mountain Climbing' az egyik kedvencem az albumon. A fuzz pedál, a basszusgitár karakteressége emeli a dal színvonalát. A gitározás pedig rendesen Jimmy Page hatású. Tipikus XXI. századi blues nótaként lehet tekinteni a dalra.
A 'Drive' egy "naplementében a külváros utcáin furikázunk" dal. Chris Rea gitárjátékát juttatja eszembe, akárhányszor hallgatom. A 'No Good Place For The Lonely' középpontjában a magány áll, ezzel máris megcélozta a blues stílus egyik lényegi pontját, nem csak dalszövegben, de zenei értelemben is. A címadó dalról különösebbet nem lehet elmondani, minthogy Joe egy olyan központi riffet írt hozzá, melynek dallama napokig ott motoszkál az ember fejében. A 'The Valley Runs Low' egy akusztikus könnyed felfrissülés a zúzás után. Nagyon jól eltalált vokalisták hallhatóak a dalban. A lemez talán egyetlen olyan dala a 'You Left Me Nothin' But The Bill And The Blues' ami nekem kicsit idegen. Nah persze nem Joe-tól, hanem mondjuk ettől az albumtól. Az előző lemez összképéhez inkább illik. A zúzást továbbra sem hanyagoljuk. Recsegős fuzz pedállal torzított igazi, velejéig érett blues ballada a 'Distant Lonesome Train'.
Egy másik dal, ami nagyon közel áll a szívemhez, az a tempójában visszafogott 'How Deep This River Runs'. Melankolikus bevezető lágy dallamok, de a refrén miatt mégis egy energikus nótáról beszélhetünk, nagyon szépek a gitár harmóniák és az egészet ismét megtetőzi a zseniális vokális szekció. A 'Livin' Easy' esetében beszélhetünk igazi füstös tradicionális blues dalról. Előidézi a régi "nagyöregek" játékát. Igazi időutazó dal. Az utolsó, 'What I've Know For A Very Long Time' szintén a brit gitárosok játékát eleveníti fel, Gary Moore, Peter Green szelleme él.
Én azt gondolom, hogy Joe megcsinálta, amit az előzetes nyilatkozatokban megígért. Fejlődött és egy újfajta perspektívából állt hozzá ehhez az albumhoz, melynek meg is lett az eredménye. Újat tudott alkotni. Kilenc pontot adnék a lemeznek. Örömmel hallgatom napokon keresztül.