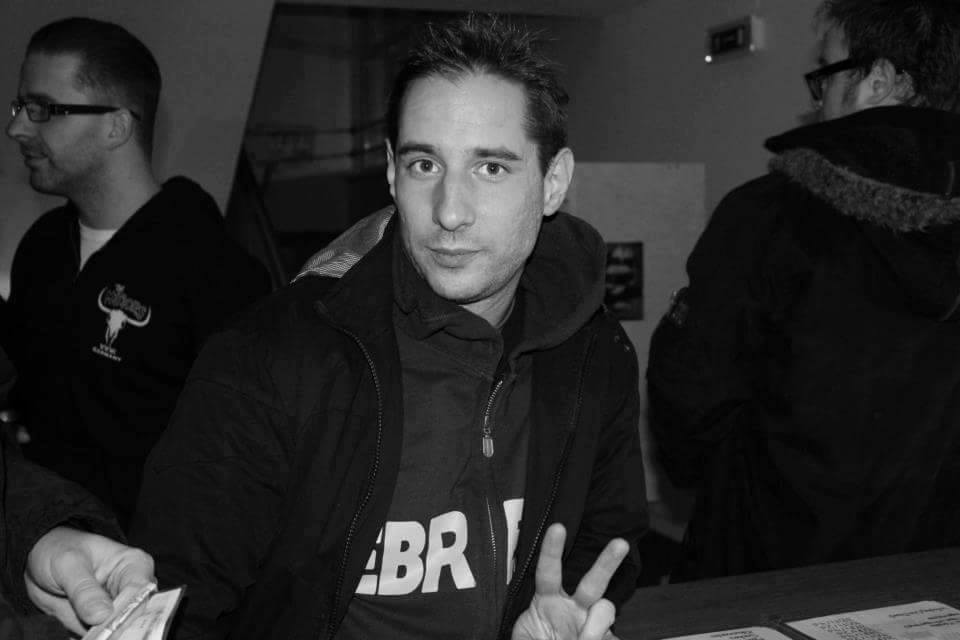 Új rovatunkban hazai zenészek, zenei szakemberek mesélnek olyan lemezekről, melyekre nem csupán kedvenceikként tekintenek, hanem életük, vagy zenei pályájuk egyik meghatározó élményét, pillanatát tulajdonítják nekik.  Sorsfordító korongok címmel két hete már elstartol az Old Time R'N'R Magazine legújabb rovata, most pedig máris folytatjuk Kiss Ákossal, akit a 3MMM és a Grungery újságírójaként, bloggerként ismerhettek.
Kiss "UtolsóCsillagharcos" Ákos vagyok: az a srác, aki már a járókában is Rolling Stonest hallgatott. Ez nem valamiféle jól hangzó önmarketingszöveg, vagy városi legenda, hanem tényleg.Ez a zenei indíttatás elsősorban megboldogult keresztapámnak köszönhető, náluk sokat voltam gyerekkoromban, és ott akaratlanul is magamba szívtam a jóféle oldtimer muzsikákat.Emlékszem, az első koncertélményem (ovis, vagy kisiskolás lehettem) egy 100 Folk Celsius koncert volt, ami nekem nem tetszett, mert éreztem, hogy ez az általam akkor már jól ismert Johnny Cash-hez képest nagyon gyenge.
Napjainkban zenei újságíróként és bloggerként ismernek néhányan, de mielőtt kapnám az "áldást", hogy milyen könnyű nekem a klaviatúra mögül másokat fikázni, azért leszögezném, hogy magam is sokáig aktívan zenéltem gitárosként (például a 2012-ben feloszlott Blues Rocketsben vagy a debreceni Rocksuli Rock N Roll Circusában), és a mai napig koptatom a húrokat néha a szoba sarkában. És bár napjainkra zenei mindenevővé váltam, de nem tagadom, hogy a rockzene az a közeg ahonnan elindultam, és ahová mindig visszatérek.
Amikor azt a megtisztelő felkérést kaptam, hogy állítsam össze számomra sorsfordító lemezeket, akkor volt pár nehéz éjszakám. Szinte lehetetlen volt választani: sok jó zenekar, sok mérföldkőnek számító lemez jelent meg a zenetörténelemben. Végül azokat a dalcsokrokat hagytam benne a válogatásomban, amelyek tényleg sorsfordítóak voltak a számomra. Amelyekhez sztorik, érzések, "többletek" fűződnek. Egy jó kis AC/DC vagy Aerosmith korongra bármikor elbólogatok, de azon kívül, hogy nagyon tetszik, és megunhatatlan, nem tudok róla mást elmondani. A TOP 10 es válogatásomról viszont igen…
Nirvana: Nevermind (1991)
A Kurt Cobain vezette Nirvana indította el a rocktörténelem legrövidebb, és leghatásosabb forradalmát a modernkori rocktörténelemben. Ez volt a grunge, ami a '91-es berobbanástól kezdődött, és alig 3 évvel később, az ikonikus frontember öngyilkosságával véget is ért.-mégis, a mai napig érezhető a hatása a rockzenében.
A zenekar és a fő dalszerző figurája erősen megosztó-főleg zenészkörökben. A Nevermind azonban egyrészt egy vitán felül álló slágerparádé, másrészt, meg aki nem kezd el a 'Smells Like Teen Spirit' első ütemeire bólogatni, az hazudik… Kurt Cobain nem volt egy gitármágus, és sokszor be se hangolta a gitárját, ez igaz. Viszont egy ösztön-zseni volt. Lehet azon vitatkozni, hogy mennyire volt jó e vagy sem, de a zenei teljesítményen jóval túlmutat az, amit hátrahagyott: a '80as évek túlszofisztikált glam/art-rockja helyett újra közel tudta hozni a hétköznapi srácokhoz a zenét, megadta azt az érzést, hogy "én is meg tudom csinálni". A mai napig számos tini úgy kezd ismerkedni a zenével, hogy az ő dalait kezdi el tanulgatni gitáron. Én is pont egy ilyen srác voltam…
Guns N' Roses: Appetite for Destruction (1987)
A Guns N Roses a másik olyan banda, amely alapjaiban határozta meg a zenéhez való viszonyulásomat. Ez egyrészt életkori sajátosság, hiszen én épp a '90es évek elején kamaszodtam, akkoriban pedig minden a GN'R ről szólt. Az 'Appetite for Destruction' nem csak szerintem, hanem a szaksajtó szerint is a világ egyik legsikeresebb debütáló albuma. Mostani füllel hallgatva is süt a hangzás, ragad a kosztól az egész, egy igazi tökös rock and roll anyag. Van is róla egy sajátos elméletem: a steril hangzású glam rock albumok korában egy ilyen bluessal, punkkal vegyített anyagot kiadni Hollywoodban nem csak merész dolog volt, hanem előremutató is.  AZ 1987-es év után pedig jött egy sokkal koszosabb hangzású divatirányzat, a fentebb említett grunge. Szerintem a Guns N' Roses akaratlanul is megágyazott ennek, mert megmutatta a lemezkiadóknak, hogy be lehet vállani egy kis merészséget a bevált receptek helyett. 
A tagok szólóprojektjeit egyébként a mai napig figyelemmel kísérem, a reunion mizériától viszont feláll a hátamon a szőr, mert nem hiteles számomra az egész. Ha már aktualitásokat keresünk ebben a vonatkozásban, akkor annyit tudok mondani, hogy #GoHawks és #WeWin. Aki érti, az érti, aki nem, az nézzen utána (nevet)
Rage Against The Machine: Rage Against The Machine (1992)
A mai napig áthat az az érzés ezt az albumot hallgatva, hogy át tudnék menni a falon. Iszonyatos energia volt ebben a zenekarban. Tom Morello, mint gitáros pedig egy igazi szobagéniusz, aki a klasszikus zeneiskolát kihagyva, teljesen alternatív módon alkotott egy nagyon sajátos hangzást. Bevallom őszintén, az ilyen típusú zenészek sokkal közelebb állnak a szívemhez, mint a tucatszámra kinevelt "virgázók", akik olimpiai számnak tekintik, hogy ki hány hangot tud lefogni egy másodperc alatt.
Red Hot Chilli Peppers: Blood Sugar Sex Magik (1991)
A '80as-'90es évek fordulójára az RHCP már majdnem egy évtizedes működést tudott maga mögött. Addigra a világhírt még nem, de a kultstátuszt mindenképpen elérték. A csapat gitárosa, Hillel Slovak 1988-ban heroin-túladagolásban elhunyt, és ez a tragédia az egész zenekar jövőjét megkérdőjelezte. A zenekar tagjai válaszút elé kerültek, és míg sebeiket nyalogatták, a kiadó a What Is This? nevű greatist-hits albummal próbálta kezelni a karrierben keletkezett űrt.  Fleaék végül a folytatás mellett döntöttek, és egy korábbi rajongójukat, a 18 éves John Frusciantét vették be a bandába. Főpróbaként befejezték a 'Mothers Milk' című albumot, majd nekikezdtek az igazi nagy durranásnak. Egy franciaországi kastélyba visszavonulva aztán egy kissé megroggyant zenekar, és egy alig 20 éves visszahúzódó srác megírta a Blood Sugar Sex Magiket, amely egyedi hangzásával a '90es évek egyik legmeghatározóbb rockzenei produktuma lett. Ez, mint történet inspiratív, zeneileg zseniális, és nem is tudok mást írni róla, egyszerűen csak hallgassátok meg.
Black Stone Cherry: Between the Devil and the Deep Blue Sea (2011)
A southern/blues hangzású és stílusú dolgok abszolút a toplistám élén vannak. Persze az olvasóban joggal vetődik fel a kérdés, hogy akkor miért nem LynyrdSkynyrd? Kézenfekvő lenne, viszont a BSC-nek van még egy óriási fegyvertény a kezében. Mégpedig az, hogy számomra pár évvel ezelőtt ők lettek a rockzene megmentői. Megmondom őszintén, azért (is) fordultam más zenei irányzatok felé a 2010-es évek körül, mert a rockzenei közeg akkorra kiábrándítóan unalmassá vált. A rockzene hagyományos zenei formulákból áll, és rég nem az a kérdés, hogy valaki ebbe milyen újdonságot tud hozni, hanem az, hogy, mennyire tudja a maga képére formálni ezeket a fordulatokat, illetve mennyire tudja úgy előadni, hogy a hallgatónak egyből az az érzése van, hogy éppen végigszáguld a Route 66-en.
A Black Stone Cherry előjött egy kentucky-i fészerből, és már az első két albumánál biztosította ezt a feelinget. Azért választottam mégis a harmadik lemezüket, mert ekkor bújtak ki a "csigaházból" és a délies ízekkel tarkított zsigeri rockandroll muzsikájukba bevontak egy slágergyáros producert, Howard Bensont. Persze a hithű rockerek egyből kitalálták, hogy a csapat eladta magát, és már nem olyan, mint régen. Számomra viszont ez a megújulási képességet, és a komfortzónából való kilépést jelenti. Épp azt a mentalitást, ami a kissé önmaga köré gettófalakat építő rock-kultúra megújulásához lenne szükséges napjainkban.
Rolling Stones: 'Beggars Banquet' (1968)
Sok zenésztől hallottam, hogy a Kövek zenéje egyszerű pár akkordos tinglitangli, nem is olyan nagy szám. Ilyenkor két dolog jut eszembe: az egyik, hogy a Stones nélkül ma nem beszélhetünk rockzenéről. Gyakorlatilag ők A Rockzenekar , a tagok pedig A Rocksztárok. A kortárs popkultúrában ők találták ki ezt a fogalmat úgy, ahogy azt ma ismerjük. Zenei oldalról vizsgálva mindig azt mondom a fanyalgóknak, hogy próbálja meg lemásolni azt a hangzást, amit a korai Rolling Stones hozott. (általában sohasem szokott sikerülni). A forrásanyagokat végig olvasva, évtizedes távlatból az öreg Keith már fellebbentette a fátylat a nagy titokról: a befutás előtti években a zenekar tagjai szó szerint együtt éltek. Ugyanazon a matracon aludtak, ugyanazt ették (vagy nem ették), ugyanazokkal a hölgyekkel kerültek közelebbi kapcsolatba. A Richards/Jones páros pedig naphosszat együtt muzsikált, és törekedtek arra, hogy a gitárhangzásuk homogén legyen: a rock mindennapi gyakorlata az, hogy van egy ritmus, és egy szólógitár. Ők viszont ezzel ellentétben azon dolgoztak, a két gitár úgy hangozzon, mintha egy lenne. Ha valaki nem tudja, hogy mitől ikonikus, egyedi, és forradalmi a Rolling Stones hangzása: nos, ezért…
Mötley Crüe: 'Generation Swine' (1994)
"Természetesen" tisztában vagyok vele, hogy a MötleyCrüe maga a nagybetűs hajmetál banda, én mégis először az 1994-es kiadású lemezükkel, a Generation Swine-al találkoztam. Ez a lemez nagyon nem hajmetál, és megosztja a rajongókat és a szakmát egyaránt. Nekem mégis ez a kedvencem a zenekartól. A korábbi munkáiktól elütő, sokkal modernebb hangzású lemez nem egy klasszikus Crüe cucc, de pont az újító kedv, az elektronikus zenei felhangok, a modern rockos (már-már nu-metálos) gitártémák azok, amelyek ha a zenekar későbbi karrierjét nem, de a tagok szólóprojektjeit megalapozták. Itt jelenik meg először az a fajta újkor rockhangzás, amely ma a Nikki Sixx féle Sixx A.M. -nek a sajátja,és itt találkozunk először Tommy Lee rap , -és elektronikus zenei vénájával, amelyre a mai napig aktív DJ karrierjének alapja. Magyarul, kiderült, hogy a csapat zenészei sokkal többek, mint amennyit látunk belőlük, nem csak egyszerű hangszeresek, hanem külön-külön is zenei agyak, határok nélkül. Szerintem ez a lemez nincs a helyén kezelve, pusztán azért, mert nem a megszokott menüt kapták a rajongók. A Mötley egy másik dolog miatt is a szívem csücske egyébként: ők az a zenekar, akik a tavalyi búcsúturné során tisztességesen elköszöntek a tisztelőiktől, majd szerződésben rögzítettek, hogy nem akarnak többé együtt dolgozni: így kizárták a szemében vércikinek számító reunion turné lehetőségét.
Almost Famous (Soundtrack)
Talán pofátlanság egy meghatározó lemezek anyagba egy filmzenei válogatást tenni, de két magyarázatom is van erre a húzásomra. Egyrészt a '60as-'70es évek pop-rock érája annyi zseniális előadót termelt ki, hogy ha elkezdném felsorolni őket, akkor ez a lista nem top 10-es, hanem top 100-as lenne. A Cameron Crowe által fémjelzett Majdnem Híres az egyik leghitelesebb és legszórakoztatóbb film a klasszikus rock világáról, másrészt a hozzá készült zenei anyag a korszak egyik legátfogóbb lenyomata: egymás után sorakoznak a legnagyobb előadók: a The Beach Boys, Elton John, a The Who…nem is beszélve a filmben szereplő fiktív zenekarról, a Stillwaterről, akik több kiváló nótát is "szállítottak" erre a lemezre.
2Pac: Greatest Hits (1998)
Engem általában rockzenei íróként és bloggerként ismernek, ezért talán meglepő lehetett, hogy tavaly épp a Grungery oldalán tettem egy nyílt coming outot: bizony-bizony, én elég sok rapet is hallgatok. 2Pac halálának épp a napokban volt a 20. évfordulója, ennek apropóján elő is vettem tőle a teljes zenei pályafutását átfogó, két CD ből (miből???) álló Greatest Hits lemezét. Sokan legyintenek a tragikusan fiatalon elhunyt raperre, hogy csak egy erőszakos gengszter volt, az erőszakot énekelte meg és erőszakos halált is hallt. Élete vége felé azonban már verseket, könyveket írt, és komoly társadalmi problémákat feszegetett. Meggyőződésem, hogy korának Martin Luther Kingje lehetett volna napjainkra a feketék számára, ha nem hal meg idejekorán. De, mint tudjuk…"somethingsneverchange"…
Hobo Blues Band: Kopaszkutya (1993)
A feketék zenéje, a blues nem csak az amerikai zenét hatja át egészében, hanem az én lelkivilágomat is. Ebben az egyszerű zenei formulában minden benne van. Ha zenélsz, és csak ezt megtanulod, akkor is kapsz egy eszközt arra, elmondhass bármit: az örömödet, a bánatodat, a magányodat, az álmaidat…
A Kopaszkutya lemez ezt a kelet-európában testidegen zenei stílust és az életérzést tökéletesen adta át. Számomra ez volt az első találkozás a bluessal. Persze az idő előrehaladtával kiderült, hogy a zenék mind a Yardbirdstől, Jimi Hedrixtől és a Rolling Stonestól származnak, a szövegek pedig a Jim Morrison és más híres rockelőadók szövegei. Ennek ellenére Hoboék elévülhetetlen érdeme, hogy egy egész ország rajtuk keresztül került kapcsolatba a amerikai zenei hagyománnyal: köztük én is. Ezzel pedig engem determináltak is az amerikai/angolszász muzsikák felé egy életre.