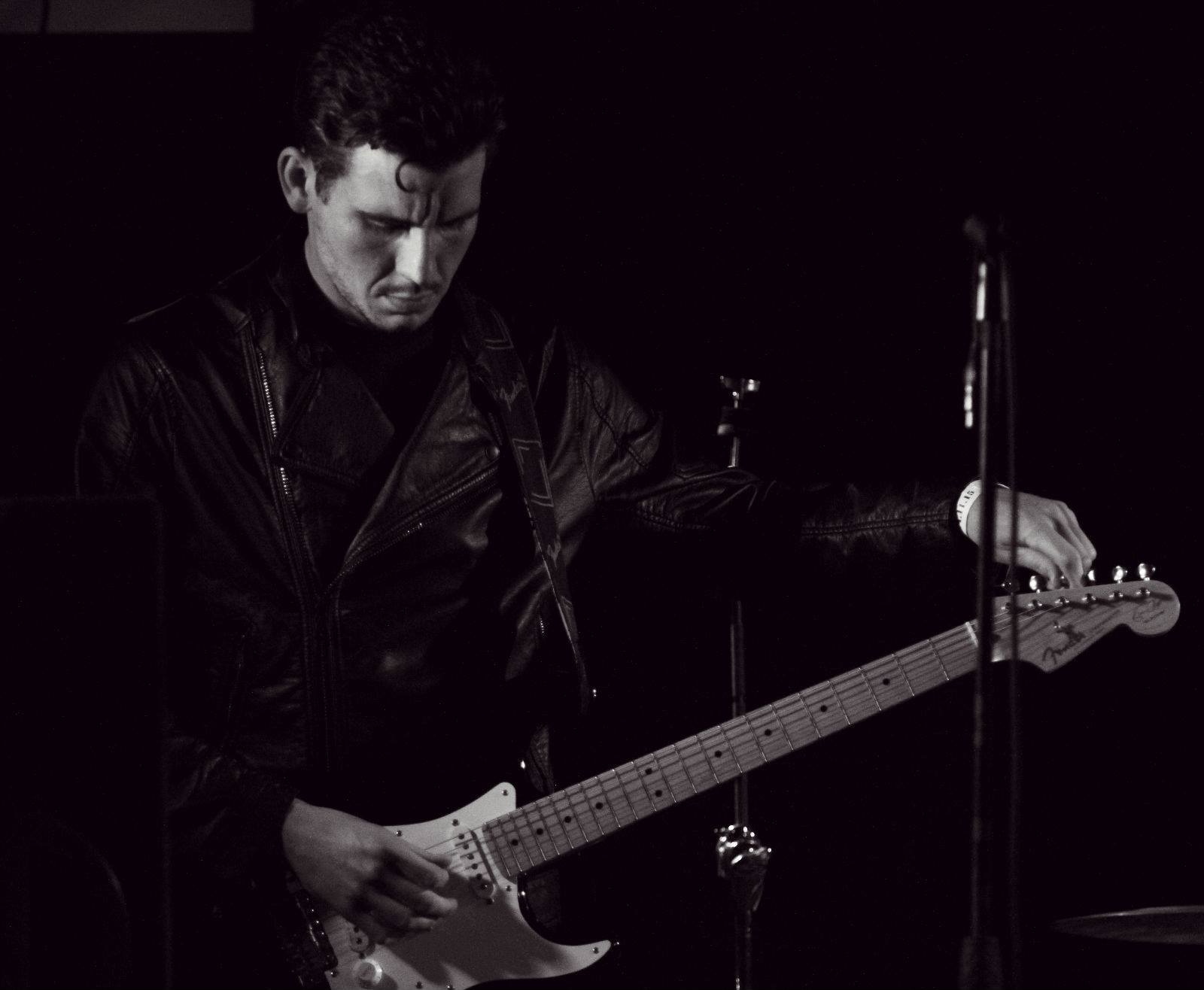 Ismét eltelt két hét, így nem tehetünk mást, mint hogy újból jelentkezünk a Sorsfordító korongokkal. Szokásos rovatunk ismét egyik állomásához érkezik, ahol hazánk egyik fiatal gitáros tehetsége, Nagy Márk, az Amberjack gitárosa, a Kőbányai Zenei Stúdió egykori növendéke árulja el nektek, hogy melyik 10 lemez hatott életére, zenei pályájára.
Derek And The Dominos - Layla and Other Assorted Love Songs

(1970)
Az album, amiről csak szuperlatívuszokban tudok beszélni. Clapton minden lemeze megvan, a Yarbirds-től kezdve az utolsó koncertalbumáig, de ez a korong szinte minden héten megfordul a lejátszóban. Kész csoda, hogy elkészült, de az is egy csoda, amit átél az ember, amikor hallgatja. Gyakorlatilag nincs rajta olyan dal, ami ne lenne hibátlan. A saját szerzemények és a tradicionális bluesok, Clapton és Whitlock érzelem gazdag éneklése és nem utolsó sorban Clapton és Duane Allman gitározása mind olyan dolgok, amelyek számomra örök kedvencé teszik az anyagot. Minden riffet és szólót leszedtem, a legtöbb dalt legalább egyszer eljátszottam különböző formációkkal. Nem nagyon tudnék egy vagy két dalt kiemelni róla, de a Tell The Truth riffje és a Why Does Love Got To Be So Sad szólója örök kedvenceim. Tisztán emlékszem a pillanatra, amikor a Royal Albert Hall-ban tartott Clapton-Winwood koncerten felcsendültek ezek a dalok és én azt sem tudtam, hogy sírjak vagy nevessek. Fantasztikus élmény volt. A Layla című dalról való áradozásba inkább bele sem kezdenék, mert soha nem érnék a végére. Lassan 15 éve hallottam először, de még mindig ugyanazt érzem, akármikor hallom is meg a kezdő riffet. Hibátlan alkotás, mestermunka.
Guns N' Roses – Appetite For Destruction (1987)
A másik klasszikus amin "felnőttem". 18 évesen hallottam először és most koptatom a negyedik cd lemezt. Az első hármon már akadozott a Nightrain. A klasszikus felállás által képviselt 100% energia és annál is több van ebben az albumban. Gitárosként hallgatva szerintem a  legnagyobb erőssége az, ahogy együtt szól a két gitár és zenél a két gitáros. Ha jól meghallgatod, akkor hallatszik, hogy egyik a másik nélkül már nem lenne olyan ütős. A Slash és Izzy páros ugyanolyan jól működik együtt, mint Keith és Ronnie vagy Joe Perry és Brad Whitford. Nem is tudom lehetne-e bármi rosszat írni ezekről a dalokról. Még ma is felrázná a zenei világot. Annyira őszinte és hiteles, hogy kevés anyag veheti fel vele a versenyt abból az időből. Egyértelmű favoritok a Nightrain (szerintem a mai napig ez Slash legjobb szólója), a Rocket Queen és a Sweet Child O' Mine. Na igen, a Sweet Child O' Mine… A riff, a szólók, a szöveg és úgy az egész egyben nagyon nagy találat. Abszolút 10 pont.
Free

– Free Live!(1971)
Mindig is a Free volt a kedvenc bandám az angol blues-rock klasszikus korszakának zenekari közül. Volt valami különleges, valami több a zenéjükben. Minden olyan egyszerű, letisztult és érzelemmel teli a megszólalásukban. Paul Kossoff semmivel sem volt rosszabb gitáros, mint Peter Green, Clapton, Jeff Beck vagy Jimmy Page. Nagyon nagy kár érte. Azon kevés lemezek egyike, amiről az összes riffet és szólót megtanultam.  Ez a koncert album egy remek best of anyag a Free korai dalaiból. Paul Rodgers baromi jól énekel, és amit a Be My Friend című dalban Kossoff és ő összehoznak, azt egész egyszerűen tanítani kellene. All Right Now!

Eva Cassidy

– Live at Blues Alley (1996)
Eva Cassidy-től mindösszesen két album jelent tragikus és hirtelen halála előtt. Ez a koncertlemez egy csoda. Jazz, pop, blues tökéletes keveréke egy olyan énekesnőtől, akinél még soha, de soha nem hallottam jobbat. Komolyan. Vegyük például az Autumn Leaves című standardet. Az ő verziója az egyetlen, amit meg tudok hallgatni. Olyan finoman és zeneien nyúlt hozzá a feldolgozott dalokhoz, hogy egész egyszerűen nem lehet belekötni. Állítólag Sting elsírta magát, amikor meghallotta a Fields of Gold-ot Eva Cassidy előadásában. Van itt minden, Paul Simon, Sting, Billie Holiday, Curtis Mayfield, T-Bone Walker, olyan jazz standardek, mint a Cheek To Cheek és a Honeysuckle Rose, de minden dal annyira Eva Cassidy-s, mintha eredetileg is neki írták volna, vagy ő írta volna őket. Igazából teljesen megértem Sting-et, ennek a lemeznek a hallgatásakor mindig eljön az a pont, amikor az ember elérzékenyül. Mindenkivel meghallgattatnám.
Robert Johnson

– King Of The Delta Blues Singers (1961)
Ha blues, akkor Robert Johnson. 29 dal, ennyit írt meg és vett fel és ezzel örökre beírta magát a könnyűzene könyvének első oldalára. Szerintem nincs a világon olyan blues-rock zenekar és gitáros, aki életében ne játszott volna el legalább egy Robert Johnson bluest. Mindenki etalonnak tartja és ez nem véletlen. Első hallgatásra persze recseg és az ember nem nagyon hallja azt, amit ezek a dalok adnak, de csak egyszer kell meghallani az üzenetet és onnantól kezdve nincs megállás. Nincs is értelme egyetlen dalt, vagy kedvenceket kiemelni a felvételek közül, arra mindenesetre emlékszem, hogy körülbelül 3 hónapig gyakoroltam a Stop Breaking Down Blues-t, amire értékelhetően megszólalt együtt a gitár és az ének. Nem olyan egyszerű, nyugodtan próbálkozzon minden gitáros-énekes. Elég jó feladat és csak tanulni lehet belőle.
The Temptations - Temptations Live! (1967)
11 pont a 10-ből. Csak nevetni tudok, amikor valaki a mai R&B, soul és rágógumi funk előadókkal jön és őszintén hiszi, hogy ez a soul zene. Számomra a soul és R&B etalonja a Temptations. Ennél feketébb zene nincs! Két olyan nagyon emlékezetes eset volt, amikor valaki olyan zenét mutatott nekem, amit nem ismertem korábban. Mindkét esetben Tóth János Rudolf volt a tettes és ez volt az egyik alkalom. Persze hallgattam én korábban is ilyesmi zenét, de ez a banda teljesen levett a lábamról. Az énekesek közül mindenki külön-külön is lehetne szólista. Annyira profi és hibátlan az egész, hogy nem tudok belekötni. Valahogy nagyon érezték ezt az egész dolgot és baromi jó dalokat írtak. Ha valaki nem ismeri a Temptations-t, akkor én mindenképpen ezt az albumot ajánlanám kezdésnek, azután pedig jöhet az 1972-es All Directions és a Papa Was A Rollin' Stone, a  First Time Ever I Saw Your Face és a Do Your Thing. Ennél feketébb zene nincs!
The Beach Boys 

- Pet Sounds (1966)
Én alapvetően egy klasszikus blues-rock arc vagyok. A legnagyobb hatással Eric Clapton, Slash, B.B. King és Paul Kossoff voltak rám. Az ő zenéjüket hallgatva tanultam meg azt, amit tudok és az Amberjack zenéjében is ez a blues-rock vonal dominál. Van azonban egy album, amit stílusoktól függetlenül a legjobbnak tartok, ez pedig a Pet Sounds. Brian Wilson zsenialitása szerintem ezen az albumon érte el a tetőpontját. Páratlanul jó dalszerzőnek tartom és az a produceri, dalszerzői és szövegírói munka, amivel ezt az albumot megalkotta, nos… Számomra már-már túlságosan zseniális. Évekig tartott, amíg teljesen megértettem ezt a lemezt, de egyértelműen azt kívánom, hogy bárcsak tudnék egyszer hasonlót írni. Talán az sem teljesen véletlen, hogy mindent összevetve a kedvenc és számomra legkedvesebb dal is ezen a lemezen található. A God Only Knows-t konkrétan a pop-történelem legzseniálisabb 2 perc 51 másodpercének tartom. Ha egyszer eljön az ideje, akkor ezt a lemezt temessék mellém.
The Who

– Live at Leeds (1970)
Bárcsak szólnánk úgy egyszer, ahogy a Who szól ezen a lemezen! Mindig szerettem őket. Townshend az egyik kedvenc dalszerzőm és gitárosom, ez a lemez pedig az egyik legjobb koncert album, amit valaha hallottam. Természetes itt figyel a polcon a deluxe edition eredetiben. Nagyon szeretem a koncert anyagokat. Mindig azt gondoltam, hogy egy zenekarnak  élőben kell megmutatnia, hogy mit tud. Lehet egy stúdió anyag bármilyen, ha élőben nincs meg a kellő hatás, akkor egész egyszerűen nem fogom sokáig hallgatni az adott bandát. Ha egyszer tized annyi energiával sikerülne bevennünk a színpadot, mint ami számomra ebből az albumból sugárzik, akkor határtalanul boldog lennék.
King Crimson

- In the Court of the Crimson King (1969)
Rengeteg mindent köszönhetek a Kőbányai Zenei Stúdiónak és azon belül is Tóth Janónak. Komolyan mondom, hogy nem tudok elég hálás lenni azért, amit tőle kaptam. Mindig is sokféle zenét hallgattam, de ő volt az egyetlen olyan ember, aki olyan dolgokat mutatott nekem, amitől a lélegzetem is elállt. Emlékszem, amikor rocktörténet órán megmutatta nekünk a King Crimson egyik koncert felvételét. Csak annyira volt rám hatással, hogy egy évvel később az egész zenekarral kiszúrtam, amikor a 21st Century Schizoid Man-t választottam szakvizsga dalomnak. Csabi, az Amberjack basszerosa is tudna mesélni arról, hogy mit éreztünk, amikor hónapok után először megszólalt a dal középső része. Egészen elképesztő, hogy ez az album 1969-ben jelent meg. Semmi digitális technikai, vagy stúdiós varázslat. Feljátszották, de úgy 10-ből 9 zenésznek beletörik a bicskája. Soha nem tartottam magam jó gitárosnak, de amikor az ember King Crimson-t játszik, akkor komolyan elgondolkodik azon, hogy inkább venni kellene egy szájharmónikát. Igazi sorsfordító lemez. Teljesen új irányokba vitt el zeneileg. A King Crimson óta szinte bármit meg tudok hallgatni. Nem mondom, hogy elsőre simán be lehet fogadni, de igenis érdemes rászánni az időt.
Glen Hansard and Markéta Irglová

– Once (2007)
Ezt a filmet egyszer (ha-ha) mindenkinek látni kell! Ha lehetne három kívánságom, az egyiket biztos elhasználnám arra, hogy ezeket a dalokat bárcsak én írtam volna meg. Ilyen mély és őszinte zenével és szövegekkel ritkán találkozik az ember. Glen Hansard munkáit egyébként érdemes követni. Nagyon tehetséges dalszerző és szövegíró. A dalok a film nélkül is nagyon hatásosak, de a filmmel együtt már-már beszippantják az embert. Rögtön ott a nyitó dal, a Falling Slowly. Nem hiába kapta meg a legjobb eredeti betétdalnak járó Oscart. Sok személyes emlékem is kötődik a lemezhez és főleg a nyitódalhoz, ezért nem tudok kellően objektív lenni, amikor erről az albumról van szó. Az is lehet, hogy csak nekem tetszik és másnak semmit nem mond majd. Egy próbát azért mindenképpen megér. Egyszer hallgassátok meg!