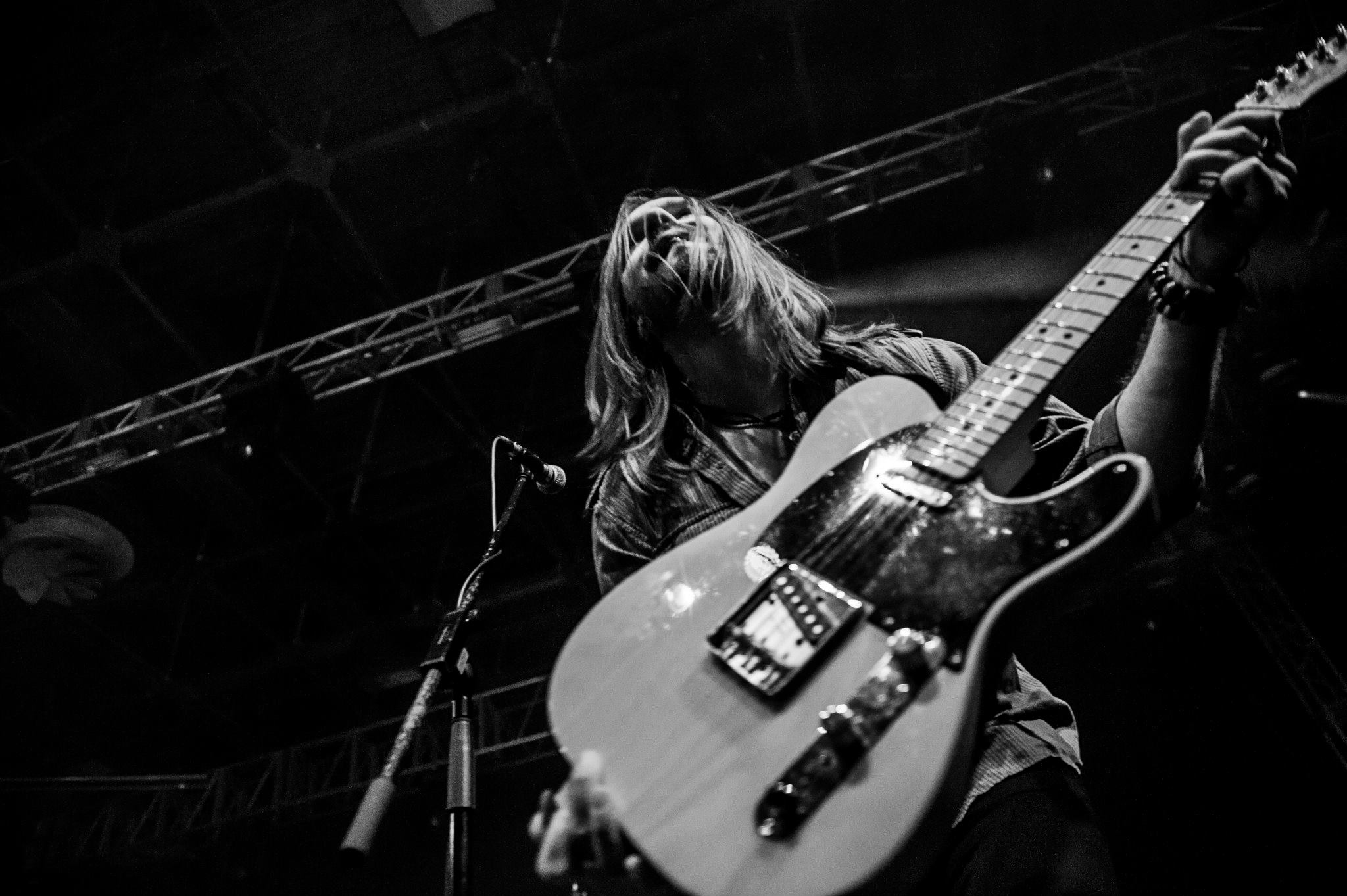 Szokásos rovatunkban Magyarország egyik legtehetségesebb gitárosa, széles zenei látókörrel rendelkező zenésze, Gábor Andris avat be titeket - stílusokat, és időszakokat nem kímélve - életének 10 meghatározó lemezébe. Én magam is sokat köszönhetek Andrisnak, számtalan zenekart ismertem meg általa, lássuk, melyik 10 lemez áll legközelebb a szívéhez.
Nehéz kiemelni 10 lemezt egy olyan gyűjteményből, mely tini-korom óta csak bővül. Aki ismer, tudja, hogy elég mélyrehatóan tanulmányozom immáron huszonvalahány éve a 60-as és 70-es évek blues alapú rockzenét játszó zenekarait, valamint azon bandákat, akik ezt a feelinges rock muzsikát vitték tovább, élesztették fel, vagy gondolták újra. Hallgatok ezen kívül más műfajokat is, country-t, delta és rythm n' blues-t, motown/soul-t, folk-ot és a bluegrass-t is, de akad jó pár kemény-rock lemezem is, mivel volt metal korszakom, de ebből főleg a stoner és doom zenék maradtak meg. Valahogy mégis mindig visszatérek a klasszikus amerikai hangzáshoz, olyan zenékhez, melyben az imént felsoroltak műfajok keverednek. Gyakran szól otthon, vagy a kocsiban Gratefull Dead, Elvis, Freddie King, Sly and Family Stone, Mountain, Eric Burdon, Hendrix, Iggy and The Stooges, Free, Led Zeppelin, Tom Petty, Frank Sinatra,New Order, Reef és az Oasis, vagy ünnepnapokon Pavarotti is. A reggae nem igazán fog meg, az elektromos zenékből is inkább az élő zenével kevert verziók jönnek be. A mainstreampop-ot kifejezetten kerülöm, mert rettenetesen klisés, kiszámítható és egyszerű, sajnos a műfaj a 80-as évek vége óta nem igazán termelt kiigazi kultikus előadókat, inkább csak amolyan "come and go" sztárokat, melyeket a gépezet nem tart sokáig a csúcson. (Madonna, Prince, vagy Michael Jackson, illetve talán még a U2 voltak az utolsók.) Most pedig következzenek azok az albumok (és elsősorban nem előadókban gondolkoztam a válogatáskor), melyek eddigi életem valamelyik időszakát idézik fel bennem.
Rolling Stones

– Let It Bleed (1969)
Bár nem az első Stones lemezem, mégis ennek a hangulata fogott meg a legjobban, hatalmas klasszikusokat hozott össze a Jagger/Richards páros fémjelezte zenekar, ráadásul nem is a legvidámabb korszakukban. A gimis énekkarról hazafele jövet ez ment a walkmanemben. A lemez hangzása lenyűgözött, szinte mintha teljesen élő felvétel lenne, a dalok pedig magukért beszélnek. A lemezt a nővéremtől kaptam, igaz később beszerezte édesapám CD-n, mert a vinyl-ből sajnos egy darab ki volt harapva, ennek oka azóta is rejtély.
Black Crowes

– Amorica (1994)
Szintén nem a legelső lemezem a zenekartól, aki azóta is az egyik kedvencem. Az album dalai mintha egy tömböt alkotnának, összefüggenek. Ez is a gimis időszakot idézi fel bennem, valamint első angliai utazásaimat, olyan időszakomat, amikor először éreztem szabadnak magam még akkor is, ha az adott iskolában én voltam a feketebárány a külsőmmel, hosszú haj, trapéz naci, motoros csizma, stb.. A Stones előtt el is csíptem a Crowes-t Londonban, voltam vagy 16 éves, de életem egyik legemlékezetesebb koncertje volt.
Allman Brothers

- Brothers and Sisters (1973)
Szintén családi örökség volt egy Allman Bros válogatás, ami a legelső southern rock lemezem volt. Fel-felkaptuk a haverokkal a fejünket, hogy kérem szépen itt country dalok is vannak, meg is szereztem a lemezt, melyen a kedvenc ABB dalaim kaptak helyet. Érdekessége, hogy a lemez belső borítója egy nagy családi fotó, melyen még Cher is fellelhető, hiszen abban az időszakban Gregg Allman felesége volt. Kedvenc gitárosom is ebben a zenekarban játszott, Duane Allman, aki nagyon fiatalon vesztette életét egy motorbalesetben a slide gitározás mestere volt, 26 éve során nagyon sok sztárral készített felvételt, mint vendégzenész.
AC/DC

- Back In Black (1980)
Életem első koncertje 14 évesen az AC/DC volt a Népstadionban a Mötley Crüe és a Metallica társaságában. A Crüe végére értünk oda, a Metallica konkrét szenvedés volt nekem (majd később azért őket is hallgattam többször). Angus Young-ék viszont olyan bulit csaptak, hogy még napokig fel voltam pörögve, ott kristályosodott ki bennem, hogy ez az, ezt kell nekem is csinálni, alakítok egy bandát. A gimnáziumi magyartanárnőm (akivel nagyon jóban voltam) ajándékozott meg a bakelit lemezzel, amit azóta is féltve őrzök. Ez az a lemez, ami az igazi iskola volt nekem gitározás tekintetében.
Blind Melon

– Blind Melon (1992)
Az egyik legfurább lemezem volt akkoriban, kicsit Red Hot Chili, kicsit grunge, kicsit folkos pszichedelikus rock, néhol jazz-dobolással fűszerezve. Nos, az első pszichedelikus élményem kísérője ez az album volt, tökéletes összhatás volt Blind Melont hallgatni módosult tudatállapotban. (A másik ilyen a Stones- Their Satanic Majesties Request volt). Sajnálom az énekest, aki ideje korán elhunyt, persze belőle nem lett divatos póló, mint Kurt Cobain-ből, a média nem kapta fel a halálát fele annyira sem, pedig a srácot a Guns N' Roses egyik leghíresebb dalának klipjében is ott láthattuk vokálozni. Máig felfoghatatlan számomra, hogy huszonévesen hogy tudtak ezek a srácok ennyire tökéletes lemezt írni, mi lehetett rájuk hatással, hogyan tudtak már az első lemezen ilyen kiforrott dalokat írni. Sokszínű és korszakalkotó lemez, szerintem ha a mai fiatalabb generáció kitúrná ezt az albumot valahonnan, lenne csodálkozás, hogy a 90-es években ilyen is volt.
Van Morrison

– Moondance (1970)
Ha már finomabb, lelket simogató 60-as évek zene, akkor ez. Csípem Bob Dylan-t is, aki Morrison kortársa volt, de Dylan jóval nyersebb és explicitebb volt. A Moondance lemezhez egy nagyon szép időszakom kapcsolódik, melynek miután vége lett, ez a lemez nem került elő olyan gyakran. Ettől függetlenül persze mindenkinek ajánlom, erre mondják azt, hogy "soulful", vagy "ear-candy".
Cry Of Love

– Brother (1993)
Egy méltánytalanul alulértékelt lemez, amely mára már gyűjtői darab lett. A Free 90-es évekbeli reinkarnációja lehetett volna. Minden benne van, ami az amerikai kisvárosi rockzenéhez kell, a hangzás, hangulat, a szellemiség, szabadság utáni vágy. A gitár is egyedülálló, bár gyakran Hendrix jut róla eszembe. Valami miatt ez a lemez nekem mindig ősszel üt igazán, kocsiban. Mikor már jön a hűvös idő és a színes őszi levelektől megszépül a táj, akkor érint meg a leginkább. Nem csoda, hiszen a Too Cold In A Winter című dal pont a közelgő telet harangozza be, mikor a "bűnözők sem találnak menedéket"
Trouble

– Manic Frustrtation (1992)
A stoner/doom bandák albumai közül az első lemezem, amire nagyon rápörögtem, ugyancsak a gimisalter-hippi-rocker korszakomba röpít vissza akárhányszor hallgatom. Első zenekaros próbálkozásaim is erre az időszakra tehetőek. Szinte minden szólót leszedtem az albumról, addig tekertem vissza a kazettán a felvételt, amíg el nem tudtam játszani azokat. Egy haverom mutatta meg annak idején azzal az ajánlással: "ezt füleld meg, olyan, mint a Deep Purple, csak sokkal keményebb". A legtöbb stoner vagy doom banda nekem túlságosan 12-egy-tucat, a ZS-re hangolt lomha agyon-torzított riffek nem igazán kötnek már le, de itt a gitár olyan őserővel zeng, hogy kő kövön nem marad és hatalmasak a szólók is, nincs magamutogató tekerés, dallamos, elszállós, ízlésesen kemény és monumentális. A Monster Magnet mellett ez az zenekar, aki a 70-es évek keményebb rockzenéjét tökéletesen hozták vissza, sajnos elég nehézkesen tudtak vele érvényesülni a modern kor diktálta kommersz irány mellett. Kultusza mégis lett a zenekarnak, szerencsére láthattam élőben őket. A rádiók sosem játszottak igazán, mégis egy Lewis farmer reklámnak köszönhetően meglehetősen sokan hallottak róluk. A cím is erősen kapcsolódik a gimnáziumi időszakomhoz, sok mindenben volt ugyan szerencsém, de rengeteg frusztráció is ért, minden tininek megvan a "depis" korszaka. Nos, ez a lemez ilyenkor mindig erőt adott.
Suede

– Coming Up (1997)
A mai indie-pop zenéket kifejezetten kerülöm, de az igazi jóféle brit-pop nálam is helyet kap. Az Oasis után a Suede volt az a zenekar, akire nagyon felkaptam a fejem és leesett az állam, hogy a kissé polírozottabb, kevésbé vad, avantgardabb modern brit zenekarok is rendesen helytállnak, ha gitárzenéről van szó. Nem csoda, hiszen zenéjükben visszahallhatjuk az őket ért hatásokat is, melyek a 60-as évek nagy zenei durranásának képviselői voltak - The Who, Beatles, Stones, Small Faces, stb.. A britpop lemezek kifejezetten jó kísérői voltak a korai felfűtött kamasz és serdülőkornak, mivel a lányok számára is befogadhatóbb rockzenék voltak.
Creedence Clearwater Revival

– Cosmo's Factory (1970)
Egyik első bakelit lemezem, melynek már a borítója is megfogott, mikor hozzám került. A CCR dalai számos filmben felcsendülnek, egyik kedvenc filmemben (Nagy Lebowski) pont erről az albumról hallható egy dal, amely nagyon illik az adott jelenethez. Nem utolsó a Marvin Gaye feldolgozás sem a lemezen. Olyan itt a hangzás, amelyet egyszerűen a mai lemezeken szinte alig hall az ember, nyers, szellős, megfelelően koszos, semennyire sem steril. Általában a grafikákat jobban preferálom a fotóknál, ha borítóról beszélünk, de itt nagyon érvényesül a fénykép, tökéletesen harmonizál a lemez zenei tartalmával.
Szívesen írtam volna még 10 lemezről, mert így biztosan úgy fogom érezni, hogy valami nagyon fontos album kimaradt, viszont ha valaki felhajtja ezt a tíz kiváló korongot, remélem, hogy megtalálja benne a varázst, amit én éreztem, mikor először hallottam ezeket a dalokat. Sokszor szegezik nekem a kérdést, hogy nem sajnálom-e a pénzt a lemezekre, miért nem töltöm le ezeket inkább, vagy, hogy miért kell ilyen sok lemez, rövid az élet, kár halmozni, mert úgysem jönnek velem majd a sírba. Nos, a válaszom annyi, hogy ez nekem már rég nem hobbi, a zene az életem szerves részét képezi beleérve a lemezgyűjtést. Fanatizmus? Nem hiszem, szerintem ez egy egészséges szenvedély, melynek legalább még van értéke ebben a felgyorsult, egyre felszínesebbé vált világban.