Nem a 2014-es Guardians of the Galaxy volt az első szuperhősfilm, ahol egy látványos blockbaster aláfestő zenéjének egy merész húzással a '60-as és '70-es évek pop-és rock evergreenjeit használták a megszokott nagyívű szimfonikus opuszok helyett, de ez volt az a pillanat, amikor nagyon mellbe vágta a mozijárókat az élmény: ez a valószínűtlen társítás igazán jól működik.
A filmben szereplő Awesome Mix Vol. 1 egy másolt kazetta, amelyet a Földről származó SpaceLord az anyukájától örökölt (és miközben űrhajókon röpköd, meg lézerfegyverekkel harcol, mindezt egy walkmanon hallgatja…). Ezzel a karakter kapott egy nagyon egyedi és vicces jellemzőt, amivel hamar belopta magát a nézők szívébe, a film soundtrackje pedig olyan zenés filmekével vetekszik, mint a Majdnem Híres, vagy akár a Facérok.
Ez a válogatás egy Best of '70s, amelyen a hippikorszak legnagyobb smoker himnuszától (Spirit In The Sky) David Bowie-ig szinte minden korszakos előadó szerepel.
A film második részében (2016) persze folytatták ahagyományt, és felkerült a galaxis térképére az Awesome Mix Vol. 2., amelyen olyan számok voltak, mint például a Sweet Fox On The Run-ja, vagy George Harrison Sweet Lordja.
Iron Man (1.-2.-3.) és persze az Avengers...
Persze jóval korábban is leeshetett volna, hogy a Marvel bázison igen jó zenei ízléssel rendelkező emberek ülhetnek. A 2010-ben vászonra kerülő Vasember 2 soundtrackje ugyanis gyakorlatilag egy Best Of AC/DC lemez.
A 2012-es Bosszúállók -amely egyébként filmtörténeti mérföldkő, és új fejezetet nyitott a szuperhősfilmek piacán- is tett egy kis utalást: a zseni, milliárdos, és playboy szerepében ezúttal is zseniálisát alakító Robert Downey Jr. az egyik jelenetben Black Sabbath pólóban tűnik fel, egy másik jelenetben pedig (Vasemberként) felcsendül az AC/DC Shoot The Thrill-je (amely gyakorlatilag a karakter bevonulózenéje).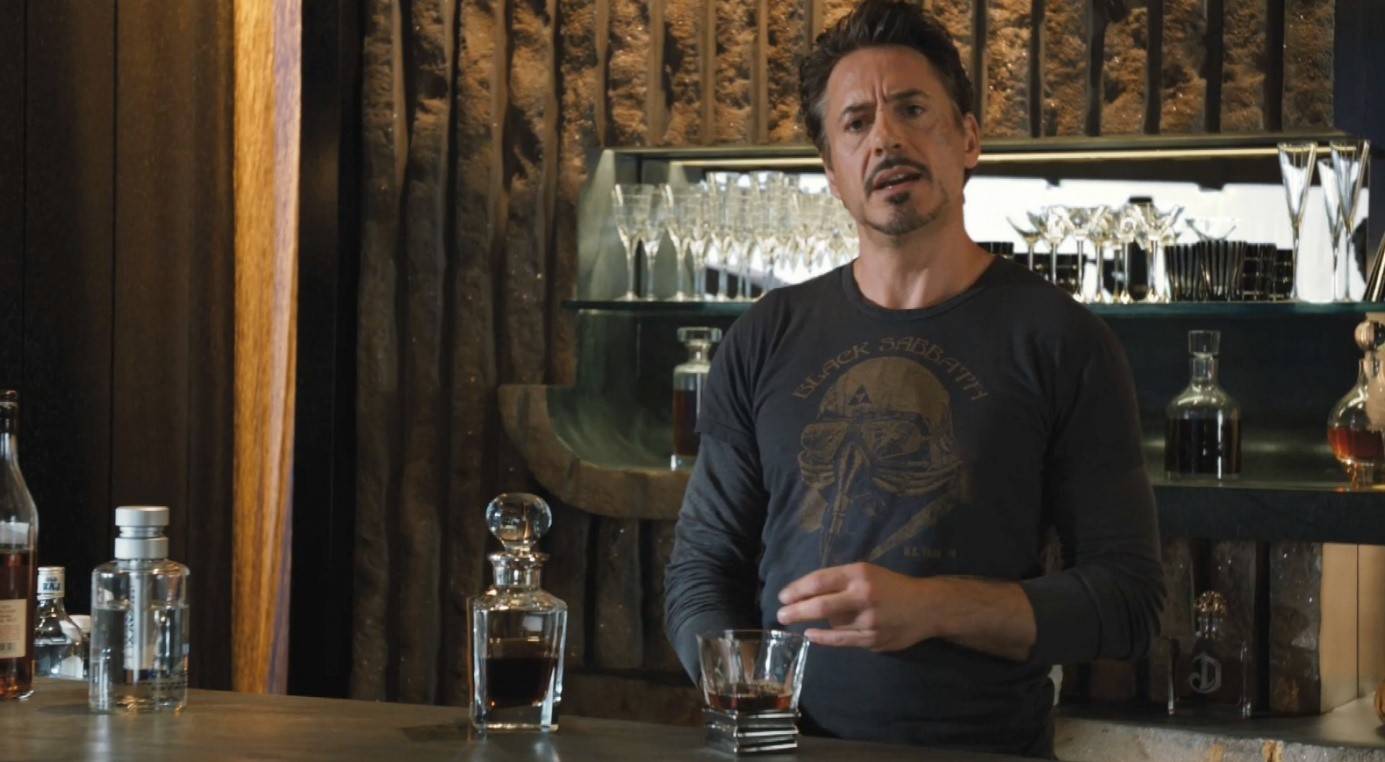 Mindez csak azért fontos, mert a monumentális mozi egyébként egy monumentális nagyzenekari zenei aláfestéssel operált Alan Silvestri jóvoltából, így a filmek sok rockzenei vonatkozása ezeken kívül nem volt. Vagy mégis?
A stáblista végén pedig a Soundgarden Live To Rise című számára alélhattak el a rock (és főleg a grunge) rajongók. Az akkor már 17 éve tetszhalálba meredt zenekar az év végén új lemezt jelentet meg: ennek felvezetése volt a májusban megjelenő nóta, amely a Marvel marketing gépezetének köszönhetően elég nagy publicitást kapott. (A dal egyébként a megjelent lemezen nem, csak ezen a soundtracken jelent meg), bővebben a Grungery-n találtok egy hosszabb cikket a témában.
A Bosszúállók második nagy összeborulása, az Ultron Kora sem múlhatott el egy kis rocktörténeti csemege nélkül, jelezve, hogy a blues muzsika a tengerentúlon egyet jelent a menőséggel. Ezek szerint egy szuperhős-házibuli legjobb kelléke nem más, mint egy John Lee Hooker lemez:
Captain America a Polgárháború idején kezdte el popkultúrális lemaradásait pótolni (volt egy füzete, amiben az indiai kajától a Rocky filmeken keresztül a Nirvana lemezein keresztül mindnet felírt. A kapitány hű társa, a Sólyom javaslatára vette fela listára Marvin Gaye-t. A filmben több gag is épül a híres énekesre, és a filmben is feltűnik az egyik dala:
Deadpool
Rockzenerajongók esetében az oldschool fogalma általában a '60as és '70es évek zenéit, hip-hopos arcoknál viszont a '80-as és '90es évek időszakát jelöli. Deadpool mindkét rajongótábor igényeit kimaxolta a soundtrackjével, miközben olyan görbe tükröt tartott az egész szuperhősfilm műfajnak, hogy a mozilátogatók gurultak a röhögéstől (a második részben szintén.)
Dr. Strange
Mi más hallgathatna egy menő idegsebész, mint Earth Wind and Fire-t? És közben az is kiderült, hogy a doki egy két lábon járó zenei lexikon is…
Wolverine
Az X Men széria legújabb darabja az öreg Wolverine utolsó-kalandját mutatta be nekünk. Egy hidegrázós trailer pedig rádöbbentette a nézőket, hogy egy másik öreg cowboy önvallomása mindennél jobban passzol ehhez a darabhoz.
Az idén júniusban "hazatérő" csodálatos és fantasztikus Pókember - bár vállaltan a fiatalabb korosztályt célozta - azért egy igazi '70es évekbeli punk klasszikust vetettt be segítségként a kasszarobbantáshoz. És bejött: ismerek olyan családapát, aki már kikészül attól, hogy a mozi óta a gyerekeivel állandóan Ramonest kell hallgatnia...:D
Még két hete sincs, hogy a mennydörgés istene harmadjára tért vissza önállóan a filmvászonra. A Thor: 3 Ragnarök trailerében már örülhettünk, hogy a Led Zeppelin Immigrant Song -jára csapkodja egymást "Tarzan" és a legerősebb bosszúálló, de aki megnézi a filmet, az érteni fogja, hogy a dal szövege és a sztori sokkal szorosabban kötődik egymáshoz, mint az elsőre gondoltuk volna...
A Marvel után a nagy rivális, a DC Comics olditemer vonatkozásait is górcső alá vesszük: a jóval komorabb hangulatvilággal operáló képregényuniverzum főhősei - Batman, Superman, Wonder Woman és a többiek- általában hasonló hangulatú instrumentális darabokat kapnak az alkotóktól, de egy rövid ideig itt is megjelentek a hippik és a rockerek: az idén augusztusban debütáló elmeháborodott antihős különítmény , a Suicide Squad a legnagyobb rock és pop klaszikusok zenei klasszikusainak kíséretében robbantotta fel a fél világot. (persze csak azért, hogy megmentsék). A teljesség igénye nélkül pár dal: Sympathy for the Devil, House Of The Rising Sun, Bohemian Rapsody...és persze a lassan már mindenhol szereplő Spirit In the Sky.
Ha a DC világánál maradunk: a napokon belül érkező nagy összeborulás, az Igazság Ligája sem úszta meg egy igazi old timer klasszikus nélkül. A Trailert nézve (hallgatva) bizonyára mindenkinek feltűnt, hogy a The Beatles klasszikusa, a Come Together csendült fel, egy újszerű megfogalmazásban. A feldolgozást pedig nem más követte el, mint a new orleans-i gitárzseni, Gary Clark Jr.:...de az biztos, hogy nem csak ezért lesz érdemes ellátogatni a jövő heti premierre.