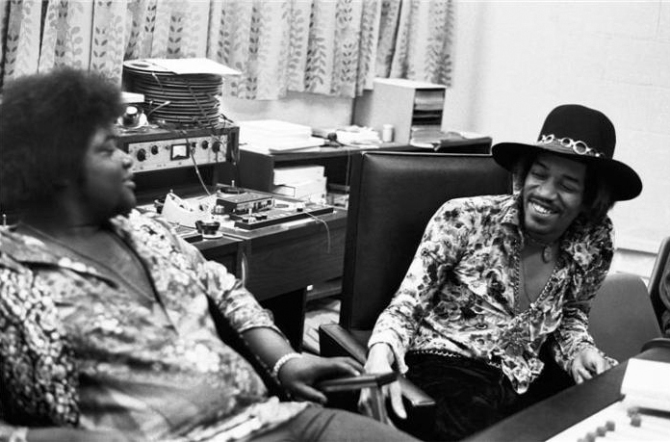 Jimi Hendrix nem vesztegetett sok időt az után, hogy feloszlott az Experience 1969 júniusában, már az év elején érezte, hogy valami nincs rendben, így Billy Cox basszusgitárossal állt össze, majd szeptemberben a soul-funk legenda, Buddy Miles is csatlakozott hozzájuk dobosként. Decemberre a csapat, a Band Of Gypsys készen állt, hogy első koncertjét adja.
Nem is akárhogy! Hendrixék december 31-én és január 1-én este 4 fellépést vállaltak a New York-i Filmore East-ben. Az újév napján adott fellépésekből 6 dalt összeválogattak az egy évvel később megjelenő debütáló lemezükhöz, a Band Of Gypsys-hez. A lemez 1970 márciusában jelent meg és a nagy jövő előtt álló zenekar sajnos egy koncertet követően feloszlott. Egy kicsit azonban előre szaladtam az időben. Bár most egy kicsit Star Wars-osra vették a figurát, mert szeptember 30-án megjelent a Band Of Gypsys egy új koncertalbuma, mely a fent említett '69 december 31-i debütáló előadást örökíti meg. A 71 perces Machine Gun: The Fillmore East First Show 12/31/69 (a továbbiakban csak Machine Gun) címmel ellátott live album 11 dalt tartalmaz. Olyan darabokat, melyek rávilágítanak bennünket Jimi Hendrix pályájának utolsó szakaszára.

Sokan azt állítják, Hendrix szakítani akart a múltjával. Az összes dal, amit eljátszottak addig sosem hallották, és csak az 1970. szeptemberi halála után kerültek fel stúdiófelvételre. Ezek valamivel sötétebbek voltak a korábban megszokottabbaknál. A gitáros mindig is blues zenésznek vallotta magát, és a Gypsys-zel való közös játéka során és a Machine Gun dalain is hallatszik ez a mély érzelemvilág. Elmore James, Bleeding Heart-jának feldolgozása, a Hear My Train A Comin', az Ezy Ryder, vagy az Earth Blues mind erre utalnak.
Sokan úgy vélik, – köztük jómagam is (a szerk.) – hogy a Band Of Gypsys album egy tökéletesen példázza Hendrix zenei pályájának késői szakaszát, de ezt a teljes műsort méginkább történelmi jelentőségűnek tartom, még akkor is, ha a dalokat később jobb változatban hallottuk. Tükröződik az lemezben a gitáros kreatív nyugtalansága. Nem tökéletes a album, de én személy szerint nem is várom azt. A steril és tökéletes dolgok nem minden esetben jelentenek jót, Hendrix esetében meg aztán végképp nem. Nem vagyok megbarátkozva a posztumusz anyagokkal, de ebben az esetben ilyenről nem is beszélhetünk. Engem lenyűgözött ez a kiadvány.
A lemez értékelése: 9,5
Machine Gun: The Fillmore East First Show 12/31/69 tracklist-je:
Power of Soul
Lover Man
Hear My Train A Comin'
Changes (Buddy Miles)
Izabella
Machine Gun
Stop (Jerry Ragovoy, Mort Shuman)
Ezy Ryder
Bleeding Heart (Elmore James)
Earth Blues
Burning Desire