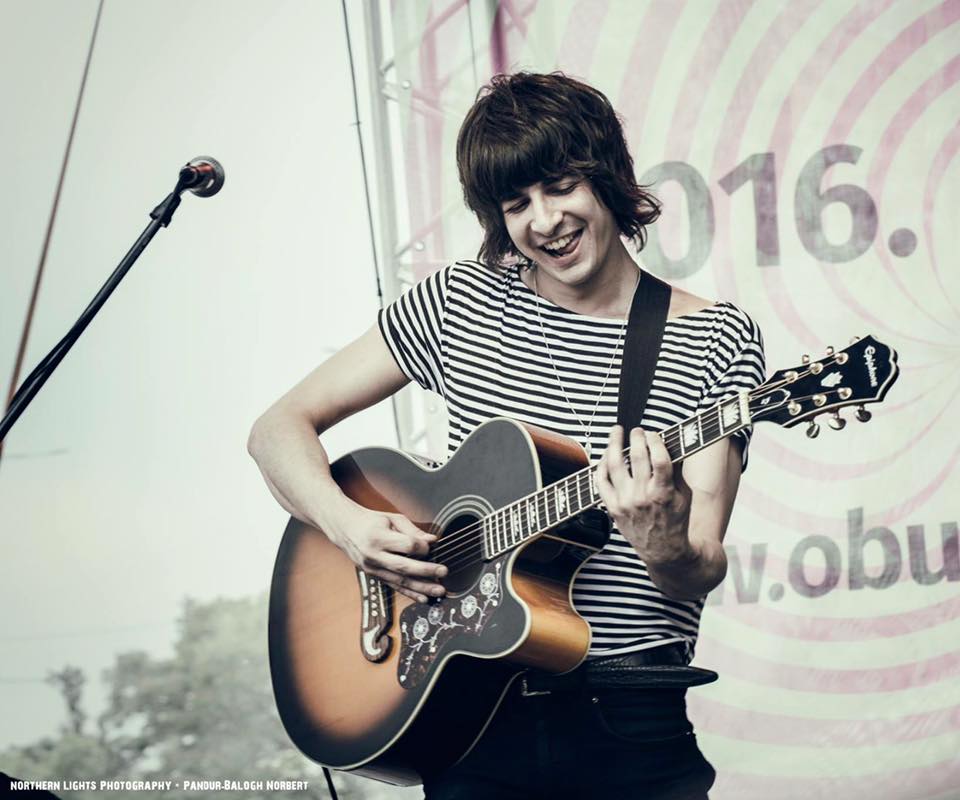 Eltelt egy újabb vasárnap Sorsfordító korongok nélkül, így éppen itt az ideje, hogy újabb résszel jelentkezzünk, melyben az Ivan & The Parazol gitárosa, Balla Máté vezet be bennünket abba a zenei világba, mely nagy hatást gyakorolt életére és zenei pályájára. Öveket be, füleket ki! Hajrá!
Kasabian-West Ryder Pauper Lunatic Asylum (2009)

A zenekar kezdeti időszakában mentünk valahova Bex kocsijával, és Jancsó berakott pár dalt tőlük. Imádtam. Ez az album tökéletes az elejétől a végéig. A zenéjük és az attitűdjük nagy hatással voltak rám. Zseniálisak élőben is, többször is megnéztem őket Szigeten. A 2009-es Glastonburys Fire-ről készült az egyik legnagyobb koncertfelvétel, amit valaha láttam.
Black Rebel Motorcycle Club- Howl (2005)

Peter Hayes szenzációs gitáros úgy, hogy közben egy percig sem akar hősködni. Iskolapéldája annak, hogy hogyan tudod kiszolgálni a zenét. Az a jó, ha ez megvalósul, de közben karakteres a gitározás, és a riffek már önmagukban elegek ahhoz, hogy közöljenek valamit. Amit ő játszik és Robert Levon Been basszusgitárja (vagy éppen másik gitárja) szinte összeolvadnak, és úgy folynak végig a dalokon. Többek között miattuk kezdtem el foglalkozgatni a slideolással.
Eagles of Death Metal- Heart On (2008)

Végtelen lazaság és nagyon nagy dalok, bármikor meg tudom őket hallgatni. Ha elgondolkodnál rajta, hogy elindulj-e valamerre este, csak berakod, és már ki is léptél az ajtón. Elvégre jól jön a "tapasztalás" ahhoz, hogy végül kicsit túlcsorduljanak benned a dolgok, és egy ötlet vagy dal formájában öltsenek testet.
David Bowie- The Rise And Fall Of Ziggy Stardust And The Spiders From Mars (1972)

Nem szorul magyarázatra. Lassan ment vele az ismerkedés, először a Suffragette Cityt hallgattam szét, az volt a meghatározó dal nekem, az egész album pedig csak később vált azzá.
Bass Drum Of Death- GB City (2011)

Azt hiszem ez a zenekar vezetett be az amerikai garázs rock világába. Utána jött a Fidlar, Ty Segall, a Wavves (bár tőlük a King Of The Beachet először Simi énekelte el nekünk, utána kicsit csalódás volt az eredeti). Emlékszem, ahogy az első lemezünk felvételei közben kint cigizgettünk a stúdió előtt, és éppen megmutattam a többieknek. Nagy idők voltak, aztán még nagyobb dolog volt nekünk egy-két évvel ezután velük és Hanni El Khatibbal játszani New Yorkban.
The Rolling Stones- Exile On Main Street (1972)

Keith Richards könyve, és a Happy volt az, ami miatt bejöttek a képbe nálam a különböző nyílt hangolások, amikben azóta több dalunk alaptémája is megszületett.
Primal Scream- Riot City Blues (2006)

Borzasztóan érezni rajtuk, hogy mennyire természetesen buknak ki belőlük a legkülönbözőbb világú számok, és ez nagyon szimpatikus nekem. Aztán tök mindegy, hogy éppen nagy hatású újítóknak tartják őket, vagy olyan zenekarnak, akik túl sokat merítettek a Stonestól. Én mindkét vonalat nagyon tudom értékelni. Megismertem a Suicide Sally & Johnny Guitart a nanázással a végén, meg a csúnyácska szólóval előtte, és azt hiszem, sikerült egyel közelebb kerülnöm ahhoz, hogy miről is szól ez az egész.
Nuggets: Original Artyfacts from the First Psychedelic Era, (1965–1968)
A harmadik lemez írása közben mélyebbre ástam magam a korszak zenéiben. Simi átküldte Buffalo Springfieldtől a For What It's Worth című dalt, aztán jöttek az ajánlott videóknál a 60-as 70-es slágerek, majd a számomra kevésbé ismerős dolgok. Kezdetnek egy fél napig biztos, hogy belefeledkeztem ebbe. Nem tudom, hogy mikor, de eljutottam eddig a válogatáslemezig. Nagyon inspiráló időszakunk volt ekkortájt szerintem. Elkezdtünk analóg orgonákra, meg mindenféle hangszerekre és erősítőkre vadászni. Egyre inkább kikristályosodott, hogy hogyan szeretnénk megszólalni. Persze ez egy folyamatos tanulás, egy talán soha véget nem érő folyamat, de akkor nagyot léptünk előre ilyen szempontból.
No Thanks! The '70s Punk Rebellion (2003)

Egy gyerekkori barátom mutatta még Sonic Reducert a Dead Boystól, nagy kedvenc, az is rajta van ezen a válogatáson, ahogy pár Stooges, MC5, Buzzcocks, New York Dolls is, vagy éppen a Have Love Will Travel a Sonicstól, ami a kezdeti koncertrepertoárunk állandó feldolgozása volt. Sok számomra új dalt, előadót is megismertem ennek köszönhetően, ilyen a Dictators, a Fear, Ian Dury és még sorolhatnám, bár külön-külön még nem ástam magam bele a munkásságukba. Nagyon jól tud esni a punk lendület, meg az, ha benne van a gitározásban ugyanaz az öröme a zajongásnak, mint amikor először nyúlsz a hangszeredhez.
The Blasters- Hard Line (1985)

Sejtelmem sincs, hogy milyen az album többi dala, de a még az Alkonyattól pirkadatigban hallottam először a Dark Nightot, ami miatt elcseréltem az unokatestvéremmel egy régi torzító pedálomat egy tremolo pedálra, ami azóta nagyon hozzám nőtt és sok dalunkban használom.
+1. Blues, Deep Purple, Chuck Berry, Stones válogatás CD-k
Kiskoromban sok ilyen válogatás CD-nk volt otthon. Volt egy tele olyan előadók dalaival, mint Muddy Waters, Little Walter, Howlin' Wolf, John Mayall és Johnny Winter. Így, amikor Bussy Gábornál a zenesuliban elkezdtünk bluesolni, már volt egy elképzelésem a műfajról. Arra is emlékszem, amikor először hallgattam Deep Purple-t. Ültem a konyhánk padlóján és levitte a fejemet. Ritchie Blackmore az elsők között van nálam azon a listán, akik miatt elkezdtem gitározni.