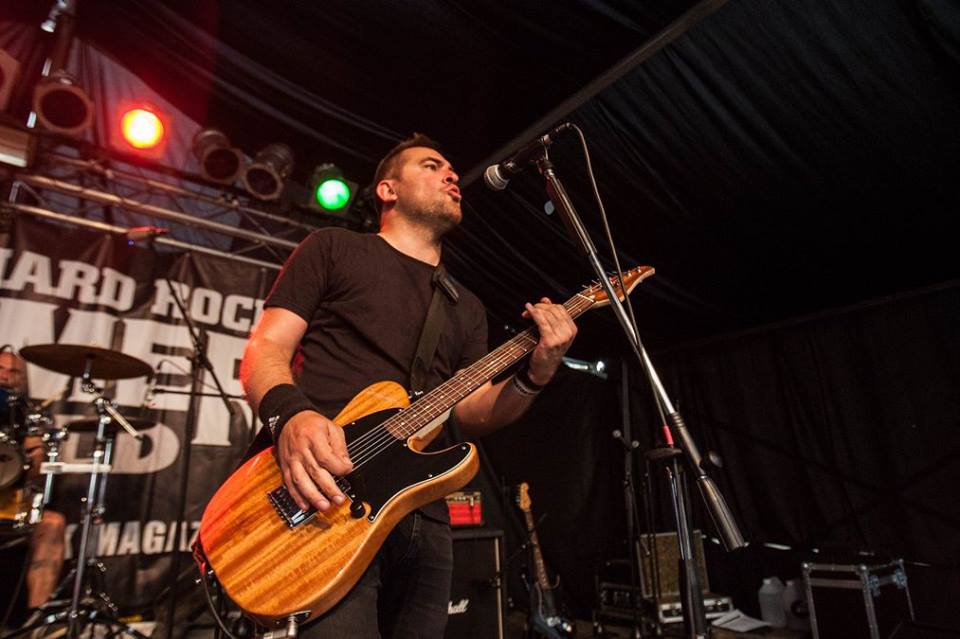 Az Angertea idén márciusban jelentkezett ötödik nagylemezével. A 'Snakes In Blossom' itthon és külföldön egyaránt kiváló kritikákat kapott, és szépen menetel is előre a Szentes-nagymágocsi brigád. A sok tennivaló mellett Mihály Gergő szakított időt, hogy részt vegyen állandó rovatunkban, a Sorsfordító korongokban. Íme életének 10 meghatározó lemeze.
Moby Dick - Kegyetlen Évek (1991)
Tíz-tizenegy éves voltam, amikor először hallottam a Moby Dickről. Előtte pár évvel már kezdtem érdeklődni a zene iránt, de nem voltak meg teljes nagylemezek, inkább csak dalokat hallgattam a Queen-től, meg pár szoftosabb rockbandától. Aztán valami tvműsorban láttam egy Moby Dick klipet, és azonnal a szüleimhez fordultam azzal a kéréssel, hogy a mikulás bácsitól ennek a zenekarnak az új albumát szeretném kazettán. És amilyen jó arc is volt az a Miki Bá', meg is hozta... Ez volt az első igazán kemény zene, amit hallgattam, egyfajta kapu volt számomra olyan bandák irányába, mint a Sepultura, vagy a Pantera. A mai napig hallgatni szoktam, és fura módon sok dalszöveg annyira beleolvadt az agyamba, hogy simán tudom őket ma is. Az a durva, hogy ez a zene mai füllel is nagyon brutális, de 91-ben különösen az volt. Úgy gondolom, hogy egy igazi korszakalkotó magyar lemez. Nem sok ilyen van. Fura, hogy pont a keménysége fogott meg. Akkoriban szerintem a heavy metal színtéren senki a nyomukba sem érhetett. Mentes Norbi pedig az egyik legjobb szólógitáros itthon ebben a stílusban. El is pirult egy éve, amikor elmondtam ezt neki (nevet)…
Pantera - Vulgar Display of Power (1992)
Egy havertól kaptam meg általánosban ilyen hamis lengyel kazettán. Még a címét is elírták. "Vulgar Display DE Power"-ként szerepelt az egyoldalas gagyi borítón, pluszban a dalok is más sorrendben szerepeltek, mint a hivatalos kiadványon. De nyilván akkor ezt nem tudhattuk. Egyből hatalmas fanatikusa lettem a bandának, és vagyok azóta is... Bár az összes "újkori" Pantera lemezt imádom, ezt tartom az igazi mesterművüknek! Megunhatatlan! Nagyon sokat hallgatom a mai napig, és durva, hogy mennyire időtálló, és hogy mennyire jól szól ma is a cucc... Ilyen zenekarból, ahol ekkora egyéniségek, ilyen őszinte zenélés, és kivétel nélkül ilyen tehetséges zenészek vannak, nagyon kevés van. És a Panterát azóta is sokan próbálják lekoppintani, de szerintem mind csak szánalmas próbálkozás.
Sepultura - Arise (1991)
Ez is ilyen full hamis kazettán, rossz sorrendű dalokkal jutott el hozzám először... És azt éreztem, hogy ennél keményebb és gyorsabb zene nem létezik a világon. Akkoriban nem is nagyon volt sok náluk durvább banda, kivéve persze a death metal zenekarokat, de azokat akkor még nem hallgattam. A Sepuval úgy vagyok, hogy mindegyik lemezüket nagyon szeretem, igen még az újabbakat is, amik már Derrick-kel készültek. Andreas apokaliptikus gitárjátéka mindent visz nálam. Nagyon jó érzés volt ezt elmondani neki személyesen is pár éve... Ez a lemez meg kivétel nélkül klasszikus slágereket tartalmaz. Egy jó kis sztori, hogy apukámat kértem meg annak idején, hogy másolja már nekem át a kazettát a haveréról, és akkoriban csak a munkahelyén tudta ezt megoldani, mert ott volt kétkazettás magnó. Amikor jött haza, elég aggódó fejet vágott, és elkezdte kérdezgetni, hogy "én ezt hallgatom?", meg hogy "ez nem sátánista zene?". Ez azért is nagy poén, mert apukám mindig is nagyon haladó szellemű, laza ember volt, de ez az album még nála is kicsapta a biztosítékot...
Nirvana - Bleach (1989)
Igaz, hogy én is a Neverminddal ismertem meg a Nirvanát, de ez a lemezük az, ami nagyon nagy hatással volt a korai éveimre és a kamaszkoromra. Több dalt játszottunk is róla az Angertea-vel a kezdetek kezdetén. Egy nagyon nyers, egyszerű, de brutálisan őszinte punk rock lemez, ami szerintem leginkább megmutatja, hogy miről is szólt ez a banda. Itt érződött szerintem leginkább rajtuk, hogy szeretik azt, amit csinálnak. Nem voltak túlcsiszolva a dalok, nem volt kiégés, csak nagy adag adrenalin, és bizonyítási vágy. Ja, és messze ez a legmetalosabb lemezük.
Alice in Chains - Dirt (1992)
Ez a banda is olyan, hogy bármit is csinálnak/csináltak, kivétel nélkül imádom. Annyira egyéni, annyira sötét az a hangulat, amit a zenéjük áraszt, hogy egyből elragadja a gyanútlan hallgatót. Tőlük először a kutyás albumot hallottam, aztán a Faceliftet, meg az EP-ket és csak utána a Dirt-öt, szóval elég későn, de örök kedvencemmé vált. Náluk szerintem ez az abszolút mestermű. Emlékszem, hogy nagyon sokáig csakis ilyen óriási fülessel hallgattam egy nagy fotelbe süppedve, és oda vissza fordítgattam a kazettát 4-szer ötször végighallgatva a lemezt. Megunhatatlan a mai napig.
Pearl Jam - Vs. (1993)
A mai Pearl Jam-et nem annyira szeretem. Mára sajnos ilyen rockandroll bandává váltak, és tőlem ez a zene eléggé távol áll, de az első 4-5 albumukat imádom a mai napig. A Vitalogy és a Vs. volt az a két albumuk, amik a legtöbbet forogtak nálam főleg a gimis éveimben. Mindkettő zseniális mestermű. A Vitalogyról talán lehagytam volna az átvezetőket, pár helyen feleslegesek, de a Vs.-en nincs üresjárat. Annak idején, amikor gimisként a szentesi IH-ban gimibulikat szerveztek, mindig volt egy olyan 20 perces rock szakasz a diszkóműsorban. Ebben tolták mindig a Rearviewmirror-t. Mi meg a hülye haverjaimmal szétpogóztuk az összes diszkós köcsögöt... Jól megrugdostuk őket, volt, hogy félmeztelenre vetkőzve tomboltunk. Még a kidobók sem mertek hozzánk szólni ilyenkor, pedig eléggé botrányosan viselkedtünk párszor...
Soundgarden - Superunknown (1994)
Ennél a bandánál legszívesebben minden lemezüket felsorolnám, mindegyik alap, beleértve az újat a King Animal-t is. Amit a leginkább szeretek a Soundgardenben, hogy nagyon izgalmas, amit csinálnak, soha nincs két ugyanolyan lemezük, szóval ez a sokszínűség nagyon magával ragadó számomra. Először egy Headbanger's Ball műsorban láttam az Outshined klipet az előző lemezről, és megjegyeztem a nevüket, de olyan furának találtam az egészet. Metalos verze, aztán ennyire dallamos refrén?! Valahogy nem állat össze elsőre. Aztán pár év múlva, amikor kijött a Black Hole Sun klipje, egyből nagyon érdekelni kezdett a banda, és be is szereztem a Superunknown-t. Nagyon hosszú lemez, hosszú, és mély dalokkal. De akkora slágergyűjtemény, mint a ház. Nincs rajta gyenge dal, bár ez szerintem jellemzi az egész életművüket is. Cornell pedig a valaha élt legnagyobb énekes.
Faith No More - King for a Day, Fool for a Lifetime (1995)
Ez mondjuk egyenértékű nálam az Angel Dust lemezükkel. Mindkettő nagyon nagy hatással volt rám. Játszottunk is dalokat a FNM-tól, sőt, hát ugye pár éve összejött, hogy a bőgős Bill Gould vendégszerepelt is egy dalunkban. Amellett, hogy iszonyatos hangulati és stílusbeli csapongásokra képes a zenekar, szerintem magasan a legjobb koncertbanda a világon! Mike Patton pedig az egyik legjobb létező frontember, pedig fura módon egy elég bizarr, és beteg arc. De valamit nagyon tud, mert megfogja az embereket. Persze a hangja zseniális, ez alap. A ritmusszekció pedig durván betonbiztos. Nem egy virgakirály senki ebben a zenekarban, de amit oda kell, azt odarakják, nagyon keményen. Szeretem az "új" lemezüket is amúgy!
Tool - Aenima (1996)
A Tool a leginkább kedvenc zenekarom. A gitározás, a dob, a bőgő és az az énekhang... Mindegyik zenész hatalmas egyéniség. Szokás a Tool-t nagyon hájpolni, de itt ez a hájp abszolút jogos szerintem. Amellett, hogy nagyon egyénien közelítenek a zene felé, és hosszú, összetett nótákat írnak, gyönyörűen megírt DALokban gondolkodnak. Nagyon emlékszem, amikor először hallgattam ezt a lemezt. Az Angertea másik két tagjával együtt a nappalinkban tettük be a kazettát, és közben ilyen zenekari megbeszélést tartottunk, szóval kvázi háttérzeneként szólt. Eltelt fél óra, és valaki bevágta, hogy "azonnal állítsd le ezt a szart"... (nevet)Totál lemerített bennünket, szinte fejfájást kaptunk tőle elsőre. Persze éreztük, hogy jó ez, de nagyon sok és tömény volt, főleg úgy, hogy nem annyira figyeltünk rá. Aztán pár hallgatás után totálisan rákattantunk. A szüzességemet is úgy vesztettem el, hogy ez a lemez szólt. Persze a hölgy kérésére félúton ki kellett kapcsolni... (nevet) Elég nagy hatással volt a Tool az Angertea-re is. Hallható, azt hiszem. Mindegyik lemezük alap, és mestermű. Talán azért emeltem ki az Aenimát, mert ez volt az első, amit hallottam tőlük.
Meshuggah - Nothing (2002)
Jóval a Nothing előtt is imádtam a Meshuggah-t. De itt használtak először 8 húros gitárokat, és ez egy teljesen új, forradalmi dolognak számított a megjelenésekor. Tudom, hogy sok ember fantáziátlannak tartja a bandát, meg egysíkúnak, de itt máshogy kell megközelíteni a zenét. Az "ének" például egy ritmushangszer, meg az egész cucc pont a ritmusokról, ütemekről szól, nem a dallamokról. És ebből a szempontból nagyon is változatos a dolog. Csak sokan nem értik... (nevet) Furcsa módon a sok-sok követő zenekart nem szeretem. Talán pont a dallamos ének idegesít ezekben a Meshuggah riffeken szocializálódott, azokat nyúló csapatoknál. Nem tudom. A lényeg, hogy Mindegyik lemezüket imádom, kivétel nélkül! Az új is zseniálisra sikeredett, és persze nagyon betegre (nevet)
+2
Korn - Korn (1994)
Hatalmas lemez. Nagyon nyers, őszinte és dühös, meg az a lehangolás, az a megszólalás nagyon nagy újdonság volt a megjelenésekor. Az első két Korn hatalmas kedvenc nálam. A későbbi dallamosabb vonalat viszont nem tudtam megszeretni túlzottan.
Rage Against the Machine - Rage Against the Machine (1992)
Alapmű. Brutálisan energikus-dühös zene, egyéni látásmód. Nagyon jó koncertbanda. A gimibulikban a Killing in the Name volt még egy ilyen sokszor játszott pogózós tétel...