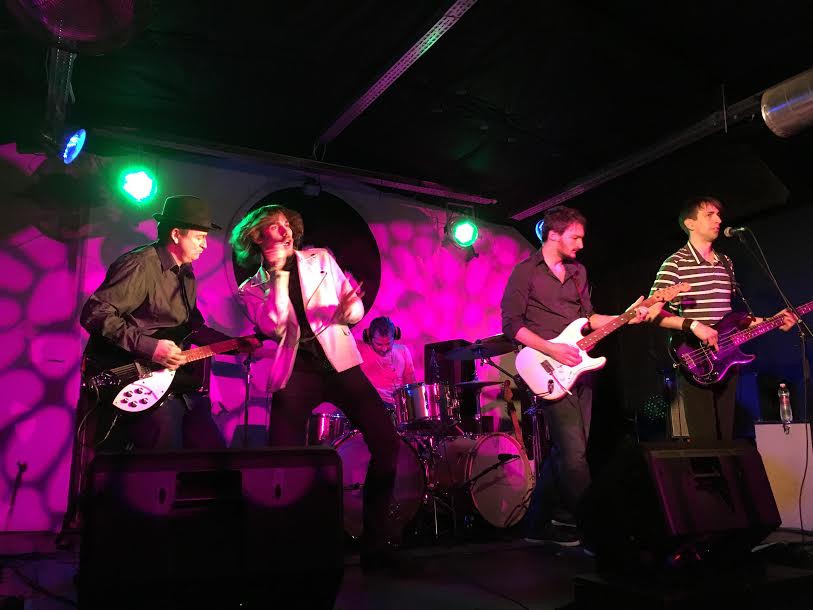 Nyugodtan állíthatjuk, hogy A The Whu csapata életben tartja itthon a legendás Roger Daltrey és Pete Townshend által vezetett angol klasszikus zenekar örökérvényű zenéjét. Az együttes decemberben egy nagyszabású koncertet ad a magyar közönségnek. Többek között erről is beszélgettünk a zenekarral, azaz Takács Máté énekessel, Szersén Ádám és Encs Mihály gitárosokkal, Fehér Zoltán "Szegecs" basszusgitárossal, és Michael Zwecker dobossal.
OTRNR: - Sziasztok! Először is arra volnék kíváncsi, hogy hogyan és mikor jött az ötlet, hogy összehozzátok a The Whu csapatát?
Misi: Kölyök korom óta nagy kedvencem a Who, de csak az elmúlt évben sikerült olyan zenésztársakat találni, akikben hasonló hőfokon lobog a láng. Egy kezemen meg tudom számolni, hogy hány emberrel találkoztam Magyarországon, aki ismeri és szereti Pete Townshendéket, de pontosan ez ösztönöz bennünket, hogy gyakorlatilag a nulláról indulva ismertséget és elismerést szerezzünk a Who zenéjének.
Ádám: Misivel egy gitárosra feladott hirdetés kapcsán ismerkedtünk meg. Az első sörözés alkalmával jött szóba a The Who. A zenekart együtt kezdtük el, majd kisebb-nagyobb kitérő után megint én lettem a gitáros.
Máté: Én is egy hirdetés alapján találkoztam velük. Az akkori zenekaromban gondok voltak, ritkán volt fellépés, és nem nagyon volt mit csinálnom, ezért a gitárosom ajánlotta figyelmembe a ZenészAprón a cikket, miszerint főként Who feldolgozásokat játszó zenekar keresi énekesét. El is mentem egy próbára, és nagyon bejött a dolog.
OTRNR: - Miért pont a The Who? Miért különlegesek számotokra Daltrey-ék?
Misi: A magnó mellett annak idején még nem is értettem, hogy miről szólnak a dalok, de olyan energia áradt az előadásukból, ami az első pillanattól kezdve megfogott. Amikor a nyolcvanas években a tévé leadott egy esseni Who koncertet megerősödött bennem a hit, hogy ők a világ legenergikusabb zenekara. Pedig Keith Moon akkor már nem is volt velük. Azóta motoszkált bennem, hogy milyen óriási dolog lenne Who-t játszani.
Michael: Én más tribute-bandában nem is játszanék. Számomra mindig The Who volt a kedvenc zenekar, 12 éves korom óta. Mindig is a szívemnek, lelkemnek szóltak a dalok.
Máté: Amikor megérkeztem még voltak a repertoárban Rolling Stones és Kinks számok is. Igazából az én egyik megjegyzésemre kezdtünk el a Who munkásságára összpontosítani, hiszen én a hirdetés alapján Who tribute-re asszociáltam. Mint később kiderült ez egy téves feltételezés volt a részemről, de maradt a Who, hiszen nagyon élveztük!
A Who zenéjének olyan energiája van, mint állítom, hogy semmilyen más zenekarnak se akkor, se azóta. Keménykedhetnek ma akármennyit a metálosok, üvöltözhetnek és höröghetnek akármennyit, sosem lehetnek annyira igazán kemények, mint a Who. A Who keménysége nem a dühből és csalódottságból árad, és nem is erőszakos zenekar. A lendületük őszinte, szívből fakadó, és akarnak mondani valamit. Úgy tudtak a saját generációjuk nevében szólni, ahogy sem a Beatles sem a Stones nem volt képes. Ha zeneileg nem is, de ebben Ők voltak a legjobbak.
Igyekszünk ezt mi is átadni a színpadon a mai közönségnek. Hátha a mi generációnk is újra felefedezi a Who-t.
OTRNR: - Beszéljünk egy picit a zenekar felállásáról, Kik zenélnek nálatok?
Misi: A kétezres évek "modern" Who felállására törekedve két gitáros is szerepet kap a csapatban Szersén Ádám és jómagam (Encs Mihály) személyében. Az egész Who hangzásban talán John Entwistle basszusjátékát a legnehezebb hozni, de ezt a feladatot Fehér Zoli "Szegecs" maximálisan teljesíti. Állandó vendégünk Angyal Ádám billentyűs hangszereken, aki a fúvós részeket is remekül nyomja. Frontemberünk Takáts Máté, akinek zsenge kora ellenére szíve csücske a Who és mindent megtesz a színpadon annak érdekében, hogy ezt be is bizonyítsa.
Michael: Én pedig a dobos vagyok. Mivel a Keith Moon volt az első nagy hősöm és dobos példaképem, minél hitelesebben próbálom a Moon stílusát átvenni. Nehéz feladat, mert annyira egyedi és őrült, amit csinál... de mégis valamennyire természetes nekem mivel úgy tanultam dobolni, hogy Moon-t utánoztam.
OTRNR: - Mi alapján választotok ki egy feldolgozni kívánt dalt?
Michael: Én bármelyik Who dalt vagyok hajlandó játszani. Minden jöhet!
Máté: Elsősorban az dönt, hogy átlagban véve mennyire szeretjük a számot. A második szempont pedig az eljátszhatóság. Nagyon sokáig nem volt a repertoárban a Baba O'Riley és a Won't Get Fooled Again (ez utóbbi egyik személyes kedvencem), de Mike érkezésével ez megoldódott.
OTRNR: - Melyik a kedvenc korszakotok a The Who igen bőséges diszkográfiájából? Miért?
Michael: Én egy annyira mélyen elfogult "fan" vagyok, hogy őszintén mondhatom mindegyik aktív korszak (azaz 1964 és 1982 között) bejött nekem. De a Quadrophenia volt az a lemez ami a legeslegjobban hatott rám. Tinédzser koromban nagyon a "magaménak" éreztem a Townshend mondanivalóját meg az egész lemez hangulatát. Mint élő zenekar pedig a 1968-1970es felvételeket tartom a legizgalmasabbnak (például "A Quick One" a Rolling Stones Rock and Circus-ból - egyszerűen zseniális.)
Misi: Az első LP a kedvencem 65-ből a "My Generation", és persze a 71-es "Who's Next". Elementáris mindkettő, valósággal leviszi az ember fejét!
Máté: Az Én szívemhez legközelebb a Rock Operák állnak, főként a Tommy. A Quadropheniának a hangzása kicsit túl szintetizátor orientált nekem, de a zene lenyűgöző (a diszkográfia legbonyolultabbja), és az üzenete az egész koncepciónak nagyon közel áll hozzám szóval ott van a Top-ban. És persze a Who's Next és a Quick One.
De amit a legszívesebben hallgatok, az az 1969-71 élő felvételei. Nagyon szépen van dokumentálva ez a korszak, és elképesztő energiák szabadultak fel bennük is és a közönségben is.
Ádám: Quadrophenia, Who's Next.
OTRNR: - Tegyük fel, hogy Pete Townshend betéved az egyik koncertetekre egy közös dalra, melyiket játszanátok?
Michael: Ez egy igazán jó kérdés! Épp mondtam az Ádámnak, hogy a kedvenc dalom a "Pure and Easy." Ha együtt lehetne azt játszani a Towshenddal, akkor talán komplett lenne az életem. (mosolyog)
Ádám: Egy interjúban azt mondta a Sister Disco-t utálta a legjobban - legalábbis akkoriban. Komolyra fordítva: Magic Bus!
Máté: A Quick One (While He's Away). Akkora finálé lenne!
OTRNR: - Külföld felé is nyitottak vagytok?
Misi: A Who zenéjét mindenhol ismerik, ha jónak tartják a mi előadásunkban is, akkor bárhová örömmel elmegyünk. Keressük a kapcsolatot külföldi impresszáriókkal, bízunk benne, hogy hamarosan a határon túlra is eljutunk.
Michael: Amúgy a Facebook-on létrehoztam egy zárt group-ot "Moon Men" alatt, ahol csak azok lehetnek tagok, akik dobolnak Who tribute-ban. Cserélni szoktunk ötleteket, hogy hogyan kell hitelesen Keith Moon-nak a teljesen egyedi stílusát megfelelően előteremteni. Meg valamennyire a dob cuccokról is cserélünk ötleteket, hogy mivel lehet a "jó sound-ot" csinálni. De még nem szerveztünk nemzetközi Who fesztivált!
Máté: Mindenképpen! Magyarországon nincs más ilyen zenekar, de külföldön azért van kultusza a Who-nak szóval bár lehet, hogy nincs akkora szükség ránk kint, de közönség az biztos lenne. Szóval én kifejezetten nyitott vagyok!
OTRNR: - John Entwistle és Keith Moon halálával egy hatalmas veszteség érte a zenekart, ettől függetlenül a két vezéregyéniség továbbra sem hagyott fel a zenéléssel, mi a véleményetek a ritmusszekció utánpótlásáról? Pino Palladino nyugodtabb, bluesosabb játéka hogyan hasonlítható Entwistle virtuózitásához?
Szegecs: Szerintem csak az állít olyat, hogy Pino nem virtuóz, aki nem ismeri a teljes munkásságát. Palladino nevével először a John Mayer Trio, majd a NIN kapcsán találkoztam. Már akkor is úgy gondoltam, hogy ő eléggé extrovertált, hogy ilyen sok hangot játsszon basszuson, de túlságosan introvertált ahhoz, hogy mindezt egy éles, dinamikus hangzás helyett, inkább egy fojtott, R&B sounddal csinálja. Aztán amikor meghallottam, hogy mit művelt azzal a fretless Music Mannel Paul Young vagy Gary Numan mögött, akkor lépett számomra az első példaképek közé, Entwistle mellé. Azt el kell ismerni, hogy ha autentikus soundot akar hallani az ember, akkor tanácsosabb inkább Billy Sheehant és az Amazing Journey-t keresnie. 
Minden esetre, valószínűleg Pete olyan session zenészeket keresett, akik kiszolgálják őt a háttérben meghúzódva. És hát valljuk be, Pino és Zak a legmegfelelőbb személy erre.
Michael: Ha van egy korszak, amikor nagyon nem követtem a Who-t, az volt közvetlen az Entwistle halála után volt. Nagyon mérges voltam rájuk, hogy nem hagytak abba végleg. Viszont aláírom hogy a Pino/Starkey ritmusszekció a legjobb potlás ami eddig volt. A Simon Phillips korszak szamomra zeneileg szörnyű volt. Brrr!  Ő egy rendkivül jó dobos aki nagyon rosszul játssza a The Who-t. Most bécsben láttunk őket, és mondtam a többieknek, hogy a mostani Who az, amiben Pete Townshend a győztes. A ritmusszekció ki volt herélve. Lehet, hogy keverés vagy akusztika volt benne, de a basszus nagyon nem szolt, és a Zak tulságosan visszafogott volt. Viszont a neten láttam olyan videót, amiben nagyon jól csinálják! A Zak, amugy nagyon jónak tartom. Amikor ki van engedve, akkor pont azt a "normális Moon-szerű őrületet" produkál, ami megfelel egy profi produkciónak. Amugy láttam Entwistle élőben 1996ban, a solo "Left for Dead" túrnéja alatt egy kis klubban Indianában.  Mondhatom simán, hogy ez messze a leghangosabb koncert amit tapasztaltam az életemben. Tépett a basszus. Annyira rendkivül hangos volt, hogy nehez elhinni. A lényeg? Szerintem szegény Pino-nak nem engednek hasonló hangerőt. Pedig állithatnánk, hogy a feltekert hangerőn alapul az Entwistle stilusa, soundja, és igy egyben a Who soundja.
Ádám: A The Who-nak mindig is Pete Townshend volt a zeneszerzője, még a szövegírója is. Négy ember, aki nélkülözhetetlen volt ahhoz, hogy beírják magukat a történelembe - azonban Pete az, aki miatt a mai napig működik és hiteles a zenekar.
Máté: Megvallom férfiasan az őszintét: Én 1978-on túl nem nagyon hallgattam Who-t. Számomra Keith Moon halálával lezárult a Who története. Meghallgattam az utána következő két lemezt, de nagyon keserű szájízzel, amit meg most csinálnak az bár lehet minőségi, de nagyon szomorú számomra. Én sok sikert kívánok nekik, de sajnálom, hogy magát a Who-t, az eredeti négyesfogatot sosem láthatom.
OTRNR: - Mi a véleményetek a hazai tribute bandákról, a felhozatalról, és úgy általában a cover műfajról?
Misi: A jó cover bandák koncertjei mindig megfognak, gyakran dögösebbek mint az eredeti előadó. Hogy csak a Who pályatársainál maradjunk állati jó itthon a The Bits, a Stoned, imádom a Starmans-t, ha pedig Jimi Hendrix, akkor nekem az Electric Ladyland jön be! 
Michael: Mivel most én is egy tribute band-ben vagyok, nem illene csunyát mondani! :-)
Ádám: Ha egy zenekar tud adni valamit a közönségnek, nálam nincsenek kérdőjelek.
Máté: Én jelenleg több Tribute zenekarban is énekelek, köztük a Hungarian Pink Floyd Showban és a Doors Emlékzenekarban, és természetesen itt. Mindegyiket nagyon élvezem, óriási koncerteket szoktunk adni nagyon hálás közönségeknek, de semmiképpen nem akarok majd itt megrekedni. Számomra a Tribute legfőbb feladata hogy Művelje a közönségét, megismertesse a régi nagyokat a közönséggel. És ez egy nemes feladat, amit el kell végezni, ezért is csinálom szívesen évek óta. De azért vannak ambícióim, hogy én magam is művészileg létrehozzak valamit.
OTRNR: - December közepén nagyszabású koncertetek lesz. Mit kell tudni a közönségnek erről az előadásról?
Misi: December 17-én, szombaton este a Muzikumban adunk karácsonyi koncertet, melyen a Who valamennyi korszakát megidézzük. Biztos vagyok benne, hogy mindenki fog kedvére valót találni a műsorban. Talán még az is, aki életében nem hallott a Who-ról csak éppen nézni szokta a Helyszínelőket a tv-ben. Szeretnénk minden korosztályt megtalálni a Who zenéjével, bebizonyítani azt, hogy nem csak Bach és Beethoven tudott maradandót alkotni. Mindenkit szeretettel várunk! Érdemes a Muzikum honlapján elővételben megvenni a jegyeket, így olcsóbb és nem kell sorban állni.
Máté: Ez lesz az eddigi legnagyobb koncertünk, jó hosszú és tömény műsorral, ismertebb, kevésbé ismert, lassabb és pörgősebb számokkal. Ha valaki meg akarja ismerni ennek a zenekarnak az esszenciáját, az mindenképp nézzen meg minket! Várunk titeket szeretettel, nagy buli lesz!

The Whu a Facebookon!

Az koncert Flyere! (Az eseményhez kattints a képre!)