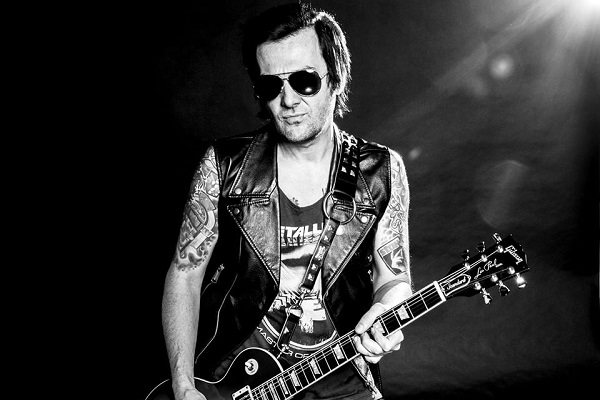 Az idei utolsó Sorsfordító korongokban Kőváry Péter, a hamarosan új albummal jelentkező Peter Kovary & The Royal Rebels frontembere, gitárosa avat be bennünket életének 10+1 meghatározó lemezébe. Lássuk akkor Peti sorsfordító korongjait!
Utóbb jöttem rá, mennyire nehéz feladatra vállalkoztam, amikor elvállaltam ennek a cikknek a megírását. Először összegyűjtöttem vagy harminc albumot, és elkezdtem szelektálni, de rájöttem, hogy ez így nem jó. Azután úgy döntöttem, inkább elkészítek valamiféle kronológiai sorrendet, hiszen a cikksorozat címe is ezt kívánja, így végiggondolhattam, hogy mik is voltak azok az albumok, melyek jelentős hatással voltak a zenei pályafutásomra. Egy húszas listába biztosan belekerült volna Jimi Hendrix, a Led Zeppelin, az Allman Brothers, a Lynyrd Skynyrd, Marvin Gaye, Isaac Hayes, az Earth, Wind & Fire, Jack White, BB King vagy a Rival Sons is. Végül maradt a 10+1 lista.
 The Rolling Stones - Still Life (1981)
Köztudomású tény, hogy a Rolling Stones legjobb korszaka az ún. Jimmy Miller-időszak, vagyis az 1968-72 közötti albumok (Beggars Banquet, Let It Bleed, Sticky Fingers, Exile On Main Street) által fémjelzett néhány év, mégis számomra ez az 1981-es koszos, punkos koncert album minősül sorsfordítónak. Sok interjúban elmondtam már, hogy hál' Istennek a '60-as, '70-es évek zenéjén nőttem fel, öcsémmel (Zoli - The Trousers) édesapánk szalagos magnóján hallgattuk a The Kinks, a Stones a Beatles dalait, és ez a korszak nagyon mélyen belénk ivódott, alapvetően meghatározva zenei ízlésünket. Már kisgyermek koromban elkezdtem bakeliten gyűjteni a zenéket, és ez a Stones album volt az egyik első lemez, amit a saját zsebpénzemből vettem, és recsegősre hallgattam. Innentől datálódik számomra, a Stones iránti szinte feltétlen rajongásom, mely odáig vezetett, hogy megvettem bakeliten szinte az összes albumukat, nagyon sok koncertjükre elmentem, és a 2000-es évek második felében a Stoned nevű Rolling Stones tribute bandában még "mickjaggerkedtem" is néhány évig. Az 1981-es Tattoo You album, és az azt követő turné volt szerintem a Stones utolsó igazán kiemelkedő időszaka, ez a koncertlemez ennek a periódusnak a remek a lenyomata. A koncertnek a képi változatát is megszereztem később VHS-en. Ezen a videón található az az ominózus felvétel, amikor Keith Richards a Telecasterével fejbevágja a színpadra felszabadult rajongót, majd ugyanazzal a mozdulattal már teszi is vissza a gitárt, és játszik is tovább. Íme:
The Beatles - Let it Be (1970)
Sokáig nem tudtam eldönteni, hogy a Beatles vagy a Stones a kedvenc zenekarom (a biztonság kedvéért mindkét banda logóját magamra tetováltattam), végül az idő a Stones-nak kedvezett, legalábbis nálam. Ettől függetlenül a Beatles életművét legalább olyan jól ismerem, mint a Stones-ét, és ugyanúgy megvettem bakeliten az összes albumukat. Én igazán a Beatles 1966 utáni korszakát szeretem, a hippis, LSD-s, hosszúhajú-szakállas albumokat (Sgt. Peppers, The White Album, Abbey Road), és ezek közül azért emelkedik ki számomra a Let It Be, mert ez volt az első, amit ebből a korszakból megismertem (a pesti unokatestvéreméktől sikerült "lenyúlni" az albumot) Bár még kisiskolás voltam, de teljesen megbabonázott az album feelingje, éreztem, hogy ez más, mint a "hülyegyerek frizurás" Beatles. Később persze megtudtam minden információt a lemezről, a "tető koncertről", meg hogy sokan nem is tartják már igazi Beatles-lemeznek ezt az albumot, de számomra mit sem von le mindez a Let It Be művészi értékéből. Az I've Got a Feeling, a Get Back, vagy a Let It Be a mai napig a kedvenc Beatles dalaim közé tartoznak.
Deep Purple - Machine Head (1972)
Az általános iskola második felében elkezdett érdekelni a hard rock, a metal, és a '60-as, '70-es évek klasszikusai mellett egyre többet hallgattam keményebb zenéket. Ehhez az első löketet a Deep Purple 1987-es budapesti koncertje adta, amire sikerült nagynéném révén eljutni, aki ezidőtájt a Magyar Rádiónál dolgozott, és tudott szerezni jegyeket a bulira, így ez volt életem első koncertje. Visszagondolva , nagyon szerencsésnek érzem magam, hogy láthattam a Purple klasszikus Mark II. felállását (Gillan, Blackmore, Lord, Glover, Paice), bár a koncert előtt összesen a Machine Head albumot sikerült beszereznem, ettől függetlenül a koncertre a mai napig nagyon jól emlékszem, pedig lassan 30 év telt el azóta. Később persze megismerkedtem a Purple klasszikus életművével is (az új albumokat bevallom, nem ismerem), de 1976-ig megvan az összes lemez. Személy szerint a Mark III. Felállás a kedvencem (Coverdale, Blackmore, Lord, Hughes, Paice), de Machine Head album volt az ami elindított a hard rock/metal ösvényen.
AC/DC – Powerage

(1978)
Hard rock vonalon a második lökést az AC/DC - Let There Be Rock című 1980-as koncertfilmje adta, melyet ugyan évekkel később sikerült csak megnéznem, de azóta már vagy százszor láttam, és soha sem unom meg. A Bon Scott-os AC/DC (1974-1980) számomra a nagybetűs rockzenekar, nem volt és soha nem is lesz több ilyen őszinte, megkérdőjelezhetetlen, vagány, dögös, minden szempontból egyszerű, de nagyszerű banda a könnyűzene történetében. A Bon Scott-os albumokat kivétel nélkül imádom, és közülük az 1978-as Powerage az, ami a 100 %-ban megmutatja milyen is volt a '70-es években az AC/DC, amikor még a világ legjobb rockénekese Bon Scott állt a mikrofon mögött, és írta a legtökösebb rocknroll szövegeket.  Rock'n'Roll Damnation, Sin City, Gone Shootin' és sorolhatnám az album dalait, mind egy-egy gyöngyszem, és a hangzás is nagyon közel áll hozzám, nem olyan "retkes" mint a Let There Be Rock, de nem is olyan polírozott, mint a Highway To Hell. A Brian Johnson-os AC/DC-t is bírtam, és szeretem is a mai napig, de Bon Scott-ot számomra senki nem tudja überelni.
Mötley Crüe - Dr. Feelgood (1989)
A '80-as '90-es évek fordulóján voltam gimis, és ekkorra már tombolt a rockzenében a hairmetal , Los Angeles kőkeményen átvette az irányítást a hangzásban és a divatban. Mindenki úgy akart kinézni és szólni, mint a Led Zeppelin vagy a Van Halen, a Sunset Strip hedonista életszemlélete pedig teljesen rányomta a bélyegét erre a stílusra, amit szokás glam-metalnak is hívni, bár én ezeket az elnevezéseket eléggé utálom. Sajnos ennek az időszaknak a képe meglehetősen eltorzultan él az utókor emlékezetében, köszönhetően a mára már eléggé megmosolyogtató külsőségeknek (tupírhaj, cicanaci, western csizma, Jack Daniels-vedelés, csajok a motorháztetőn stb.). Viszont sokan elfelejtik, hogy pl. a manapság is stadionokat megtöltő Guns'n'Roses vagy a Bon Jovi is ebből a közegből tört ki, a Kiss, Alice Cooper vagy az Aerosmith ekkor tudott újra rivaldafénybe kerülni, és olyan értékes együttesek is ekkor tűntek fel, mint a Cinderella vagy a The Black Crowes. A korszak kétségtelenül legmenőbb bandája a nemrég feloszlott Mötley Crüe volt, akiket volt szerencsém fénykorukban is látni (majd később többször is megnéztem őket koncerten), a Dr. Feelgood című albumuk, pedig mind a mai napig megállja a helyét, mind hangzásban, mind a dalok tekintetében. Tisztán emlékszem az általános döbbenetre, amit az album brutálisan jó, hangos és dinamikus megszólalása okozott, ami nyilván az akkoriban elterjedő analóg mastering technikának és Bob Rock producernek is nagyban volt köszönhető. A Mötley Crüe ekkor volt a csúcson, viszont a Guns'n'Roses hamar beelőzte őket, holott korábban még ők voltak a Crüe előzenekara. Ettől függetlenül a Mötley-t valahogy mindig jobban szerettem.
The Black Crowes - Shake Your Money Maker (1990)
A The Black Crowes az a banda, ami zenészként a legnagyobb hatást gyakorolta rám, zeneileg, stílusban, attitűdben és külsőségekben egyaránt. Minden zenész számára fontos, hogy fiatal korában legyen olyan banda, előadó, akivel azonosulni tud, akit real time-ban követni tud, és meghatározza az identitását. Amikor öcsémmel megalapítottuk '90-es évek elején a The Ragdoll-t, gyakorlatilag a The Black Crowes volt számunkra a legegyértelműbb követendő példa. Néhány évvel voltak csak idősebbek nálunk, ugyanazok a bandák voltak a példaképeik, mint nekünk, és úgy nyúltak hozzá a régi, klasszikus dolgokhoz, mint ahogy mi is szerettünk volna. Szigorúan véve semmi eredeti nem volt abban, amit csináltak, mégis saját stílust tudtak létrehozni, amit sokan a mai napig másolnak. A Crowes albumai kiállták az idő próbáját, muzsikájuk kortalan, egyszerre van meg benne az amerikai southern rock és country, a brit rhythm & blues és hard rock, a korai soul/funk, szóval minden, amit igazán szeretek. Nincs olyan hónap, hogy ne hallgassam meg valamelyik lemezüket, de leginkább az első két albumukat szeretem. A debütáló 1990-es Shake Your Money Maker volt azonban az album, aminek a hatására elkezdtem egyre több southern rockot és a bluest hallgatni, és több évre meghatározta a zenei fejlődésemet.
ZZ Top – Deguello (1979)
A '90-es évek első felében szinte csak southern rockot, blues rockot illetve bluest hallgattam, olyan előadók voltak a kedvenceim, mint az Allman Brothers Band, a Lynyrd Skynyrd, Johnny Winter vagy BB King. A legmeghatározóbb banda számomra ebben az időszakban a ZZ Top volt. Az első emlékem a zenekarról az 1985-ös, borzalmasnak is nevezhető Afterburner album volt, ekkor voltak a legnagyobb szupersztárok, még a Bravo is tele volt a képeikkel. Bevallom, én ezt a korszakukat is nagyon bírom, de igazán nagy hatást a korai lemezeik, illetőleg Billy Gibbons zseniális gitárjátéka tett rám. Gibbonst tartom a valaha élt egyik legnagyobb gitárosnak, a Deguello album pedig az esszenciája annak, amiért a ZZ Top-ot, illetve a banda klasszikus korszakát szeretni lehet: texas blues, southern rock, kalapok, szakállak, csizmák, autók, zseniális gitározás, lazaság…
Stevie Wonder - Songs In The Key Of Life (1976)
Szintén a '90-es évek közepén merültem el a fekete soul és funk zenék felfedezésben is. Olyan előadókat ismertem meg, mint a Sly & The Family Stone, James Brown, George Clinton, Marvin Gaye, Isaac Hayes, Curtis Mayfield, és sorolhatnám még, de legnagyobb hatással Stevie Wonder munkássága volt rám ebben az időszakban. Művészetének csúcsa, kiteljesedése ez a dupla album, melynek egyes dalaira később mások egy egész karriert alapoztak (ld. Pastime Paradise – Gangster's Paradise –Coolio). Stevie Wonder kétségtelenül az egyik legnagyszerűbb zenész a világon, és mint dalszerző, Marvin Gaye mellett talán a legnagyobb, a klasszikus soul/rnb műfajban. Ezt mi sem bizonyítja jobban, mint ez az album, és annak felejthetetlen dalai (I Wish, Isn't She Lovely, As stb.)
Oasis – What's The Story (Morning Glory )(1995)
A '90-es évek második felében az Oasis és társai (Stone Roses, Ocean Colour Scene stb.) tehát az ún. britpop zenék, illetve kicsit később a 2000-es évek elején a garázs és blues revival képviselői (The Hives, Jack White, Wolfmother) adtak új lökést ahhoz, hogy visszatérjek a gitáros muzsikák világába. Az Oasis megjelenése előtt nem igazán érdekeltek az új gitárzenék, a grunge-ot nem kedveltem, a modern hangzású metal zenéktől a hideg rázott, inkább beletemetkeztem a régi zenékbe. Az Oasis viszont hozott valami olyan – felfogásában – újszerű dolgot, amivel azonosulni tudtam. Benne volt minden, ami jó volt a brit zenékben, a Sex Pistols-os punkos hozzáállás, a Beatles által fémjelzett vokálok, és a Who féle mod-os attitűd keveredett a '90-es évek világával. Az Oasis sztorija igazi rock'n'roll sztori, talán az utolsó. A What's The Story minden dala nagyszerű, kétséget kizáróan ez az Oasis legjobb lemeze, bár a későbbi dolgaikat jobban kedvelem, ez a lemez volt, ami sorsfordító volt számomra abban az időszakban.
Elton John - Honky Chateau (1972)
Elton John munkássága volt az, amit viszonylag későn, az ezredforduló környékén ismertem csak meg. Hosszú ideig azt gondoltam, hogy unalmas, nyálas, könnyen fogyasztható és eldobható zene, amit csinál, de rá kellett jöjjek, hogy ez nagyon nem így van. A 2000-ben mozikba került "Almost Famous" (Majdnem Híres) című film a mai napig az egyik kedvenc mozim. Ennek egyik híres jelenete, amikor a banda a turnébuszban együtt énekli Elton – Tiny Dancer című dalát. Ez akkora hatással volt rám, hogy elkezdtem régi Elton John cd-ket venni, és utánanéztem az életműnek, mely 1978-ig szinte hibátlannak mondható. A Honky Chateau volt az első album, ami egy antikváriumban a kezembe akadt, és jó választás volt, a mai napig ez a kedvenc Elton-albumom.
+1
Blackberry Smoke - Holding All The Roses (2015)
Bár alapvetően rockzenésznek tartom magam, a sors végül úgy hozta, hogy a legtöbb időt egy popzenekarban, a NEO-ban töltöttem idáig (2003-2015). Viszont az utolsó 1-2 évben már nagyon nem éreztem a feelinget, és egyre inkább foglalkoztatott egy saját banda megalapításának gondolata, mellyel visszatérhetek a gyökereimhez, a klasszikus rockzenéhez. A Blackberry Smoke zenekarra a youtube-on akadtam rá, miközben régi Lynyrd Skynyrd és Allman Brothers koncerteket nézegettem.  Utánajártam kik is ők, és úgy alakult, hogy ez az együttes adta meg számomra a végső löketet, a kapaszkodót ahhoz, hogy megalapítsam a Peter Kovary & The Royal Rebels-t. Nagyon megtetszett, hogy nagyjából egykorúak velem, és bátran felvállalják azt, amit szeretnek, sőt van egy nagyon erős image és stílus, ami nagyon hiteles. Mindemellett Charlie Starr, a zenekar vezetője iszonyatosan jó dalszerző, és a banda több ponton kapcsolódik a már korábban említett kedvenc együttesemhez a The Black Crowes-hoz. Kész. A kör bezárult.