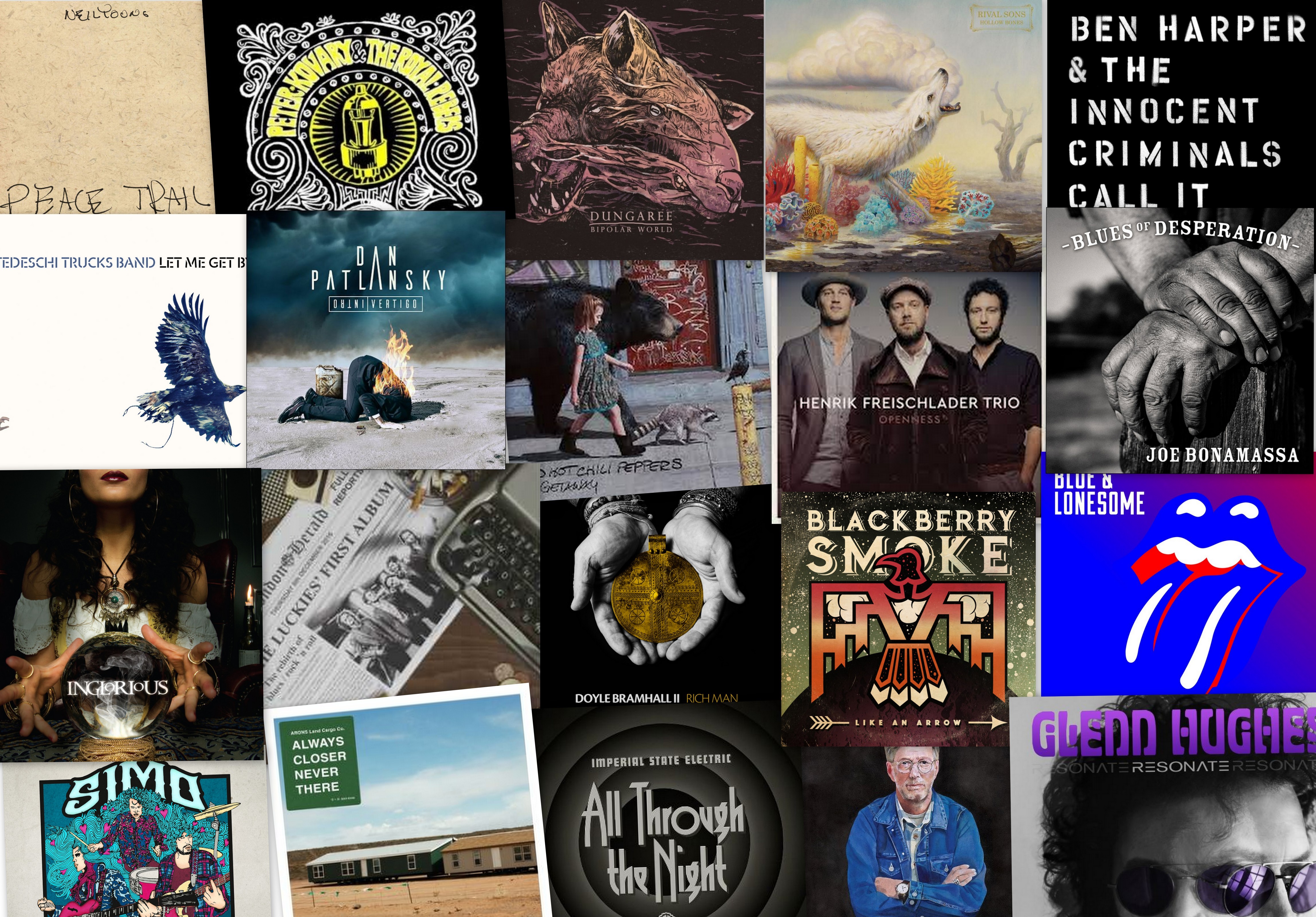 Ha mindazokra a nagy zenészekre gondolok, akiket elveszítettünk 2016-ban, akkor igen keserű szájízzel tekinthetnék vissza erre az esztendőre. Most azonban ettől eltekintenék, és az idei év 20 legjobb vintage albumát mutatnám be nektek, amiket minden zenekedvelőnek polcra kellene tenni idén. Nem volt könnyű dolgom, először összeírtam minden anyagot, ami idén jelent meg, majd napokon keresztül egy papíron vezettem a listát, és végül, már-már vért izzadva elkészült a végső sorrend. Íme az Old Time Rock 'n' Roll év végi TOP20-as album listája.
Top 20 – 11
Ben Harper – Call It What It Is
A 47 éves folk/blues-rocker, Ben Harper és az Innocent Criminals már 13. nagylemezénél jár. Túl sok meglepetést nem okoztak a fiúk, a jól bevált módon készült az új lemez is, melyen mesterien keverik a folk, a blues, a reggae, és a country jegyeit. A szövegek sokszor a társadalomról, a politikáról szólnak.
Eric Clapton – I Still Do
Eric Clapton ezzel a lemezzel megmutatta, hogy még mindig a blues zenei színtér egyik meghatározó alakja. Akár az 'I'm still here' címet is adhatta volna neki. Kellemes lemezt hozott össze Mr. Slowhand. Pontosan ezt vártam.
Red Hot Chili Peppers – The Getaway
A kaliforniai nagyágyúk hosszú idő után végre hozzánk is ellátogattak új lemezük, a The Getaway turnéján. Kettős érzelmekkel hallgattam az albumot nyáron, mert az I'm With You után nem tudtam mit is várjak örök kedvenceimtől. Szerencsére kellemeset csalódtam.
The Luckies – First Album
A Luckies az utóbbi időben rendesen megdolgozott a hazai zenei színtéren elfoglalt aktuális helyéért. A lemezt pedig bár sokszor átfutottam, még nem írtunk róla (ami késik, nem múlik) az év végi listánkon azért helye van, mert elképesztő anyag lett.
Henrik Freischlader Trio – Openness
Henrik nem is olyan régen bejelentette, hogy egy időre visszavonul a zenéléstől. Hál' istennek ez nagyjából annyi idő volt, amíg összehozta új trióját. A hármas idén jelentkezett debütáló albumával, az Openness-szel. Nagyban nem tér el a Henriktől megszokottaktól, nyersebb, piszkosabb.
Doyle Bramhall II. – Rich Man
Az ifjabbik Bramhall nevét sokan ismerhetik, hiszen Stevie Ray és Jimmy Vaughan, Eric Clapton, Richie Kotzen, B.B. King, vagy Roger Waters mellett is megfordult már. 1992 óta szólólemezekkel is jelentkezik, ebben az évben az igen nagyszerű Rich Man-nel rukkolt elő, melynek egyik különlegessége, hogy a dalok többsége elhunyt édesapjának szól.
Glenn Hughes – Resonate
Glenn Hughes jó ideje nem jelentkezett szólólemezzel, mégis folyamatosan megmutatta magát valamilyen formációban. Idén piacra hajított egy saját anyagot is, amit valahogy úgy promózott, hogy több mint 20 éve az egyik legkeményebb anyaga. Ezzel egyetértünk, van benne kraft rendesen.
Dungaree – Bipolar World
A szegedi Dungaree két kislemez után idén elkészítette első nagylemezét a Bipolar World-öt. Nagy dicséretet érdemelnek a srácok óriási anyagot alkottak, melyet hallgatva mi magunk is egy bipoláris zenei világban találjuk magunkat.
Rival Sons – Hollow Bones
Az első lemez a listán, amit előzetesen sokkal jobb helyre szántam. Sajnos várakozásaimnál gyengébbre sikerült a lemez, bár így is van mit megemlíteni róla pozitívumként, bár sokan tudják, hogy többre képes ennél a négyes.
Rolling Stones – Blue & Lonesome
A rock tatái pályájuk első feldolgozáslemezével készültek idén. Olyan kiválóságoktól dolgoztak fel, mint Howlin' Wolf, Little Walter, Memphis Slim, vagy Buddy Johnson. Nagyon eltalált anyag lett, méltó elméket állítva egy mára elfelejtett stílusnak. A vén gyökerek nem halnak meg!
TOP 10 – 6
Peter Kovary & the Royal Rebels – Keepin' On
A Kőváry Péter vezette Peter Kovary & the Royal Rebels tavaly év végén indult el a hazai zenei pályán ezzel a bemutatkozó EP-vel. A zenekar azóta több koncertet adott és hamarosan új lemezük bemutatójára készülnek. A Rolling Stones, Black Crowes, Led Zeppelin hatásokat is felvonultató kislemez nem maradhatott le listánkról.
Inglorious – Inglorious
Az angol hard rock csapattal a The Winery Dogs előzenekaraként találkoztam. Levettek a lábamról, később pedig a lemez megjelenésével mély nyomot is hagytak bennem. A Whitesnake és a Deep Purple nyomdokain vonuló zenekar frontembere, Nathan James még indult a "székfordulós" angol tehetségkutatóban, azonban nem választották be. Én beválasztottam!
Neil Young – Peace Trail
A "lélek nem öregszik" írtam a hónap elején megjelent lemez kritikájában. Neil Young 37. nagylemeze visszarepít minket az időben. Akárcsak a Heart Of Gold-ot, vagy az Old Man-t hallgatnám. Káprázatos lemezt kaptunk egy ikontól.
Tedeschi Trucks Band – Let Me Get By
Az egyik leghitelesebb kortárs blues zenekar, nagyzenekar. Susan hangjától non-stop libabőr és hidegrázás lesz rajtam úrrá, Derek gitárjátékánál nem különben. Egyszerűen nem tudnak rosszat csinálni, minden alkalommal megbizonyosodom erről.
Imperial State Electric – All Through The Night
A Hellacopters és korábban az Entombed meghatározó alakjaként ismert Nicke Andersson legújabb projektjének ötödik nagylemeze jelent meg az ősszel. A különleges hangzásvilág mellett igazi kortárs skandináv rockzene.
TOP 5
Aron's Land Cargo Co. – Always Closer Never There
Elkápráztatott a lemez. Totálisan képviseli azokat a jegyeket, amik közel állnak a szívemhez. Ez persze teljesen szubjektív dolog, de nagyon örülök, hogy a mai elkényelmesedett zenei világban kapok ilyeneket.
Joe Bonamassa – Blues Of Desperation
Joe Bonamassa méginkább visszanyúlt a blues gyökereihez ezen a lemezen, ezek mellett több akusztikus és számos Zeppelines dalt is ráfabrikált erre az anyagra. A modern  kori gitáristen megállíthatatlan, nem lepődnék meg ha hamarosan új anyaggal jelentkezne.
J.D. SIMO - Let Love Show The Way
Egy fiatal kölyök a semmiből érkezett. Meghallgattam, pofám leszakadt. J. D. Simo nagy út előtt áll, új lemezében pedig hatalmas dolgokat művel. Alapját a blues-rock adja de a funky, a jazz a folk stílusjegyei is megtalálhatóak rajta. Megérdemelte a bronzérmet.
Blackberry Smoke – Like An Arrow
Változatos lemezt rakott össze a zenekar. A kemény zúzós dalok mellett a country-s és a balladisztikusabb akusztikus anyagok is megtalálhatók. Ráadásul semmi sallang nincs, csak fülbemászó dallamok.
Dan Patlansky – IntroVertigo
Tátátátááá!! Aranyérmesünk egy dél-afrikai blueser axeman. Idén láthattuk őt az A38-on az IntroVertigo turnéján, tavaly pedig Joe Satriani előtt. Óriási tehetség szorult ebbe az emberbe. Brutálisan vegyíti az őserőt a kortárs hatásokkal. Az új lemezébe pedig egy másodpercig nem tudunk belekötni.