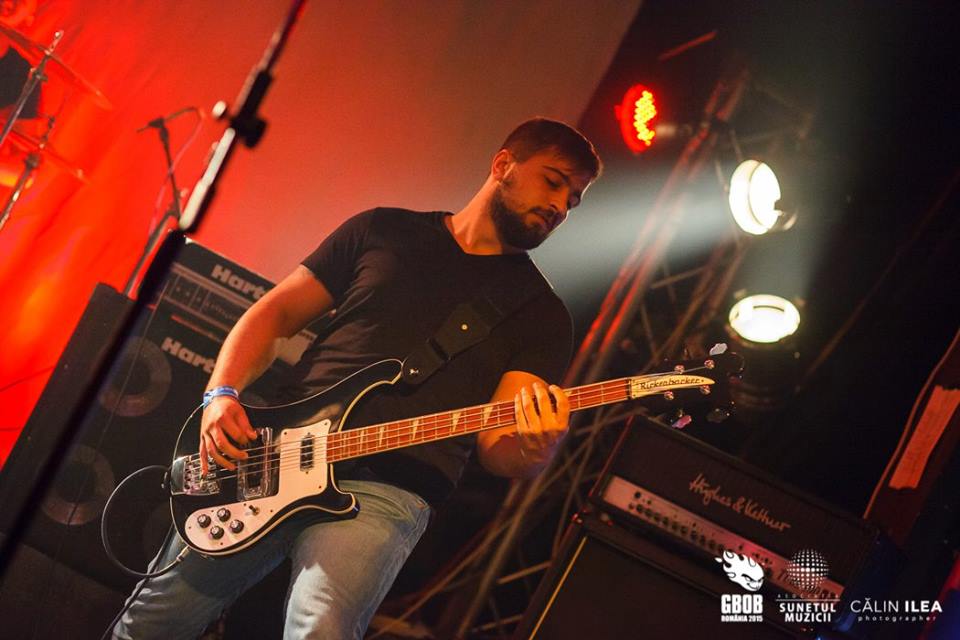 Az új évben is folytatjuk a Sorsfordító korongok rovatunkat, ezúttal egy viszonylag fiatal csapat, a Dungaree basszusgitárosa, Balogh Ati mondott igent a felkérésünkre, és villámsebességgel el is készítette meghatározó lemezeinek listáját. Csekkoljátok, kagylózzátok!
Nehéz helyzetbe kerültem ezzel a felkéréssel, hogy soroljam fel életem 10 legmeghatározóbb lemezét, annyi stílus és zenekar közül kell válogatnom, egy-egy zenekar esetében több lemez közül is. Külön vicces a helyzet abból a szempontból, hogy a cirka 24 évemmel egy-egy zenekar gyerekkoromat és a zenei ízlésemet meghatározó lemeze csak 15-16 éves. Rangsort nem nagyon tudok felállítani, mindet nagyon szeretem, elejétől a végéig. Próbálom inkább időrendbe leírni, de még így is ugrálni fogok szerintem.

Korn – Follow The Leader (1998)
Igen, nu metal. És még lesz két másik is, ezekkel kezdem. Ők az egyik oka annak, hogy elkezdtem basszusgitározni. Eszméletlen vagánynak láttam Fieldy-t ahogy slappeli azt az Ibanezt. Emellett az egész lemez úgy szólt, amit addig még nem hallottam. Seggig lehangolt gitárok, olyan effektekkel amiket még soha nem hallottam. 10-11 éves fejjel akkortájt döntöttem el, hogy én ilyet szeretnék csinálni.


Slipknot - Vol3. The Sublimal Verses (2003)
Az előző 2 albumot is leírhattam volna, mert itt is elmondhatom, hogy elejétől a végéig mind. Nekem ez az album volt az, amire azt tudom máig mondani, hogy a Slipknot tökéletes albuma. Az előzőek még nyersebbek, kissé kiforratlanok ehhez képest. Napokig hallgattam és még ma sem tudom megunni. Ezen kívül életem eddigi legjobb koncertélménye is volt, amikor láthattam őket. Nagyon nagy elvárásokkal mentem el és egyáltalán nem csalódtam. 9 ember, horror maszkokban, a világ egyik legjobb énekese és sorolhatnám még. Mindig nagy inspiráció voltak nekem.
Red Hot Chili Peppers – Blood Sugar Sex Magik / Californication
Nem tudom külön szedni a lemezt, mert egyszerre hallgattam mindig. Nem lehet elmenni mellettük basszusgitáros fejjel (sőt talán semmilyen fejjel). Hatalmas inspiráció volt számomra ez a két lemez, mind hangzásomban, mint a játékomban. Volt egy időszak, hogy semmi mást nem játszottam otthon, csak RHCP dalokat. Talán tőlük tudom a legtöbb feldolgozás dalt :D. White funk sucks, de akkor is.. :D
Nine Inch Nails – Pretty Hate Machine (1989)
Trent Reznor az az ember, aki bármit csinál, azt mindig meghallgatom és valamiért mindig tetszik. Nem sok elektronikus zene van, amit szeretek, de az ő munkássága mindig inspirált valamilyen módon. Egy albumát emeltem most ki, mert ezt hallottam először és fogott meg, de bármelyik bármikor bárhol megállja a helyét.

Nirvana – Bleach (1989)
Elérkeztem ide, megkerülhetetlenek. Bár itt is igaz, hogy az összes lemezüket szeretem, direkt nem a Nevermindot írtam. A Bleach nekem mindig is a világ egyik legőszintébb lemeze volt. Náluk pont az tetszett a legjobban, hogy semmivel nem akartak többnek látszani, mint amik. Iszonyú nyers, agresszív, keserves, borongós. Valamiért olyan szimpátia alakult ki a zenéjükkel és az attitűddel, ami jelenleg is kihat rám teljesen, bár lassan 30 éves lemezről beszélünk, ezek a feszültségek a mai napig ott vannak a fiatalokban.
Bob Dylan – Blonde on Blonde
Sokat nem szeretnék hozzáfűzni, a név és a lemez magáért beszél. Bár feldolgozhatatlan mennyiségű a munkássága és az érák amikben zenélt, hozzám inkább a korai munkái állnak közelebb.
Mclusky – Do Dallas (2002) / Future Of The Left - Plot Against The Common Sense (2012)
Két zenekar, bár egynek tekintem, mivel az alappillére mindkettőnek ugyanaz az ember. Ők egy walesi zenekar, Cardiffból. Besorolni nehéz lenne őket bármilyen stílusba. A rátalálásuk érdekes, 8 bit szintis noise rockot találtam, miután ők meglettek nem kellett tovább keresnem. Rommá torzított bőgő, lehetetlen hangolású gitár, angol komolyság elmebajjal vegyítve. Punk, post-hardcore, noise rock, társadalombírálat. Zsenik. A felfedezésük után jött el az a fordulat, hogy a basszus lehet igazán torzított is és nagyon hangos, már-már ritmusgitár szerű, szemben a perkusszív kísérettel.
Death From Above 1979 - You're a Woman, I'm a Machine (2004)
Az egyik legnehezebb dolog zenekari duónak lenni, főleg, ha az dob és basszus. Hát ők az ultimate dob-basszus duó. Amikor először hallottam a zenéjüket, egyszerűen nem akartam elhinni, hogy ez a hang basszusgitárból jön. Jesse F. Keeler olyan zseniális módon oldja meg azt, hogy ketten úgy szóljanak, mintha 3 gitár lenne, hogy arra csak kevesen képesek. Nem titkolom, az én saját hangzásom velejét az ő hangzása inspirálta. Sikerült szert tennem a világ egyik legritkább Peavey fejére, ugyanarra a fejre, amin ő is játszik. Bár jelenleg ez az erősítőm pihenőpályán van.
Sleep – Holy Mountain (1992)
Érdekes nagyon a Sleep-el való kapcsolatom. Teljesen a Black Sabbath alapjain indult zeneileg, amit ők csinálnak, mégis a Sabbath-ot nem szeretem annyira, mint őket. A Sleep monotonitása és hangzása közelebb áll hozzám, mint a nagyöregek. A hangzás itt is rögtön beszippantott, főleg miután láttam milyen megalomán színpadképük van. Atmoszférikus óriás hangok.
Red Fang – Red Fang (2009)
Ők nagyjából a legfrissebbek, akik sorsfordítók voltak. Az tetszett meg bennük a legjobban, hogy nincs túlbonyolítva semmi. Mindenből annyi van, amennyire szükség van. Olyanok, mintha mindig is ismerted volna őket, a szomszéd ivós-evős komák. Nincs más szó a zenéjükre: prosztó. A saját dolgainkba az előbb említett dolgokat próbálom átemelni ami a náluk működik. Egyszerű, semmi sallang, nem akar többnek látszani, mint ami, mégis nagyot szól. Azt játsszák, amit amúgy is hallgatnának.
+1 Spin Doctors - Pocket Full of Kryptonite (1991)
Nem tudom kihagyni a listáról. Életem első zenei élménye, amire emlékszek. 3 éves lehettem és a hifitornyunk előtt ülve bólogattam végig az egész albumot. A mai napig bárgyú vigyorral a fejemen hallgatom ezt a lemezt.
Folytatnám még a listát, de így is elég bő lére eresztettem. Tool, Primus, Yob, Mudhoney, Mastodon, System of a down, Queens of the stone age, és sokan mások. A fent felsorolt és fel nem sorolt előadók hangzásának, zenéjének, stílusának köszönhetem, hogy zenélek.