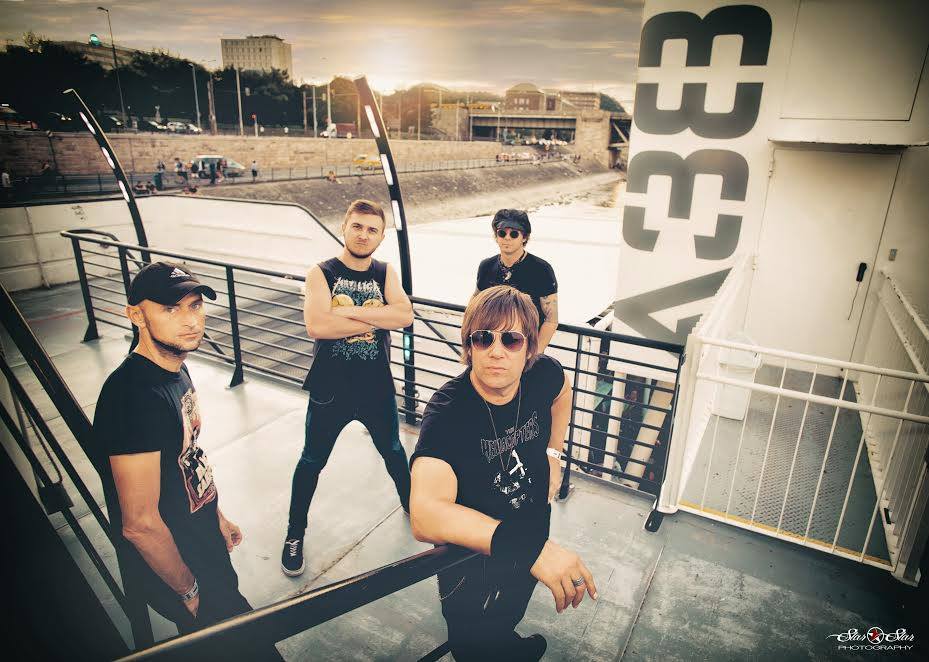 A Trousers csapata 2016-ban sem hagyta, hogy elcsendesedjenek a dolgok körülöttük, szinte mindig életben tartották a tüzet. Volt is mivel, hiszen igen eseménydús évet tudhat maga mögött országunk elsőszámú garázsrock csapata. Kőváry Zoliék nemrégiben bejelentették, hogy a Cool Operator és a Sonic Desert tavalyi megjelenése után a Gunslingerrel folytatják a sort, amihez egy performance klipet készítettek a nyáron adott A38-as fellépésükről. Nagy megtiszteltetés nekünk, hogy magazinunkat kérték fel a premierhez. Mielőtt bemutatnánk a videót, néhány kérdéssel bombáztuk meg Zolit az aktualitásokról és a jövő évi terveikről.     

OTRNR: - Szia Zoli! Mindenekelőtt tekintsünk vissza egy kicsit 2016-ra! Számos turnén megmutattátok magatokat, több országban. Hogyan értékelnéd az elmúlt évet?
Összességében nagyszerű évünk volt. Bár a Mother of Illusion lemezünk még 2015-ben jelent meg, a promóciót tovább folytattuk két nagyszerű videoklippel, ami a Sonic desert és a Cool operator című dalokhoz készült. Rendkívül hálásak vagyunk a rendezőknek, Szili Lászlónak és Simon-Mazula Tibornak. Tavasszal egy csomó hazai koncertet követően részt vettünk a Monarchy Madness II miniturnén barátainkkal, a bécsi Reverend Backflash-el és az ostravai Degradace-vel Csehországban és Ausztriában. A nyár csúcspontjai az ostravai rockfesztivál, a Fezen és az A38 terasz koncertjei voltak, ősszel pedig a berlini All Rooms Bookingnak, a német Final Stair és a pozsonyi Signature zenekaroknak hála egy öt országon átívelő turnén vettünk részt, többek közt berlini, drezdai, bécsi és pozsonyi állomásokkal. Az évet itthon, Budapesten zártuk a GMK-ban a Signature-rel és a részben HS7 utódzenekarral, a Houdinis-zel.
OTRNR: - A zenekar felállása is változott ebben az évben, mesélnél erről részletesen?
Iliás Ádám basszusgitáros, aki 2012 óta játszott velünk idén úgy döntött, csak a saját zenekarával, a Turn Signals-zal akar csak a továbbiakban foglalkozni. Búcsúkoncertje egy óriási hangulatú budapesti koncerten volt a Kuplungban tavasszal. Helyére régi barátunk, Lázár Bandi érkezett, aki multi-instrumentalista, korábban dobosként fellépett velünk egy-két koncerten. Szóval csak át kellett a fejében konvertálni a már meglevő tudását a dalokról dobról basszusgitárra :-) Bandi maradéktalanul beilleszkedett a bandába, energikus színpadi ember és jól vokálozik, szóval nagyon jól járt vele az együttes. A 2017-es évünk is változással kezdődik. Az őszi turné után a dobosunk, Csészi bejelentette, hogy visszavonul a koncertezéstől. Csészi 2006 óta játszik a Trousers-ben, négy lemezt, több mint 10 videoklipet vettünk fel együtt, és legalább 250 koncertet nyomtunk le közösen kilenc országban. Kapcsolatunk nem szakad meg, hiszen Csészi zseniális hangmérnök, producer és stúdióember, és az új, ötödik lemezt is biztosan az ő vezényletével fogjuk felvenni.

OTRNR: - Az új klipetek a Gunslingerhöz készült, ami egy A38-as live video. Honnan jött az ötlet, hogy ehhez a dalhoz készüljön a videó?
Szili Laci már három videot is csinált nekünk a Freakbeat, a Hyterical Route és a Sonic Desert dalokhoz, és baromi jól tudunk együtt dolgozni vele. Egyszer láttam egy koncertvideot, amit a telefonjával spontán készített felvételekből csinált Kory Clarke-nak, a Warrior Soul énekesének, amikor Pesten járt. Megkérdeztük tőle, hogy nincs e kedve összedobni valami hasonlót, amikor majd a hajóteraszon játszunk. Szerencsére igent mondott, és nagyon elégedettek vagyunk ez eredménnyel. Ugyan ehhez a lemezhez csak viszonylag monumentálisabb filmes klipeket csináltunk, ám azt gondoltuk, zárásként simán belefér egy ilyen hagyományosabb cucc is. Szerintem ilyen performance klipekre mindig szükség van a rock and roll világában; én például nem tudnék jobb videot mondani, mint a Paradise City a GNR-től. Azt bármikor, bár hányszor meg tudnám nézni!
OTRNR: - Mit jelent neked ez a dal?
A dal címe akkor fogant meg bennem, amikor 2013-ban az USA-ban roadtrippeltünk Gábor Andrissal az Ozone Mamából. Azt hiszem egy arizonai vagy utahi benzinkúton láttam ilyen kis kiadványokat, prospektusokat az amerikai történelem érdekes figuráiról, például Billy the Kidről vagy Jesse James-ről; őket hívták "gunslinger"-nek, ördögi fegyverforgatónak. Persze a dalszövegben ez sokkal inkább a helyzetek határozott, sőt időnként impulzív kezeléséről szól, aminek hátterében ott van az, hogy néha úgy érezzük, az élet egy kegyetlen hajsza a semmiért. Ez egy gyors, Motörhead-es garázsrock nóta, de csempésztem bele moll-akkordot is, ami a dalszerűségnek mindig nagyon jót tud tenni. Mostanában ezzel kezdjük a koncerteket.
OTRNR: - Említettétek, hogy munkálkodtok az új albumon is. Hogy áll a dolog?
A tavalyi év során, főként a nyári hónapokban a szokásos módon otthon az akusztikus gitárommal megírtam 11 dalt. Ezt követően ősszel Csészivel ezeket feldemóztuk, és odaadtuk a Locke Petinek és Bandinak. Még nem beszéltünk meg pontos részleteket, de valószínűleg tavasszal-nyáron a 2013-as Freakbeat felvétele során alkalmazott módszer szerint fogunk haladni. Először Csészi feldobolja a részét, aztán jövök én a ritmusgitárral és az énekkel, majd a basszus, a másik gitársáv, végül a szólók, vendégzenészek, kiegészítő sávok. Derecskei Zsolt billentyűs és Csányi Rita vokalista biztosan szerepel majd a lemezen. Szerintem legkésőbb ősszel megjelenhet, de addig biztosan kijön 1-2 beharangozó dal videoklippel. Lemezcímet még nem tudok mondani, folyamatosan gyűjtöm az ötleteket, de még nincs végső változat. Szerintem nagyon erős lemez lesz, töltelékdalok nélkül.
OTRNR: -  Mielőtt publikálnánk a videót, beszélsz nekünk egy kicsit arról, hogy milyen tervekkel vágtok neki ennek az évnek? Mit vártok 2017-től?
A legfontosabbak a doboscsere megoldása és az új lemez elkészítése, mind a kettőn aktívan dolgozunk. Alakulnak koncertek is természetesen, ami biztos a közeljövőben az két budapesti buli: február 3-án a RCKSTR magazin szülinapi partyján játszunk a Dürer-kertben, majd 23-án a Kuplungban bátyám zenekara, a Royal Rebels lemezbemutatóján. Az Allrooms Booking előzetes megbeszélésünk szerint késő tavaszra tervez nekünk a tavalyihoz hasonló közép-európai turnét, de ez még nincs lefixálva. Egy emberünk már dolgozik olyan nyári rockfesztiválokon mint a Fezen, Rockmaraton. Szerintem még inkább tendencia lesz, hogy orientálódunk a külföldi helyszínek irányába. Nem vagyunk egyedül ezzel; Horváth Zoli, a Dungaree gitárosa is mesélte nekem, hogy a tizenvalahány őszi koncertjükből messze a szerbiai és a román fellépések voltak a legjobbak. Ez van; a zenész oda megy, ahol a leginkább örülnek annak, amit csinál.
Nincs más hátra, mint előre, tekintsétek meg a Trousers új live klipjét:
Sebők Tamás