Martin Luther King, -baptista lelkész, békeaktivista, az amerikai fekete polgárjogi mozgalom Nobel-békedíjas vezetőjének születésnapja alkalmából 1986-tól január harmadik hétfője nemzeti ünnep és munkaszüneti nap az Egyesült Államokban.
King a XX. század történelmének egyik alakítója, ikonikus alak, akinek számos könyv, film, dal, sőt képregény (!!!) formájában is feldolgozták az élettörténetét, és munkásságát.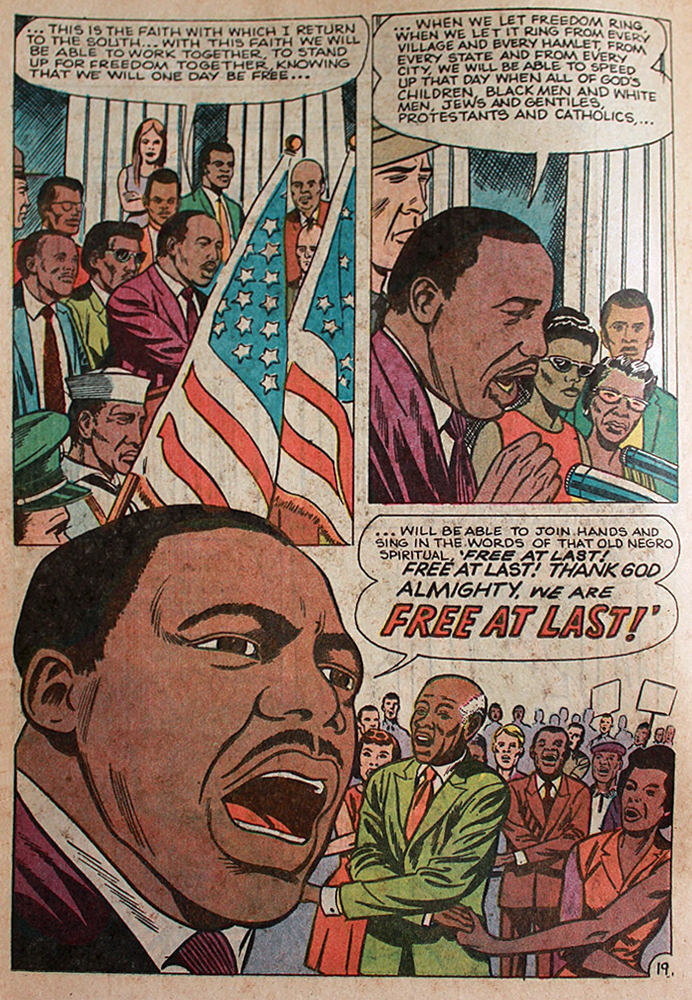 Mi, mint zene magazin, természetesen azokat a muzsikusoknak a dalait vesszük most górcső alá, akik legalább egy szám erejéig megemlékeztek a Memphisben meggyilkolt nagyságra.
10. Stevie Wonder: Happy Birthday
A dal 1981-ben született King születésnapjának alkalmából, még azelőtt, hogy a neves napot ünnepnek nyilvánították volna.
9. John Legend feat. Common: Glory
Az Old Time R'N'R Magazine hasábjain talán idegenül hat két hip hop előadó, de a 2015-ös Selma című, MLK életét feldolgozó dal egy nagyon szép, déli hagyományokból merítő gospel kórussal kezd (majd operál végig, refrénként), másrészt ez az egyik talán legismertebb dal a témában. És minden bizonnyal az sem meglepő, hogy a többségében afro-amerikaiakból álló hip-hop közösség közel érzi magához a témát...
8. Public Enemy: By the time I get to Arizona
Ha már redhagyó módon hip-hop előadóknál tartunk, akkor meg kell említeni a kemény politikai állásfoglalásokat dalba foglaló Public Enemyt, akik még 1991-es albumukon dolgozták fel a MLK témát. Zeneileg szintén a gospel és a soul/funky uralja a nótát, a képi megjelenítésbe meg belecsúszott néhány srác, akik nagyon hajaznak a radikális Fekete Párducok nevű fekete szervezetre...csak hogy mindenki tudja, honnan fúj a szél...
7. U2: MLK
Bonoéktól sosem állt messze a politizálás. Már az 1984-es The Unforgettable Fire című -sorrendben negyedik- lemezükön is külön számot szenteltek a MLK, nak, MLK címmel...
6. U2: Pride In The Name Of Love
...majd ugyanezen a lemezen még egy dalt szenteltek a témának
5. King Dream Chorus & Holiday Crew : King Holyday
Ez a szám nem annyira jó, minden jegyet magán hordoz a bájos '80as évekből, az erőltetett szintetizátorhangzástól az indokolatlan rap-betétekig. Ráadásul valamilyen állami megrendelésre készülhetett el, és tudjuk, mi szokott ebből kisülni. De, ez 1986 óta a "hivatalos MLK Day dal".
4. Bruce Springsteen: We shall overcome
Bob Dylan dala a polgárjogi mozgalmak himnusza is lehetne, nem véletlen, hogy az "Öreg" is feldolgozta egyfajta MLK tribute dalként.
3. Dion: Abraham, Martin And John
Dion (aki egyyébként az Államokban egy mai napig aktív és elismert blues/country előadó) 1968-ban, MLK halálának évében meglehetősen egyértelmű címmel (és tartalommal) jelentette meg a témába vágó dalát:
2. Nina Simone: Why (The King of Love Is Dead)
Egy szívszorító gospel, amelyet a "Király" halála ihletett:
1. The Beatles: Blackbird
A rockzene (talán) legnagyobb hatású zenekara 1968-ban , halála után énekelte meg a polgárjogi mozgalmak (talán) legnagyobb alakját.
Boldog születésnapot és elmélkedésben gazdag Martin Luther King napot mindenkinek!