A '80as '90-es évek fordulóján felbukkant Hoolywoodban egy egészen új típust megtestesítő férfiideál, a sebzett lelkű problémás, de mégis macho fiúé.
Ennek az új színészgenerációnak a tagjai nem csak a filmvásznon, hanem a való életben is vonzódtak a "szex, drugs and rock 'n roll" életérzéshez.
Johnny Depp köztudottan rockzenészként kezdte pályafutását (és napjainkban egyre inkább úgy tűnik, hogy akként is fog nyugdíjba menni), de Jaqulin Phonix, és tragikusan fiatalon elhunyt testvére, River is kacérkodtak a zenével. (River Phonix halála egyébként az Angyalok Városának egyik kultikus klubjában, az Johnny Depp tulajdonában lévő Viper Roomban történt, és Pintér Miklós, a Grungery főszerkesztője nemrég egy érdekes cikket publikált a témában, ami ITT olvasható. 
Ennek a generációnak a tagja Keanu Reeves is, aki a mellett, hogy a Holtpontban, a Mátrix -trilógiában, és a John Wick sorozatban bizonyította (és a mai napig folyamatosan bizonyítja) remek színészi kvalitásait, időnként basszusgitárt ragad, és nyom egy is alter-rockot a haverokkal. Hogy napjainkig ezt mennyire rendszeresen vagy rendszertelenül teszi, azt nem tudni pontosan (nagyon kevés forrás van erre vonatkozóan a neten), de az biztos, hogy 1991 és 2004 közt ezt szervezett keretek közt, a DogStar nevű bandában tette. 
Az '90es évek alternatív rockzenei trendjeibe autentikusan belesimuló rocktrió 1991-ben alakult, a híres színész mellett Greg Miller - (Vokál/Gitár) és Rob Mailhouse (dob) alkották a formáció első felállását. Az "útkeresés" időszakában a külvilág nem sokat vett észre a csapat létezéséből. Sem lemez nem született ekkoriban, és fellépéseik száma is meglehetősen limitált volt. (első koncertjük egy nyilvános próba volt, ahol megközelítőleg 60 ember-a zenészek családtagjai és baráti köre-látogatott el.)
A csapat 1994 ben csatlakozott egy másik gitáros/énekes a csapathoz Bret Domrose személyében. Alig egy évvel később, 1995-ben viszont Greg Miller távozott a kötelékből, így a csapat viszonylag rövid, de eseménydús létezése során trió felállásban működött.
A "megszilárdulás" évében az addigi szoba-jammelés után a banda kilép a világot jelentő deszkákra, nem is akárhogy. Egy Új-zélandi Bon Jovi koncert előzenekaraként mutatkoznak be a nagyközönségnek, és még ugyanebben az évben felvezetik egyszer David Bowie-t is, majd az államokban két rövid turnét is lenyomnak, egyiket a Weezer, másikat a Rancid társaságában. Az erős kezdés részeként-vagy inkább ráadásaként- szerepeltek a Naomi Watts főszereplésével készült Ellie Parker című dráma soundtrackjén, és a Me and Will című kis költségvetésű roadtrip movie-ban is felcsendült egy számuk.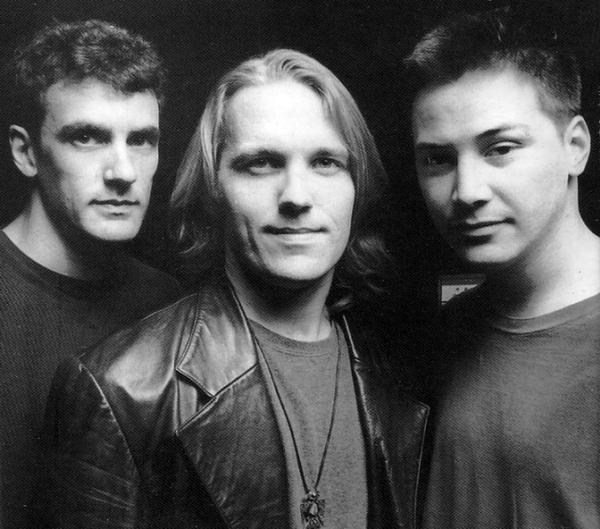 1996-ban jelenik meg első, négy számos EP-jük, a Quattro Formatti (nem tudtam rájönni, hogy egy amerikai zenekar angol nyelvű számait tartalmazó kiadványnak miért adtak olasz címet), majd ugyanebben az évben kihozzák első "rendes", 12 számos lemezüket is, Our Little Visionary címmel. Az album érdekessége, hogy hangmérnökként és háttérvokalistaként az a Ed Stasium volt jelen az anyag születésénél, aki Ramones, a Talking Heads és a Living Colour felett is bábáskodott.
A banda ezek után kisebb-nagyobb aktivitással folyamatosan koncertezett (főként Keanu színészi karrireje hatott ki a zenekar "szabad kapacitására". ) És bár a rajongók ekkor még nem éreztek ebből semmit, már ekkor megjelent a tagok közt a feszültség: a főállású zenész státuszra hajtó, és a csapat zenei agyának számító Domorse egyre nehezebben viselte, hogy Reeves színészi elfoglaltságai miatt nem hozzák ki magukból a maximumot.
1999 fordulópont a banda életében, két esemény miatt is: egyrészt a csapat életének legnagyobb koncertjére kerül sor a patináns nevű Glastonbury Festiválon, másrészt moziba kerül a Mátrix első része, amely Keanu Reeves karrierjének szempontjából az igazi áttörést jelenti.
Hogy ez mit jelentett a DogStar szempontjából, azt mindennél jobban jellemzi egy mondat, amelyet a Noisey magazin számára adott 2015-ben adott interjújában Rob Mailhouse, a banda ütőse mondott: " A Mátrix, a pénz és a mémek előtt Keanu Reevesel játszottam egy bandában, amely a Bon Jovitól David Bowieig osztozott a színpadokon". 
2000-ben sokat sejtető címmel megjelenik a második album, a Happy Ending, Keanu színészi karrierje pedig még nagyobb lángon kezd égni (elég, ha csak a Mátrix két folytatására gondolunk). 
A csapaton belül pedig az állandósult feszültséggel egyenes arányban csökkennek a fellépések is. A banda utolsó performanszára 2002-ben Tokióban kerül sor, a hol a gitáros-énekes Bret nyilvánosan be is jelenti, hogy szólókarrierjére koncentrál. Egy rövid időre a Berlin nevű Los angelesi bandába igazolt, és televíziós filmekhez készít zenéket. 
2004-ben még megjelenik egy Mr. Big feldolgozás a csapattól (a Shine című nóta), de ez tényleg az utolsó életjel volt a részükről, ráadásul a számot már 2002-ben rögzítették a második albumnál. 
A DogStar nevű, ígéretesen induló formáció a kezdetekben tehát jól tudta hasznosítani a basszusgitárosuk ismertségét, de ugyanez az ok vezetett a feloszlásukhoz is. 
Később egyébként a dobos, Rob Mailhouse, és Keanu alakítottak egy formációt Becky névvel 2008 környékén, de a csapat valamiért idejekorán befejezte tevékenységét, az ütős fent idézett interjúja alapján pedig valószínűsíthető, hogy nincs jóban egykori zenésztárásával, Keanu Reeves el.