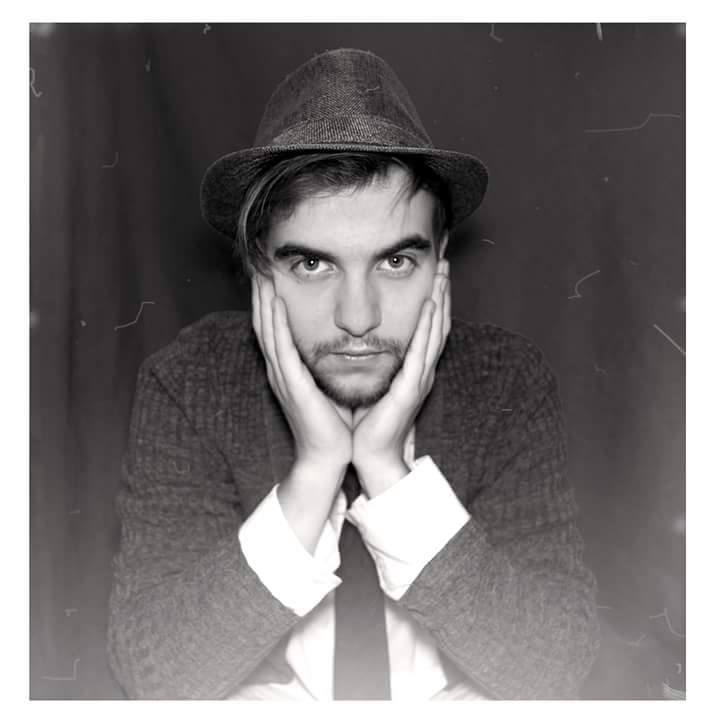 Folytatjuk állandó rovatunkat, ezúttal az TERMIMÁMOR frontembere, Petri Lackás vezet be bennünket abba a zenei világba, ami nagy hatással volt életére.
Köszönöm szépen a lehetőséget, hogy írhatok egy kicsit a világomról, na meg persze a rengeteg zenéről, ami hatott az életemre, és talán bele is véste az agyamba, hogy nem szabad feladni a zenélést, és a zenehallgatást.
Nagyon szépen köszönöm innen is a gitár tanáromnak a segítségét, még ha nem is jártam mindig be az óráira, de nagyon sokat segített megtalálni a saját stílusom stb. Etetett metállal, jazzel, pop zenékkel, meg mindenféle progresszív dologgal. Aki nem tudná, akkor itt elmondom, hogy azért az nem kis dolog számomra, hogy az taníthatott engem aki a (Berklee College of Music)-ban végzett. Akinek még ez se lenne elegendő, akkor annyit még, hogy ide Járt az a bizonyos John Mayer is.
Mikor került elő az első gitárom? Hát igazándiból mindig ott volt a falon az édes apukám gitárja, vagy az akusztikus gitárja a nappalinkban, szóval nem volt nehéz összefutni ezzel a hangszertípussal.
Arra emlékszem, még amikor eltörtem a kezem a gördeszkázás miatt..., és a műtét után ajánlották, hogy érdemes tornáztatni. (hát én annyit gyakorolgattam a gitárral, hogy valaki egy élete alatt nem törődik szerint annyit a gitárgyakorlással, mint akkor abban az időben én. Most is gyakorlok csak sajnos, most már kevesebb az időm a munka, és a fotózás, meg a koncertek miatt. De ahogy tudok, megpróbálok fejlődni, mert ez fontos számomra!
'Elején még a haverokkal CD-ket meg kazettákat másolgatva, cserélgettünk stb. Ilyen tudjátok borzasztó minőségekben..., Persze pár bakelit is megfordult nálam is. (de arra már nem nagyon emlékszek, max csak frízbiztem velük, akkor még annyira kicsi voltam. ... :D
Talán az első szám ami nagyon nagyon tetszett, és életem első számítógépen meghallgatott dala, na az a THE OFFSPRING - HIT THAT száma volt. Mivel csak egy CD-m volt és track 1-től track 20-ig volt mindenféle vegyes nóta, ezért nem tudtam, hogy mit hallgatok, csak annyit tudtam, hogy mi tetszik, és mi nem annyira. De igazándiból mindenevő voltam... Sőt volt, hogy az Avril Lavigne-összes számát hallgatgattam amikor gördeszkáztunk a haverokkal. E mellé még természetesen becsúsztak a kötelező akkori slágerek is. Na az volt az igazi deszkás zene, az kurvára nagyon beadta számomra.
Egy olyan korban élünk, amikor a lemezek hallgatása már elfeledett, sokan egy-két slágert kötnek, egy-egy adott lemezhez. Lackás is az ő táborukat erősíti. Lássuk mik voltak rá hatással – a szerk.
Nirvana – Smell's Like Teen Spirit (Nevermind – 1991.)
Ez volt számomra egy nagy áttörés, amikor ezt a zúzós gitár soundot, és ezt az igazi hiteles "órdibálással egybe kötött emóciót meghallottam.  Akkor még nem nagyon tudtam, hogy mi is az amit hallgatok, de azt tudtam, hogy ezt reprodukálnom kell, vagyis lejátszani stb. Nagyon klassz szám lett, magasztos és közben igazi "Grunge" zene az egész! Számomra nagyon tetszik a dob és a basszus, és a minimál gitár használata a verzékben, a refrén pedig egy igazi érzelem átadósdi. Természetesen, nagy rajongója vagyok ennek a műfajnak. Sőt a Kurt Cobain naplóját is ajánlanám mindenkinek, hiszen abban vannak ám életsztorik, s még a számok , és a NIRVANA grafikái, meg kis bejegyzések az életről, meg mindent, amit át lehet adni, egy naplóban az benne van. Sőt még a fordítása is tökéletes szerintem. Nagyon sok érzelem jön át a többi zenéjükben is!
R.E.M. - Losing My Religion (Out Of Time – 1991.)
Ez a szám nagyon meghatározza az életem, nagyon sok újdonság található a dalban. Ott található egy érdekes hangszer, azaz a mandolin is. Nem sokan használták akkoriban ilyen zenékhez, de ők meglépték. Apukám is nagyon szereti ezt a zenét. A klipet is érdemes meglesni, mivel az is egy érdekesség lehet mindenki számára, csak ajánlani tudom mindenkinek.
Coldplay - Sky Full of Stars (Ghost Stories - 2014)
Egy popposabb irányba elindított zene, bár nekem ez nagyon tetszik újonnan, nagyon jó a zene és kész. Tetszenek a gitár soundok, és az ízléses fejhang használatok a dalban. Nagyon minimál a dob is, brutálisan átjön a lezserség, és közben meg több milliós érdeklődést adnak át.
30Y - Felhő (No. 4 - 2008)
Nagyon egyszerű, de közben meg nagyon finomkodós akkordokra épülő dal. Szerintem a dallamok is nagyon szépen körbeölelik a számot. Beck Zoli tényleg nem a sikerre írta a számait hanem inkább dokumentálta őket, természetesen vannak olyan dalai ahol érezhető az is, hogy nagyon sok sok munka és érdekesebbnél érdekesebb szövegek születnek, amik szerintem nagyon sokakat elgondolkoztatott/elgondolkoztat.
Mindegyik dalban van valami 30Y életérzés! Minden réteg megtalálja a saját dalát! És minden korosztálynak nagyon sokat adnak a dalok! Én nagyon nagyon szeretem őket, sőt és nagyon közvetlenek a zenei szakmában is. Egyszer kétszer ha össze futunk akkor mindenképpen a zenéről lehet velük beszélni, és ez nagyon fontos, hogy ők is ilyen fontosnak tartják a zene szeretetét.
Pearl Jam – Alive (Ten - 1991)
Ebben a számban nagyon sok minden tetszik! Izgalmas számomra a gitár, és az ének együtt működése, itt is mint a Nirvana-nál sok helyen a verse és a refrén közt nagy eltérések vannak, dinamikáznak mint az állat! Már az elején a gityó igazi ínyenceknek való megszólalás.
Passenger - Let her go (Young As The Morning Old As The Sea - 2012)
Egy újabb populárisabb ízléses dalokkal törődő csáveszről lenne szó! Zenekarával, és egyedül megjárta a világot a kis könnyed, de dallamos váltott basszusos zenéivel. Egyébként aki nem tudná, hogy ő miket játszik a gitárján, akkor annak annyit mondanék, hogy a Country-ból vett motívumokat előszeretettel használja, és a díszítései ettől ilyen királyok, meg ami még nagyon nem egyszerű, hogy megy a váltott basszus (hüvelykujj hardcore) = függetleníti a basszus hangot az akkordjain a dallammal. Egyszerűen tökéletesen szól! Ahogy mondanák, egyszerű de Passenger! :)
TERMIMÁMOR - Utazzunk el (2015)
Nincs albumunk, se levédett számunk... De szerintem illő lenne az is, hogy belevéssem azt is amilyért élek... Szerintem nem gáz bemutatni kedvenced ként a saját gyártmányod! Ugyanúgy egy Pizzéria is kiteszi a saját termékét a képekre, vagy egy sarki hamburgeres... akkor én miért ne tenném! :) Szóval ezt a számot akkor gyártottam, amikor utaztam Pest fele egy XY tehetségkutatóra.. És annyi a lényeg, hogy hallgassátok meg, én akkor így éreztem a gondolataimmal a helyzetem.
"Szerelmes nem vagyok, csak átutazó" ez a refrén, mindenki értse úgy ahogy saját maga érti!
Hallgassátok a többi kis dalunk/dalom! Amit a TERMIMÁMOR-ral is játszunk a koncertjeinkkel!
És köszönjük a rengeteg támogatást! És e blognak is, hogy segít nekem/nekünk ezzel is!
Quimby - Autó egy szerpentinen (Kilégzés - 2005)
Családdal hallgatott klasszikus. A Quimby-ben van valami, ami mindig meglepett, nekem a hitelesség az ami értékes bennük, érdekes bele gondolni, hogy az ember ilyen "híresen", hogyan lehet ilyen visszafogott még 10-20ezer ember koncertre járó emberek között is.
Természetesen szerintem úgy, hogy ők tényleg a múltban megélt dolgaikat masírozzák oda  népnek, átadják az érzelmeiket, gyűlöletüket, vagy amit éppen művelnek a színpadon.
Sum41 - Over my head (Does This Look Infected? - 2002)
Egy klasszikus gördeszkás zene számomra, ami nagyon sokat dobott az életemen anno. Erre deszkáztam a srácokkal. A gitárból és a dobból nem elég zene, zúzós is, meg minden!
Ed Sheeran - I see fire (The Hobbit: The Desolation of Smaug - 2013)
Egy új csillag számomra, ez a manus. Az utcazenéből a világsztárságig! Ez a dal igaz egy filmnek a zenéje, de nagyon szépen megkomponálta. Dallamos gitár. Looperrel dolgozza ki a dalait az élő koncertjein!