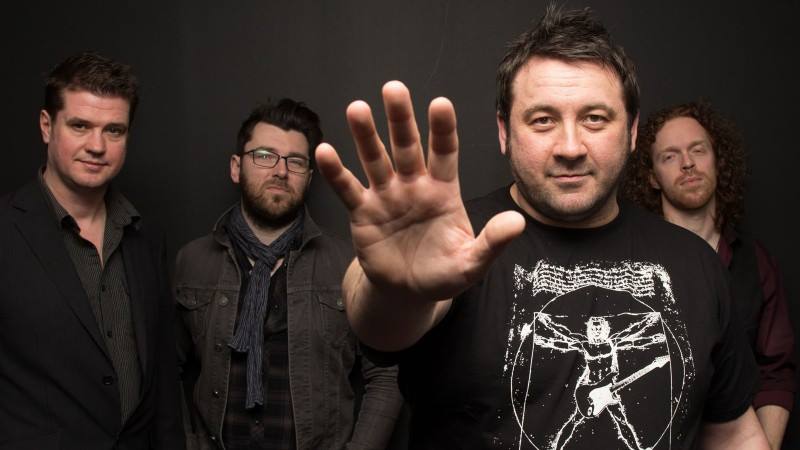 2016-ban a King King Reaching For The Light albumát és a Rush Hour című dalát is a legjobbnak választotta a British Music Awards. A blues-rockban utazó srácok igazán elismertek a szigetországban, itthon talán kevesebben találkoztak a zenéjükkel, mi azonban most esélyt adunk nekik a bemutatkozásra. Alan Nimmo válaszolt kérdéseinkre.
OTRNR – Mindenekelőtt muszáj megkérdeznem: Honnan ered a nevetek?
A.N.: - A banda neve az egyik közös kedvencünk, a The Red Devils nevű blues-rock zenekartól ered. Egyetlen live albumuk jelent meg King King címmel. Egy híres Los Angeles-i klub után kapta a nevét.
OTRNR – Tekintsük vissza egy kicsit a múltba. Milyen fontosabb mérföldköveket említenél a zenekar életében?
A.N.: - Úgy gondolom, egyre több és komolyabb turnén részt venni, olyan előadókkal, mint John Mayall, vagy a Thunder az egyik legjobb dolog, ami velünk történhetett. Nagyban segítette karrierünket.
OTRNR – Már három stúdiólemezetek van. Mit gondoltok, miben változott a zenétek 2011-es debütáló album óta?
A.N.: - Nem gondolnám, hogy sokban változott volna, inkább fejlődött. Egy természetes folyamat volt minden egyes alkalommal, amikor új lemezt készítettünk. Egyre több korai rockzenei hatást helyeztünk előtérbe, amikor zenét írunk.
OTRNR – Idén jelent meg egy live albumotok. Mitől lett különleges ez a kiadvány?
A.N.: - Az első élő lemezünk kiadása nagyszerű volt. Meglepő számomra, hogy ilyen nagy sikere van ennek az anyagnak. Büszkék vagyunk, hogy adtunk egy kiváló koncertet, ami után kézenfekvő volt, hogy kiadjuk live albumként, hiszen a rajongóink közül sokan vártak élő anyagot tőlünk.
OTRNR – Mit jelent a blues-rock zene számotokra?
A.N.: - A blues és a klasszikus rockzene az, amit személy szerint imádok, és mindenféle hatást és zenekart ezeken a műfajokon belül. Egyfajta őszinteségről és szenvedélyről szól ez a zene, és azt gondolom, hogy pont ez az oka, hogy mindig van közönsége.
OTRNR – Mi inspirál benneteket? Hogyan készül el egy King King dal?
A.N.: - Amikor készítünk egy dalt, mindig arra gondolunk, hogy egy minőségi szintet érjen el, ami fülbemászó és érdekli a közönséget, amitől szívesen hallgatják, és jól érzik magukat. Azt szeretnénk, hogy a közönség is azt érezze, amit mi éreztünk, amikor készítettük.
OTRNR – Mi a brit rockzene öt alappillére? (legjobb albuma)
A.N.: - Nehéz kérdés, de megpróbálom:
Thin Lizzy - Live and Dangerous
Whitesnake - Slide it In
Thunder - Laughing on Judgement Day
Free – Free Live
Bad Company - Run With the Pack
OTRNR – Első ízben játszotok Budapesten. Mit vártok az A38-as koncerttől?
A.N.: - Még sosem jártunk Budapesten ezelőtt, de tudom, hogy egy gyönyörű város, és nagyon izgatottak vagyunk a koncert miatt. Alig várjuk, hogy fellépjünk, és lássuk az emberek reakcióját.
A King King március 22-én ad koncertet az A38 hajó színpadán.
Facebook esemény itt!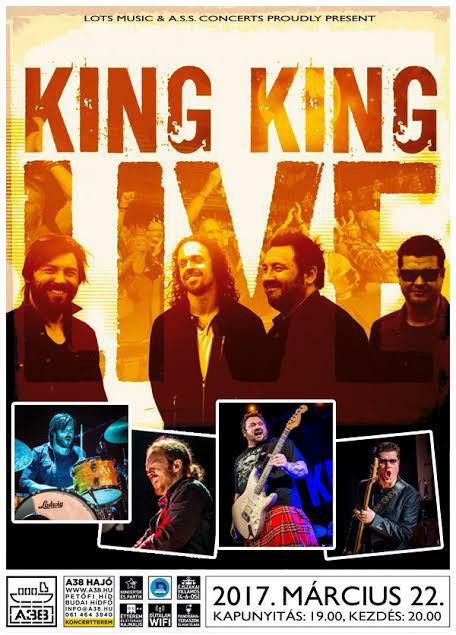 Sebők Tamás