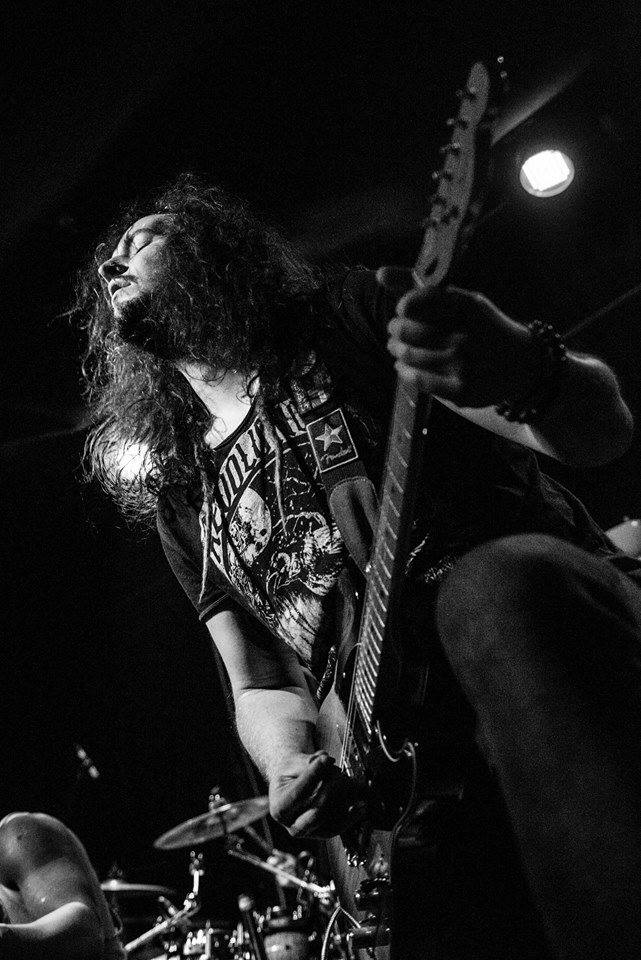 Folytatjuk állandó rovatunkat, ma Sánta Zoli, a Let The Cigar Die gitárosa kalauzol el bennünket az életét, zenei pályáját meghatározó lemezek világába. Lássuk azt a tízest!
A zene mindig is fontos volt számomra, fiatalabb koromban édesapám lemezeit pakolásztam a lejátszóba, így ezen a vonalon indulok el. Az első lemez (kazetta) egy Dire Straits válogatás volt, amit mindig útközben hallgattunk édesapám autójában. Ez egy korai gyermekkori élmény, amihez számos pozitív gondolat köt.

ROCK 70
A válogatás lemez, ami miatt seprűt és partvist, lapátot fogva imitáltuk, hogy rock zenészek vagyunk. Ezt a merényletet első zenekarom dobosával és bátyámmal követtük el rendszeresen. (Nem sejtve azt, hogy később valódi hangszerekkel is próbálkozni fogunk.) Ez is édesapám lemeze. A klasszikus rock nagyjaitól vannak rajta dalok. Többek között: Rolling Stones- Brown Sugar, Uriah Heep- Look at yourself, Black Sabbath- Paranoid, Led Zeppelin- Immigrant Song vagy éppen Free- All Right Now. Alapvető érdeklődésemet meghatározta a rock zene iránt ez a karcosra hallgatott lemez.
Tankcsapda - Jönnek a férgek (1994)
Ez a Tankcsapda legjobb lemeze számomra. Ma már sajnos sokan ,,legyintenek" metál berkekben a TCS-re, de olyan alapvető, kikerülhetetlen a zenekar munkássága, amelynek slágereit szerintem minden magyar, valaha gitárt a kezében fogó fiatal meghallgat és megpróbál eljátszani. Ez a lemez a sok jó korai albumuk közül számomra a legjobb. Zúzós riffek, király szövegek, valódi Tankcsapda életérzés!
Jamiroquai– Funk Odyssey(2001)
Korszakaim következőképpen álltak fel. Rock évek – Funk évek – újra Rock évek- Ma pedig minden zene érdekel, ami minőséget képvisel. Mindegy, hogy milyen műfaj, csak ne legyen gagyi! Adjon valami pluszt, érintsen meg! Ezt a JQ albumot gimnazista koromban hallgattam sokat. Kicsit elektronikusabb az előző Jamiroquai albumoknál, de zseniális hangszerelés, zseniális JAY Kay énekléssel párosított fúziós funk album, jazz beütésekkel spékelve. Imádom a funk zene basszusgitár témáit. A kedvencem az albumról a Corner of the earth című dal. Úgy gondolom, ennél a csapatnál is leírhattam volna az egész diszkográfiát. Kíváncsi vagyok az idén megjelenő új albumukra is. Nem hiába próbálkozom egyik zenekarommal a funk zene felé orientálódni.
Guns 'N Roses- Appetite for Destruction (1987)
A zene, ami miatt gitározni kezdtem, mester munka az elejétől a végéig. A tökéletes zenei gépezet. Minden poszton tökéletes felállása volt a Gunsnak, zeneileg lehet a későbbi korszakaiban jobb volt, de itt még őszinte ,,tróger" rock áradt belőlük. 18 éves koromtól szerintem pár évig naponta hallgattam. Erről az albumról nem is tudnék kiemelni kedvenc daltJ. Az LTCD-vel akusztikus korszakunk elején, Levivel pár Guns' nótát is játszottunk. Pl.: Sweet child o' mine, Rocket Queen, My Michelle
Stevie Ray Vaughan –Texas Flood (1983)
A Blues mindig visszatér nálam. Az egyik ilyen korszakomat SRV határozta meg. Pedig az autentikusabb delta bluest jobban szerettem, addig ameddig nem hallgattam meg az Ő lemezeit. ,,13-as húr, Fender Strato, Ibanes Tubescreamer és a kéz, amiben ez a sound van, beleégett az agyamba. Kedvenc dal: Tin Pan Alley!
Rage Against The Machine - Rage Against The Machine(1992)
Második zenekarommal nagyon sok RATM-ot játszottunk, próbáltunk játszani, mert ugye Ők is utánozhatatlanok. Leszögezem: Sohasem akartunk senkit sem utánozni, egyszerűen csak imádtuk a zenéjüket és fenomenális érzés volt játszani. Brad Wilk, Timmy C, Morello zenei kohéziója De La Rocha zsenialitásával, leírhatatlan érzés hallgatni őket. Amikor a zenéjüket játsszuk, olyan érzések, energiák szabadulnak fel bennünk, amelyek leírhatatlanok. A "klasszikus" rock gitárosok után Morello játéka igen csak felkeltette az érdeklődésem, főleg hogy náluk is rendes keveredés van: hip-hop, metal, rock megkeverve felforgatva :D Ha egy dalt kellene kiemelni akkor – FREEDOM
Pantera Best of DVD és CD



PANTERA-s korszakom a RATM után jött, unokanővérem akkori párjától kaptam mp3-ban egy Best of válogatást, valószínűleg nem a hivatalosat :D Rendesen rákattantam: Walk, Dommination, This Love és sorolhatnám… A PANTERA olyan, mint egy élő és szenvedélyes robot, mert minden úgy klappol abban a zenében, ahogy egy jó gépezetben. Eközben ott van Dime, aki olyan lazán tolja ezt, mintha blues lenne. Ekkor szereztem be BOSS Metal zone pedálom :D
DOWN-NOLA (1995)
Panterás kutakodások közepette találtam rá. DOWN a supergroup. Pepper és Kirk szerintem a leghatalmasabb riff mesterek, plusz a többiek hozzá, jó kis paraszt témákkal imádom. Elég határozott anyag. Innen kiindulva aztán jött a Crowbar és COC isJ A Hegyalja Fesztiválon hallottam őket élőben, de ott már nem Rex Brown volt a basszer. Hatalmas show volt . Korai LTCD-s korszakomra nagyon nagy hatással volt.
Parkway Drive-Deep Blue (2010)
Amikor elsőnek halottam PWD-t azt gondoltam magamban, hogy mi ez a sz… . Aztán zenei evolúción estem át, mostanra imádom a zenekar összes lemezét. Volt szerencsém többször is hozzájuk élőben és nem csalódtam. Hasonlóképpen a RATM-hoz, ha fel akarok töltődni energiával ezt az albumot kell meghallgatnom.
Burning Full Throttle- No Mans Land(2013)
A Haverok és a haver zenekarok hatása mindig ,,játszik". A No mans land-et azért emelném ki, mert nagyon sokat hallgattam, hallgatom a mai napig. Mindig feldob, ha rossz a kedvem van. Az egész album nagy kedvenc. Ide sorolhatnám még a Vendetta INC munkásságát, rengeteg jó zenekar van kis hazánkban. Underground szinten, de világszínvonalon.
Zoli számos más zenei hatást is megemlített összegzőjében, kitekintett a grunge korszak legnagyobbjaira, de olyan gitáristeneket is kedvenceiként nevezett meg mint Slash, Jimi Hendrix, vagy SRV. – A mai napig folyamatosan jönnek az újabb zenék, amelyek hatással vannak rám, de ez így normális. Rengeteg lemezt, előadót írtam volna még. Mostanában számomra újabb kedvencek: Hacktivist, Gary Clark JR., Mastodon, de Bruno Mars is. – zárta a listát a gitáros.