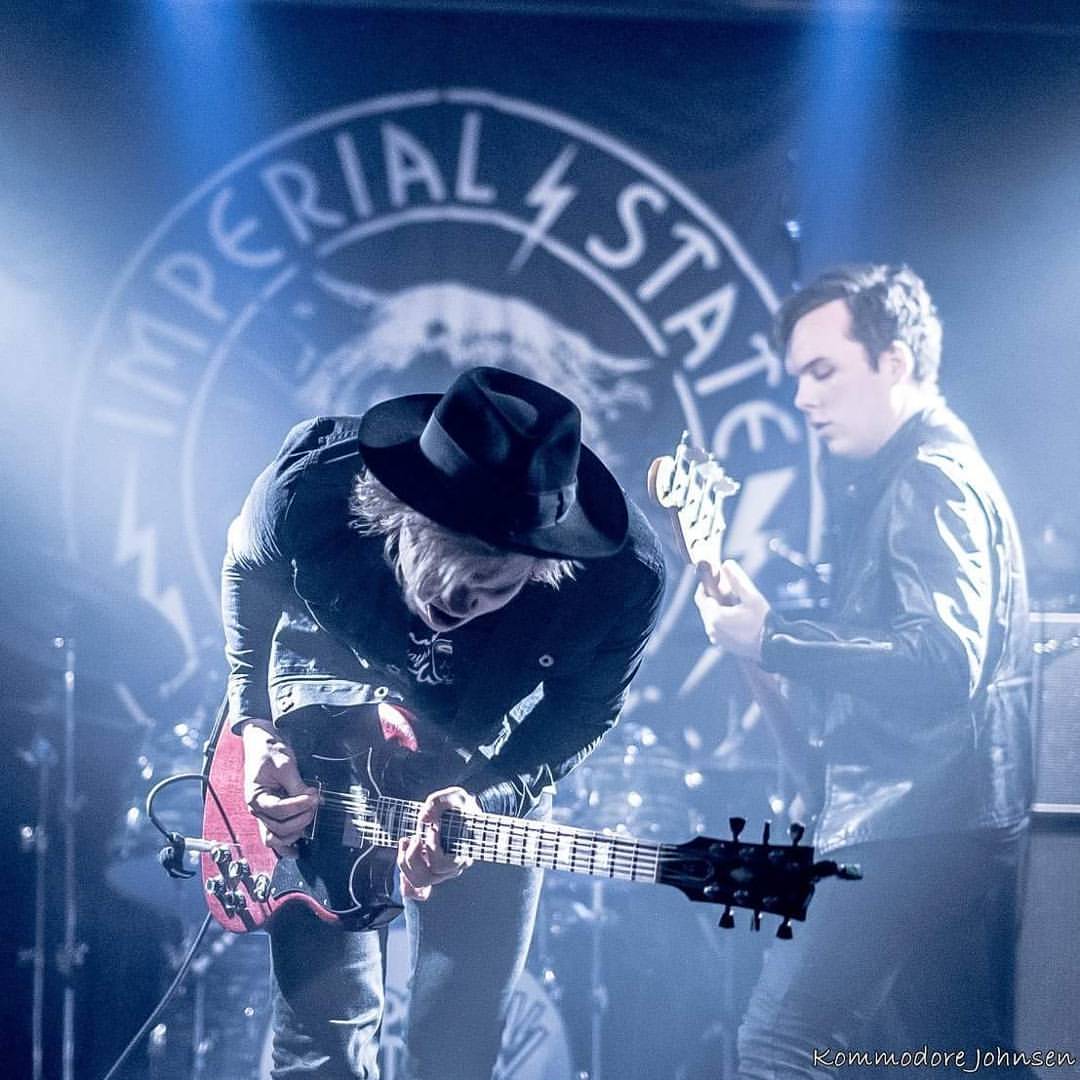 Bár igen gyakran jelentkezik új anyaggal a Nicke Andersson vezette Imperial State Electric csapata, már évek óta csak hiú ábránd, - talán az érdeklődés hiánya miatt - hogy hazánkban fogadhassuk a svéd garázsrock színtér egyik oszlopos tagját. Nem is meglepő, hogy ők maguk sem jönnek be Mordorba, az osztrák fővárosnál húznak határt. Így hát Mohamed és a hegy elvén, kiutaztunk Bécsbe, hogy megbizonyosodjunk arról, amit már sokan említettek: Élőben jobban odab*sz!
Nem volt még szerencsém a Viper Roomos koncerthez. Nem nevezhető nagy klubnak, azonban hangulatos hely volt, bár inkább metal és a keményebb zenék képviseltetik magukat nagy töbségében. A sör 4,5 eurós ára láttán kicsit elkerekedett a szemem, de végtére is várható volt, hogy nem kőbányaizunk. A klubban szóló "szörnyeteg" metalblokk után végre elkezdődött az este élőzenés jellege a stockholmi Factory Brains műsorával. A trio 2012 óta zenél együtt. Ez idő alatt a srácok két kiadványt hoztak össze, ezt mutatták be a bécsi közönségnek. Elmondták, hatalmas 3 hete játszanak közösen az Imperial State Electric-kel, ami a zenekar történetében is hatalmas mérföldkő. Zenéjüket egyáltalán nem lehet bekategorizálni, többféle világból merítettek. Garázsrockos feszes témákat felváltották a delta-bluesos lassabb, de feszes akkordok, majd 2000-es évek elejének indie világába is belecsöppentünk. A dalok ügyesen össze voltak rakva totálisan élvezhetők, és a srácok ügyeltek, hogy ne üljön le a buli, megtartották végig a szintet. Személy szerint nekem ez a sok különböző stílus volt furcsa, valahogy ha ezeket kevernék egy egységes dologgá, akkor szerintem nagyobbat robbannának, mint a hidrogénbomba. De hát még előttük az élet.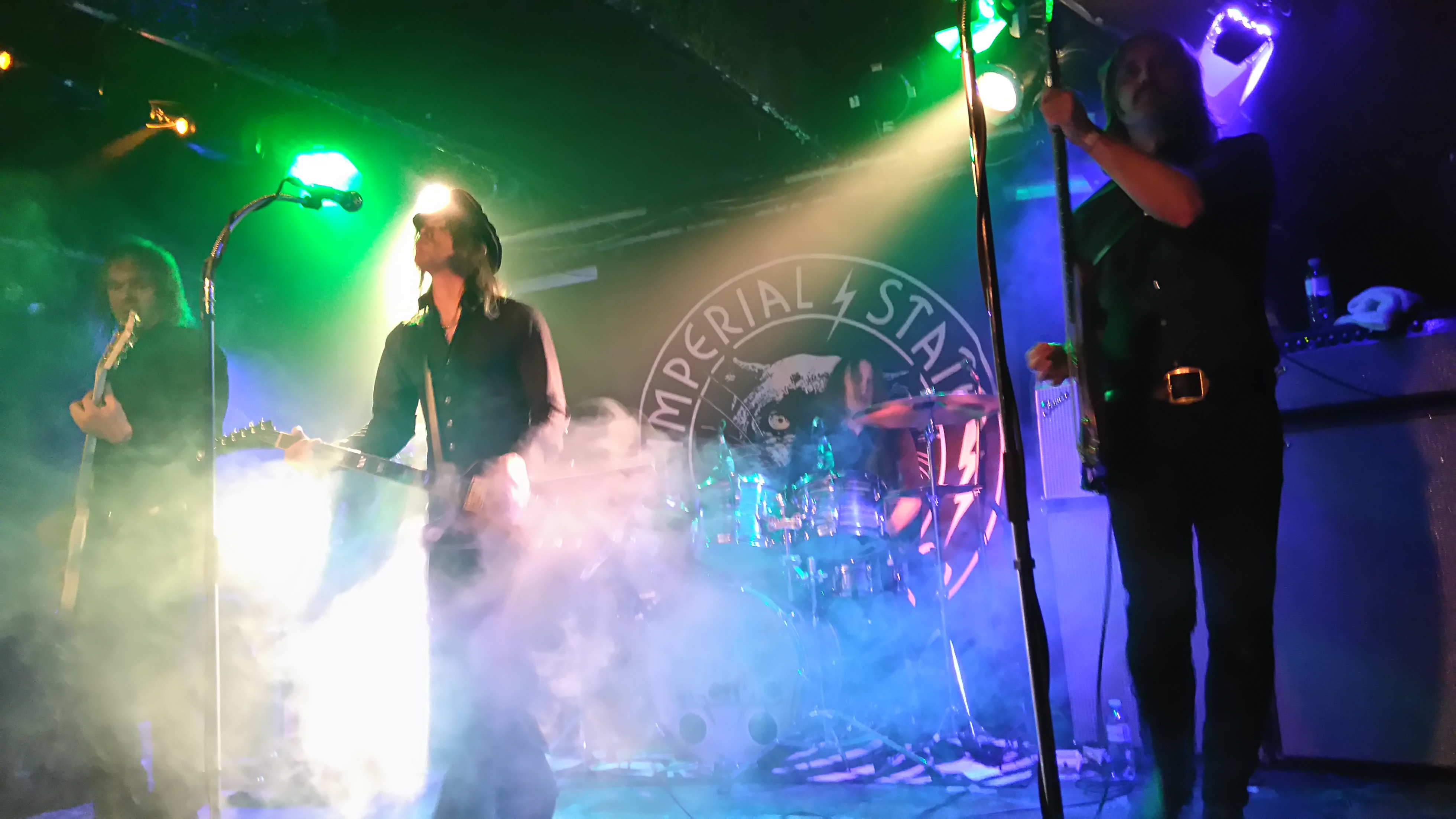 Átszerelés után az Imperial csapott a húrok közé. Megállapíthatjuk, hogy a setlist összeállításához van érzékük (nevet). A Honk Machine-t záró It Ain't What You Think It's What You Do-val indítottak. Indítottak? Berobbantották a helyet. A zúzás nem maradt el az új lemezt nyitó Empire Of Firenél sem. Már eleve felfokozott hangulatban léptek színpadra Nickéék. Tomas Eriksson az esetek többségében önkívületi állapotban ordított a mikrofonjába. Jöttek a jobbnál jobb dalok szállítószalagon lettek elénk pakolva, Uh-huh, Guard Down, Deja Vu, More Than Enough Of Your Love, Over And Over Again, All Through The Night és még sorolhatnám évekig. Kaptunk Tomastól dobszólót és a korábban a Datsuns basszusgitárosaként ismert Rolf is megmutatta tudását hangszerén. A két gitáros, Tobias és Nicke is összecsapott, rövid gitárpárbajt nyomtak le két dal között. Aztán egyszer csak Tobias átkerült a baloldalról jobbra, Nicke ugrott az ő helyére, a mikrofont pedig Dolf vette magához, mi meg már éreztük -  "készítsd a hüllőagyad! - a Reptile Brain is elhangzott. A vissza taps után rendesen adtak rádást, közel két órára dúzzadt a műsoridő. Az encore-ban több feldolgozás is helyet kapott, mint pl a Fortunate Son (Creedence Clearwater Revival), vagy a Born To Be Wild egy sajátos feldolgozása. A Redemtion's Gone kiállásába is csempésztek mókát a srácok olyan klasszikusokból játszottak részleteket, mint a Blue Öyster Cult Dominance & Submisson, vagy a Lynyrd Skynyrd Freebird-je. A végére egy feles is lecsúszott a sörök mellé a zenekarnál, ettől aztán teljesen beindultak, hatalmas bulival zárták a koncertet. Még közel 2 óra után is azt lehetett érezni, hogy nem akarják abbahagyni. Ne is hagyják soha!
Sebők Tamás
Photo (Factory Brains): Kommodore Johnsen