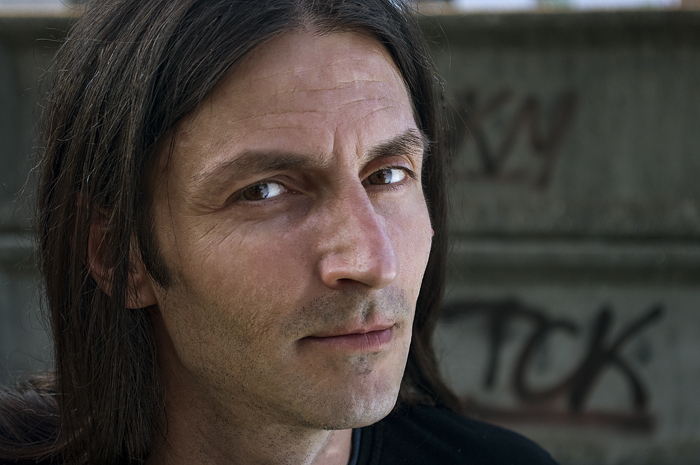 Gőzerővel robogunk tovább állandó rovatunkkal, a Sorsfordító korongokkal. A mai "versenyzőnk" a Benzin basszusgitárosa, Laboncz Attila. Labi elsőként esett neki elkészíteni bemutatóját, amint tudomást szerzett a rovatról, amit innen is köszönünk neki. Igen színes zenei palettát vonultat fel, csekkoljátok le az ő sorsfordítóit.
Sziasztok! Köszönöm a felkérést! Örülök, hogy leírhatom milyen lemezek voltak rám hatással az életemben!
T.Rex – Get It On (1971)
A legelső zenei emlékem, hogy a szüleim a hetvenes években Olaszországból hoztak egy lemezt. A borítóján egy dinoszaurusz volt, és ez már magában is lenyűgözött, de a zene teljesen elvarázsolt akkor, hat évesen. Később tudtam meg, hogy a T.Rex első kislemezével. A - Get it onnal volt dolgom, és ez a mai napig egy ereklye a lemezgyűjteményemben. A szüleim egy idő után már eldugták előlem, mert szerintem már unták, de én akár egész nap csak azt hallgattam volna.
Omega – Omega 5 (1973)
Ezután jött az Omega 5 albuma, amit a mai napig felteszek a csajommal idehaza. Ez az album volt gyerekkorom meghatározó zenei élménye. Ha egyedül voltam otthon, a nagymamám felhívott telefonon, - és mivel csak nekik volt lemezjátszójuk -, feltette a lemezt, mellé a telefonkagylót, én meg hallgattam és arra aludtam el. Ebben a korszakban imádtam még a Bergendyt is, de az Omega volt a fő favoritom.
AC/DC – Let There Be Rock Movie (1980)
Gyerekként egy kiránduláson hallgattam a nagyobb srácokkal kicsit progresszivebb zenéket, először a Sweet lett a kedvenc, de később elkanyarodtam az ACDC, a Balck Sabbath és a Deep Purlpe felé. 1980-ban meghalt Bon Scott, utána kijött a Back in Black, majd később a mozifilmet (Let There Be Rock) legalább tízszer megnéztem a moziban. Na, az teljesen elvarázsolt, akkor fogadtam meg, hogy zenélni fogok. A Népstadionban már a Tankcsapda tagjaival mentünk el megnézni őket, Lukács az első sorba eljutott valahogy, mi meg a kivetítőről néztük, ahogy Angusnak integet! (nevet) A buli végén a Hells Bells alatt többezer papírpénzt lőttek a tömegbe, amiből nekem is van egy darab, örök emlék!
Deep Purple – Made In Japan (1972)
Az első saját vásárlású lemezem a Deep Purple Made in Japan-ja volt. Nyolcadikos koromban ez volt a nagy kedvencem. Később Debrecenben a Főnix Csarnokban láttam őket, de bevallom, kicsit csalódás volt az a buli nekem.
Led Zeppelin – The Song Remains The Same (Concert) (1976)
A gimnáziumi évek alatt jött a nagy Led Zeppelin láz. A The Song Remains the Same szintén ment a mozikban, mi meg egymás után kétszer is képesek voltunk megnézni a közel kétórás koncertet. Gondolom a végére rendesen elzsibbadt a seggünk, de az élmény az óriási volt!
The Police - Reggatta de Blanc (1979)
Édesapámtól kapott Tesla szalagos magnóra egy mikrofonnal vettem fel a tévéből a Police Rockpalast-beli koncertjét, iszonyatosan tetszett, és persze később az összes lemezüket megszereztem. Sok kedvenc daluk van, nagyon tetszett a trió felállás:
SexePil – Egyesült Államok (1988)
Az eddigiekből is kiderül, hogy igazából mindenevő voltam, vagyok. Debrecenben eljártunk minden nagyobb bulira. Volt itt Rory Gallagher, John Mayall, LGT, és még megannyi nagy banda. Jethro Tull-ra jártunk Pestre az MTK stadionba, úgyhogy elég vegyesen ettem mindent, amiben gitár volt!:)) A gimiben az AE.Bizottság, és az Európa kiadó is nagyon tetszett. Már főiskolás voltam, amikor saját bandát alakítottam Fóbikus Panaszok néven, egy alkalommal együtt koncerteztünk a SexePillel. Igazi underground banda volt, hatalmas szövegekkel, és nem véletlen egy ideig csak őket hallgattam a walk-manemben!:))
Voivod – Nothingface (1989)
A keményebb zenék felé később fordultam, az első igazi kedvenc metal bandám a Voivod volt. Akkoriban már a kazetták voltak divatban, a bakelit elérhetetlen áron volt. Mindent megvettünk, ami elérhető áron volt (leginkább kalóz-másolatokon). Érdekes, de akkor szerettem meg Jimi Hendrixet is, akinek nagy rajongója voltam, vagyok.
Faith No More – Album of The Year (1997)
A közelmúltban a legnagyobb hatással a Faith No More volt rám. A Sziget-beli koncertjük után az öltözőjükben dumálgattunk, és hihetetlen ma is, mennyire kedves arcok voltak ezek a világsztárok. Legjobb albumuknak az Album of The Year-t tartom.
System of a Down – Toxicity (2001)
Ahogy számolom, máris elérkeztünk az utolsó dobásomhoz!:) Ez pedig nem más, mint a System of a Down. Nagyon szerettem volna eljutni egy koncertjükre, de ez már sajnos nem fog megvalósulni.. Mindenesetre végezetül szerepeljen itt személyes kedvencem tőlük, a Toxicity:
Még egyszer köszönöm a felkérést, remélem sikerült egy-két zenei csemegét ajánlanom a kedves olvasóknak!:)