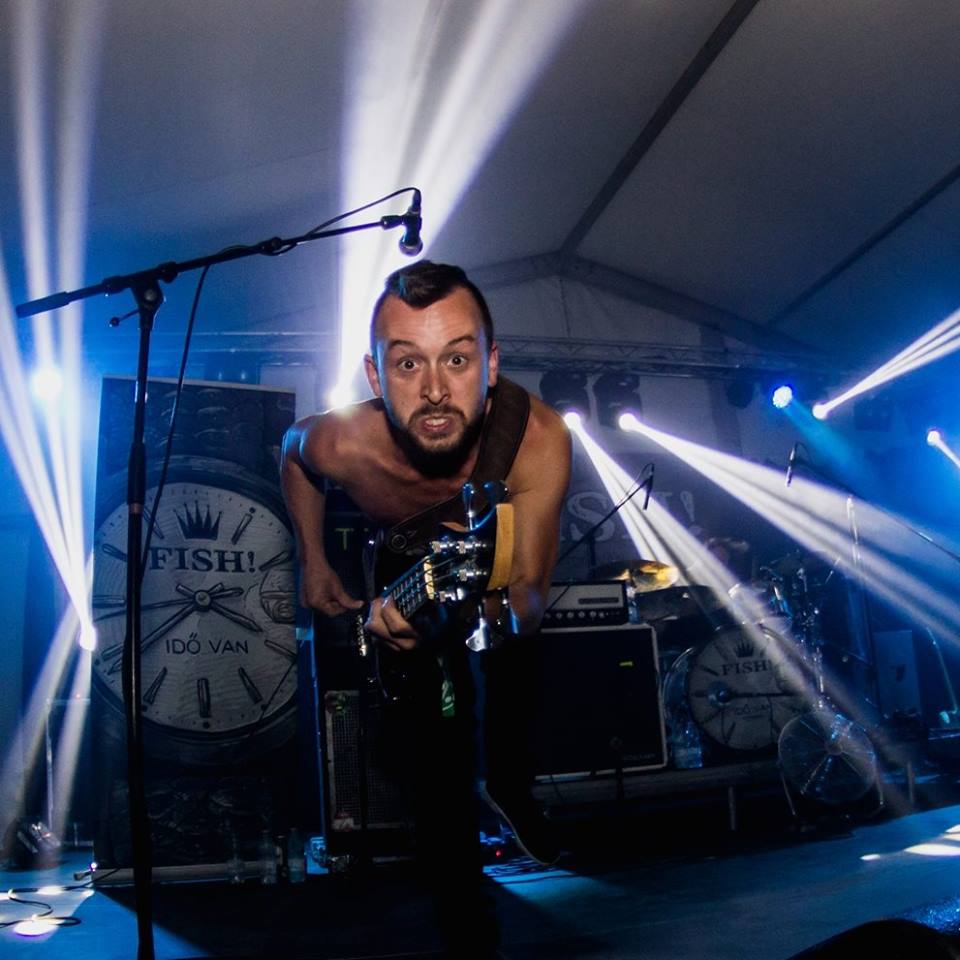 A Fish! pörgőujjú bézmenjével, Binges Zsoltival folytatjuk állandó rovatunkat, aki egy nem tökölt, egy nagyon erős listát hozott el nekünk! Csekkoljátok!

Nehezebb ez a dolog, mint gondoltam, mert a gyereknek is mindig azt mondom, az "apa mi a kedvenc..." kezdetű mondatára, hogy nem vagyok egy kedvencezős típus, így arra gondoltam hogy végighaladok kronológiai sorrendben az életem fontos lemezein és megpróbálok megállni 10-nél! Nehéz volt és sok fájó kimaradó is akad! (nevet)

Pink Floyd - The Wall (1979)



Ez egy olyan mestermű, amit már gyerekként is értékelni tudtam, még ha nem is értettem. Igazi korlenyomat, mély és pszichedelikus, ugyanakkor kemény is tud lenni, talán ezzel a lemezzel vált örökre részemmé a zenekar.
1979-es mint én és egy örökség édesapámtól, nagyon ritkán tudom meghallgatni.
AC/DC - The Razors Edge (1990)

Kb. 13 éves lehettem mikor megvettem az első értékelhető kazettámat és ez volt az (az első emelt nem számít, ráadásul azt valószínűleg kaptam)! :-) Akkoriban Leginkább Queen-t, Floyd-ot, Marley-t, hallgattam ami részben az otthoni lemezek miatt volt így (bár az Omegára sosem kattantam rá) és hát azért ez már egy fokkal feljebb tekert gain-t jelentett az erősítőkön, oda voltam teljesen!
Metallica - And Justice For All (1988)

Azon szerencsés emberek közé tartozok akiknek 13-évesen első koncertjük egy Metallica az MTK-stadionban, ráadásul '93-ban a számomra teljesen ismeretlen megapoliszban, mai napig nem tudom, hogy engedhettek el?! :-D Persze hogy nem volt megállás a "lejtőn"! Igazából ha itt leragadok zeneileg, vagy legalábbis ebbe az irányba megyek tovább, valszeg sosem leszek basszusgitáros, hisz ezen a lemezen nem nagyon van! Istenem de szarul szól(t), de mégis szeretem! Itt kell viszont megemlítenem, hogy a Kill 'Em All lemezen szereplő (Anesthesia) Pulling Teeth című szám miatt lettem végülis az, amit a koleszban Kozák Jani Barátom játszott el nekem erősítő nélkül. Sosem felejtem el!
Guns n' Roses - Use Your Illusion I-II. (1991)

Évekig erről szólt minden. Tudtam hogy énekes leszek, kendővel a fejemen jártam, a középiskolás éveim alatt Gyulán egyszer valaki Axl-nek is szólított az utcán! Tudtam hogy sinen vagyok!
Nehéz leírni, hogy az ember mit is szeret, szeretett egy lemezben de itt talán a komplexitás az ami a dalok mellett kiemelendő! Rájöttem, miközben ezt írom, hogy dupla album-fétishem van!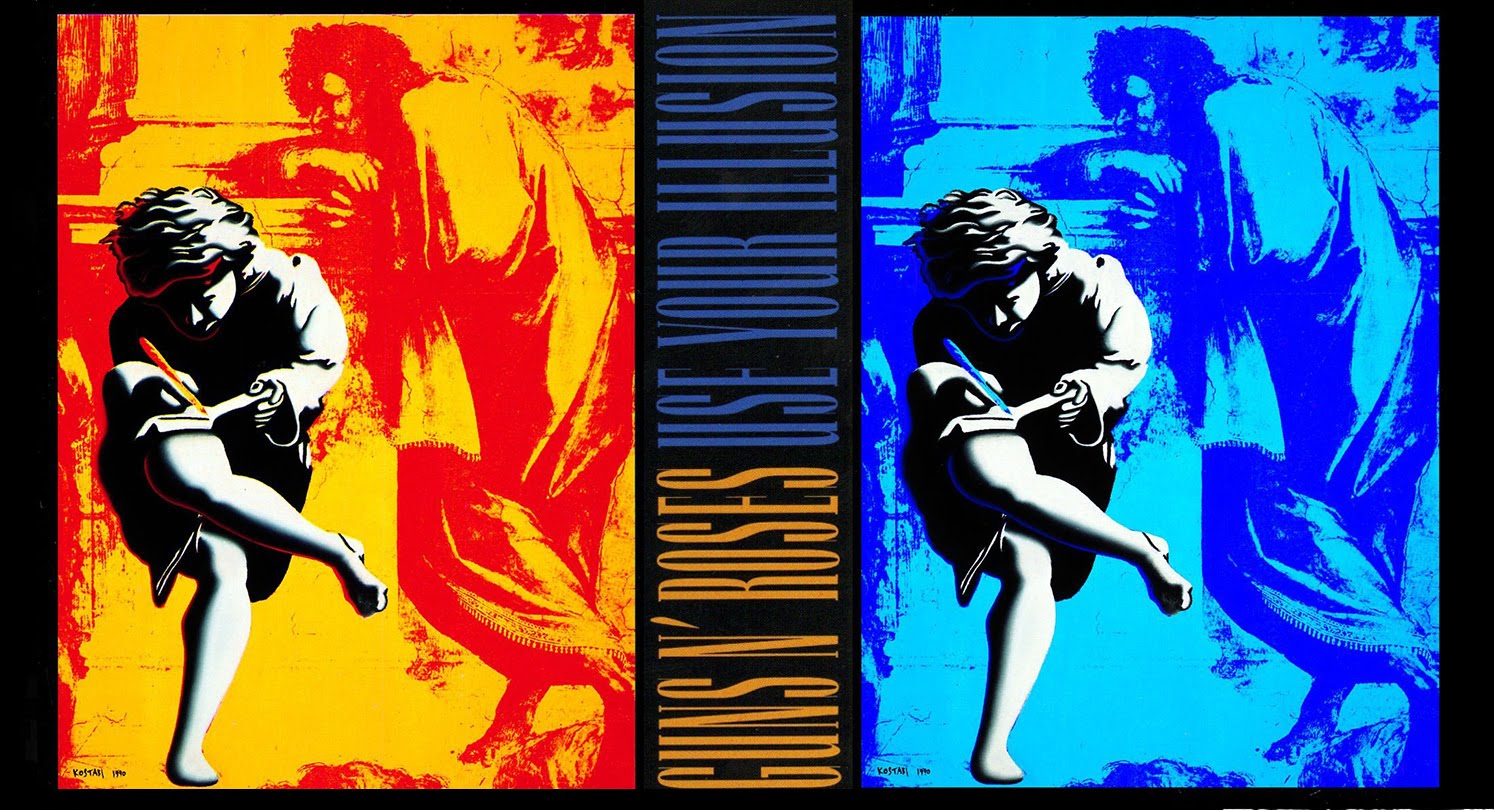 Pearl Jam - Ten (1991)



Talán a harmadik lemezén is túl volt a PJ, mikor megtudtam hogy léteznek. Egy barátom azt mondta, hogy kezd a Ten-el, abba bele lehet szeretni. Nem tévedett. Hihetetlen hogy születhetnek ilyen lemezek gyakorlatilag pillanatok alatt?! Misztikus, (és ez a következő tételre  is igaz a listámon). Még ha nem is ezt a lemezt hallgatom a legtöbbet mégis talán miatta vált örök életre dobogóssá nálam a banda! 
Red Hot Chili Peppers - Blood Sugar Sex Magik (1991)



Nemtom' mekkora lépés ez az emberiségnek, de nekem hatalmas volt! Kb 19 vagyok és kapok egy kazettát kölcsön az akkori barátnőmtől, amin ez volt rajta. Értetlenül álltam a dologgal szemben, így is lehet basszusozni?! Nagyon komolyan megváltoztatta az életemet és természetesen feleségül is vettem később akitől kaptam, ezúton is köszönet neki! :-) 
Mellesleg mérhetetlenül irigy vagyok erre a lemezre és ahogy készült! Láttátok a Funky Monks-ot? Ha igen, tudjátok miről beszélek! Ez az album egy eszenciális valami, ha gondolkodás nélkül kéne megmondanom a kedvenc lemezemet ezt mondanám.
Foo Fighters - Foo Fighters (1995)

Ez a Dave Grohl gyerek egy végtelenül szimpatikus, hiperaktív köcsög aki valszeg egy percig nem tud nyugton ülni, ráadásul olyan legendákkal tudott összehozni projecteket, akik még neki is bálványai! Mindent megcsinált amit meglehet és ez még "csak" a Nirvana utáni időszaka, ami meg ugye kis túlzással a világot változtatta meg... Ezt a lemezt meg tök egyedül játszotta fel. Hát köszönöm szépen. Imádtam az első perctől, de sajnos amikor láttam őket a szigeten még nem ismertem. Balfék vagyok. Ja és a klipjeik is rosszak...
Audioslave - Audioslave (2002)



Mindenki ezt a lemezt várta, mikor kiderült, hogy a rage-es srácok összefogtak a soundgardenes Chris Cornellel én sem voltam ezzel másképp. Aztán kijött az első klip és kilóra megvett, nem gondoltam volna, de akkor és talán most is úgy gondolom, hogy ez a lemez jobb mint a fent említett két másik banda anyagai. Persze most a legtöbb ember lehülyéz és valszeg igazuk is van, nem mérhetőek össze, legalábbis értelmetlen. Mindazonáltal nekem a kedvencem, pedig elhihetitek hogy voltam és vagyok RATM és Soundgarden rajongó is!
John Frusciante - Shadows Collide With People (2004)

Majdnem kifelejtettem. Hihetetlen, pedig évekig más sem érdekelt, csak amihez köze volt a jó-öreg Johnnynak! Nem csak zeneileg, de a világnézetemre is hatással volt és itt persze nem a -majdnem belehaltam a narkóba- korszakára gondolok! A lemez első számáról sokáig azt mondtam, hogy a világ legjobb száma. Ja, nekem. Bár néha találok olyat aki egyetért velem! :-) Szeretem az ilyen érzelmes dalokat, de ez már a Floydnál, az elején is ki kellett hogy derüljön! Rengeteg szám, néhány kísérlet, ami talán elővetíti azt amit később csinált, pár csilis haver, hát nem is tudom Frusciante zenéjéről nehéz beszélni, de hál'istennek beszél az magától is!
Queens Of The Stone Age - ...Like Clockwork (2013)

Korábban is hallgattam őket természetesen, de valahogy ez vágta be nálam a kaput végérvényesen, annak ellenére, hogy az első számot néha meg se hallgatom  róla! Talán a VOLT-fesztivál és a soproni barátaim (különösen az egyik!) tehet róla!
Josh Homme is egy hasonló zseni, mint akikből már sokat felsoroltam itt! Már a Kyussal is érdekes dolgokat művelt de mire idáig eljutott már túl volt egy s máson.. Profi minden tekintetben, az egyik kedvenc hangszerelőm és gitárosnak sem utolsó, fene azt a flegma pofáját! ;-)
és egy plusz, mint a totóban:
Royal Republic - We Are The Royal (2010)

Vénségemre meghülyültem, semmi mással nem magyarázható. :-D
Egyébként a svéd Fish! csak még gyorsabb, legalábbis ezen a lemezen, és koncerten is hasonlóan hülyék. Amikor Senior Hal  rátalált, 1 évig ez ment nálunk a turnébuszban. Egyébként valóban ez a lemez indított el egy olyan úton amit még most is fedezek fel épp!