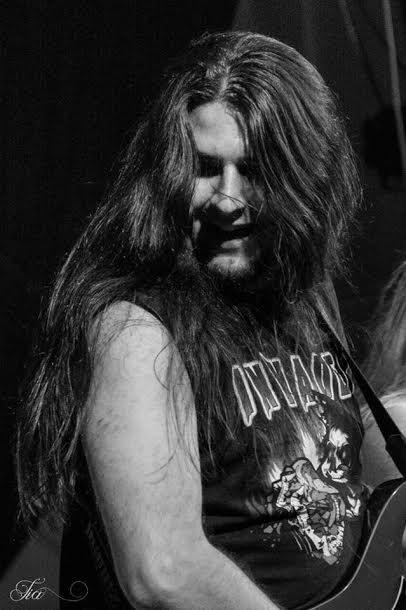 Köszönöm a megkeresést. Igyekszem bemutatni nagyjából az én zenei világom. Nagyon nehéz,mert szerencsére elég nagy skálán mozgok J Mivel a meghatározó dolgokról kell írni,így a 20-as éveim elejéig írom le mik a számomra meghatározó zenék,albumok. Ha a jelenlegi állapotról kéne írnom, reggelig írhatnék J. A zene már kiskoromban fertőzött, otthon mindig Deep Purple,Led Zeppelin, Jimi Hendrix szólt (Ezeket a mai napig szeretem),illetve a gitározás is kéznél volt úgymond,hiszen édesapám gitározott, ha jól emlékszem még téptem is el egy húrt a gitárján J, de az első nagy hatás az Edda volt. Kun Peti szólói nagyon tetszettek. Az Edda mellett ott volt a Metallica Black albuma,ami ha jól emlékszem pár év csúszással sikerült megismerni J Kaptam egy gitárt és próbált tanítani faterom pár akkordot,de hát gyerekként annyira nem fogtam fel és egészen 16 éves koromig nem is lett ez az egész gitározás komoly. Akkor viszont elkapott a gépszíj és elkezdem tanulni járni és jobban is ment már mint gyerekként. Akkoriban jelent meg az Iron Maiden Brave new world lemeze,amit rongyosra hallgattam annyira magával ragadtak azok a dallamos,iker és terces szólamok. Ezúton is szeretnék hatalmas köszönetet mondani Rubcsics Ricsi barátomnak. Rengeteget segített, ütött,vágott jelképesen ha kellett, illetve a mai napig ő az első, akinek adok a szavára. Ő a másik nagy példakép nekem. Mentor és barát. Illetve nem utolsó sorban a családomnak,minden volt és jelenlegi zenésztársamnak,barátomnak és mindenkinek, aki eddig is segített és támogatott.
Edda – 13. (1991)
A Classic Rock után ez volt az első nagy hatás, amire eldobtam az agyam már gyerekként. Lendület, dallamos refrének, iszonyatosan jó szólók és egy gyönyörű líra. Ez volt az első lemez, amin Kun Peti gitározott és az érkezésével azt hiszem ez az Edda legjobb lemeze. Szellemvilág, Büszke sas, Ki van velünk,Ma minden más. A mai napig óriási dalok.
Edda – Elveszett illúziók (1993)
A második és sajnos egyben az utolsó Edda lemez, ami Kunos gitározását őrzi. Itt is óriásit alkotott. Ez az Edda lemez számomra a legmeghatározóbb persze nem kisebbítve Alapi István érdemeit és tudását, hiszen mind a 80-as évek végén és Kunos halála után is vitte és viszi az Eddát szintén hihetetlen jó szólóival. Gyerekkorom másik példaképe ő.
Metallica – Black album (1991)
Pár évvel később jutott el hozzám ez természetesen kazettán. Első hallásra megfogott és olyan dalok vannak rajta amiket azóta sem tudnak kihagyni a koncertprogramból, szerencsére volt alkalmam már 3x látni is hallani élőben őket. Nekem még fogalmam sem volt arról,hogy ez egy elég megosztó lemez,hiszen nem ismertem a korábbi munkáikat. Van aki szerette van aki utálta,mert visszavettek azokból a thrash hatású riffekből. Szerintem egy korszakalkotó lemez, egy megkerülhetetlen alapmű, amit a mai napig elég sűrűn hallgatok.
Metallica – Master of Puppets, ...And justice for all… (1986-1988)
Mivel a Black album nagyon is megfogott gondoltam tájékozódok és beszerzem a korábbi lemezeket. Ez sikerült is természetesen szar minőségű másolt kazettán. Gyanútlanul elkezdtem hallgatni a Mastert…majd rögtön az első dal (Battery) leszakította a fejem,aztán a Master of Puppets. Egy lázadó tizenéves gyereknek mi más kéne?! Erő,lendület… James Hetfield brutális riffjei. Sokat nem szórakoztak,lezúzták az agyat. Ugyanez mondható el a Justice-ról is. Óriási hatással voltak rám, némileg elvittek Metal irányba.

Moby Dick – Kegyetlen évek (1991)
Ezek után ajánlották ezt a lemezt,hogy tetszeni fog, mert már unták, hogy folyton a Master és Justice lemezekről pofázok. Nem tévedtek. Abban a korszakban Magyarországon ez korszakalkotó volt és azóta ez a lemez megkerülhetetlen. Tavaly adták ki újra még brutálisabb hangzással, kicsit vissza is hozta a gyerekkorom. Nem igazán voltam a szomszédok kedvence akkoriban.

Iron Maiden – Brave new world (2000)
Úgy néz ki későn érő típus voltam, vagy csak a nagy kazetta másolások közepette a nagy alapművek nem jutottak el hozzám,de ez az első lemez amivel megismertem az Iron Maiden-t. Ha jól emlékszem a The wicker man klippjét láttam a tv-ben és rohadtul tetszett. Sikerült is felvennem még VHS-re és oda-vissza hallgattam,aztán egy barátomtól sikerült megszerezni…akkor neki már megvolt írott cd-n (Ez nagy szó volt akkor J ) Ennél a lemeznél tért vissza Bruce Dickinson és Adrian Smith a zenekarba és ez kb megmentette a zenekart. Az a hangzás, énekdallamok,szólók, iker és terces gitárdallamok azonnal megfogtak, azóta is az egyik kedvenc Maiden lemezem. Persze később itt is pótoltam hiányosságaim és beszereztem minden lemezt azóta már cd-n is megvettem. Merthogy azon kevesek közé tartozom aki még gyűjti és vesz cd-t.

Pokolgép – Adj új erőt (1991)
Mivel mindennel elkéstem, természetesen a Pokolgéppel is. Születhettem volna 10 évvel korábban. 14-15 évesen ez a lemez is nagy hatással volt rám, főleg mert itt értettem is a szövegeket a Metallica és az Iron Maiden-el ellentétben.Persze nem lehet elmenni a korszakalkotó első 4 lemez mellett sem amik legalább annyira korszakalkotóak voltak a  maguk idejében mint az Adj új erőt.
Ossian – Titkos ünnep (2001)
Az Ossiannal is később ismerkedtem meg, még általános iskolában. Cserélgettük a kazettákat egymás között és ami tetszett azt átmásoltuk magunknak. Így volt ez az Ossiannal is. Egyszerre jutott el hozzám az első korszakuk összes lemeze, az Acélszívtől a Keresztútig. Mindegyik lemez megfogott, Endre az ország legjobb szövegírója a szememben. Akkoriban és azóta is a mai napig fantasztikus szövegeket ír. Képes megszólítani minden korosztályt és megfogni az embert. Igazából minden lemez hatással volt rám és a mai napig hatással vannak rám az új lemezek is és persze Ricsi összes szólója,de most a Titkos ünnepet választottam személyes kedvencemnek.
Helloween – Keeper of the seven keys 1-2 (1987-88)
Megkerülhetetlen korszakalkotó alapmű. Azon kevesek közé tartozom akik nem tesznek különbséget a Kiske/Deris korszak között, egyformán nagy hatással voltak,vannak rám a zenekar lemezei és volt szerencsém többször is hallani őket élőben. Sokak nagy örömére az év végén indulnak turnéra amihez csatlakozik Kiske és Kai Hansen is,így már hallhatom élőben a klasszikus felállást is. Több helyszínen ott leszek ebben biztos vagyok.

Helloween – Master of the rings (1994)
Végül,de nem utolsó sorban az első Deris-el készült Helloween lemezt választottam. Ez mentette meg a Helloween-t annak idején. Andi Deris nagyon jó zeneszerző,minden amihez nyúl az számomra meghatározó.