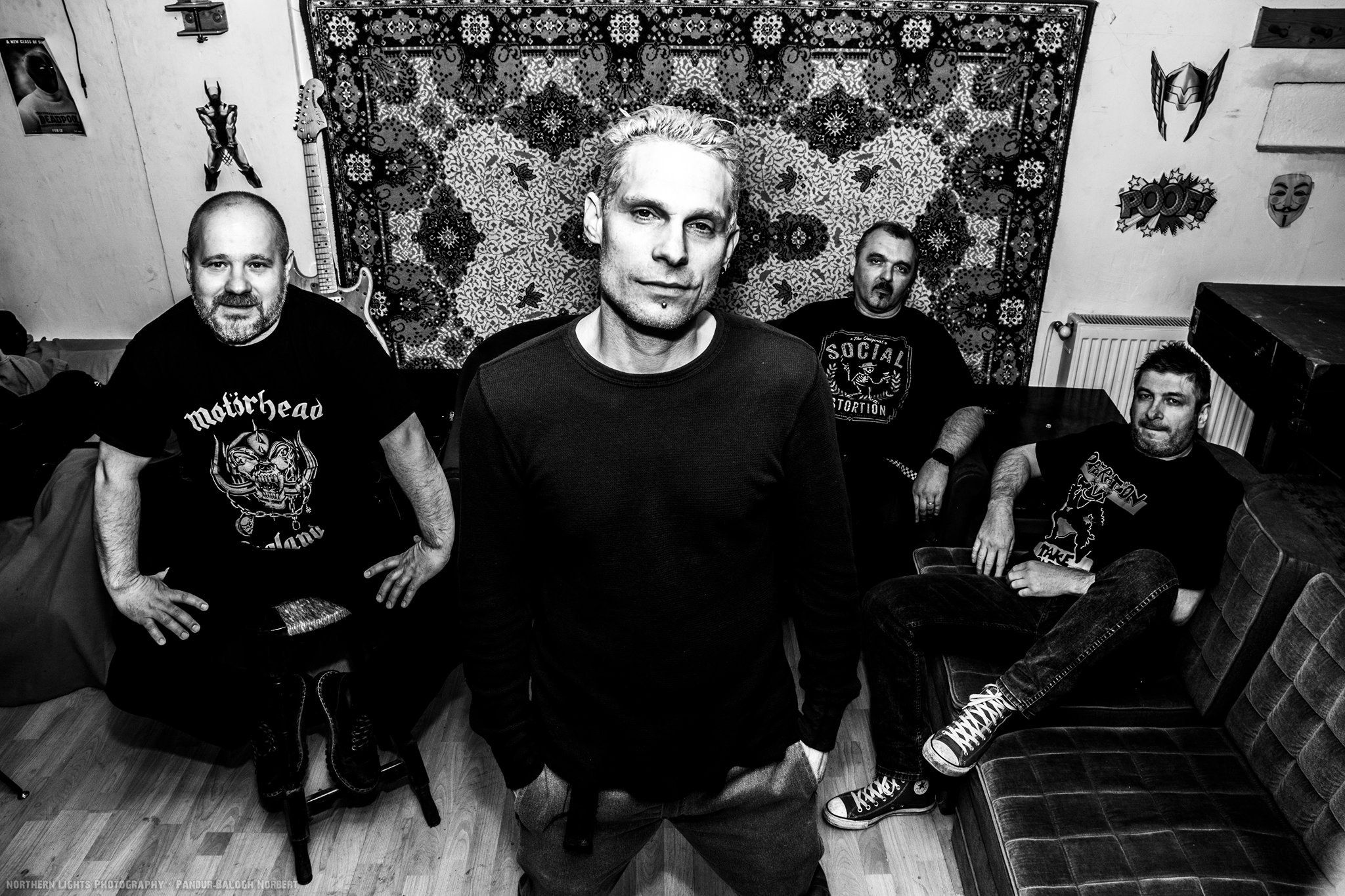 Ismét akcióban a C.A.F.B, az ország egyik klasszikus punk csapata. A srácok nemrégiben új kislemezzel jelentkeztek, most pedig az azt követő nagylemezen munkálkodnak. Mindezek mellett számos más dolog is kitölti hétköznapjaikat, melyekről szívesen nyilatkoztak nekünk. Greggel, Sütivel és Lacával beszélgettünk.
OTRNR - Sziasztok! Ha jól számolom, akkor 13 év után új nagylemezzel jelentkeztek, amit megelőzött egy már megjelent EP is. Jön is a kérdés mi hozta újra össze a C.A.F.B-t?
Greg: - Ez egy hosszú folyamat volt. A csapat így ebben a formában a 2015 májusi koncertet követően állt újra össze. A tervek és az alapozás már évek óta mozgásban volt a felszín alatt. Úgy gondoltuk, hogy most jött el az ideje annak, hogy újra együtt dolgozzunk. Mindannyiunknak hiányzott a légkör. Azt hiszem, újra felgyülemlett bennünk az energia egy lemezre és a koncertekre.
OTRNR – Hol készül az új album, illetve hogyan állnak most a munkafolyamatok? Előreláthatólag mikor hallgathatjuk a lemezt?
Greg: - Hasonlóképpen a 2004-es lemezhez, két helyen kerülnek felvételre a dalok. Egyrészt Seattle-ben, ahol itteni stúdió szakemberek segítenek, másrészt Süti stúdiójában. Sok olyan rész is van viszont, ami egészen a felvételek idejéig nem is íródik meg. Mint például néhány igazítás a gitárokon, vagy a vokálokban. Ebben nagyon jó a Süti, mivel jó érzékkel illeszti be az új témákat a már felvett alapokra.
Süti: - Most végre előkerülnek a régi jó szám ötletek, amik eddig nem voltak kidolgozva, csak egy mappában gyűltek. Ez persze nem jelenti azt, hogy a dalok nem időszerűek, hiszen az eddigi nótáink is bármikor születhettek volna. Sosem érdekeltek e trendek, de az nem jelenti azt, hogy nem ismerjük a mostani zenéket
OTRNR – Lesznek újítások a lemezen, vagy ismét a jól megszokott 90-es évek punk hangulata köszön vissza?
Greg: - Ez természetesen jön nálunk. Nem hiszem, hogy ezt mi érezzük. Inkább azt mondanám, hogy időszerű lesz az anyag. Ezt úgy értem, hogy most erőszakkal nem tudunk megváltozni zeneileg. Ha a hallgatók úgy látják majd, hogy változott a zenekar, az csak a természetes változásnak tudható be. Úgy én személy szerint sosem kezdtem el egy lemezt, hogy "Na, most megváltozunk!". Ahhoz, hogy el tudj jutni egy szintre, állomásonként el kell érkezned addig. Átugrani nem tudod az időt, mert a kihagyott tapasztalatok hiánya lehetetlenné teszi, hogy őszintén add át az érzéseidet a dalokban. Az én részemről ezt tudom mondani, de Süti és Laca lehet, máshogy látja.
Süti: - Voltak időszakok, amikor azt hittem, hogy már nincs bennem-bennünk több dal. De annak ellenére, hogy az idő gyepál minket, még mindig vannak újabb és újabb ötletek, amikből megszülethetnek az új lemez "slágerei".
Laca: - Én mostanában "retro" hangulatban vagyok, ezért inkább a régebbi hangzásra törekednék, de tudom, az időt nem állíthatjuk meg.
OTRNR – Mi inspirál benneteket?
Greg: - A múlt, jelen és jövő. A mindennapok. Amikor elbeszélgetek valakivel itt Seattle-ben, vagy otthon Magyarországon, mindig megpróbálom az illető szemszögéből látni a világot, hogy jobban megértsem a dolgokat. Ilyenkor számtalan esetben találom magam egy másik dimenzióban, ami egy dalszövegben végződik. Ezen kívül szeretem a dokumentumfilmeket és az utóbbi időben a vallás világában is találtam végtelen mennyiségű inspirációt. Ez így biztos soknak tűnik egyszerre, egy csomagban, de hidd el, így van. A politikát megpróbálom én személy szerint távol tartani a C.A.F.B. világától, de emellett vannak olyan dolgok ezzel kapcsolatban, amik inspiráltak dalokat.
Süti: – Én ezelőtt is mindig a saját élményeimet, benyomásaimat írtam le, de mindig próbáltam úgy fogalmazni, hogy az minél több ember érezhesse magáénak, kortól és nemtől függetlenül. A politikát én is mellőzöm a szövegekből, csak annyit írok le, ami tényleg fontos, vagy ami mellett nem mehetünk el szó nélkül. Mindemellett fontosnak tartom, hogy magyarságunkat és magyarságtudatunkat ápoljuk, mert az internet és a média elég rendesen el tudja deformálni a közízlést.
Laca: - Engem már "huszonvalahány" éve semmi. Egyszerűen nekem ez a szórakozás, kikapcsolódás, ilyenkor lehetek azokkal az emberekkel, mikor zenélek, koncertezek, akikkel amúgy nem találkoznék. De ez persze nem azt jelenti, hogy nem érdekel vagy, hogy bármilyen zenekarba elmennék zenélni, csakhogy buli legyen. Én nem vagyok "mindenevő", a rock-nak csak bizonyos fajtáit, a punk-rockot és az Oi zenét szeretem, minden más, ami nem ezek, azt nem hallgatom meg sem koncerten, sem otthon, sem sehol.
OTRNR – Hogyan jellemeznétek az új anyagot?
Greg: - Szerintem egy tipikus C.A.F.B. lemez, az 1996-2004 közötti stílus vonalán. A hangzás változott, de ez a technikai lehetőségeknek tudható be. Azt nem hinném, hogy én személy szerint jobb zenész lettem (nevet). Vannak olyan dalok, amiket évekkel ezelőtt írtunk, de eddig nem kerültek felvételre. Ezekből is lesz pár a lemezen.
Süti: – Szerintem is olyan C.A.F.B.-os lesz. Őszinte, és odavágós! Érettebb fejjel már máshogy gondolkodunk, de az "alapok" ugyanúgy megvannak, mint a régebbi albumokon. Sajnos Greg nélkülözésével az időközben született albumok kevesebb figyelmet és publicitást kaptak, de ezek a számok is mutatják a tendenciát, ahogy a gyökerekből táplálkozva haladunk előre. Talán ez is lehetne a mottója az új albumnak.
Laca: - Fasza lesz!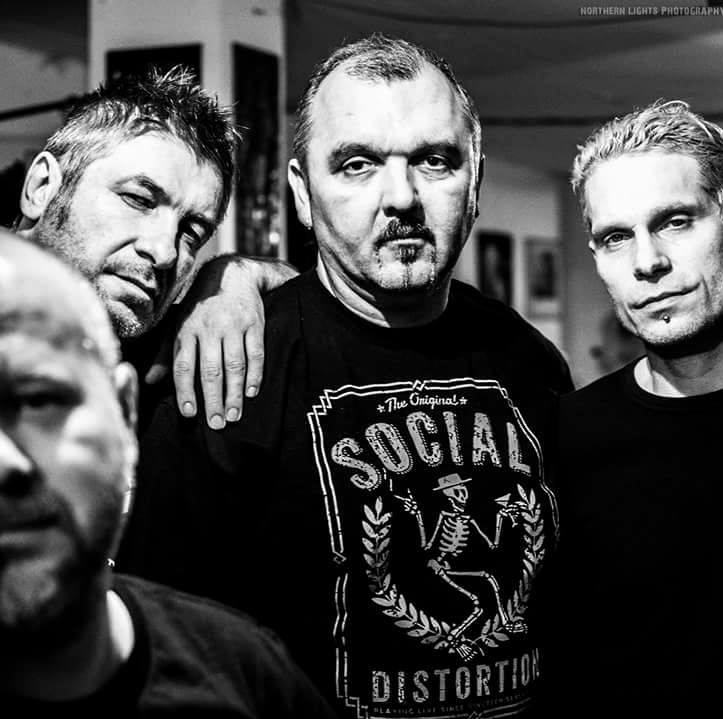 OTRNR – Greg, mint az köztudott Seattle-ben élsz, és van egy amerikai zenekarod is a Sledgeback. Mi a helyzet azon a frontvonalon?
Greg: - Az utóbbi időben a C.A.F.B. stúdiómunkái miatt kicsit hanyagoltam a Sledgeback-et, így az új demo felvételeken kívül nem pörgött a dolog a közelmúltban. A múlt év végén kijött egy digitális kislemez, amelyen 2 dal szerepelt. Valamint a 36206 című nagylemez egyik magyar nyelvű dalára elkezdtünk egy videoklipet hónapokkal ezelőtt, de ezen is még sok a munka.
OTRNR – Süti! Ha jól tudom egy akusztikus zenekarod is van. Mesélnél rólatok egy kicsit?
Süti: – Sokszor mondták nekem, hogy jók a szövegek, csak nem mindig lehet érteni, mert nagyon hangos. Hát ezért gondoltam, hogy összehozok egy olyan formációt, ahol lehet hallani a szöveget, ahol egy kicsit többet lehet zenélni. A zenekarban Kreisz Gyuri, Mészáros Tibi, Szepesi Máté és Kondella Krisztián játszik, a nagyobb fellépéseken mindig meghívunk vendégzenészeket. Itt van és volt lehetőségem olyan zenészekkel is játszani, akik lehet, hogy egy punk-rock koncertre nem jönnének, vagy jöttek volna el. Olyan közönségnek is tudunk játszani, akik már nem mondhatják, hogy csak a basszust meg a dobot lehet hallani. Először csak a C.A.F.B. dalok átdogozását tűztük ki célul, de ezek olyannyira megváltoztak, új életre keltek, hogy már nem mondhatjuk rá hogy C.A.F.B. Akusztikus. Ezért tavaly átkereszteltük a zenekart Cuki Presszó névre, ami nem a külsőnkre utal, hanem gyerekkorom emlékeire, amikor bementünk a presszóba - egy cukrászda is volt - és lenyomtunk egy puncstortát. Most már majdnem egy lemeznyi szám is van tarsolyban, ami már kifejezetten ennek a zenekarnak íródott és nem a C.A.F.B-nek.
OTRNR – Greg még egy kicsit visszakanyarodnék hozzád. Ha jól tudom egy csak csajokból álló punkbanda, a Plüssnapalm is készített veled egy közös dalt. Mit lehet tudni erről a kollaborációról?
Greg: -Igen. A dalon jelen pillanatban is folyik a munka. A márciusi C.A.F.B. koncert után beszélgettünk Ágival a Plüssnapalmból és így vetődött fel az ötlet. Itt végülis egy Plüssnapalm dalrol van szó, amelyen az egyik versszak eléneklése mellett, a ritmus gitár egy részét is én játszom. Mondjuk nem volt nehéz egymásra találnunk mivel Ági is szereti a Clash vonalat, úgyhogy klikkelt a dolog első pillanattól. Miután a hangszerek felvételeinek részét megkaptam, most majd itt Seattle-ben fogom a napokban énekelni a részemet a dalra. A szám címe legyen titok. Egy közismert emberről van szó benne.
OTRNR – Ki lenne az a punk arc – legyen az élő vagy elhunyt személy, akivel készítenétek közös dalt?
Greg: - Nehéz erre felelni mivel sok van, és nem csak a punk korokban. Én szívesen dolgoznék a Clash bármelyik tagjával ezügyben. Részéről Joe Strummer.
Süti: – A Therapy zenekarral bármikor szívesen játszanék, még ha csak egy cintányért kellene ütögetni a háttérben. De nagy kedvencem még a Skunk Anansie is. Már összemosódnak a zenei határok, nem tudom ki a punk, vagy ki a folk-rocker, vagy a "világ-zenész"
Laca: - Megmondom őszintén, nekem a Punk/Oi zene inkább az angol második hullámos zenekaroktól tetszik inkább, de ha választanom kellene az első hullámból akkor az Slaughter & the Dogs.
OTRNR – Mik a tervek a C.A.F.B. lemez megjelenését követően?
Greg: - A koncertek mellett szeretnénk majd videoklippet is csinálni. Ezen kívül van terv az 1997-es Zanza című lemezünk újrakiadására, mivel a volt magyarországi kiadónk 19 év után visszaadta a jogokat az anyagra. Ez igen fontos nekünk mivel az elmúlt években sokan keresték az anyagot CD formában. Egyelőre csak az interneten érhető el a lemez, ami érthetően nem elégíti ki az igényeket.
Ezen kívül Süti sok időt tölt a Cuki Presszo formációval is, ami állandóan mozgásban tartja őt. Laca pedig megállás nélkül koncertezik a Ramonezzel. Ezek a formációk is kötődnek a C.A.F.B.-hez valamilyen úton-módon. Az pedig, hogy a Sledgeback zenekart áthozzam Magyarországra, régi álmom. Remélem ez az idő is elérkezik egyszer.
Sebők Tamás
Fotók: Pandur-Balogh Norbert