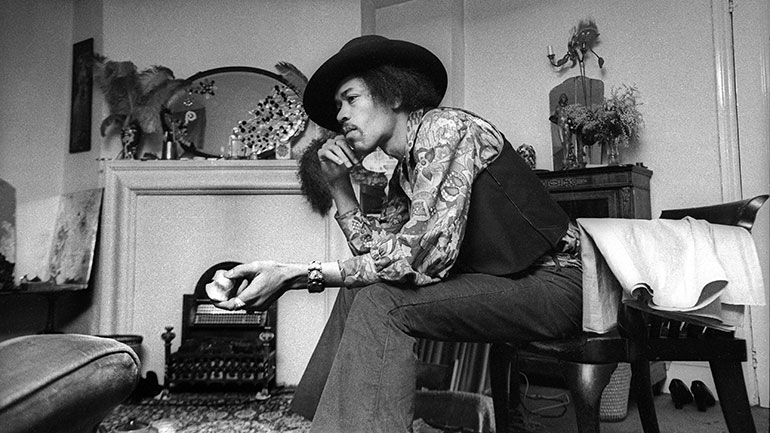 "Amerika nem szereti a blues-t" ezzel a kommentárral szedték le a Jimi Hendrix Experience  Are You Experienced lemezéről például a Red House-t, a Can You See Me-t és a Remembert is az államokban, ami a tengerentúlon csak augusztusban jelent meg. Ez az album alapozta meg Jimi Hendrix máig tartó globális népszerűségét.
Az 50. évfordulós korong kapcsán készíthettünk volna szinte bármilyen retrospektív írást a lemezről, valószínűleg nem tudnánk újat mondani vele. Viszont 1967 novemberében egy Steve Barker nevű csóka interjút készített Hendrix-szel egy manchesteri koncerten, melyet sosem publikált a sajtó. Ezt hoztuk most el nektek e jeles alkalomból.
Steve Barker mikrofont tesztel: eight, twelve, zero..
Jimi énekel: "When you're lost in Juarez and it's Easter time too."  (Bob Dylan - Just Like Tom Thumb's Blues)
Készen áll Mr. Hendrix?
Kezdhetjük!
Az első lemez kapcsán elmondta, próbált "alkotni, alkotni, alkotni". Elégedett az alkotásával?
Szeretjük a hangzásunkat, de nem vagyunk elégedettek! Még nem. Lehetsz elégedett azzal, amit megalkotsz, de sosem lehetsz igazán elégedett. Az új LP-vel kapcsolatban is ezt érzem. (Axis: Bold As Love – megjelent 1967 december 1.)
Meddig juthatnak ezzel a zenével?
Nem tudom… Folytatjuk, amíg halálra nem unjuk magunkat. De valami újjal is próbálkoznunk kell.
Mi lenne az?
Azt hiszem, újrakezdek mindent és méhkirály leszek (nevet)
Minden saját anyagot ön ír. Honnan jön az inspiráció?
Egyszerűen belőlünk. Sokat járunk klubokba, sokat ülünk taxiban, sokat autózunk, rengeteg dolgot látunk. Látsz, tapasztalsz, megélsz. Egy szobában is sok mindent láthatsz, ha képzeletedre hagyatkozol. A dalok csak jönnek. 
"Burning of the Midnight Lamp." "Loneliness is such a drag"? (Idézetek Hendrix szövegeiből)
Ez volt a kedvenc dalom azok közül, amiket készítettünk. Örülök, hogy nem lett annyira felkapott.
Ez azt jelenti, hogy ön introvertált?
Nos, néha igen. Akkor biztos, az voltam, amikor a Midnight Lamp-et írtam. Az ember különböző hangulati világokban van, és amikor megír valamit, ez visszatükröződik. Amikor visszahallgatod, akkor vissza tudsz emlékezni, hogy érezted magad abban az életperiódusban.
"Loneliness is such a drag" – egyfajta csendes, szinte suttogni való sor. Hogyan helyezte ezt mégis extroveltált, erőteljes zenei közegbe?
Szeretek hangosan játszani. Mindig is szerettem hangosan játszani. A szöveg egyszerűen csak jött rá. Sokat jelentenek, de nem tudom, hogyan születnek. Nagyon csendesen kezdődik minden, amíg teljessé nem válik a zenével.
Mennyire ragadta magával a blues zene?
Jártam délen. Csak hallgattam, ahogy az emberek játszanak és beleástam magam ebbe a világba, de aztán nagyon sok más dolgot is megszerettem. Ezért próbálunk a saját utunkon járni és valami olyat alkotni, amit még senki nem csinált. Valami igazán újat.
Rengetegszer vitáznak a rocksztárok felelősségtudatáról. Érez ebből bármit?
Ez egy baromság. Csinálhat bárki bármit, annak a saját ügyének kell lennie. Ezt mindenki tudja. El lehet ezt milliószor mondani, de lesz, aki mindig meglovagolja ezt a témát. Valóban nem viselkedem túlságosan felelősségteljesen, sok dolog van bennem, amit úgy érzem, hogy megtehetek, és általában meg is teszem.
Érezte valaha úgy, hogy el kell vonulnia? Hogy ki kell ugrani a nyüzsgő hétköznapokból, mint Bob Dylan?
Úgy gondolom, hogy ez hamarosan be fog következni, mert mindenki fárad. Sokáig keményen dolgozol és ez egy idő után bosszant. Most például rohamosan közeledik a tél és mindent meg kell ragadnod, hogy tavasszal újra dolgozhass. Ez természetes. Ez az az időszak, amikor bármi, bárhogy megtörténhet, és mindenki szívrohamot kap.
Mi történik önnel tavasszal?
Ha nem üt el egy autó, vagy egy vonat, akkor még itt leszek.
Hogyan került hippi színtérbe?
Mire gondolsz? "I'm a hippie, I'm a hippie, baby."? Nem, ez igazából azért jött, mert tetszik pszichedelia és ruhák. Szeretem ezt a légkört, bár nem feltétlenül nevezném hippi színtérnek. Számomra a pszichedelia a lélek kiteljesedése. Nem hallok például egy szót sem abból, amit a Pink Floyd mond.
Szavakkal, vagy zenével kommunikál a színpadon?
Az emberek ismerik a dalok szövegét, bár szerintem nem sokat jelent nekik. Csak azt akarják, hogy kitörje a nyakukat az, aki a színpadon áll.
Ez azt jelenti, hogy elsősorban magának ír szöveget?
Határozottan. Bár az I Don't Live Today című dalt az amerikai indiánoknak és az elnyomott kisebbségi csoportoknak szenteltük.
Mi a terve az új lemezzel?
Nem igazán tudom ezt szavakba foglalni. Nagyon nehéz a saját zenédet leírni másnak. Szeretnék továbbra is igazán őszinte dalokat írni.
Mi a véleménye a kereskedelmi pop színtérről?
Hallottál már a Marmalade-ről és az I See the Rain dalról? Fingom sincs, hogy ez miért nem lett sláger.
Azért mert nincs nagy nevük?
Nekünk sem volt nagy nevünk, amikor elkezdtük!
Mire törekszik, amikor lemezt készít?
Természetesen arra, hogy tetszen az embereknek. Bár nincs ízlésem. Nem tudom, mitől jó, vagy rossz egy lemez. Ha felrakunk egy lemezt egy lakásban, sokan azt mondják: Ó ez nagyszerű! Mások pedig: Ó ez szörnyű! Én pedig azt mondom: Tök jó ez a tremolós rész. (nevet). Sosem látok egy lemezt kereskedelmi szemmel. Nem tudom, mi tesz eladhatóvá egy lemezt, így mi csak azt tehetjük, hogy írunk dolgokat és ezeket úgy illesztjük össze, hogy a legjobbat hozzuk ki belőle.