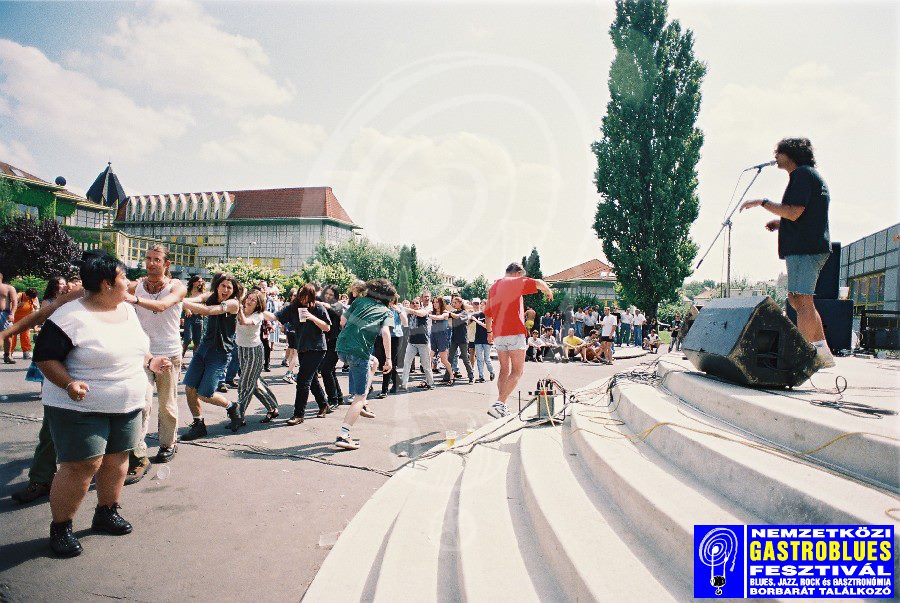 Magyarország a fesztiválok országa, és az egyik legkülönlegesebb közülük bizony a Nemzetközi Gasztroblues Fesztivál, hiszen tegyük kezünket a szívünkre! Mit szeretünk még igazán a zenén kívül? Úgy van! Jókat enni és inni. Nos, ezt júliusban Pakson megtehetjük, hiszen immáron jubileumi 25. alkalommal rendezik meg a külföldi zenei világsztárokat is felvonultató eseményt. Gárdai Ádám szervezővel beszélgettünk.

OTRNR: - Szia Ádám! Az első kérdéshez egy kis múltidézés szükséges. Milyen céllal indítottátok el anno a Nemzetközi Gasztroblues Fesztivált? Mi jellemezte akkoriban az eseményt?
A fesztiválunk szlogenje: A legjobb zene sem élvezhető száraz torokkal és korgó gyomorral. Tulajdonképpen ebben a mondatban található kulcsszavak köré épül a fesztiválprogramok jelentős része.
Az idei évben lesz a 25. Nemzetközi Gastroblues Fesztivál, de az előzményei korábbra nyúlnak vissza. Az esemény egyik helyszínének helyt adó klub már 30 éve nyitott, ahol a fesztivál logójában is szereplő blues, jazz, rock zenét próbáltuk népszerűsíteni Pakson, ami nem volt mindennapi ebben a kisvárosban. Ezekben az években adtuk ki a Mini együttes fennállásának 25 éves évfordulójára készített CD-t és itt alakult meg illetve vette fel első hanganyagát a Magyar Atom együttes Tátrai Tiborral, Solti Jánossal, Tóth János Rudolffal és Zsoldos Tamással. Szép lassan közkedvelt lett a klub és kinőtte kereteit, ezért az alapító és máig főszervező Gárdai György úgy gondolta érdemes már egy több napos kulturális eseményt szervezni. Akkor már Pakson több éve szünetelő halászléfőző versenyeket is újraélesztette, és már ekkor érkezett külföldről zenekar. A kezdetekben még kissé bonyolult, a külföldiek által megjegyezhetetlen Nemzetközi Blues, Jazz, Rock és Gasztronómiai Fesztivál elnevezés helyébe lépett a Gastroblues szóösszevonás. A két napos rendezvény azóta egy hetes, öt helyszínen megjelenő és 50 koncertet magában foglaló esemény lett, nagyszabású főzőversennyel, templomi akusztikus koncertekkel, borbarát találkozóval, kispályás fesztiválfocival. Kiemelném, hogy a fesztivál szervezői fontosnak tartják a szomszédos országokban élő magyarokkal való kapcsolattartást, így már hosszú évek óta vendégeink a Paks testvérvárosaiban élő barátaink (Galánta – Felvidék, Visk – Kárpátalja, Kézdivásárhely – Erdély). Paks, Galánta városával például a 6. fesztivál alkalmával kötötte a testvérvárosi szerződést.
A fesztivál kiváló hangulatát azonban mindenképp az egymáshoz, szinte testvéri barátsággal forduló közönség biztosítja. Hosszú távú barátságok, házasságok születtek itt az esemény alatt. Fő támogatóinknak, Paks Város Önkormányzatának és az MVM Paksi Atomerőmű Zrt. szponzorálása nélkül azonban ez a folyamatos fejlődés nem jöhetett volna létre.
OTRNR: - Ha valaki még nem járt az eseményen hogyan mutatnád be neki?
A Gastroblues Fesztivál egy olyan családi, baráti jellegű rendezvény, amelynek szervezői a megszokottól eltérő, igényes zenei műfajokat engedik színpadra, emellett gasztronómiai élményeket is nyújt és a fő ereje a közönség közötti több évtizedes barátság, akik szívesen fogadnak be új családtagokat. A szervezők jelentős összeget ajánlanak fel jótékony célokra, ennek eredménye a kárpátaljai Visk magyar nyelvű óvodájának megépülése, ahova 300 magyar kisgyermek jár 2016. decembere óta. A koncertek nagy részét hangban és képben is rögzítjük, melynek válogatását, minden év decemberében DVD formájában megjelentetjük és egy nagyszabású egész estés Lemezbemutató koncert alkalmával mutatjuk be. Így a hazai blueslemez kiadás közel felét mi jegyezzük, az eddigi majd 70 lemezzel.
OTRNR: - Egy fesztivál életében mindig fontos, hogy tudj újat mutatni a közönségnek, ha visszaemlékszel, milyen fontos mérföldköveket említenél?
A 6. fesztivál újdonságai közé tartozott az Első Magyar Borbarát Találkozó megszervezése, valamint az, hogy a fesztivál közönsége ekkor láthatott először igazi sztárzenekart és előadást a Spencer Davis Grouptól.
A fesztivál jelentős és különleges eseménye a templomi koncert, mely két éve a Makovecz Imre által tervezett Szentlélek templomból az evangélikus templomba költözött. E zenei program során nagyrészt akusztikus komoly- és könnyűzenét hallgathat a közönség a szombat délelőtti órákban. Ezt a kísérőrendezvényt már az 5. fesztivál óta szervezzük.
A 17. fesztivál főzőversenyén új magyar rekord született a borral készült ételek kategóriában, ahol 149 fajta boros ételt mutattak be a zsűrinek.
A 19. fesztiválon egy hét alatt több, mint húsz borász (közöttük hat paksi) mutatta be borait.
A 20. fesztivál templomi koncertjeinek és a jótékonysági főzőverseny bevételéből (több, mint egy tonna húsból főztek a csapatok) megvásárolták a viski magyar óvoda tetőcserepét.
évben beléptünk az Európai Blues Unióba, mely egy fesztiválokat, zenészeket, médiumokat összefogó egyesület brüsszeli székhellyel. Így kapcsolatainkat tovább bővíthettük.
A kitartó szervezőmunka és támogatóink segítsége meghozta az eredményeket, így a szakma és a közvetlen környezetünk is elismerte tevékenységünket. Így már 2002-ben, az Unger Károly vezette Magyar Nemzeti Gasztronómiai Szövetség magyar gasztronómiáért végzett munkáért elismerő oklevelet és emlékérmet adott át. 2003. október 23-án Paks Város Képviselőtestülete Pro Urbe Emlékérmet adott át a főszervezőnek. 2012. novemberében Tolna megyei Príma-díjban részesült az alapító. 2016. január 22-én a Kultúra Napja alkalmából "A Tolna megyei művészetért" plakettet és emléklapot nyújtott át az alapító három civil szervezet. 2015 júliusában a Tolna Megyei Értéktár Bizottság felvette a rendezvényt a Tolna Megyei Értéktárba, ennek következményeként a Hungarikum.hu oldalon, mint Nemzeti Érték szerepel a fesztivál.
Paksot napjainkban nem csak a jó borairól, halászlevéről és a mindent meghatározó atomerőműről ismerik, hanem a sajtó és az idelátogató vendégek szerint elnyerte a blues fővárosa címet is.
OTRNR: - Milyen különlegességekkel készültök az idei kerek évfordulón?
A 2017-es évben jubileumok sokasága következik történetünkben sorra kerül a 25. fesztivál, 30 éve indult a Gastroblues Klub és minden jel szerint a 70. Gastroblues lemez kiadványt is kézbe adhatjuk.
Az idei fesztiválon a megszokott zenei és gasztronómiai események mellett, zenei kurzusoknak is lehetőséget adunk. A fesztivál fellépőinek egy része előadásokat tart a helyi alapfokú művészeti iskolában. Ezen kívül teljesítménytúrával is bővítjük a sportprogramokat, ezzel bővítve a fesztivál vendégkörét. A jubileum alkalmából CD-ket, DVD-ket és könyvet tartalmazó díszdobozos kiadványt készítünk.
OTRNR: - A blues és jazz zene hatalmas ikonjai is felléptek már a fesztiválon, mégis ha egyet kellene kiemelned, melyiket mondanád, mint legemlékezetesebb felvonást?
Nagyon nehéz a megközelítőleg ezer koncert közül egy formációt kiemelni, de talán a legnagyobb sikere a több, mit 60 millió lemezt eladott Jethro Tull együttesnek volt. Ekkor fesztiválunk kiemelt regionális társprogramja lehetett a Pécs 2010 Európa Kulturális Fővárosa rendezvénysorozatnak. A fesztivál záróakkordjaként megrendezett eseményt Páva Zsolt Pécs polgármestere nyitotta meg.
OTRNR: - Egy fesztivál története címmel vándorkiállítást is indítottatok. Mit kell tudnunk erről?
A 15 állomásosra tervezett Kárpát-medencei Gastroblues Vándorkiállítás a jubileum alkalmából kerül megrendezésre és elsősorban azokra a helyekre látogat el, ahonnan a legtöbben érkeznek a rendezvényünkre, illetve ahol szoros kapcsolatunk alakult ki a hosszú évek alatt. Ezen kívül a magyarok lakta testvérvárosainkban is megjelenünk, itt nagy szeretettel fogadnak minket. Ezeken az alkalmakon nem csak a fesztivál történetét mutatjuk be különböző képekkel, leírásokkal, hanem Paks városról, a testvérvárosokról, a fesztiválhelyszínekről is nyújtunk információkat. A legtöbb esetben zenei produkció és gasztronómiai élmény is kíséri ezeket a kiállításokat. A legnagyobb ilyen vándorkiállítás a 25. Nemzetközi Gastroblues Fesztivál előtt egy hónappal (2017. június 2.) a budapesti Magyarság Házában, a Nemzeti Összetartozás Napja programsorozaton belül valósul meg, ahol szabadtéri koncertekkel is várjuk a látogatókat.
OTRNR: - Mondhatjuk, hogy manapság nem tartozik a legnépszerűbb műfajok közé a blues és a jazz. Hogy látod ezt, illetve számodra mit jelentenek ezek a műfajok?
A fenti megállapítással egyetértek, bár a bluest még mindig a legnépszerűbb népzenének tartják, ami tulajdonképpen minden mai népszerű zenei műfajnak a gyökere. Észrevehető, hogy ez a műfaj összehozza egy helyre az országból azokat az embereket, akik egyébként soha nem találkoznának egymással. A jazz szerintem megtalálta Magyarországon a maga helyszíneit, a blues véleményem szerint rosszabb helyzetben van. Kevés olyan esemény, helyszín van ahol tartósan előtérbe tud kerülni ez a műfaj. Én édesapám révén gyerekkoromtól hallgattam mindkét zenei műfajt, sokat jártunk koncertekre és a Gastroblues Fesztiválnak köszönhetően személyesen is megismerhettem képviselőinek egy részét, ami további kötődést eredményezett.
OTRNR: - Nemrégiben publikáltátok az idei év flyerét, amin a fellépők névsora is olvasható. Mit vársz az idei fesztiváltól?
A jubileum alkalmával elsősorban a közönség véleményét vettük figyelembe, így a fellépők közül öt kedvelt, régi gitáros ismerősünk örömmel vállalta a fellépést. Az égi zenekart gyarapító ír Gary Moore öccse Cliff Moore két formációval érkezik. A holland Julian Sas új felállásban érkezik, ő az elmúlt évben az Europan Blues Awards-on a legjobb előadó díját nyerte el. A belgrádi Texas Flood, a gitáros Nenad Zlatanovic-csal már ugyancsak járt a fesztiválon. 20 év után tér vissza a Gastroblues Fesztivál színpadára a belgrádi születésű gitáros-énekesnő Ana Popovic, aki 1998 óta előbb Hollandiába, majd az Egyesült Államokba tette át székhelyét. Ana az elmúlt másfél évtizedben több díjat nyert, számtalan esetben jelölték Blues Awards kategóriákban, 2003-ban ő volt az első európai, aki ilyen jelölést kapott a blues hazájában. A több évtizedes finn kapcsolatnak hála az idén is fogadunk előadót Erja Lyytinen gitáros-énekesnő saját zenekarával érkezik. Nagy érdeklődéssel várják a fesztivállátogatók a lengyel SBB együttes fellépését is. A magyar formációk közül kiemelném a Deák Bill Blues Band, Török Ádám és Papp Gyula "Bartók on Rock", a Varga János Project produkcióját és a nemzeti rockot magas színvonalon művelő Kormoránt és az Ismerős Arcok koncertjét is.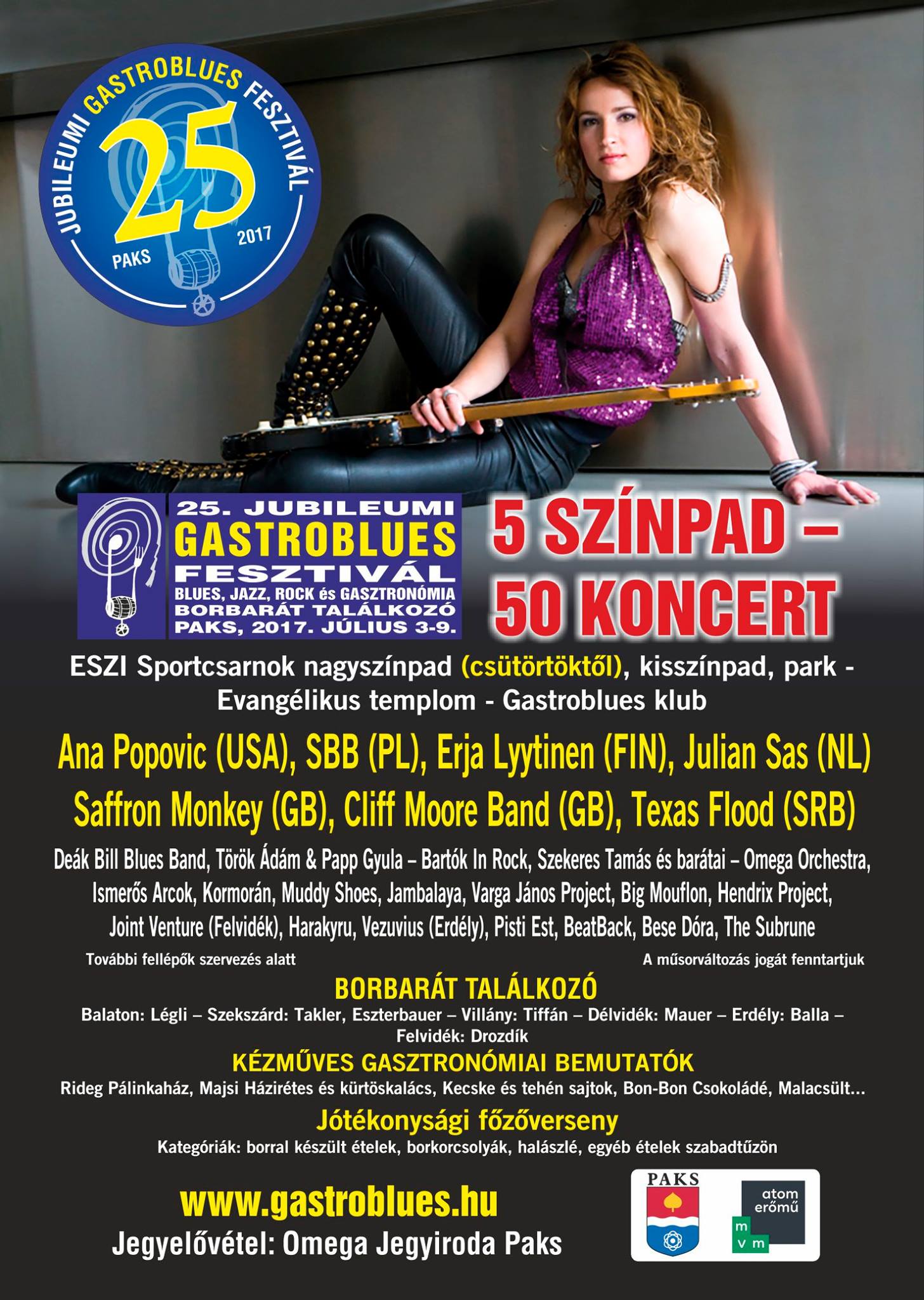 (Facebook eseményhez kattints a flyerre!)