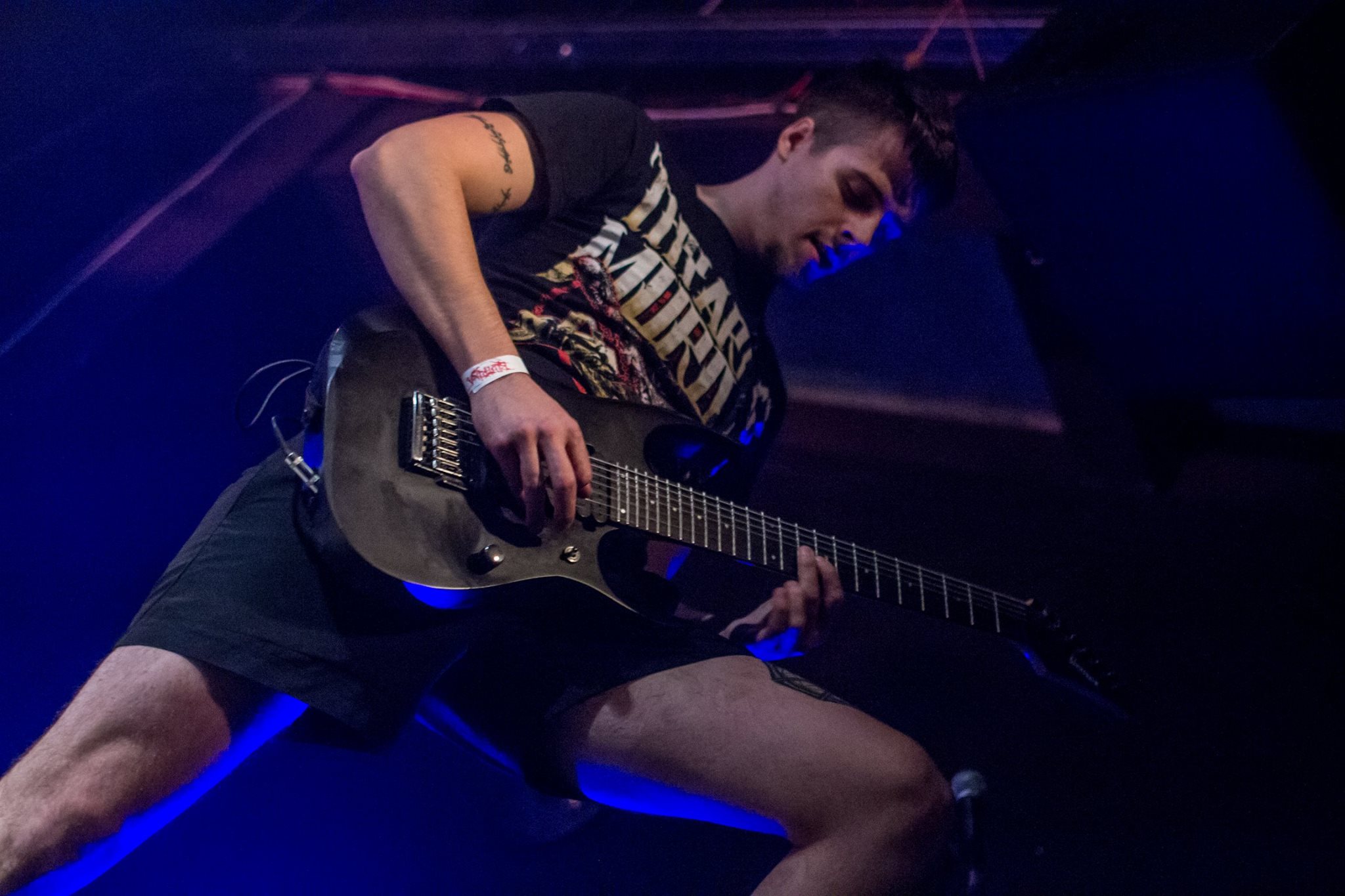 A Sequence csapatával valamikor 2 éve találkoztunk először, a srácok egy tehetségkutatóban vettek részt, és szép fölénnyel meg is nyerték azt a fordulót. Most a gitárosukat, Eszes Áront kértük fel a 10-es sorsfordító lista elkészítésére. Íme!
Először is szeretném megköszönni a felkérést, nagyon élveztem írni az alábbi albumokról. Egyébként is kevés dologról szeretek (inkább semennyi) jobban beszélni, mint a zenéről, úgyhogy ez így külön jó volt. Az enyém egy 9+1-es lista, mivel 9 igazán meghatározó és egy ráadás albumot tartalmaz. Néhány zenekarnál 2 albumot is megemlítettem, de csak mert vagy egyszerre hallgattam őket, vagy nem kiadványok szerint ismerkedtem az adott bandával, hanem számokat hallgatva. Illetve lehet, hogy ma már másik album a kedvencem a zenekartól, de az említettek azok, amelyekkel először megismerkedtem. A tételeket időrendi szerint ismertetem, fontossági sorrendet nem tudok felállítani, mert mindhez más szempontból kötődök.

Tankcsapda – Élni vagy égni (2004)
Nagy divat manapság szidni a Tankcsapdát, de az emberek nagy része, aki ma rock/metal zenét hallgat, az Tankcsapdával kezdte. Alsós voltam még mikor kijött ez a Tankcsapda lemez, és ők rántottak bele ebbe az egészbe. Korábban volt egy Ossian/Metallica "split" kazettám, de az harmadikban annyira nem tetszett, úgyhogy nálam a TCS a ground zero. Igazából mondhatnám bármelyik lemezüket a Mindenki vár valamit című albumig (utána ugyanis nem követtem a pályafutásukat), de az Élni vagy égni dalai és borítója maradt meg bennem legjobban, szóval ezt gondoltam elég meghatározónak így első körben. Emlékszem, valakitől megszereztem az addig megjelent összes Tankcsapda klipet CD-n. Kívülről tudtam az összes videót, és a nézésük közben nem tudtam elképzelni, hogy bárki tudja ezt a zenekart jobban szeretni tőlem.
Depresszió – Amíg tart (2002) / Egy életen át (2004)
Mikor már mindenki a világ legnagyobb Tankcsapda rajongója volt, akkor a haverokkal úgy éreztük, hogy most már felsősök lévén ideje keményebb vizekre evezni, így jött a Depi. A dalokat rongyosra hallgattam, tudtam az összes szöveget. Teljesen modernként hatott a hangzásvilág, amiben működtek. Hozzám/hozzánk nehezebben jutottak el a külföldi (eredeti) képviselői a stílusnak, így nekem a Depresszión keresztül vezetett az út a súlyosabb dolgokig.
Metallica – Kill 'Em All (1983) / Master Of Puppets (1986)
A Metallica volt a megvilágosodás számomra. A fenti két albumot emelném ki, mert ezekről hallottam először dalokat a már korábban említett kazettáról, aztán pedig mindenféle kalóz CD-kről, amiket a vásárban vettünk, vagy épp Limewire-ről töltöttük le őket, és írtuk ki Nero BurninROM-mal. Dicső évek voltak! Emlékszem, mikor hetedikben milyen leesett állal mutogattam mindenkinek a Metal Militiát meg Battery-t, hogy "a világon senki nem gitározik így". Aztán ironikus módon pont Kirk, lett a gitáros világ egyik leggyengébbnek tartott zenésze. Nekem akkor ők jelentették magát a metált. Ma már kevesebbet hallgatom, de még mindig ők a tiszteletbeli kedvenc zenekarom. Lehet a Metallicát sok mindenért szapulni, de nélkülük ma nem ott tartana a stílus, ahol. Nem kell őket szeretni, de elmenni mellettük nem szabad, és nem is lehet.
Eminem – Encore (2004)
Az általános iskolás éveket nagyban meghatározta a rap is, szóval ezt az erát Eminemmel szerettem volna reprezentálni a felsorolásban. Sok mindent nem tudok hozzáfűzni. Ma is sokat hallgatom a dalait. Van mondanivalója, van egy egységes váz, amire felfűzi ezt a mondanivalóját, és van neki egy kerete, ami belül dolgozik, ami a rap. Koncertekről hazafelé vezetve, mikor a fülem tele van sistergéssel, meg csörömpöléssel, akkor iszonyat megnyugtató tud lenni Eminem lüktetése.
In Flames – Clayman (2000)
Középsuliban aztán beütött a svéd melodeath, úgyhogy nyomban belevetettem magam az In Flames-be. Éles váltás volt a Metallicáról, az elejében nem is tetszett ez a hörgés dolog, de ez mintha egy csettintésre megváltozott volna, és azóta se tudok szabadulni a műfajtól. A zenekarommal először az Only For The Weakhez nyúltunk hozzá, meg a Dark Tranquilly-től a Misery's Crownhoz. Már csak emiatt is egy marhára meghatározó zenekar.
Children Of Bodom – Hatebreeder (1999) / Follow The Reaper (2000)
A 'Flames-szel egy időben jött a Children Of Bodom. Hasonlóan éles váltás a korábbi zenéimhez képest, és hasonlóan beütött. Érdekes, hogy míg régen jobban szerettem a 'Bodomot, addig most szívesebben hallgatok In Flames-t, akár az új cuccaikat is. A COB új kiadványait és élő felvételeit elnézve nagyon belefáradtak már Laihóék, csak ismételni tudják magukat. Az In Flames ugyan szinte stílus váltott, de aktuális tudott maradni, így továbbra is izgalmas számomra.
Parkway Drive – Atlas (2012)
Viszonylag későn váltam nyitottá a modern zenékre, így egy későbbi Parkway Drive lemezzel kezdtem felfedezni ezt a világot. Aztán természetesen keresztbe-hosszába hallgattam a diszkográfiájukat. Ők hozták meg az én pálfordulásomat az olckúlabb cuccoktól a modernebbek felé.
While She Sleeps – The North Stands For Nothing (2010)
A budapesti In Flames koncerten ők voltak az előzenekar. Rájukcsekkoltam, és szétvitt. A koncertjük életem egyik legmeghatározóbb élménye. Ők testesítik meg mindazt, amit szeretek egy zenekarban akár emberileg, akár zeneileg. Ők az abszolút kedvenc. A dalaik őszinték, hitelesek, és benne van a lelkük. Jelentőségüket azzal is próbálom kidomborítani, hogy míg a korábban említett zenekaroknak egyszerre említettem 2 albumjukat, a WSS esetén ezt most külön teszem meg.
While She Sleeps – This Is The Six (2012)
Tovább folytatva az ömlengést számomra azért is fontos zenekar, mert egy nehéz időszakomban szinte csak őket hallgattam, és úgy gondolom, hogy hozzátettek ahhoz, hogy jobban legyek. Amikor sütött rám a nap a Tisza töltésén futva és WSS-t hallgatva, nem tudtam mást csinálni, csak mosolyogni. És akkor legyen vége itt a nyálnak. (nevet)
Counterparts – Tragedy Will Find Us (2015)
Igazából nagyságrendileg nem volt annyira meghatározó zenekar/album a Counterparts, mint a másik 9, de egyrészt ez egy 10-es lista másrészt pedig általuk szerettem bele a dallamos hardcore-ba, úgyhogy azért csak sokat jelentenek, mert azóta is nagyon sokat pörögnek ők is, meg hasonló bandák is.