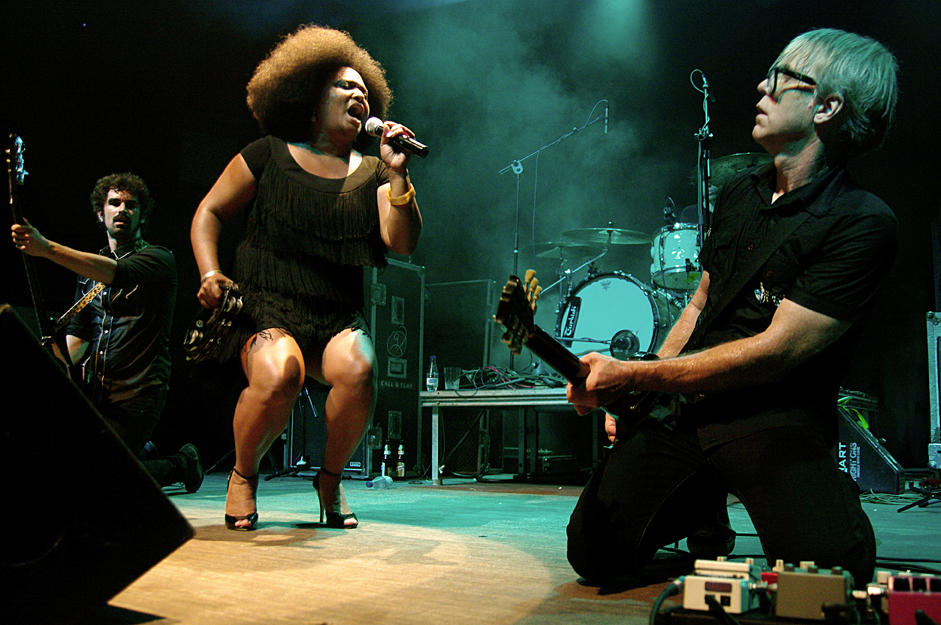 Ha el kellene képzelni a címben foglaltakat, akkor valami olyasmi eredmény születne, mint a BellRays. Egy amerikai garázs-punk/soul gárda a kilencvenes évekből. Miért is foglalkozunk mindezzel? Mert piszkosul érdekesnek tartjuk, hogyan párosul a soul zene karakteressége, a garázs rock és a punk zabolátlanságával. Talán nehéz elképzelni, nekünk is az volt elsőre, ezt elhihetitek.
Lisa Kekaula. Nem igazán tudom jövök rá, hogy mi vezette rá ezt az aranytorkú afro-amerikai soul-blues-on nevelkedett dívát, hogy egy csörömpölős garázsbandába menjen énekelni, de istenemre mondom, köszönöm meghozta a döntést.
Akinek a dal után egyben maradt az arca, annak elmeséljük, hogy a Bellrays 1990-ben alakult meg Kaliforniában. Anno nagyon régen, mikor még a Myspace dübörgött, valami olyasmit írtak magukról ezek a jóemberek, hogy "Kit érdekel, honnan jössz, és hány lemezt készítesz? A statisztika nem határozza meg a zenét. Ha nyitott vagy, és kihívásra vágysz az életben, akkor most itt állj meg egy picit, és hallgass meg minket!". Ezt tanácsolom most mindenkinek, aki olvas.  
Lisát később rendesen beszívta a garázs élet, a 2000-es évek közepén az MC5 élő tagjaival koncertezett, de 2014-ben a Stooges gitáros, James Williamson Re-Licked című albumán is énekelt két dalban. Az elektromos zene sem áll távol tőle, 2004-ben az angol Basement Jaxx-el is munkálkodott, bizonyára sokan ismeritek a Good Luck című dalt a tévéből, de most, ha megnyúznak sem tudom, melyik reklám zenéje volt. A BellRays-t sem hanyagolta, mindösszesen 8 nagylemezt, 4 válogatáslemezt, és 1 live kiadványt termeltek két évtized alatt, természetesen mindet ajánljuk nektek, de a 2004-es The Red, White and Black és a 2010-es Black Lightning kötelező.
Na cső!
Sebők Tamás