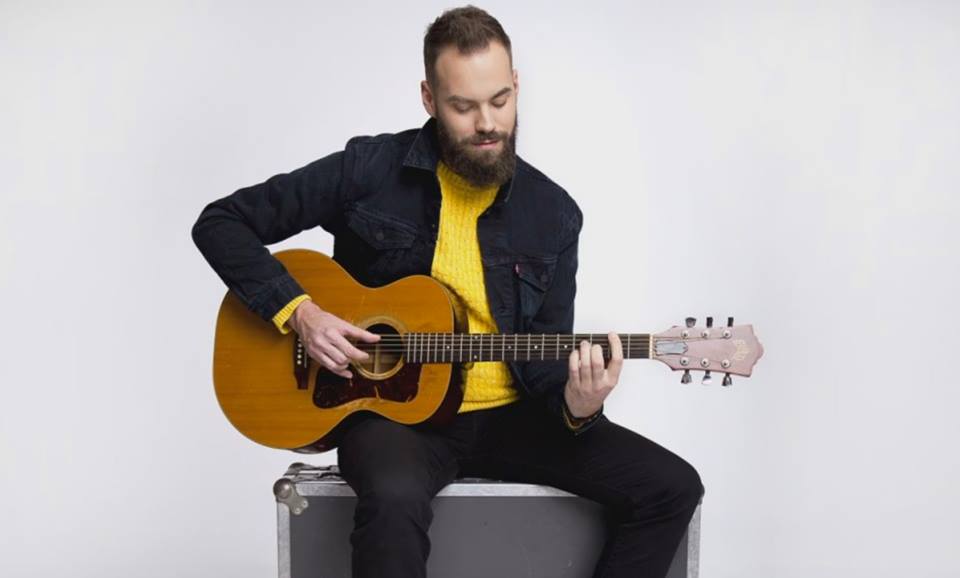 Örömünkre szolgál, hogy Magyarország egyik legjobb folkzenésze, Petruska András is csatlakozott rovatunkhoz, és mesélt nekünk/nektek életének sorsfordító lemezeiről. Metrpolita címmel 2014-ben debütált lemezével egy hatalmas utazásra csábítja a hallgatót, amit a tavaly megjelent Kapunyitó követett, rajta a DAL-ból is jól ismert Trouble In My Mind-dal.
The Beatles: A Hard Day's Night (1964)
A Beatles vitathatatlanul a XX. századi popzene bölcsője, és vitathatatlanul az én dalszerző-előadói tevékenységem alma matere, kiapadhatatlan inspirációforrásom nem csupán zenei, hanem kulturális relevanciájuk tekintetében is. Ez a kapcsolódás 8 éves koromban az A Hard Day's Night albummal kezdődött, a szomszéd játszópajtásom hallgatta sokat nagy szeretettel. Ez bennem egyfelől rendkívül nagy ellenállást váltott ki, másfelől viszont valamiféle konok, kíváncsiság lett rajtam úrrá, így egy szép napon kölcsönkértem a lemezt, és lényegében azonnal beleszerettem. Olyannyira, hogy hónapokig elég öröm volt nekem az A-oldal (a filmzenék), a B-oldal mélyebb dalait, talán csak akkor fedeztem fel magamnak, amikor az én fejemben is kitört a Beatlemania. Folytatódott egy Let it Be albummal, majd sorra a többivel, és az éppen akkor aktuális Anthology-s renszánsszal.

Rednex: Sex & Violins (1995)
Na jó, 8-9 éves gyerekként az ember sok mindent hallgat... Sajnos, vagy nem sajnos, én ez a svéd americana-techno (!) csapat révén ismertem meg a country zenét, ami sok kanyarral később elvitt az akusztikus gitárhoz, és kinyitotta a fülemet a különböző kultúrák népzenéi iránt. Hazudnék, ha azt mondanám, ma is szeretettel gondolok erre a lemezre, azonban hadd védjem meg őket: a 90-es évek borzalmas mainstream zenei kínálatában szerintem kifejezetten kreatív ötlettel álltak elő.


Sting: Ten Summoner's Tales (1993)
Sting zenéjével hasonlóan indult a kapcsolatom, mint a Beatles-szel. A gimnázium elején a kötelező rocker-korszakomat törte meg akkori zenekari társam azzal, hogy kissé impulzívan ajánlotta a figyelmembe ezt az igényes és szofisztikált jelzőkkel felcímkézett zenét. Elsőként a fenti album dalait hallgatva nekem egy túlkontrollált, kevésbé ösztönös, merev kép alakult ki Stingről, nehezen tudtam megemészteni. Végül ugyanazzal a konoksággal verekedtem át magam a Ten Summoner's Tales-en, mint annak idején a A Hard Day's Night-on, és a trükk bejött: olyan intenzíven szívott magába Sting intelligens zenei és emberi gondolkodása, hogy azóta is egyik legnagyobb példaképem. Nagy hatással bírt rám a további években az is, hogy miután nagy megszállottan elkezdtem utánanézni a remek zenészeinek, vagy a különböző vendégszerepléseinek, szépen lassan megismertem a jazz műfajának nagy ikonikus, és kortárs alakjait. Szemlélettágítás volt ez nagy tételben.

Richard Bona: Tiki (2005)
Azt hiszem Bona az, akinek a legtöbbször voltam koncertjén. Voltaképpen jazz előadó, aki a saját, kameruni zenéjéből építi fel az unikális stílusát, remek humorral, példaértékű alázattal és dinamikával a színpadon. Minden szempontból meghatározó jelenléte van a zenei fejlődésemben.


Tom Waits: Closing Time (1973)
Ez a lemez szó szerint megtörtént velem még az egyetemista éveim alatt. Sorsszerű módon pont hajnalban, egy buliból hazajövet kezdtem el hallgatni a kölcsönkapott cd-t, és az egész olyan élmény volt, mintha Waits pontosan azt kommentálná, ami velem van. Persze az alanyokat olykor cserélnünk kell, hiszen az 55-ös Cadillac inkább egy Ikarus éjszakai busz, és a Virginia Avenue pedig az Üllői út. Azonban visszhangzik a fejemben a lány, akibe nem kellett volna beleszeretni, hiszen így valaki másnak máris címezhetem a szakítós dalokat, s persze moralizálok rendesen a nagy kérdés fölött, némi kiégés manírt magamra erőltetve, így még be sem töltve a húszat...


Paul Simon: Graceland (1986)
Magasra tette nálam Sting a mércét, azzal az általam feltételezett (majd átörökölt) ars poeticájával, hogy hogyan lehet valaki egyszerre popzenei értelemben szórakoztató, és zeneileg is intelligens. Majdnem egy évtizeddel később leltem párjára Paul Simon személyében. Ami Stingnél a jazz-szemlélet és egy fej-központú intelligencia, az Paul Simonnál a világzene és a rendkívül erős érzelmi bevonódás megteremtése. A Graceland kulturális és zenetörténeti hatásáról sok mindent el lehet mondani, de a fő vonzereje egyszerűen abban rejlik, hogy vidám. Furcsa vidámság ez, mert Simon körülbelül annyira könnyed lélek, mint amennyire Woody Allen komédiás, mindenesetre a rendkívül érzékeny szövegeket kiválóan illusztrálja a zene megmunkáltsága. Egyszerre könnyed, igényes, ugyanakkor nagyon mély. Feldob, megsirat, tanít.


Tommy Emmanuel: Center Stage (2008)
Most csalok egy kicsit, mert ennek a koncertlemeznek az anyaga nagyjából megegyezik Emmanuel ezt megelőző évi budapesti fellépésének repertoárjával, amiről magabiztosan kijelenthetem, hogy megváltoztatta az életemet. Egy évtizeddel ezelőtt történt, hogy egy barátom ajánlására úgy mentem el erre a koncertre, hogy csak annyit tudtam, valami csoda fog történni egy szál akusztikus gitárral. Az egyetlen hangszer lényegében úgy szólt, mint egy teljes zenekar, Tommy pedig igazi showmanként viselkedett. A képlet egyszerű volt: lehet ilyen minimalista felállásban is pop-rock koncertet adni! Mind a szakmai kihívás tekintetében, mind pedig ez a fajta crossoverség, átütő erővel hatott rám, és rögtön tudtam, hogy ez az a világ, amire én a saját zenei utamon is vágyom. Elkezdtem megérteni, kitanulni, hogyan, miként lehet így megszólalni, és a kezdeti próbálkozásokat hamar siker koronázta, lényegében ebből az inspirációból lett karrierem, fenntartható zenei közegem, sőt még egy ponton magával Emmanuellel is játszottam együtt a MüPában. Nagy felelősség persze, hogy egy iskolát tanulva miként lelek rá a saját kifejezésformámra, az inspirációt hogyan tudom meghaladni a saját világomban.


Szörényi Levente: Hazatérés (1974)
Mind a világzenei érdeklődésem, mind pedig a kérdés, hogy az egyszál gitáros műfajban hogyan találhatnám meg a saját kifejezőeszközeimet, lassanként ráirányította a figyelmem a saját kultúrám muzsikájára. A moldvai népzenékben felfedeztem az ír zenével való kapcsolódás lehetőségét és a rockabilly ritmusokkal való rokonságot, valamint sok fúziós magyar előadót hallgatva lassanként kikristályosodtt egy olyan cél bennem, hogy magyar popzenét hozzak létre. Nem csapok fel népzenésznek, hiszen a brit rock alapjaimat ösztönszerűen sem tudnám már lecserélni, hanem szimplán a magyar népzenei kifejezőeszközöket valamilyen formában beépíteném a zenémbe. Éppen ezért példaértékű számomra a Hazatérés című album, ami le sem moshatná magáról, hogy a 70-es/80-as évek fordulóján készült: nagybetűs poplemez, ott van benne a diszkó, ott van benne a rock, s mindezt ízlésesen átszövi a magyar népzenei kincs, a szakma akkori legjobbjai keze által. A kedvenc hazai lemezem.


Petruska: Metropolita (2014)
Nem teng túl az egóm, és nem is a reklám helyének szánom (ebben az esetben inkább a Kapunyitóról írnék), de ha valami igazán sorsfordító egy zenész életében, az az első saját nagylemeze. Viszonylag hosszú idő után jutottam el oda, hogy kellően egyedinek lássam a saját kifejezéskészletemet ahhoz, hogy elkészítsek egy albumot. Azt ezt megelőző 4 év dalaira úgy tekintettem, mint valami egyetemi vizsgamunkára, ahol szimplán csak a saját szavaimmal visszamondom a megtanult anyagot. A nagylemez pedig már egy tudományos diplomamunka - nem csupán az a kérdés, hogy mit tanultál meg, hanem az, hogy mi erről a saját véleményed, kritikád – esetleg innovatív felfedezésed -, s mindezt milyen hatással, hogyan illesztheted be a tudomány már meglévő rendszerébe. Megható érzés volt először egyben meghallgatni a mastert, megfogdosni a cd-t és a borítót, visszahallani a dalokat a rádióból, nyilatkozni róla, óvatos lépésekben megvetni a lábam a hazai zenei palettán... Ugyanakkor terhes is, hiszen nem volt több hangzatos B tervem, ez voltam én, nem volt hova bújnia többé sem a dalaimnak, sem nekem. Ebben a mezítelen, kiszolgáltatott állapotban kellett megtanulnom elfogadni, és megszeretni magamat úgy, ahogy vagyok. Erről viszont már a következő lemez szól.