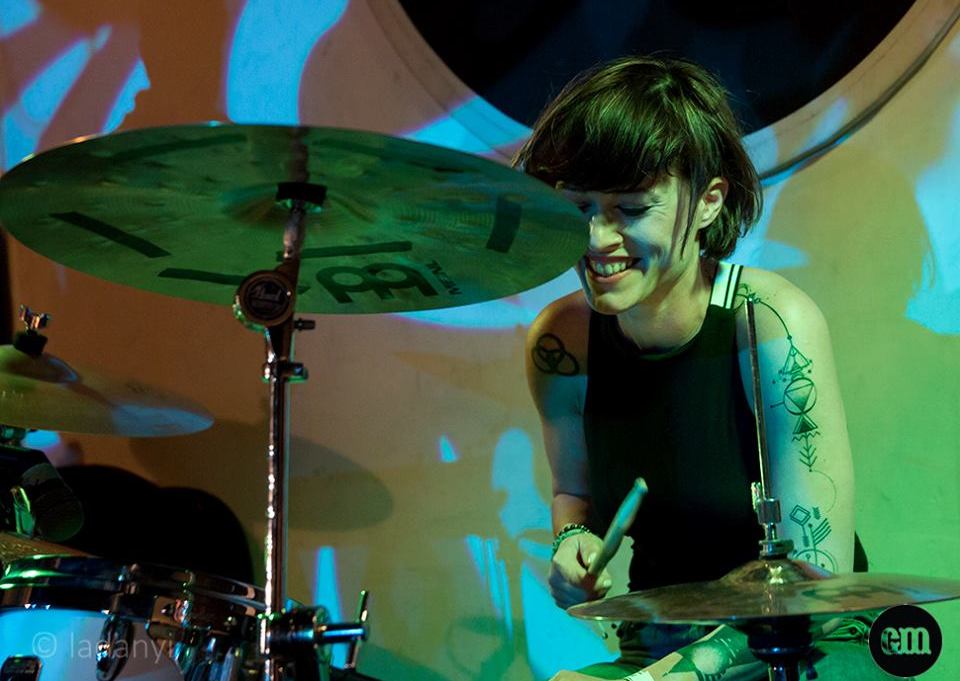 Az első hölgy sorsfordítónk Tiszai Vivi, a HolyChicks dobosa. Vivi igen igen széles körben kapott zenei hatásokat, talán ettől is hazánk kiemelkedő dobosa. Az ő sorsfordítói következnek.

Tina Turner – Private Dancer (1984)
Szerencsémre jó zenékben nőttem fel, gyerekkoromban Tina Turner Privte Dancer lemezét hallgattatták velem a szülők, és vittek koncertre is, és akkor, tisztán emlékszem, hogy (lehettem 5 éves) a színpad látványa elvarázsolt. A tükör táncikáltam a dalokra és eldöntöttem, hogy nekem majd valamilyen formában a színpadon kell állnom. Akkor még úgy gondoltam, táncos nő lesz belőlem (nevet)
Joe Cocker – Have a Little Faith (1994)
Későbbiekben Joe Cocker -Have a Little Faith lemezről a méltán híres Summer of the City dal lett az egyik kedvencem elvarázsolt az énekhang, és maga a frontemberség és akkor meg már úgy gondoltam, hogy énekes lesz belőlem (nevet) 10 éves lehettem talán.
Tankcsapda – Punk And Roll (1990)
Jött a Tinikor, és akkor dőlt el talán minden. Az, hogy teniszező helyett (mert aztán az is szerettem volna lenni (nevet) dobos lesz belőlem. Illetve ekkor fejlődött ki a zenei ízlésem igazán. A zenék, amik felnyitották a szemem a rockra és az életérzésre amit nyújt, az öltözködésre Mindenreeeeeee. Tizenöt évesen szerelemes lettem a TANKCSAPDÁBA az most csalás lenne, hogyha egyből beírnám körülbelül az összes lemezt, szóval akkor a PUNK AND ROLL-t mondom. Ez a lemez olyan hatással volt rám, hogy szerintem egy évig hallgattam csak azt. Itt még nem doboltam csak a rockerséget űztem magas fokon (nevet)
Pantera - Vulgar Display of Power (1992)
Ez lemez szintén kiégette az agyacskámat. Legjobban, ahogy csak lehet.
Deep Purple – Machine Head (1972)
Apám nagy kedvence a Deep Purple rám is hatott, a Machine Head lemez, ezen van a Lazy nagy kedvencem, amit aztán később megtanultam dobolni.
Pink Floyd – Dark Side Of The Moon (1973)
17 évesen találtam ki magamnak a dobolást.(kihúztam egy kalapból .. a cetlit..) Őszintén szólva azért akartam zenélni, mert jó pasizási formának gondoltam, hiszen a rocker fiúkért voltam oda mindig is, érdekelt, ahogy a zenéről beszéltek, vagy ha hangszeren játszottak, és én is szerettem volna ennek a részese lenni. Akkor inkább csak vagánykodás miatt jött az ötlet. Mondtam is apának, hogy dobos akarok lenni (ő is dobolt) és a Pink Floyd - Dark Side of the Moon lemezét tette be hogy, tessék fiam, akkor lehet gyakorolni. Minden számot megtanultam. Imádtam és alázatra tanított nincsenek benne hatalmas megfejtések, viszont a dob az ott van a helyén, ott, ahol lennie kell. Tud rá támaszkodni a zenekar, a lényeget adja.
Jöttek sorba az ikonok: The Doors -, Jimi Hendrix, Janis Joplin, Nirvana, Guns N' Roses,.. Aerosmith.AC/DC, LED ZEPPELIN Maradt 4 hely.. még, és irtó nehéz, mert, ahogy itt írom, jönnek elő az emlékek.
AC/DC – Live at Donington (1992)
Kötelező iskolának könyveltem el magamnak, imádom a dobolást szigorú 2/4… a legjobb! (nevet)
Led Zeppelin – Houses Of The Holy (1973)
Na igen! Ez a banda a mai napig nagyon nagy hatással van rám. 1973-ban kiadott anyagaikat bármikor meghallgatom, és Bonzo a kedvenc dobosom, szedegettem is le Led Zep dalokat, brutálisan ősi a csávó, végem van tőle.
Ace Ventura- Spring ProgMix (2013)
Ekkor már 19-20 voltam és megismerkedtem a rock műfajon kívül az elektronikus zenével, a GOA-val. :D Nagyon sokat gyakoroltam gyakorlom erre a szettre, egy órás dal de fontos az életeben szóóóval ez a ACE VENTURA- Spring ProgMix 2013.
Anderson Paak- Malibu (2016)
Uhh most vagyok a tizediknél jaj, ez amúgy jóónehéz. Tényleg! Fú, akkor mondom azt, ami most nálam a legújabb, és azért mert ez a férfiember énekel és dobol, és nagyon jó az energia, amit sugall, és engem arra ösztönöz, hogy énekeljek már dobolás közben, ami jövőbeli tervem :)