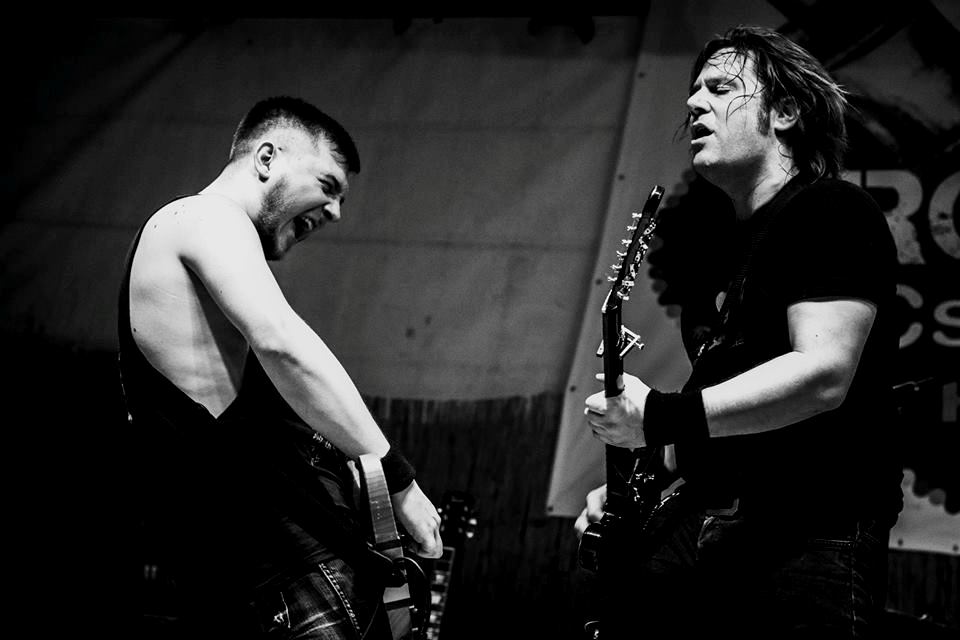 "Az előzőt nehéz lesz felülmúlni!" Már hosszú évek óta hagyja el e mondat számat, amikor meghallom, hogy új lemezen dolgoznak Kőváry Zoliék, de valahogy még mindig tudnak újabb és újabb dolgokat mutatni, amivel elkápráztatnak. Nemsokára minden kiderül, hiszen a hazai garázs rock színtér zászlóshajója hamarosan új nagylemezzel örvendeztet meg minket. Az aktualitásokról Kőváry Zolival, a csapat vezetőjével beszélgettünk.
OTRNR: - Szia Zoli! Mielőtt rátérnénk a friss dolgokra, egy kicsit visszaugrunk az időben, hiszen idén is volt egy tagcserétek, Csészit (Cs. Szabó Zoltán) Gulyás Antal, Samu váltotta a doboknál. Hogy sikerült a csere? Csészi milyen feladatokat lát el az új lemezen?
K.Z.: - Samu ez év tavaszán csatlakozott a zenekarhoz, és azt kell, hogy mondjam, a váltás minden várakozásunkat felülmúlta - mindkét oldalról! Samu lelkes, szorgalmas, tehetséges, energikus és egyből beilleszkedett emberileg is a The Trousers-be. Rögtön a mélyvízbe dobtuk, hiszen egy esztergomi és egy pesti koncertet követően azonnal Nürnbergben és Berlinben kellett megmutatnia, mit is tud. Nagyon rövid idő alatt az egész koncertrepertoárt megtanultuk, amiben nagy szerepe volt annak, hogy basszusgitárosunk, Lázár Bandi korábban dobolt is nálunk, így teljes az összhang a ritmusszekcióban. Csészi többször is eljött megnézni minket az új felállással, és főleg a technikailag is jól szuperáló hajósi koncert után kifejezte maximális elégedettségét. Egyébként úgy egyeztünk meg, hogy az új lemezt még Csészi dobolja fel, hiszen a demókat is együtt készítettük, és a produceri munka egy részét, a keverést, masteringet is ő csinálja, ahogy eddig az összes lemezünkön.
OTRNR: - Itthon és külföldön is nagy sikert arattatok a Mother Of Illusion-nel, de jön a folytatás. Mit tudhatunk az új lemezről?
K.Z.: - Az új lemez címe Invisible Darkness (Láthatatlan sötétség) lesz, és ez év őszén fog megjelenni. Az címötlet részben onnan jött, hogy William Styron amerikai író 1990-ben megjelentetett egy könyvet "Látható sötétség" címen a saját depressziójáról. Ám azt gondolom, hogy ezt a sötétséget, ami leginkább az élet végességének tudatából és a lét értelmével kapcsolatos kétségeinkből táplálkozik, mindannyian magunkban hordjuk, de csak különleges alkalmakkor válik láthatóvá, bizonyos határhelyzetekben, amikor nem tudjuk elhallgatatni a külső világ zajáradatával. Számomra egy ilyen sorsfordító volt édesapám 2015-ben bekövetkezett halála. Megvannak a módszereink arra, hogy láthatatlanná tegyük egy időre ezt a "tragikus életérzést", ám hitem szerint ezek nem egyformán értékesek: a valódi zene annyiban különbözik például sok más módszertől, hogy nem elfed, hanem inkább hidat képez a két világ közt. Ettől függetlenül az Invisible Darknes nem egy Pink Floyd album lesz (nevet), hanem egy igazi vérbő, változatos rock and roll album, tizenegy dallal, ahogy már megszokhatták a hallgatók tőlünk. A cím meg mindenkinek azt fogja jelenteni, ami beleérez, és úgy tapasztaltuk, hogy eléggé beindítja az emberek képzeletét a szóösszetétel.
OTRNR: - Mi jellemzi az új nótákat, mondjuk az előző lemez dalaival összevetve?
K.Z.: - A 2010-es "Soul machine" album óta, amikor is kiforrott a banda, szerintem nagyjából egyenletes színvonalú lemezeket szállítunk 2-3 évente. Ugyanolyan kaleidoszkópszerű, mégis egységes munkának látom a 2013-as Freakbeat-et és a 2015-ös Mother of Illusion-t is, ahol minden dalnak külön karaktere van; szerencsére sokszor visszajelzik, hogy a töltelékszám nem a The Trousers műfaja (nevet). Az új lemez is változatos a maga műfaji határain belül, ennek megfelelően lesz a Sabbath-os döngöléstől a Motörhead-es vágtázáson át a Motown-ritmusú slágerdalig vagy a 60-as évek végét idéző blues rockig sok minden. Egyszerűen nem tudom visszaidézni, hogy hogyan született egy-egy dal, mindig úgy érzem, hogy valójában "találtam" őket. A számok egy része már részben rögzítve van, és az egyik potenciális kislemezt, a "You got me rollin"-t hamarosan élőben is játszani fogjuk.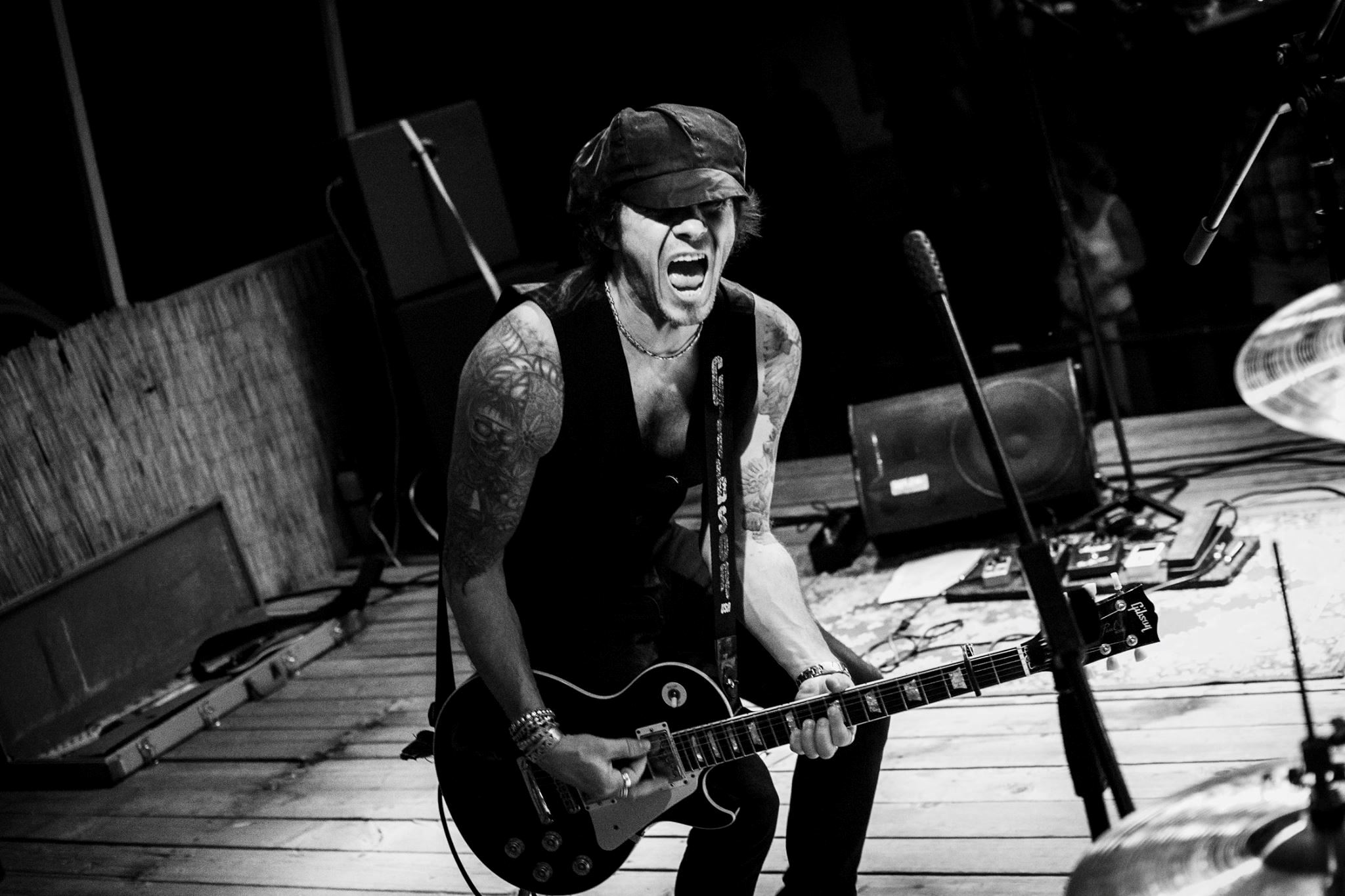 OTRNR: - Vendégzenészek is feltűntek az előző lemezeken, akár a vokált, vagy fúvos hangszereket tekintve. Mi várható az új anyagon?
K.Z.: - Még bármi előfordulhat. A tagok, Bandi és Locke Peti gitáros mellett Csányi Rita énekesnő és Derecskei Zsolt billentyűs biztosan szerepelni fog a lemezen, ez immár hagyomány, hogy ezeket a részeket nálunk ők oldják meg. Valóban minden lemezen voltak extrák, így a Freakbeat-en történetünk egyik legnagyobb dobásaként Nicke Andersson (ex The Hellacopters, Imperial State Electric) és az Ozone Mama-s Gábor Andris Játszott, míg a Mother of Illusion-ön a Junkie Jack Flash-ből Szénás-Máthé Nándor szaxofonozott. A felvételeken még nem jutottunk el a teljes hangszerelésig, de régi vágyam kongát és visszafogott módon szájharmonikát is bevetni. Szóval, ha úgy alakul, biztosan találunk majd embert ezekhez a részekhez is. 
OTRNR: - Egy német booking agencynek köszönhetően rendszeresen megfordultok Németországban és Közép-Európában. Hogyan értékelnéd ezeket a bulikat?
K.Z.: - Az Allrooms Bookingnak és másoknak köszönhetően az utóbbi pár évben viszonylag rendszeresen játszunk közép-európai országokban, Csehországban, Szlovákiában, Ausztriában, Németországban. Nagyon jó úgy összerakni a tavaszi és őszi menetrendet, hogy alapból számolni lehet Pozsonnyal, Béccsel, Ostravával vagy Berlinnel. Ez több éves, hosszú, megfeszített munka eredménye, nem a semmiből jött. Természetesen nem akarjuk azt mondani ezzel, hogy a The Trousers "befutott" ezekben az országokban, de sokan vannak, akik értékelik, amit csinálunk, és számunkra nagyon megerősítőek ezek a körutak. Pont a napokban beszéltem Stefan Schumacherrel, az ügynökség vezetőjével, aki elmondta, hogy milyen új struktúrában, több divízióval fog működni az Allrooms. Ezen belül a rendszeres együttműködés olyan formáját fogjuk tudni kialakítani, amely mindkét oldal számára nagy előnyökkel járhat majd. Ennek fontos szereplője lesz az Allrooms-hoz csatlakozó Sebastian Haase, aki korábban az Emergenza nevű nemzetközi tehetségkutatót szervezte. A Berlinben lakó Seba egy jó ideig Pesten élt, és a szomszédom volt, szóval jó barátságban vagyunk. Jelenleg egy tavaszi, illetve őszi idényben legalább három-három mini-turnéval szeretnénk számolni, főképp az említett országokban. Az új rendszerbe belefér az is, hogy nem csak a szervezésben segítenek majd, hanem a zene terjesztésében és a banda promóciójában is, és tekintélyes német felvevőpiacot tekintve ez korántsem utolsó szempont.
OTRNR: - Már-már testvéries a kapcsolatotok az osztrák Reverend Backflash-el és a cseh Degradace-szel, akikkel a Monarchy Madness turnét csináltátok két alkalommal is. Lesz harmadik felvonás?
K.Z.: - Lesz bizony, ha most nem is pontosan ezzel a névvel. Októberben a Degradace-nak lesz egy nagy szülinapi bulija Ostravában, ahova mi is és a Reverend is hivatalosak vagyunk. Már nagyon várjuk, főleg mivel az egy évvel ezelőtti a nyári ostravai rock fesztiválon nem volt alkalmunk találkozni Rudee-ékkal. A Degradace decemberben jön hozzánk Budapestre, a Reverend még szervezés alatt áll, mivel ők most új lemezt hoznak ki, és nagyon elfoglaltak. Szóval, ha nem is olyan formában, mint korábban, az együttműködés tovább folytatódik velük is, de másokkal is. A tavaszi turné során például nagyon jó baráti viszony alakult ki a lehengerlő nürnbergi Basin City Orchestrával, velük is vannak közös tervek őszre.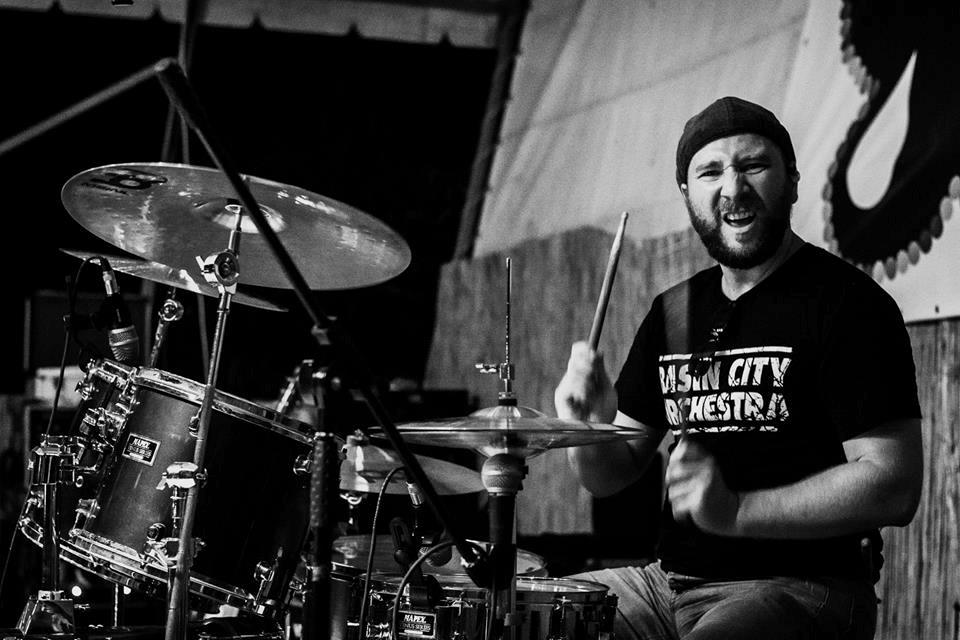 OTRNR: - Köztudott, hogy nagy hatással van rád a Hellacopters, kiváltképp Nicke Anderson munkássága. Hogy tetszik a reunion?
K.Z.: - A korai 1996, és 1999 közti Hellacopters nem olyan meghatározó számomra, mint a 2000-es évekbeli, ezért minimális szívfájdalommal néztem a Supershitty to the max dalainak újrajátszását tavaly, a megjelenés 20. évfordulóján. Ráadásul a megboldogult Robert Dahlqvist is sokkal nagyobb kedvencem volt a gitáron, mint Dregen. Tényleg, tudni már, hogy Robert miben halt meg? Ez döbbenetes, hogy így eltitkolták… De az idei fesztiválfellépések felvételeit látva, főleg hogy a Toys and flavors, a By the grace of God vagy az I'm in the band is programon volt… Összeszorult a szívem, és jó, az Imperial State Electic rendben van, de a Hellacopters - felülmúlhatatlan. Szerencsések, akik szemtanúi lehetnek. De egy teljes, hosszabb lélegzetű összeállásnak vagy új lemeznek nem biztos, hogy örülnék, az lehet, hogy már inkább elvenne a legendából. Nicke, ha jól tudom, kijelentette, hogy jó pénzt kap érte, amit az Imperialba forgat be. Ez teljesen tisztességes szerintem. Nemsokára jön az új Imperial lemez, remélem, hogy legalább olyan jó lesz, mint a legutóbbi előtt megjelent három.
OTRNR? – Elhangzott már sokszor a médiában, hogy a rockzene elkapcsolási faktor. Meghalt a jó öreg R'N'R?     
K.Z.: - Manapság is rengeteg jó rockzenekar van, mindenféle korosztályból vagy stílusból. A tavalyi Metallica lemez rendkívül jól sikerült, akárcsak például az idei Cheap Trick. Megállíthatatlanul nyomul a retro blues rock, lásd Rival Sons vagy Blackberry Smoke. Június elején láttam a Clutch-ot, akik teljesen egyedi módon nyúlnak a rockhoz, és lemezről lemezre egyre jobb dalokat írnak. Februárban Bécsben megnéztem az Imperial State Electric-et, ami életem egyik leglehengerlőbb koncertje volt. A júniusi Foo Fighters koncertről az egész város hetekig beszélt, ami olyan érzés, mint régen, amikor egy nagy banda eljött Pestre. Persze ezek jó ideje létező zenekarok, vagyis olyan jellegű pezsgés és újdonságok nincsenek, mint pl. a 2000-es évek elején, ahol egymás után jöttek ki az olyan aktuális bandák, mint a Soundtrack of Our Lives, a Gluecifer vagy a Hives. Mindig megnézem a kortárs feltörekvő bandákat, amiket ajánlanak nekem, de eddig egyiktől sem estem hasra, de nem azért, mert már mindent hallottam, és semmi nem új, hanem azért, mert az igazán jó dalok megírásához meg kell érni, sokszor tíz év kell rá. Addigra sok előadó kiég, mert manapság borzasztó nehéz szintet lépni. Az meg hogy nem jön ki minden évben egy új Guns n' Roses vagy Queens of the Stone Age szintű zenekar, az a műfaj történeti stádiumait ismerve nem meglepő. A festészetben sincsenek állandóan új Picassók, a színházban sem új Brechtek, a filmben sem új Fellinik. Ez nem jelenti azt, hogy a dolognak vége, meghalt a színház, a festészet, a film, csak ha már egyszer a rendelkezésre álló eszközökkel megírtak egy csomó felülmúlhatatlan dolgot, akkor ostobaság volna azt gondolni, hogy ez az állapot a végtelenségig fenntartható, és mindig jönnek a klasszikusokkal egyenértékű új hullámok. Ezért az elvárásokat is másképp kell megfogalmazni. A rockzene eljutott ebbe a stádiumba, nincs mit tenni, mivel ez a legrégebbi könnyűzenei műfaj, de ezt a sorsot hosszú távon senki és semmi nem kerülheti el. A kérdés az, hogy a műfaj hogyan alkalmazkodik saját történetiségéhez vagy a megváltozott kulturális kontextushoz.
OTRNR: - Végezetül benne vagyunk a nyárban, merre találkozhat veletek a közönség?
K.Z.: - A nyarat az alsóörsi Harley fesztiválon kezdtük június elején, ahova már nagyon rég óta el szerettünk volna jutni. A  hónap végén Hajóson játszottunk, egészen fantasztikus körülmények között. A július pihenőhónap lesz, az új dalokkal is foglalkozunk, mert nemsokára élőben is hallhatók lesznek. Augusztus 4-én a Fezenen leszünk, egy napon Glenn Hughes-zal, majd 23-án a SZIN következik, a nyarat pedig a Dungaree-vel együtt az A38 teraszon zárjuk 24-én. Ősszel pedig új lemez, klip és koncertek, szóval érdemes figyelemmel követni minket!
Készítette: Sebők Tamás
Képek: Pandur-Balogh Norbert