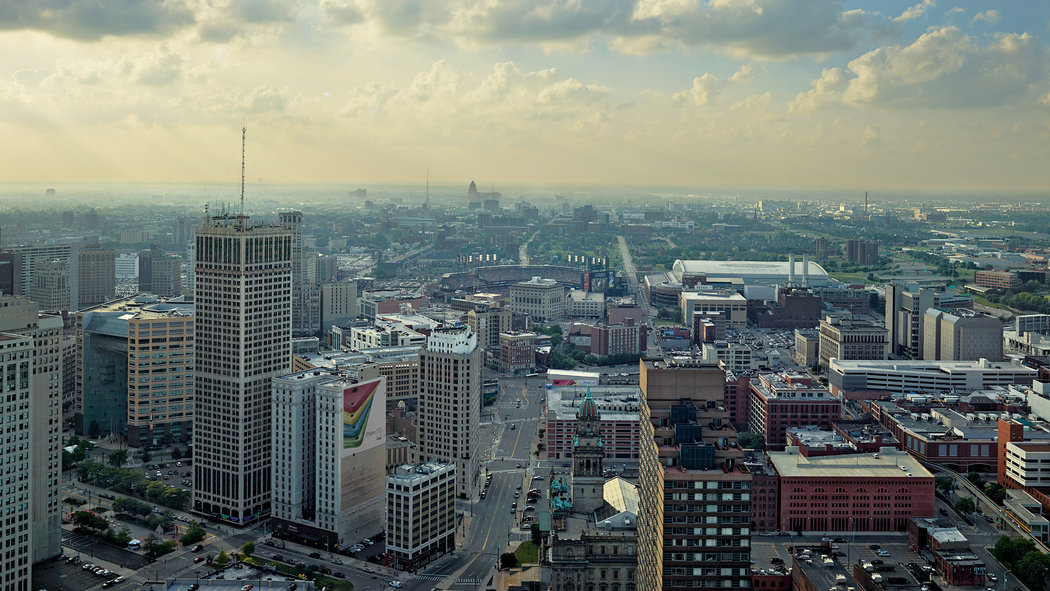 Detroit és környéke nem csak az Egyesült Államok egyik ipari fellegvára, de a rockzenében is igen meghatározó zenészek, zenekarok köthetők a városhoz. Gondoljunk csak például a Motownra. De ebben az írásban más irányt veszünk.  Egyszer talán nekiesünk és kivesézzük Detroit és környéke teljes zenei palettáját, most azonban egy stílust ragadunk ki, és vizsgáljuk meg egy kicsit tüzetesebben.
Jó ideje már, hogy a garázs rock rabjává váltam, és elsősorban a skandináv csapatok zenéi fogtak meg. Hellacopters, Turbonegro, Hives, Backyard Babies jöhetett szinte bármelyik, bármikor. Aztán persze beleástam magam a garázs történelembe és rájöttem, milyen meghatározó szerepe van Michigan államnak az egész stílus létrejöttében. Óriási nevek a múltból és hatalmas mai bandák tartják életben ezt a csodálatos zenei vonalat.
The Rationals
A '64-ben indult csapat az egyik nagy úttörő. Scott Morgan, az egyik legnagyobb koponya is itt bontogatta szárnyait. A sikert a Gave My Love hozta meg számukra, bár inkább csak Michigan államban terjed el a dal. Az első és egyetlen self-titled lemezük 1970. elején érkezett meg. A zenekar nem sokkal a megjelenés után feloszlott.
A zenekar tagjai: Scott Morgan, Steve Correll, Terry Trabandt, Bill Figg
MC5
A zenekar Wayne Kramer és Fred 'Sonic' Smith barátságából jött össze. Mindketten Dick Dale, Chuck Berry és Ventures rajongók voltak, ezen a vonalon indították el 64-ben az MC5-ot. A csapat szinte minden éjjel koncertezett a környéken, így nyilvánvaló volt, hogy hamar jön a siker. Jött is, nem sokkal később 1000+-os nézősereg előtt léptek fel. A helyi sajtóban úgy fogalmaztak. A természet katasztrofális erejét hordozza magában a banda, amit képes az uralma alatt tartani. Első lemezük a Kick Out The Jams címet viseli, egy '68 októberi live felvétel. A Back In The USA már sokkal inkább a garázs punk alapjait hordozza magában, rövid, gyors, kemény ének és gitártémák jellemzik. A High Time pedig már a 70-es évek hard rock bandáinak bibliája. Kereskedelmi szempontból borzalmasra sikerült a lemez, annak ellenére, hogy jó kritikákat kapott a sajtóban - az MC5 három lemeze közül a legjobbakat – a marketing koncepciónak "köszönhetően" azonban a legrosszabb eladási mutatók is jellemzik a lemezt.
A zenekar tagjai: Wayne Kramer, Fred "Sonic" Smith, Rob Tyner, Michael Davis, Dennis Thompson
The Stooges
A legsikeresebb garázs csapat, az őserő hordozója, sokszor Iggy & The Stooges-ként is említik. A nyers erő megtestesítői, akik a rockzene minden irányvonalára hatással voltak. Nyers, primitív zenéjük mellett Iggy Pop karakteres színpadi játéka  is sikerül kulcsa volt. Bár kereskedelmi szempontból nem voltak sikeresek az első lemezek, mára a rockzene meghatározó albumaivá váltak. A Stooges sikeréhez nagyban hozzájárult Iggy Pop barátja, David Bowie, aki egyrészt életben tartotta a keményen drogfüggő frontembert, másrészt zeneileg is nagyban segítette Iggy szólókarrierjét, de a Metallic KO koncertalbumban is fontos szerepe volt. A Stooges utolsó koncertje is emlékezetes volt, ami a zenekar tagjai és egy motorosbanda közötti verekedéssel végződött. Ezt később meg is örökítették a 76-ban megjelent live lemezen. Utolsó kiadványuk a 2013-as Ready To Die, mely után a Stooges harmadszor is feloszlott.
A zenekar tagjai: Iggy Pop, Scott Asheton, Ron Asheton, Dave Alexander, Steve Mackay, Bill Cheatham, Zeke Zettner, James Williamson, Jimmy Recca, Bob Sheff, Scott Thurston, Tornado Turner, Mike Watt, Toby Dammit.
THE UP
A THE UP az MC5 és a Stooges féle proto-punk vonalon mozgó, a neves detroiti Grande Ballroom házi zenekaraként híresült el. Az MC5 tagokkal közösen az anti-rasszista White Panther Party közösség tagjai voltak. A fent említett két nagyágyú azonban nem igazán hatott pozitívan a The UP pályájára. Az Electra Records elnöke, Jac Holzman egy Ann Arbor-ban rendezett bulin szerződést ajánlott az Iggy vezette Stooges-nak és Wayne Kramer-éknek is, de az UP kimaradt a sorból. A csapat '73-as feloszlásáig a Grande Ballroomban és más közeli helyszíneken adott koncerteket.
A zenekar tagjai: Frank Bach, Bob Rasmussen, Gary Rasmussen, Vic Peraino
Sonic's Rendezvous Band
A Sonic's Rendezvous Band-et egyrészt a kronológiai jelleg miatt hagytam utoljára, másrészt az SRB a kiöregedett nagyágyúk supergroupjaként jött létre a hetvenes évek közepén. A zenekarnak csak egyetlen dal felvételére volt pénze, lemez egyik oldalán mono, a másikon stereo minőségben hallható a City Slang. A 80-as években egy rosszminőségű bootleg anyag, a Strikes Like Lightning is megjelent, de ezeken kívül semmi maradandót nem hallhatunk a világ egyik legjobb supergroupjától.
A zenekar tagjai: Fred "Sonic" Smith (ex-MC5), Scott Morgan (ex-Rationals), Gary Rasmussen (ex-The UP), Scott Asheton (ex-Stooges).
Az első résznek ezzel vége, a következő alkalommal, a közelmúlt és napjaink legjobb detroiti garázs zenekarait mutatjuk be nektek.
Sebők Tamás