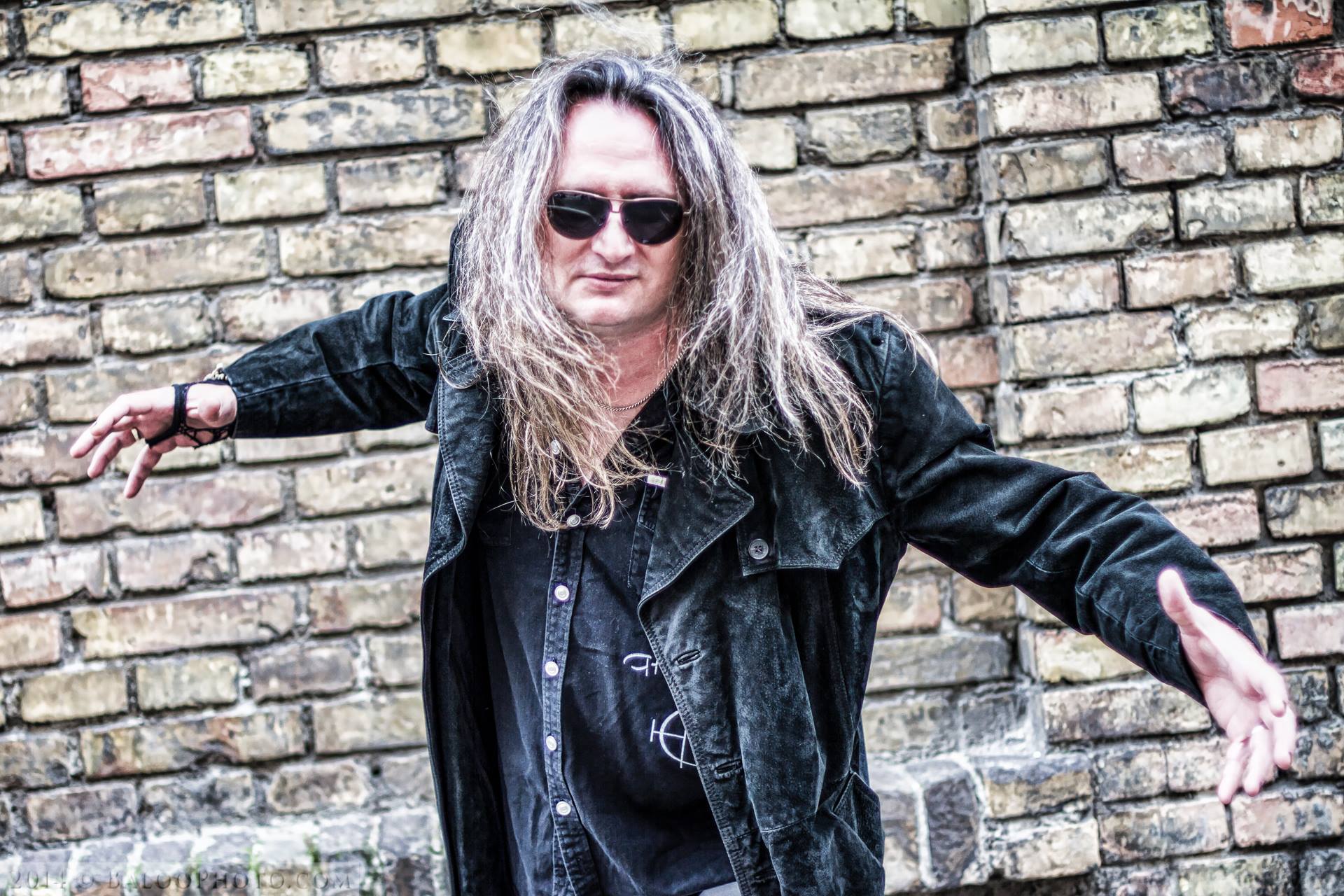 Ezt a hetet sem zárhatjuk Sorsfordító korongok nélkül, ez alkalommal a Cherokee basszusgitárosa, Kéri Zoltán avat be bennünket életének meghatározó lemezeibe.  
Nagyon örülök a felkérésnek, hogy írhatok azokról az albumokról, melyek hatással voltak az életemre. Azért is nagyon érdekes dolog ez, mert sok olyan dolgot meg lehet tudni az aktuális emberről, amit amúgy nem lehetne. Milyen korongok, milyen befolyással és miért? Tulajdonképpen egy kicsit olyan, mintha a magánéletembe invitálnék embereket. Megmutatni a legbensőm egy részét, kitárulkozni…
Akkor gyertek, ismerjetek meg!
EDDA művek: Koncert (1985)
1986-ban (immár 13 évesen) megkaptam első kazettás magnómat. Kaptam hozzá 3 db műsoros kazettát is kezdésnek. Ez az album közöttük volt, és megpecsételte az életem. Ekkor még nem volt kiforrott zenei ízlésem, így tulajdonképpen mindenevőnek számítottam, de ez az album elindított a rockzene irányába. Azóta rajongok a zenekarért, hallgatom a lemezeiket és járok a koncertjeikre…
Nem mondom, hogy első körben minden dal megfogott, inkább csak a kazetta B oldalát hallgattam. Barbárok, Kör, Gyönyörű lányok, Ünnep! Imádom őket a mai napig. Persze azóta a másik oldal is pörög a magnóban, illetve manapság a cd lejátszóban.
Neoton Família: Magánügyek (1985)
Ez a kazetta is abból az eresztésből van, amit elsőnek kaptam a magnómhoz. Jó mély benyomást tett az a pár kazetta… Na jó, a harmadikat nem fogom bemutatni, mivel nem is kedveltem, be is cseréltük valami másra.
Node Magánügyek!!!
Sokan mondhatják, hogy Neoton, diszkó, stb. Attól függetlenül úgy gondolom, hogy a jó zene, az jó zene. Ez pedig szerintem az. Ebben az időben már kiforrott az Ádám-Éva páros, szerintem nem volt ember, aki nem gondolta, hogy egy pár voltak. Én is így voltam ezzel, persze erre egész erősen rájátszottak Ők is. Elég csak meghallgatni a Végtelen játék című dalt. Nagy kedvencem még a lemez záró dala, az Éjszakai láz. Teljesen felborzolnak a dallamok, és Éva érzéki hangja. A végén meg Éva magas sikolya… ÁÁÁáááá!!!
Bon Jovi: Slippery when wet (1986)
És az első külföldi korong…
1986-ban már nyitottam a rockzene felé, és az első nagy kedvencem a Bon Jovi lett. Persze, nem lehetett kikerülni a bandát, a Livin' on a prayer és a You give love dalokat mindenki ismerte. Vagy a Wanted-et… Zenekarommal tulajdonképpen a mai napig elővesszük néha koncerteken a You give love-ot. De nekem a legnagyobb kedvencem az albumról az I'd die for you. Az a dal nagyon el lett találva! Ma már, ha Jovi-t szeretnék hallgatni, nem ezt a lemezt veszem elő, hanem az első kettő valamelyikét, de mivel ez volt az első, amit hallottam Tőlük, úgy gondoltam, itt a helye!
Mötley Crüe: Dr. Feelgood (1989)
És begyűrűzött az életembe a GLAM! Ebben az időben (persze mind a mai napig) nagyon sok glam zenekart hallgattam. Élükön a Crüe-vel. Már ahogy indul a lemez a Feelgood gitárjával, frenetikus. Persze, nekem inkább a bulizós-pörgős dalok jöttek be igazán, mint a Kickstart my heart, Same 'ol… Ezekből meg van elég az albumon. Ki ne akart volna akkorban Nikki Sixx lenne? Hát, én akartam.
Ford Fairlane kalandjai (1990)
És egy kis kakukktojás!
Nem egy lemezről, hanem egy filmről írok. A maga nemében klasszikusról. Aki meg akarja ismerni a 80-as évek Los Angelesének zenei életét, életvitelét, nézze meg nyugodtan. Nálunk nagyon kultikus volt. Hányszor ültünk le egy jól sikerült buli után, pár sörrel (egyébbel) a kézben, és néztük, röhögtünk. Persze a zene is nagyon jó benne, mint azt a kimásolt linken hallhatjátok! De azok a poénok… Verhetetlenek. Volt még egy ilyen kult film, a Pancserock, de úgy gondoltam, inkább legyen ez, amit bemutatok Nektek!
Vain: No respect (1989)
Még mindig glam!
Szerintem Davy Vain hangja elég megosztó. Ha valaki szereti ezt a nyávogós énekstílust, az imádni fogja. Aki meg nem, az undorral elfordul Tőle. Én az első csoportba tartozom. Ahogy meghallottam a pasi hangját, egyből beleszerettem. Követem a pályafutásukat, hallgatom a lemezeiket, de ez az első volt az igazi! A Who's watching you, Beat the bullet, Secrets… Fantasztikus. Ahogy most hallgatom, a hideg futkos a hátamon a pacák hangjától! Kedvem lenne elmenni bulizni egyet, mint rég. Ebben az időben én is elég glammesre vettem a figurát. Minden volt, tupír, festés, rockkocsma, hajnalig buli. Imádtam!
Sing Sing: Törvények nélkül (1991)
És vissza a magyarokhoz!
Nagyon nagy kedvencem volt a Sing Sing zenekar. Egy PeCsa EDDA koncerten volt a Sing Sing előzenekar. Ekkor már ismertem az első lemezüket, ami nagyon bejött, de nem tett rajongóvá. Viszont itt a koncerten már játszottak a második lemezről is, amit viszont teljesen bekajáltam. A Miért játszol a tűzzel vagy az Ártatlanul még mindig eszement nagy kedvenc. De ami nálam a pálmát vitte, az a Tűrd el ha fáj! Annyira mellbeb**szott, hogy elmondani sem tudom. Kismilliószor meghallgattam. Egy rövid ideig játszottam egy Sing Sing cover bandában is, a kérésem az volt, hogy ezt a dalt nyomjuk, mert imádom. Sajnos a Sing ezt elég kevésszer nyomta a bulikon, de annál nagyobb volt az öröm, amikor előkerült. Persze a sörkertekben kértük állandóan, így nem tudták kikerülni. Bocs, fiúk!
EDDA művek: Szélvihar (1991)
Mint már írtam, máig Eddás vagyok, így nem volt kérdés, hogy az egyik kedvenc lemezemet be kell szerkesztenem a listába. És ez nem más, mint a Szélvihar…
Ebben az időben voltam a legelvakultabb a zenekar iránt. Ahova tudtam, követtem őket, és koncertről koncertre hallgattam a dalaikat. Imádtam, imádom! A Szélvihar, vagy a Nincs visszaút a nagy kedvencek közé tartozik. A Nincs visszaút klipjében még benne is vagyok egy mp-re, ahogy tombolok a közönség első sorában. Aki megtalál, kap egy csokit. Jó, annyi segítség, hogy itt még rövid tüsi hajam volt…
De a legnagyobb imádat mégis a Szeretnélek boldognak látni! Jaj, de nagyon szeretem! Jó kemény zenei alapok, Attila félreismerhetetlen hangja, és fantasztikus vokálok. Minden megvan benne, ami egy HARD ROCK zenébe kell. És a végén ott a líra, az Újra láttalak. Ezt a dalt is nagyon szeretem. Amikor pedig a szám közben Attila énekére válaszolva a csajszi mondja, hogy "Még mindig szeretlek én is", az egy katarzis mindig!
Vörös István és a Prognózis: Minden viharon át (1995)
Ami még kimaradt a nagy magyar kedvencek közül, az Vörös István zenekara, a Prognózis. Pisti hangja is olyan, hogy vagy szeretni, vagy utálni lehet, középút nem nagyon van. Én szeretem!
Mindig nagyon szerettem őket, sok szép emlékem köt már a régi dalokhoz is, de nekem mégis ez a legkedvencebb Tőlük. Már a címadó dal pozitívizmusa, dallamai előrevetítik a lemez milyenségét. Mégis ami igazán megfogott, az a Ne zavarjon senki. Ki ne lenne néha úgy, hogy "elrejtőzne a világ elől"? Nekem is vannak ilyen pillanataim, és ezt ez a dal nagyon jól leírja. Egy órára kilépni a mindennapokból, hátradőlni, zenét hallgatni, vagy csak egyszerűen meredni a sötétbe… Nagyon jó tud lenni! Mennyit hallgattam ezt a dalt is otthon, vagy a KÖSZI-ben! Jártunk kéthetente, és buliztunk ám jó nagyokat! Persze, most hogy Kőbányára költöztem, már nincs Progi a Kösziben olyan gyakran…
És a lemez végén az Utolérnek valahol. Ismét egy olyan dal, amitől lúdbőrözik az ember. Érdemes meghallgatni mindenkinek!
Snake Heart: Csak neked (2000)
És a legvégére ismét egy nagy-nagy kedvenc, a Snake Heart zenekar. Hányszor, de hányszor láttam Őket még a régi Wigwam-ban, a Csörsz utcában. Vagy bárhol, ahol elérhettem Őket.
Sokan leszólják ezt a lemezt, hogy sz*r a hangzása, meg ilyenek. De aki a másolt kazettákhoz szokott, annak ez meg sem kottyan. A dalok pedig magukért beszélnek. Aki olyan dalokat tud írni, mint a Tudjon élni, az Ez vagyok én vagy a Néma vagyok, annak minimum teltházas koncerteket kéne adnia, egy csomó lemezzel a háta mögött. A SH sajnos nem ilyen banda. Pedig meg kell hallgatni azokat a dallamokat, amiket össze tudtak hozni. Hogy Balázs szövegeiről már ne is beszéljek! Sajnos egy nagy elmaradásuk van, a Szemből fúj a hátszél nem került fel erre az albumra sem, pedig sajnos elég találó a szövege, a zenéje meg tuti!
Körülbelül ez vagyok én, ezeket hallgatom, szeretem.
Most, mikor ezeket a sorokat leírom, csak hogy átérezzem a feeling-et, azokat a dalokat, lemezeket hallgatom, amikről írok. Nagyon jó érzés visszaidézni a múltat, ezeket a fantasztikus szerzeményeket hallgatni. Teljesen a hatásuk alá kerültem, fiatalodtam vagy húsz évet, kiszőkült a hajam (és még a pocakom is lejjebb ment). Hallgassátok, olvassátok szeretettel! Pá!