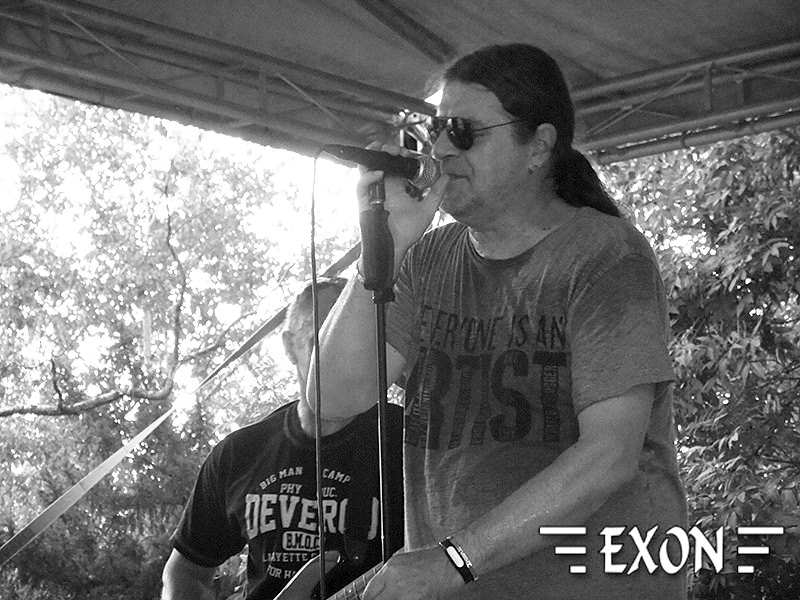 Folytatjuk állandó rovatunkat, most az ország egyik leghitelesebb Hobo Blues Band Tribute csapatának vezetője osztja meg velünk 10 nagyhatású lemezét. Fogadjátok Hevesi János, az Exon énekesének sorsfordítóit!
Mindig nehéz ügy a kedvenc albumok közül válogatni még akkor is, amikor csak egy nyaralásra válogatja össze az ember a lejátszójára. Még ez is kéne, még az is jó lenne. Lehetetlen feladat. Hát még valami okosságot írni róla miért éppen az van a listában ami. Lehet, hogy lesz 1-2 meglepetés a listában azoknak, akik valamennyire ismerik a (hahaha… csak, hogy legyenek már nagy szavak is) "munkásságomat", de nekik csak annyit tudok üzenni:  a nyitottság a más stílusokra, mindig több élményt nyújt, mint bezárkózni valami egyfélébe.
Rolling Stones - Love You Live (1977)
Elég fura szembesülni azzal a ténnyel, hogy az életem első igazán rongyossá hallgatott lemeze éppen 40 éve jelent meg. Ebben a dupla lemezben benne van a válasz arra a hülye kérdésre is, hogy miért a Rolling Stones a világ legjobb rock and rolll zenekara. Olyan zenei alapvetések vannak rajta, mint a Hony Tonk Women, Tumbling Dice, Jumpin' Jack Flash, Sympathy For The Devil és a többiek. Vannak albumaik amiket gyűlölök, vannak amiket imádok, és a végén mindig visszakanyarodok a régi koncertlemezeikhez. A 2007-es Népstadionos koncertjük 10/10-es örök élmény marad!
Deep Purple – Made in Japan (1972)
A koncertlemezek etalonja, alfája és omegája, a non-plusz ultra, a hard rock Mount Everestje stb, stb, stb. Lehettem kb. 16 éves amikor először hallottam. Fura, hogy a tagok ekkor már szívből utálták egymást és nem is beszéltek egymással. Ennek fényében még zseniálisabb ez a lemez. A 2014-ben kiadott  4 CD-s Box Set Edition kötelező darab!
Easy Rider Soundtrack (1969)

A film és a zene együtt eléggé mellbevágó élmény volt. Itt vadkeleten az "átkosban" – a vásznon meg a nagybetűs: AMERIKA! Zseniális színészek, zseniális zenék. Igaz az emblematikus Born to be Wild-ból sikerült eléggé lerágott csontot csinálni azzal, hogy szinte minden amatőr banda műsorra tűzte jobb és rosszabb (általában förtelmes) feldogozásként, de pl. az I Wasn't Born To Follow a Byrdstől vagy az If 6 Was 9 Jimi Hendrixtől olyan, amit ma is bárhol, bármikor szívesen hallgatok. 
Hobo Blues Band - Középeurópai Hobo Blues (1980)
Ez tényleg valamilyen szinten sorsfordító korong! Amikor megjelent a magyar rocktörténet legszarabb hangzású bakelitje már HBB rajongó voltam és kit érdekelt a hangzás? Egy olcsó Tesla lemezjátszón nem mindegy???  Operett, Ki vagyok én, Édes otthon, Mindenki sztár, Középeurópai Hobo Blues II. és persze a Hey Joe.  Igazi kedvencem nincs a lemezen, egyben jó ahogy van.
Marilyn Manson - The Golden Age of Grotesque (2003)
A fiamtól kaptam ezt a CD-t. Előtte nem igazán ismertem MM zenéjét, mert bennem is volt nem kevés előítélet a kinézete miatt. Úgy kezdtem hallgatni a CD-t, hogy nem tudtam ki van rajta. Aztán a This Is the New Shit meglepett, a Mobscene földbetaposott, a Doll-Dagga Buzz-Buzz Ziggety-Zag meg elrepített.  Nem állítom, hogy ez Manson legjobb lemeze, mert előtte is voltak jó dolgai meg utána is, de ez valahogy nagyon egyben van szerintem. John 5 nagy gitáros!
Robert Plant - Raising Sand (2007)
Amikor először hallottam róla, hogy a legenda egy fiatal country énekescsajjal ad ki közös lemezt, nem tudtam sírjak vagy nevessek. Na mondom… Plant papának elfogyott a lóvéja vagy mi a manó? A rock isten és a country? Na ne már… ez rossz vicc. Aztán meghallgattam és leesett az állam, mennyire finomságos dolgot hoztak össze ketten.  A finoman lebegős. A Rich Woman bármikor jöhet! 



Genesis – We Can't Dance (1991)
Az öregfiúk jó nagy kanyart tettek a hatvanas évek progresszív kezdésétől eddig a jócskán populárisra sikerült lemezig.  Nem  is meglepő, hogy nemsokára PC távozik és szólóban folytatja.  A kezdő No Son of Mine lassan épülget, tele vívódással, mint a régebbi albumokon. Nekem mindentől függetlenül az I Can't Dance a kedvencem erről a lemezről. Ez egy minimalista bohóckodás ami már összeforrt egy Levi's reklámmal. Ha rossz kedvem van, berakom és 1 perc múlva már mosolygok.

Dido - Safe Trip Home (2008)
Na itt tanácstalan voltam, melyik lemezét válasszam, mert mindet szeretem. Szép, kellemes, elszállós zenék. Mondjuk, azért kell egy hangulat ahhoz, hogy igazán élvezni lehessen amit csinál. Lehet, hogy Dido nem a világ legjobb hangú énekesnője, de ez nem lényeges.  Annyira egyben van a zene és a hang. Talán a Northern Skies a legjobb erről a lemezről, de lehet hogy holnap már mást mondanék.
Whitesnake - Starkers in Tokyo (1997)
David Coverdale mindig is nagy kedvencem volt. Függetlenül attól éppen hol énekelt. Ez a Japánban felvett akusztikus lemez inkább passzolna egy szóló albumának, de  gondolom a marketingesek szerint jobban eladható volt Whitesnake néven. Na de mindegy is, mert Adrian Vandenberg olyanokat penget az őserejű hang alá, hogy jön a libabőr.

Sixx:A.M. - This Is Gonna Hurt (2011)
Nem egy könnyed, lazulós muzsika. Inkább elborult, de húz mint az állat! Nagy mázli, hogy Nikki Sixx nem szúrta halálra magát (bár a hírek szerint megtett mindent, hogy ne legyen nyugdíjas), hanem időben észhez tért és a Mötley Crüe mellett megcsinálta ezt a triót. Sixx (basszusgitár)mellett Dj Ashba (gitár) és James Michael (ének) tud mindent, ami az ilyen hol elborult hardos, hol érzelmesebb zenéhez kell. A bakancslistán ott van, hogy meg kéne nézni élőben is egyszer.