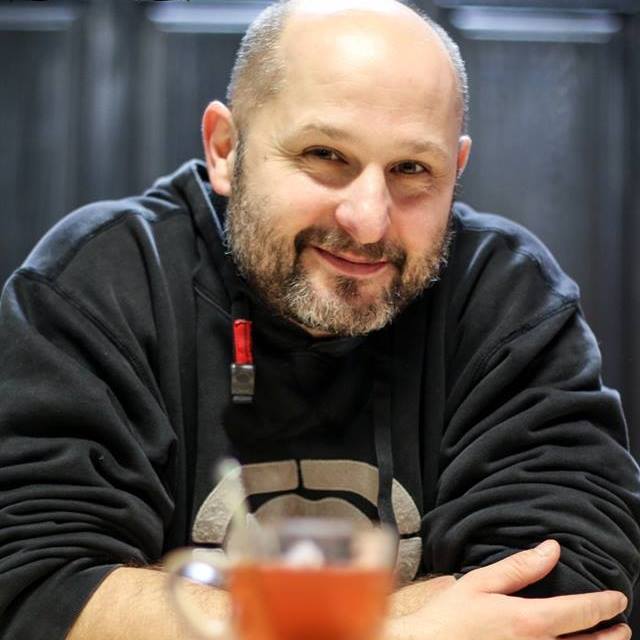 Aki az elmúlt 20 évben Debrecen környékén (vagy esetleg a Szigeten) járt koncerten, fesztiválon, zenei fórumon, az biztos, hogy látott egy kopasz srácot biciklin. Ő Kovács "Tente" László, aki nagyon sokszor aktív szervezője ezeknek az eseményeknek, mint marketinges, szervező, színpadmester, és ki tudja még mi minden.
Laci egy nagyon fontos háttérember a keleti országrész klubszcénájában. Olyan, ma már országos hírű zenekarok első debreceni koncertjeinek leszervezése fűződik a nevéhez, mint például a Vad Fruttik, a 30Y, vagy a már megboldogult Subsribe. A helyi erők országos ismertségének elérésében is kivette a részét, felbukkant a Gonzo, a Monchici Potencial és a Skafunderz mellett, de a Cseh Tamás Programos Éva Presszó útját is egyengette egy ideig. Nem utolsó sorban a geekeknek szóló DebTech Meetup rendezvénysorozat megvalósulásában is szerepet vállal, és a hamarosan induló zeneipari startup, a BandMap ötletgazdája is.
Egy sokoldalú, underground zene iránt elkötelezett fiatalember coming-outja arról, hogy milyen fura dologból is lett az a bizonyos cserebogár.
Sziasztok! A felkérés meglepett, hisz talán kicsit kilógok a jobbra sorakozó prominens társaságból, de mindenképp megtiszteltetés a lehetőség, hogy megoszthatom néhány zenei emlékem, bár előre jelzem, kissé eklektikus felsorolás következik és nem is mindig a RNR jegyében. Hogy bármelyik igazán sorsfordító volt-e, nem tudom, de az alant következő lemezek azért erősen jellemzik életem egy-egy szakaszát. Külön köszönet a feladat kedvéért megélt spontán időutazás miatt.
Simon & Garfunkel – El condor pasa (1970)
Az első meghatározó zenei élmény, amire emlékszem, '74-75 magasságából.
Persze azóta számtalanszor hallottam, itt-ott a mai napig van szerencsém az eredetijéhez, autentikus formában, pánsíppal, soktollas indiánok interpretálásában, de az igazi és felejthetetlen mégis a lemez címadó dala, az El condor Pasa (If I could), amit nagynéném a kedvemért hallgatott recsegősre, amikor náluk voltam megőrzésre. Abban is biztos vagyok, hogy nem sokszor volt megfordítva a kislemez, mert a másik oldalon található Why don't you write me a letter semmiféle nyomot nem hagyott.
Még egy, ami ebből a korszakból kitörülhetetlenül rémlik, Koós János Alfa Romeo című, képeslaplemezre nyomott dala, de ebbe most nem mennék bele.


The Beatles – A Hard Day's Night (1964)
Az első sajátnak mondható lemezem, amit nyilván a szüleimmel vetettem meg.
Nem hiszem, hogy nagyon indoklásra szorul. Kire ne lett volna hatással a négy gombasérós? Ha a kölyökkoromra, és az akkori zenei hatásokra kell visszagondolnom, egyértelműen ez a lemezborító sejlik fel az emlékezetemben, és megszólal az I should have known better harmonikája, vagy hallom lelki füleimmel, hogy "icc biná hár déjz náájt..."


Hobo Blues Band – Oly sokáig voltunk lenn (1982)
Aztán 12 – 13 éves korom környékén jött a HBB, vele együtt a csöves életérzés, a szűk farmer és az Alföldi papucs. Ez utóbbiakat szerencsére hamar kinőttem, de a HBB munkássága a mai napig meghatározónak mondható nyomokat hagyott.


Breakin' 1-2 Soundtrack (1984)
Bár kaptam innen-onnan egészséges impulzusokat és akár következhetne pl. az Iron Maiden The Number of the Beast-je is, de töredelmesen bevallom, kicsit elsodort a '80-as évek. Az a bizonyos.
Ennek előfutára volt a Breakdance című film, és annak folytatása. Bár a két soundtrack kevés olyan számot sorakoztat, amit ha meghallok emlékszem rá, de a Din Daa Daa ilyen.
Nem is maga a lemez meghatározó, hanem ami vele jött, a funk, a break, az electric boogie, némi street art. Ez utóbbinak leginkább anyám örült, amikor arra jött haza, hogy a konyhát és az étkezőt elválasztó nagy üvegfalat festettem átláthatatlanná egy gigászi polippal. Ott is maradt vagy egy évig.
Nem anyám. A polip.


Bros – Push (1987)
Na igen. A '80-as évek és a Bros, zenei gyónásom kicsúcsosodása. Mert bár komoly hatást gyakorolt kamaszkori énemre a Bonanza Banzai és nyomában a Depeche Mode is, de nem mehetek el a tény mellett, hogy rövid ideig Bros-os voltam. Olyannyira, hogy az akkor még létező hajamat is a Goss tesók mintáját követve vágattam, s ha már gyónás, be kell valljam, a lemez jó néhány dala most is ugyanúgy tetszik, és végül is mégsem Sabrina, vagy a Modern Talking neve szerepel itt. Velük szemben viszont George Michael – Faith, vagy Michael Jackson – Bad című albumának akár helyet is mernék szorítani.


Jean Michel Jarre – Oxygene (1976)
Kamaszkori zenei eltévelyedéseimet szerencsére ellensúlyozta pár minőségi felfedezés. Ilyen pl. ez a lemez. Mai napig előveszem. Najó, az előveszem már régóta a Youtubeot jelenti, de a lényegen nem változtat. Ez a pasas vitathatatlanul helyet érdemel az elektronikus zene hall of fame-jében, hisz amit az asztalra pakolt, még nagyon sokáig fogja éreztetni a hatását.


Jim Morisson – An american prayer (1978)

Hat évvel a The Doors feloszlása után Manzarekék újra összeálltak és az 1967–1970 között rögzített Jim Morrison költeményekből összeállították az An American Prayer című albumot.
Kritikusai a lemezt mai napig rendkívüliként tartják számon.
Viszonylag későn, 19 éves korom környékén ért el a Doors hatás. Zsigerekig átjárt, felemelt, földbe döngölt, és egyértelmű változást hozott. Ha már sorsfordítás, akkor a Doors, és ez a lemez messze kiemelkedik a felsorolásból.
A blues és rnr irányhoz való szerencsés visszakanyarodásomban egyébként nagy szerepe van egy bizonyos Ölveti Blues Band kocsmakoncertnek, még '89-ben, ahova véletlenül estünk be egy haverommal, és ahol még eredetiben hallhattam pl. a Pocsolyába léptem című opuszt, mielőtt a legenda szerint Ölveti mintegy 3 sörért eladta azt Takáts Tamásnak, aki által aztán a nóta az egész országban világhírűvé vált.
Tankcsapda – A legjobb méreg (1992)
Ha már Ölveti BB, akkor Debrecen, és ha Debrecen, akkor Tankcsapda. Nanná.
A Tankcsapdával kapcsolatban az első emlékem azt hiszem, '91-re tehető. Haverok hívtak rendészkedni az akkor még ruhagyárként funkcionáló Domb utcai komplexum éttermébe, egy punk-rock buliba. Volt zúzás és pogó rendesen. A máig tartó Tankcsapda hatást mégsem innen eredeztetem. '93-ban néhány hónapon át egy barátommal és egy kisbusszal a Dunántúlt jártuk, városról-városra. Piacoztunk. Szegényes zenei kínálatként egyetlen kazetta forgott szinte végig. Így aztán az album dalai szépen lassan beitták magukat a tudatomba, a tudatalattimba, és szerintem még reinkarnációk tucatja kell, hogy halványuljon az emlékük. Persze nem csak az utazáskor hallgattuk. A ki-, és bepakolások rendkívül mókásak voltak, látva a szomszédos árusok sokkolt arcát, amikor üvöltött pl. a "dugd fel a botodat magadnak, seggfej". Akkoriban a Dunántúl még nem bővelkedett Tankcsapda rajongókban.
Ekkortájt azért már erősen rnr centrikusnak volt mondható az érdeklődésem. Állhatna itt a Guns N' Roses, az AC/DC, a RHCP szinte bármelyik lemeze, hogy csak a sűrűbben hallgatottakat említsem.


Pogues - The best of the Pogues (1991)
Ez a lemez már csak azért is szót érdemel, mert ez volt az első CD-m, azt hiszem '94-ben. Aztán meg azért is, mert az ír kocsmapunk, avagy kelta punk, onnantól, hogy a Pogues "Fiestáját" arcba kaptam, a részemmé vált. Shane MacGowan fogatlan figurája a retinámba égett a klipet nézve. Amúgy is egy pörgős, fasza nóta volt. Ettől függetlenül nem is tudom, miért esett első CD-ként a választás pont erre. De egyáltalán nem bántam meg. Örömmel tapasztaltam, hogy a lemez többi dala mutat azért mélységeket is. Aztán jött még néhány Pogues CD, meg pár más kelta és más punk lemez is.


Hiperkarma – Hiperkarma (2000)
Még mindig csak 2000-nél járunk, és már be is telt a 10-es lista. Nyilván a teljesség igénye nélkül állt össze, azokat a lemezeket megvilágítva az emlékeimből, melyeknek ezért, vagy azért komolyabb hatást tulajdonítok. Ilyen ez az album is. A Hiperkarma számomra a kétezres évek talán legjobb magyar zenekara, pedig megszámlálhatatlan bandával kerültem kapcsolatba ebben az időszakban.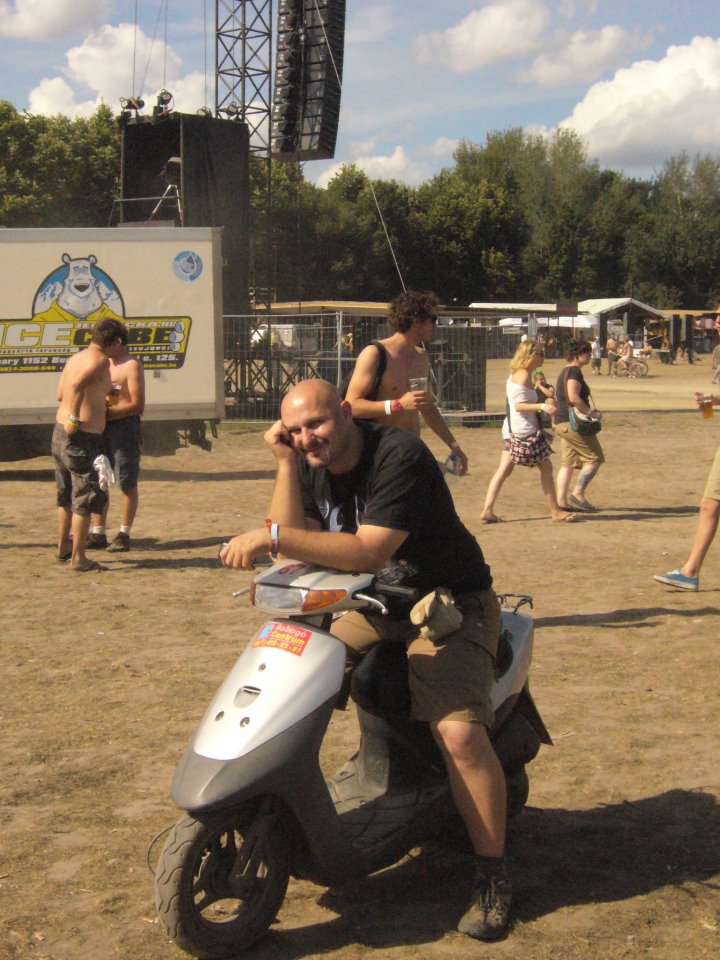 Tudnék is egy 10-es listát összedobni bármikor az ez idő tájt kapott sorsfordító lemez-impulzusokból, nem is kellene elhagyni hozzá az országhatárt. De nem dobok.