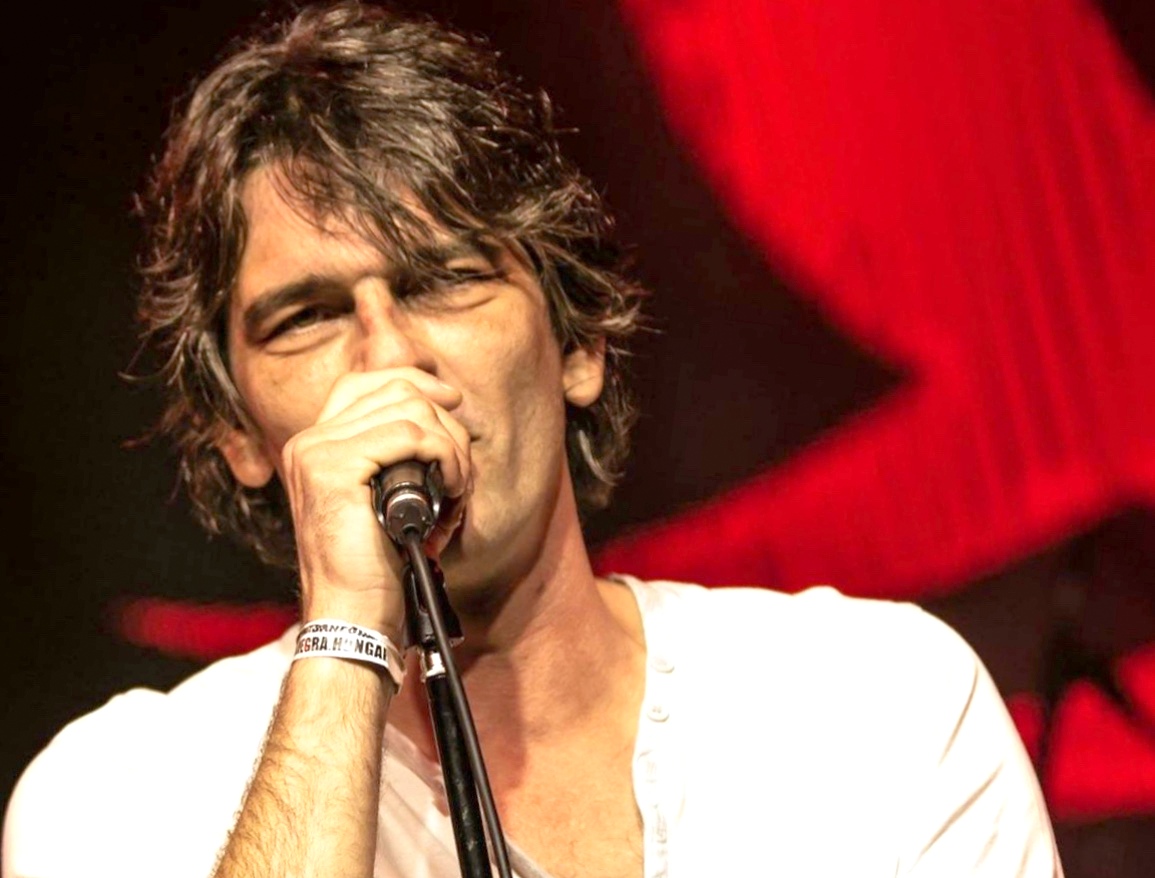 Megtisztelő, hogy lehetőséget kaptam, és írhatok a rám nagy hatást gyakorló muzsikákról. Bár ez eléggé összetett, de próbálom dióhéjban kifejteni.
Úgy emlékszem, kb. 13 lehettem, mikor a bátyám felügyeletével elengedtek egy helyi koncertre. A városban akkor magát rockernek valló összes fiatal kedvence, a Triton játszott, (később mindegyik tag meghatározó szerepet töltött be a hazai rockéletben). Azt hiszem itt indult minden. Később erre még rátett egy lapáttal a Sing Sing megalakulása. Teljesen bezsongtam, az egész életem vett egy fordulatot, és a stoplis helyett a gitáron járt az eszem. Egy nagyon öreg és ócska akusztikus gitáron kezdtem el pötyögni, és persze folyamatosan rágtam a szüleim fülét egy elektromos gitárért. Csarnoki Antinak sokat köszönhetek, és hálás vagyok, hisz ő volt, aki elkezdett velem foglalkozni, és tulajdonképpen elindított az úton.
Miután a szüleim megleptek az első hangszeremmel, felgyorsultak a dolgok, rengeteget gyakoroltam, szinte faltam a zenéket. Abban az időben még nemhogy internet nem volt, de normális minőségű magnókazettához is ritkán, és nehezen jutottunk hozzá. Főként a tesóm által hallgatott zenéket hallgattam, és volt mit hallgatni, mert akkor is mindenevő voltam. Lássuk csak….
Annyira sok zenét szerettem, hogy arra, hogy melyik volt az első meghatározó, bevallom nem emlékszem, úgyhogy elégedjetek meg egyszerűen a számomra kiemelkedően ható zenék listájával.
Az első, amitől folyamatosan futkosott a hideg a gerincemen, az AC/DC Back in Black albuma volt.
Hónapokig ki se vettem az egykazettás Tesla álsztereó magnóból.
AC/DC - Back in Black (1980)
Erről nem igazán tudok mit írni. Egyszerűen csak jó. Nem voltam-vagyok egy óriási Ac/Dc fan, de ennek az albumnak minden dalát leszedtem, és a mai napig szívesen hallgatom. Valahogy ösztönösen. Ha azt vesszük, ennek a kisugárzása töltött fel zeneszeretettel legelőször.
Piramis - Erotika (1981)
Természetesen vannak és voltak kedvenc magyar előadóim is. Rengeteg Piramist hallgattam, Cserháti Zsuzsát, és Charlie dalokat.
A játék az öregekkel című dal, igazán nekem való volt már tinédzser koromban is. Kicsit odamondós, mégis érzelmes. Ez nem csak erre, de az album összes dalára igaz. Rengeteg érzelmi töltést adott, és a másik két előadó is ugyanúgy. Ennek 70%-ban a szövegek az oka. Ez megmaradt a mai napig, hiszen kimondottan érzékeny vagyok a dalszövegek "minőségére".
Bon Jovi – Slippery When Wet (1986)
Aztán, mikor a haverokkal alapítottunk egy helyi bandát, özönleni kezdtek a dallamosabb nyugati zenék. Későbbi nagy kedvencem, több Amerikai előadóval együtt, (Alice Cooper, Poison, Cinderella, Metallica) került elém, akiknek a munkásságát nagyon sokáig nyomon követtem.
Nem is tudom mit írhatnék erről. A New Yersey album egyik ékköve. Azért írom, hogy egyik, mert hogy minden dal kiváló ezen az albumon szerintem. Ez volt az az album, amelyik megmutatta, hogyan lehet emészthető Rockzenét csinálni irgalmatlan zenéléssel, a korszakra nem annyira jellemző újdonságokkal és ötletekkel. Szóval, számomra mindenképpen különlegeset, egyedit alkottak. Ők azok, akik valamilyen formában a mai napig hatással vannak rám.,
Skid Row – Skid Row (1989)
Szintén sokkolt a Skid Row első albuma. Hihetetlenül földbe döngölő, energikus, és mégis magas érzelmi töltetű album. Mindenképpen meghatározó volt számunkra, hisz pont az a korosztály voltunk akkoriban, amelyiknek szólt. Legalábbis akkor ezt éreztük. A katarzis élményről nem is beszélve, amit a jól eltalált hangulatú dalok biztosítottak. Bach pedig…. azt a rajongást elmondani nem tudom. Talán a legnagyobb reménység volt a Rockzene történetében.
Pantera – Vulgar Display of Power (1992)
Amit nagyon sokáig kénytelen volt húzni a magnó. Erről a dalról, és persze az albumról amelyiken ez a dal is található, túl sokat nem tudnék mondani. Nem vagyok metalhead, de a panteráért a mai napig rajongok. Mindenképpen különlegesnek, egyedinek tartom. Elragadott ez a pregnáns, elsöprő lendületű zenélés, és mindemellett pont annyira slágeres, hogy akkor se tudd levenni róla a füled, ha nem kedvelnéd a kemény zenét.
TOTO – TOTO (1978)
Később jött egy kicsit lágyabb időszak, az addigi TOTO összes, körbe-körbe ment. Ezeken a dalokon, tulajdonképpen csak ámultam mindig. Az, aki figyeli is a zenét, nem csak a fejét rázza, ha meghall egy komolyabb tempót, valahogy mintha egy más világba kerülne a TOTO-val. Elképesztő zeneiség, hozzáértés, emellett szívvel lélekkel való játék. Sok mindenben megváltoztatta a zenéhez való hozzáállásomat.
Aztán megjelentek azok a stílusú zenék, amelyek ma mindennaposak az életemben.
Alter Bridge – One Day Remains (2004)
2006-ban került elém ez az album és zenekar. Ott minden megváltozott. Az első 5 mp után éreztem, hogy megtaláltam a stílust, feelinget, amire eddig szomjaztam. Azóta is állandóan a lejátszó közelében van az összes szerzeményük. Úgy érzem, a minőségi elvárásaim terén volt rám nagy hatással ez a dal, album, zenekar. Nyilván a mi korlátainkon belül értendő ez.
Foo Fighters – Echoes, Silence, Patience & Grace (2007)
Sűrűn megkeresem, és meghallgatom ezt a dalt. Nagyon jó benne, hogy egyszerűen tálalt, ám nem egyszerű témát feszeget, s hogy minden hangban benne van a mondanivalója. Minden meghallgatáskor katarzis élményt nyújt, és leköt.
Slash - Apocalyptic Love (2012)
És hát elérkeztünk napjainkig. Bevallom, nem gondoltam volna régebben, hogy ma itt ülök majd, és azt mondom, hogy Slash szólóprojektje az abszolút kedvencem jelenleg, merthogy a Guns N' Roses valamiért nem épült úgy be az agyamba, mint sok millió embernek. De arról, hogy így van, egyedül Ő tehet. Annyira ötletesen, nem túlkomplikáltan, energikusan vannak a dalok összerakva, hogy számomra ma ők jelentik a rockzenét. Talán úgy tudnám legjobban kifejezni a véleményem, ha azt mondanám dalairól, hogy "Pont ott ahol kell, Pont annyi amennyi kell". Csak ajánlani tudom azoknak, akik esetleg nem ismerik. Ez a fajta muzsikálás állandó hatással van rám.