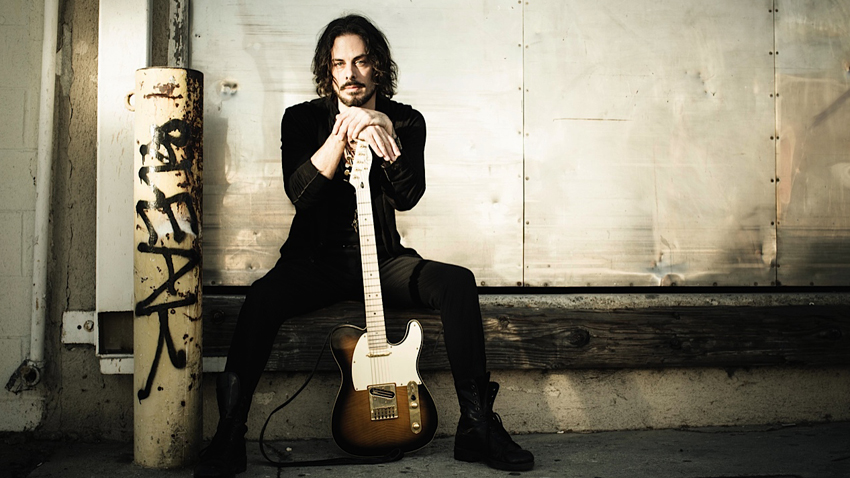 Az 1970-ben született amerikai gitáros és dalszerző gyakori vendége hazánknak, mégis kevés a médianyilvánosság körülötte itthon. (Gitár)hősünk a pennsylvániai Readingben látta meg a napvilágot, és igen korán kapcsolatba került a zenével, 5 évesen ugyanis már zongoratanulmányokat folytatott.
Hét évesen -a KISS zenekar hatására- átnyargalt az elektromos gitárra. Tinédzserként alakította meg első bandáját, az Arthurs Museum-ot, amely vidéki garázszenekar lévén kereskedelmi sikert nem hozott, de a bemutatkozó demo nyomán egy kis független kiadó felfigyelt a fiatal  tehetségre, és így, alig 19 évesen Kotzen lehetőséget kapott első lemezfelvételére.
Az így született kiadvány hatására több helyen kezdték meg-és elismerni a nevét, így alig két évvel az első "album" után az épp csúcson lévő, a korszak egyik meghatározó glam-rock csapata, az épp gitáros problémával küszködő  Poison invitálta őt a soraiba. A Richie Kotzennel készült, lemez a Native Tongue- véleményem szerint-zeneileg sokkal érettebb és sokszínűbb, mint a zenekar korábbi munkái, de a megjelenés dátuma 1993, amikor már megszületett a grunge és a glam rock ideje leáldozott-valószínűleg ennek tudható be hogy a várt kereskedelmi siker elmaradt.
(Érdekesség, hogy a lemez "slágere", a klipes Until You Suffer Some olyan időtálló szerzeménynek bizonyult, hogy a mai napig a Kotzen koncertrepertoár részét képezi).
A történtek ellenére a lemezt egy mérsékelten sikeres turné keretében mutatja be a zenekar, majd 1993 végén a kudarc és egy zavaros nőügy miatt Richie kikerül a bandából… persze nem marad munka nélkül, hiszen már  a Poison korszakban is kiad egy  szólólemezt (Electric Joy, 1991), és ezirányú tevékenységét folytatja ezután is.
1994-ben megjelenik a  Mother Heads Family Reunion. Ez lemez az első, ahol Richie Kotzen önálló dalszerzőként és előadóművészként megmutatkozik, és először próbál kilépni a "gitárhős" skatulyából. Bár a lemez mára klasszikusnak számít, tény hogy itt még Richie nem találta meg a saját hangját: a nótákat hallgatva nagyon sok idegen hatás felfedezhető (Prince, Jimi Hendrix, és a Red Hot Chilli Peppers hatásai elég egyértelműen jelen vannak a saját szerzeményeknél).
Mindeközben néhány session is "becsúszik", csak a teljesség igénye nélkül: Szerepel Sass Jordan 1994-es lemezén mint vokalista, Greg Howe 1995-ös lemezén több számban gitározik, és társszerző is. 1995-ben megjelentet egy saját, instrumentális lemezt, a The Inner Galactic Fusion Experience-t, de ez a lemez is inkább érdekes, mint sikeres.
1996-1999-ig egy igen termékeny időszakot él hősünk, évente jönnek a jobbnál jobb, immár sajátos Richie Kotzen hangzású lemezek, az itt megjelent szerzemények jelentik ma az életmű jelentős részét. (Wawe of Emotion 1996, Something to say 1997, Break it all down 1998, What Is és Bi-Polar Blues 1999).
Mindeközben évente több lemezen vendégszereplő is. 1999 igen érdekes év Kotzen karrierjének szempontjából, hiszen a Mr. Big- ből távozó –nem mindennapi kvalitásokkal rendelkező-gitáros, Paul Gilbert helyére kell beugrania. A "nagyok" társaságában 1999-2002 között 3 lemez (Get Over It 1999, Deep Cuts 2000, Actual Size 2001) és egy koncertlemez (In Japan 2002) születik.
A zenekar a sikerek ellenére-a tagok közötti feszültségek miatt- 2001-ben feloszlik, de Kotzen , szokásához híven, feltalálja magát, és még abban az évben kiad egy lassabb, bluesosabb hangzású anyagot, ez a Slow. 2001 óta Richie Kotzen szólóeladóként járja  a világot, mint a régi vágású vagabondok egyik utolsó mohikánjaként.
Mint ahogy az eddigi áttekintésből is látszik, igen termékeny szerző, az elmúlt tíz évben hat sorlemeze, és öt Best Of –jellegű kiadványa jelent meg, e mellett (Change 2003, Acustic Cuts and Get Up 2004, Into the black 2006, Go Faster, Return to Motherhead Reunion 2007 , Peace sign 2009) több mint egy tucat kiadványon (szólóelőadók lemezei, tribute lemezek, válogatások) szerepelt vendégművészként.
Helyhiány miatt ezt az időszakot nem nagyon tudom jobban kifejteni, de amit maga Kotzen és minden vele kapcsolatos hivatalos anyag kiemelésre méltónak talált, az évente megjelenő lemezek/kiadványok és folyamatos turnézás mellett, hogy 2006-ban a világ legnagyobb rockandroll zenekara, a Rolling Stones Bigger Bang turnéján ő volt a nyitószám a Japánban rendezett koncertek helyszínein.
Kotzen zenei világa kiválóan elegye a klasszikus rock, a jazz, a blues és a latin zenéknek.
Amit az ember lát és hall, az van, nincsenek a figyelem elterelésére alkalmas díszletek, táncosok, show elemek. Nincsenek milliós videoklipek és soktagú menedzsment sem.
Egy karib tengeri kalózra hajazó ember, egy Fender Startocaster vagy Telecaster (zenei kvalitásai elismeréseképpen a patináns gitárcég mindkét klasszikus formából Richie Kotzen signature modellt bocsájtott ki), egy erősítő, és egy rocktrio... ilyen körülmények mellett pedig  nem nagyon  lehetett "mellébeszélni".
Főleg akkor nem, mikor egy érdekes projekt kereténben a Mr. Big-ből ismert Billy Sheehan és az ex-Dream Theatre tag dobos legendája, Mike Portney voltak a trió másik két tagja, és The Winery Dogs néven adtak ki két lemezt 2013-ban és 2015-ben, és ezeket élő koncerteken is prezentálták világszerte. (Bár a zenekar hivatalosan még mindig létezik, de lassan már több ideje inaktív, mint nem, alkalomadtán viszont nem kizárt, hogy ez változni fog).
A formáció tagjai a babérok learatása után - így Kotzen- újra visszatért szólóprojektjeihez. Ennek eredménye lett a 2017 áprilisában megjelent  Salting Earth, ahol emberünk már nem "egyszerű" gitáros/énekes, hanem a multiinstrumentalista szerepében teljesedik ki: a billentyűs hangszerek itt -amelyeket szintén ő kezel- itt már legalább akkora hangsúllyal szerepelnek, mint a gitár. 
Aki nem hiszi, járjon utána a szervezés alatt lévő turné valamelyik állomásán- ami nem lehetetlen, hogy hazánkat is érinti majd, hiszen Richi elég gyakori fellépője a hazai fesztiváloknak : játszott már több alkalommal a FEZEN-en, az A38-on is. 
Kiss Ákos