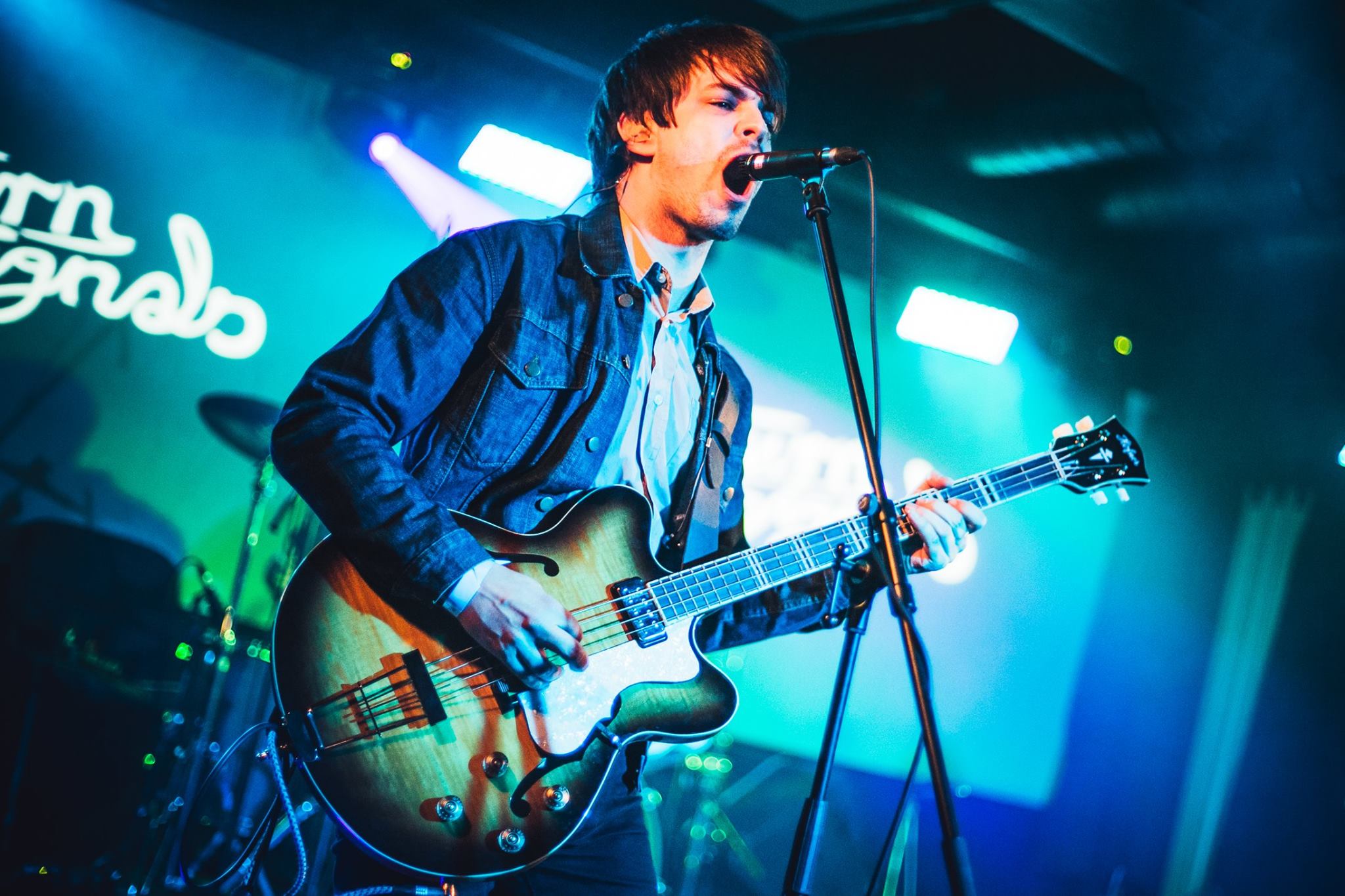 Elérkeztünk az idei utolsó Sorsfordító korongok cikkhez, melyben Iliás Ádám, a Turn Signals dalszerző-basszusgitáros-énekese osztja meg veletek meghatározó lemezeit. 
Nagyon örülök a lehetőségnek, ugyanakkor nem gondoltam volna, hogy ennyire nehéz dolgom lesz. Igyekeztem úgy válogatni, hogy olyan albumok kerüljenek be, amik hatással voltak a mai zenei ízlésemre, és amiket bármikor szívesen végig tudok hallgatni. A sorrendet az határozza meg, mikor találtam rájuk. 
Kraftwerk - The Man Machine (1978)
Legelső emlékem, hogy 2 évesen megyek ki a konyhába, és a lemezjátszón az Autobahn szól. A The Man Machine sokkal élvezhetőbb album számomra, és szerencsére többször volt lehetőségem hallani, mint az Autobahnt. Tetszik, hogy minden szintetizátorral van megoldva, és egy percig nem érzem gagyinak a kora ellenére. Mindig is kíváncsi voltam, hogy szólalnának meg egy klasszikus rock felállásban. Ha választanom kéne, hogy melyik a kedvenc dalom róla, akkor a The Model és a Neon Lights között vacillálnék nagyon sokáig. 
Todd Rundgren - A Wizard / A True Star (1973)
Még mindig szülői hatásoknál tartunk. Talán ez a legkülönlegesebb lemez mind közül, már maga a vinyl borító is egyedi a grafikával meg a kivágással. Az is tetszik, hogy a lemez papírtasakjára pirossal rányomtatták a dalszövegeket, mintha csak fogott volna egy filcet Todd Rundgren, és odaírta volna jófejségből. Nem egyszerű album. Vannak könnyen emészthető rock dalok rajta, némelyik simán lehetne egy '70-es évekbeli családi film zenéje, és jó néhány beteg dal is (pl a Dogfight Giggle mi úgy szól, mintha nagymamám ablakot pucolna újságpapírral), egy-két szerzemény meg varázslatos. Hogyan lehetett ilyen lemezt összehozni 1973-ban? Zeneileg is és technikai megoldásokat tekintve is komoly munka. Inkább medly-k vannak rajta mint dalok, de így is 55:56 a lemez hossza. Éppen emiatt a hangzás minősége nem az igazi, hiszen egy LP oldalanként 17-20 perces, és ezt bőven túllépte Rundgren. Kedvenc: International Feel, és külön öröm, hogy visszatér a lemezen Le Feel Internacionale címen.
Oasis - (What's The Story) Morning Glory? (1995)
Ha jól emlékszem, egy Z magazin CD mellékletén volt a Wonderwall, és rongyosra hallgattam. Nem sokkal ezután utáltam meg a dalt, de előtte megvettem ezt a CD-t, ami életemben az első volt. Bementem a Sugárba a néhai Fotex lemezboltba, és egy nekem vagyonnak számító összeget hagytam ott. Megérte! Még most is az egyik kedvenc albumom, és nem tudom megunni (persze van rajta egy kivétel). Emlékszem, hogy elindítottam a lejátszót, és nagyon halknak tűnt, ezért eléggé feltekertem, hogy halljam rendesen az akusztikus gitárt. Na ekkor tépte le a fejem az elektromos gitár. Azóta jól vagyok, köszönöm, és óvatosabb is lettem. Nincs lemez, amit ennyit hallgattam, és ennyire meghatározó lett volna számomra. Rengeteget doboltam ezekre a dalokra (10 évig doboltam, mielőtt basszusgitározni kezdtem), a mai napig tudom az összes dob breaket. Emiatt a lemez miatt szerettem meg az Oasist, és ők az egyetlen zenekar, melynek az összes lemezét megvettem. Kár, hogy úgy szól, ahogy, de zseniális dalok vannak rajta. Itt tényleg nagyon nagy bajban vagyok, hogy mondjak kedvencet, de talán a Champagne Supernova.
The Prodigy - The Fat Of The Land (1997)
Életem első koncertje, amire önszántamból mentem az 1995-ös The Prodigy koncert volt a PeCsában. Nagyon szerettem a Music For The Jilted Generation-t, és mikor meghallottam a Firestarter-t majd a Breath-et, a rabjukká váltam. Az iskolában minden szünetben ezeket hallgattuk walkmanen, aztán jött a nagylemez, és rátett még egy lapáttal. Sok idő elteltével is a Climbatize a kedvencem. Hihetetlen energia van a dalokban: apám a mai napig erre a lemezre fogja a gyorshajtását, ami miatt meg is büntették. Most, hogy megint hallgatom a dalokat, el sem hiszem, hogy 20 éves album. Liam Howlett nagyot alkotott ,és sajnos nem tudta megismételni, de talán nem is lehet.
Aerosmith - Nine Lives (1997)
MTV, Alicia Silverstone, Cryin', Amazing… Így ismertem meg az Aerosmith-t, majd a 'Big Ones'-t hónapokig hallgattam. Szerencsére egy osztálytársam kölcsön adta a 'Pandora's Box' válogatást, ennek köszönhetően nagyon sok ceruzaelemet végeztem ki a walkmanemmel a 'Sweet Emotion' és a 'Kings And Queens' miatt, hiába használtam ceruzát a visszatekerésekhez. Szerettem a zenéjüket de mindig egy kicsit giccsesnek tartottam, főleg a kilencvenes években. Ennek ellenére a 'Nine Lives' szerintem egy nagyon jól sikerült lemez (a 'Hole In my Soul'-t talán kár volt rátenni, de azt sem ugrom át lejátszáskor). Szinte minden dalban van valami plusz, és ez fog meg a legjobban ennél az albumnál. Például ahogy kezdődik, és befejeződik a 'The Farm'. Ennél a lemeznél kell csalnom leginkább: 'Crash', 'Pink', 'Attitude Adjusment'. Nem tudok választani.
Robbie Williams - I've Been Expecting You (1998)
Fel nem foghatom, hogy lehetett két ilyen jó albummal kijönni azok után, hogy évekig ugrált a Take Thatben. A Life Thru A Lens sem akármi, de szerintem az I've Been Expecting You a legjobb lemeze Robbie Williamsnek. Itt még nincsenek mézes-mázas, giccses dalok, hogy az USA-t is meghódítsa (rendben, van rajta egy-kettő, de valamiből élni is kell…). Sok dalban érezhető a James Bond filmzenék hatása, ami egyáltalán nem baj, sőt. Sajnálom, hogy letért erről az útról, mert szerintem jól állt neki a rock. Bárcsak ilyen lenne ma is egy pop lemez! Rájöttem, hogy nincs is olyan szabály, hogy egy dalt választhatok csak: It's Only Us, Karma Killer, Man Machine. These Dreams
Oasis - Standing On The Shoulder Of Giants (2000)
Furcsa lehet, hogy két lemezt is beválasztottam egy előadótól, de teljesen más ez az Oasis és a régebbi. Itt tudtam igazán azonosulni velük először, mert innentől már rendes rock zenekar voltak, nem béna manchesteri banda. Jót tett a zenekarnak Andy Bell és Gem Archer érkezése. Hangzásban is nagy a változás: építkeznek a dalok, nem szól az elejétől kezdve ezer gitár egyszerre, és nem csak abból tudjuk, hogy refrén van, hogy bejön a csörgő. A Morning Glory-n talán jobb dalok vannak, de ezt a lemezt mégis jobban szeretem a zenei világa és a hangzása miatt. Többször is láttam beválogatva a 21. század legrosszabb lemezei közé, ami óriási ostobaság. Ez a lemez 2000-ben jelent meg, azaz a 20. században! A Gas Panic!-et kell kiemelnem, főleg a gitárszóló miatt. Imádom a halálhörgését.
The Beatles – Revolver (1966)
Viszonylag későn kezdtem The Beatles lemezeket hallgatni. Természetesen ismertem rengeteg dalukat, de a teljes munkásságukat 22-23 évesen ismertem meg. Nagyon nehéz lenne megmondanom, melyik a kedvenc lemezem tőlük, igen szoros a verseny: a Rubber Soultól kezdve az összeset nagyon szeretem, de ez volt rám a legnagyobb hatással. Annyira jó album, hogy még a Yellow Submarine-t is elviselem. Nem tudok kiemelni róla igazából semmit mert mindegyik dal tökéletes rajta. Talán a Tomorrow Never Knows az, ami mindig meglep, mert hihetetlen számomra, hogy 1966-ban jelent meg, és olyan, mintha egy Chemical Brothers dal lenne.
Jet - Get Born (2003)
Amióta megjelent, havonta legalább egyszer meghallgatom. Nagyon erős debütáló album, és sajnos nem tudtak felérni hozzá a többi lemezzel, de talán nem véletlenül. Igazi AC/DC, The Rolling Stones, The Beatles stílusgyakorlat, nagyon ízlésesen tálalva. Hibátlan. Örülök, hogy láthattam őket élőben, sőt még beszélgethettem is velük. Remélem, nem csak koncertezni álltak össze, és összedobnak egy jó albumot megint.
Black Rebel Motorcycle Club - Baby 81 (2007)
Amikor elkészítettük a Turn Signals első demóit, többen mondták, hogy tök jó, és kicsit olyan, mint a Black Rebel Motorcycle Club. Aztán egy telefonreklámban hallottam egy dalt, ami teljesen kiborított, mert olyan volt, mint az egyik dalunk. Mint kiderült, az a dal 12 évvel korábban jelent meg, mint mi felvettük a miénket, és Spread Your Love a címe. Annyian mondogatták, hogy hasonlítanak dalaink a zenéjükhöz, hogy végül meghallgattam az első lemezüket, majd az összeset. Nem értem, hogyan kerülhetett el a zenéjük engem. Ők lettek a kedvenceim, és nem tudom megunni egyik lemezüket sem.
A Baby 81 a legutolsó lemez, ami igazán nagy hatással volt rám, és ez még mindig tart. Minden dalban ott van a szükséges dög és kosz, és ezek tetejében van valami varázs, amit képtelen vagyok megmagyarázni, megfejteni, csak érzem, hogy ott van. Emlékszem, mennyire meglepődtem, amikor megláttam, hogy az American X több mint 9 perces. Fele annyinak sem éreztem. A kedvenc dalom a Weapon Of Choice, de nem csak a lemezről, hanem az összes dal közül, ami valaha megjelent ezen a bolygón.
Ádámék szezonja még nem ért véget, december 28-án elcsíphetitek őket a Dürer Kertben a Blahalouisiana vendégeként.