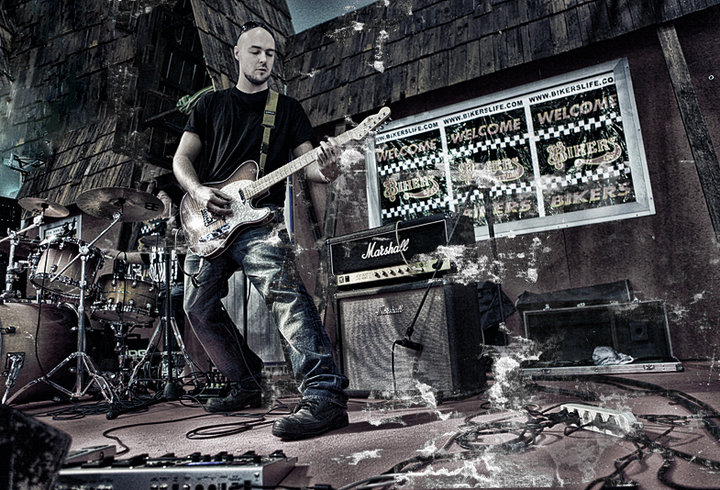 Újdonságok és izgalmas formációk lépnek fel ezen az estén: újra hazai porondon hallhatjuk Borlai Gergőt, aki a Roy és Ádám Trióból is ismert Nagy Ádám szólóprojektjén belül lép színpadra. Előttük a miskolci fiatalokból álló Köpönyegforgatók zenél, utánuk pedig a nemzetközi zenei életben "Húrok királynőjeként" is emlegetett, szemtelenül fiatal basszusgitárosnő, Muck Éva és a gitáros Géczy Viktor új formációja, a Jar of Soul zárja az estét.

Nagy Ádám - Borlai Gergő – Gátos Iván – Gátos Bálint – Maszkura:
WÖRK Projekt 'Hendrix Special'

A Wörk projekt Nagy Ádám gitáros, Huszka Jenő-díjas zeneszerző első szólóalbuma. A 2015-ben megjelent lemez anyaga alapvetően progresszív gitárzene, a rocktól a jazzig kalandozik az akusztikus és modern elektronikus hangszerelések segítségével. A kísérletező, izgalmas, progresszív hangvételű album többségében instrumentális dalokból áll. 
A lemezhez azóta két videóklip is készült. A Ritmus Sport Gimnasztika c. dal klipjének érdekessége, hogy azt másfél éves munkával, kézzel rajzolta meg két képzőművész. A második kliphez, a Fekete Madárhoz készült videó pedig a koncerten is fellépő Maszkurával közösen készült el. 

A januári koncerten jelen lesznek a lemezen is közreműködő kiváló zenésztársak is: Borlai Gergő a doboknál, Gátos Bálint basszusgitáron és Gátos Iván a billentyűknél. Kiegészülve a Junk fúvósaival, Maszkurával és a zeneszerző Nagy Ádámmal ezen az estén a saját szerzemények mellett néhány extra feldolgozás dalt is hallhatunk majd.

A zenekar tagjai:
Nagy Ádám – gitárok, ének
Gátos Bálint – basszusgitár
Borlai Gergő – dobok
Gátos Iván – billentyűs hangszerek
Bíró Szabolcs Maszkura – tangóharmonika, ének
Bille Gergő – trombita
Sélley Szabolcs – alt és szoprán szaxofon
Hoffer Miklós – tenor szaxofon

A Jar Of Soul formáció három egészen más zenei közegből érkező zenész találkozásából született. A zenekar stílusát a soul, hip-hop, funk és r&b műfajok határozzák meg. Saját számaik mellett a basszusgitáros, Muck Éva Bassology c. lemezéről dolgoznak át számokat a lehengerlő hangú Kovács Réka énekesnővel és a "wakachuka-mester" Géczy Viktorral. Küldetésük: A legmeghatározóbb élményeket felidézni a zenén keresztül. 
ÉVA MUCK BASS ViktorGeczyFunk

A Köpönyegforgatók szeretik a hosszú, különleges szavakat. Mint például azt, hogy Köpönyegforgatók. Szeretik a szóvicceket is, meg a növényeket, meg az eleganciát is. Ha például bemennek egy virágboltba, először egy csokor nyakkendőt kérnek. Amúgy sohasem ironizálnak. Mint például most sem. Komolyságukról dalszövegeik, valamint jellegzetes frizurájuk tanúskodik. Noha úgy tűnhet, esetenként kiesnek szerepükből, ám mindig tökéletesen megtévesztőek. Alkalmanként sikerül egymást is megtéveszteniük, de ettől nem kell kétségbe esni, ilyenkor ők maguk sem tudják, mit csinálnak. Vagy mégis? 

Tagok: Peres Gergő – ének, basszusgitár, Barkóczi Bence – gitár, vokál, Zakar Viktor – dobok, vokál

Jegyár elővételben 1500 Ft, a program napján, a helyszínen 2000 Ft.
Jegyek elővételben a Gödör Klub pénztárában, valamint a TIXA oldalán kaphatók 

A program a Nemzeti Kulturális Alap támogatásával valósul meg. Facebook esemény itt!