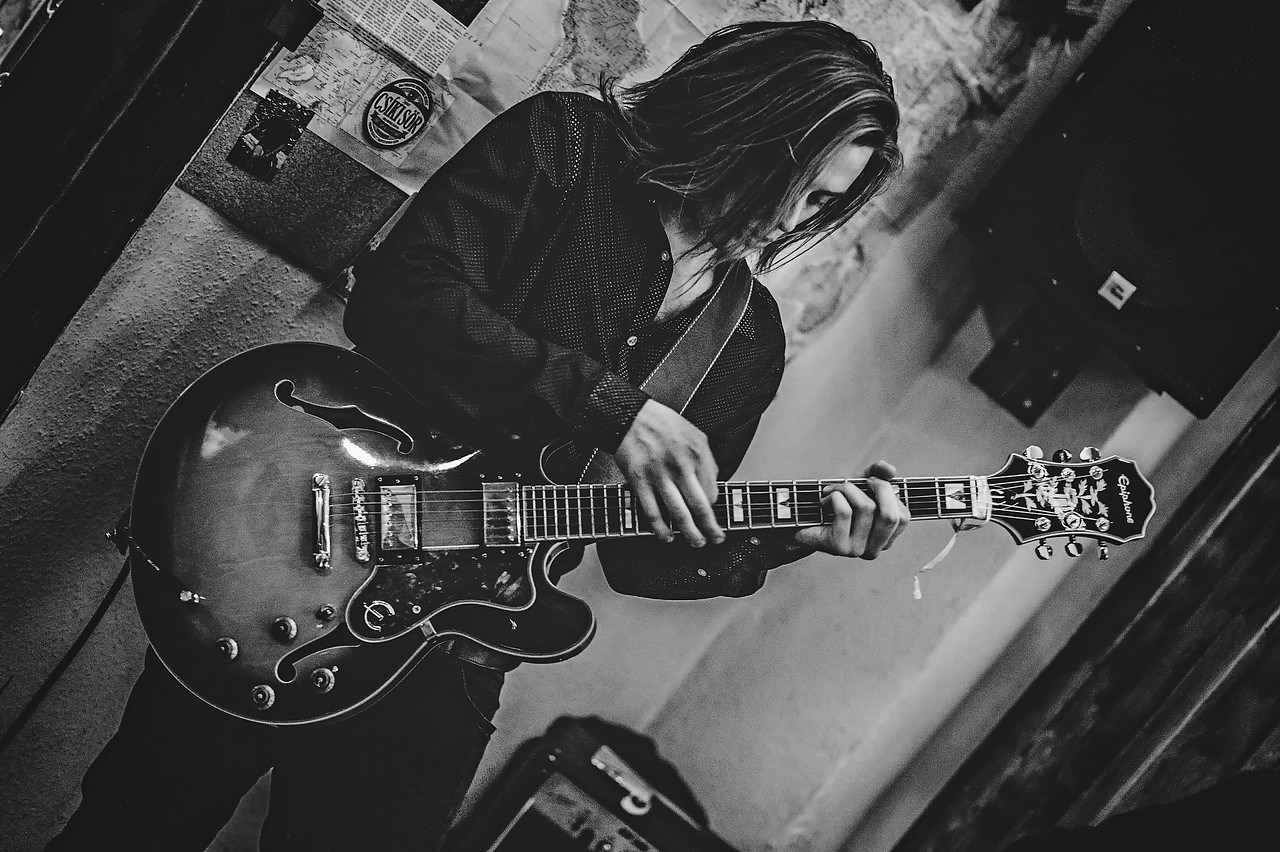 Az év azzal indult (vagy az előző azzal végződött?), hogy egy feltörekvő debreceni pszichedelikus garage-rock csapat, a Ljubljana megnyerte az Ígéretes Titánok oldalán az Év Dala 2017 szavazását. És bár nem ez volt az apropója, hogy a zenekar zenei agyát, a gitáros Budai Leventét megkérjük a saját sorsfordítóinak megírására, de lássuk be , ez a hír épp jókor lett időzítve ehhez a cikkhez.
Korn – Issues (1999)
Hétéves lehettem amikor a bátyám akkori barátnője lemásolta nekem az Issuest, sok más akkoriban népszerű album mellett, (mint pl.:Slipknot – Vol.3) de engem ez ragadt el a legjobban. Minden reggel suli előtt felkeltem 1 órával hamarabb, hogy a magnómon meghallgathassam. Természetesen a Kornhoz nem illő hangerőn, nehogy felkeltsem a többieket.
Red Hot Chili Peppers – By the way (2002)
Ez volt az a lemez amin keresztül megismertem a Red Hot –ot. A nővéremnek megvolt cd-n és az autóban állandóan ez szólt. Habár nem ez a kedvenc lemezem tőlük, ennek a lemeznek köszönhetem a rajongásom. 
Quimby – Ékszerelmére (1999)
Én sem maradhattam ki a magyaralter őrületből, bár koromból adódóan én már csak a legvégét csíphettem el. Friss gimnazista voltam amikor a barátaimmal elmentünk a Lovardába egy Quimby koncertre. Hatalmas élmény volt számomra. Talán ez is volt az első rock koncert élményem, legalábbis amire önállóan mentem el. Mondanom sem kell, hogy óriási bulit csináltak. Kiss Tibi a Finálé c. számuk alatt még bodyszörfölt is. Na ez után a koncert után volt az, hogy akkor megbeszéltük a skacokkal, hogy igen, te dobolsz, te basszusozol majd te... Így alakult meg az első zenekarom.
The Rolling Stones – Let it bleed(1969)
Amikor 16 lehettem az osztályban mindenkinek a Beatles volt a kedvenc zenekara. Kedvelem a "gombafejűeket" de különösebben nagy hatással rám sosem voltak.  A barátaim  állandóan ezt hallgatták, és hát na, erre volt az én válaszcsapásom a Let it bleed. Micsoda lázadó ez a fiú nem? A Rolling Stonest sokan pár akkordos tingli-tanglinak tartják, de sosem a zenei megoldásaik miatt kedveltem őket, hanem az életérzés miatt amit közvetítenek. 
Led Zeppelin – I. (1968)
Amikor elsőnek meghallottam a Good times bad times nyitóakkordjait teljes extázisba kerültem. Page lezser, improvizatív, mégis virtuóz játéka teljességgel lenyűgözött. Egy kicsit megváltoztatta bennem a zenéről való gondolkodást. Sosem érdekeltek azok a gitárosok akik 2 másodpercbe belesűrítettek 800 hangot, mert hiányoltam mögülük a tartalmat,de ő más volt. Persze ő sem egy Malmsteen, de mégis emberfeletti amit csinál, és ott van mögötte az amire vágyom. Emlékszem amikor megnéztem a The song remains the same-et nagyon letörte a kedvem. Azt mondtam , hogy na jó, hagyom az egészet a picsába, hát ezek kurva jók…….én ilyet soha nem fogok tudni csinálni. Aztán ez megváltozott bennem és akárhányszor hallom őket játszani arra késztetnek, hogy leüljek gyakorolni. Remélem egyszer én is ilyen lazasággal fogok tudni játszani, ilyen kemény, feszes, dögös rock'n' roll-t.
Kasabian – West Ryder Pauper Lunatic Asylum (2009)
Középiskolás éveim egyik legmeghatározóbb zenekara, és albuma. Zseniális anyag az elejétől a végéig. Mindig is nagy hatással volt rám a habitusuk, a fellépésük, és az egésznek a feelingje. Többször töltöttem a testvéremnél Edinburgh-ban 2 - 3 hónapokat és ez alatt az idő alatt imádtam őket hallgatni. Tudom, kicsinyesnek hangzik de a zenéjük segített jobban megélni azokat az időket amiket ott töltöttem. 
Somali Yacht Club – The Sun (2014)
Tavaly télen rengeteget jártunk fel CZ barátom albérletébe és szarrá kábulva stonert, sludgeot, experimentált, vagy akár zajzenéket hallgattunk. A stone meadow of doom csatornát böngésztük ahol a jobbnál jobb zenekarok albumai vannak fönt a világ bármely pontjáról.  Sokat beszélgettünk , vitatkoztunk de együttesen kijelentettük ,hogy talán ez a legjobb az összes közül. 
Gábor Szabó – Dreams (1968)
Santana - Abraxas című lemezének a hátoldalát böngésztem amikor megakadt a szemem egy magyar név láttán. Azonnal rákerestem, hogy kiről is van szó és az első album ami szembejött a youtube-on a Dreams volt. Megdöbbentett, hogy mikről nem tudok, valamint elindította az érdeklődésem a jazz irányába. 
Queens of the Stone Age – Queens of the Stone Age (1998)
Még most is kővé dermedek ha meghallom Josht a Regular John nyitókvintjét darálni. Most mondd meg! Ha te nem feszülsz rá akkor hazudsz! Életem talán egyik legfontosabb albuma. Josh egyedül játszott fel mindent kivéve a dobokat, mert azokat a Kyuss utolsó lemezéről ismert Alfredo Hernandez ütötte fel. Zsigeri, ösztönös, száraz, és nyers. Nem akart hasonlítani semmire.  Ezt a korongot ízig vérig a sivatag szülte. Akárhányszor meghallgatom én is érzem a fülledt, száraz, forró sivatagi levegőt, a wiskey és cigaretta ízt a számban, a verejtékeim, valamint a mindenhová befurakodó homokot. Van benne valami monoton , gépies mozgás ami csak rásegít és még jobban kifejezi ezt. És hát na …….. hogy szól az a fránya Ovation gitár? Reménykedem benne ,hogy júniusban a parkban azért egy két dalt eljátszanak nekünk erről a lemezről is. Az valami csodás lenne.
King Gizzard and the Lizard Wizard – Flying Microtonal Banana (2017)
Ez a lemez leginkább a mai napjaimat határozza meg. Valahogy nem lehet nem szeretni. Imádom ezeket az őrült Ausztrál formákat . A felállás, a koncepció, a hangzás , egy igazi mestermű. Egyébként csak az idén négy nagylemezt jelentettek meg. Őrült tempóban dolgozhatnak. Remélem a közeljövőben sikerül eljutnom egy koncertjükre.