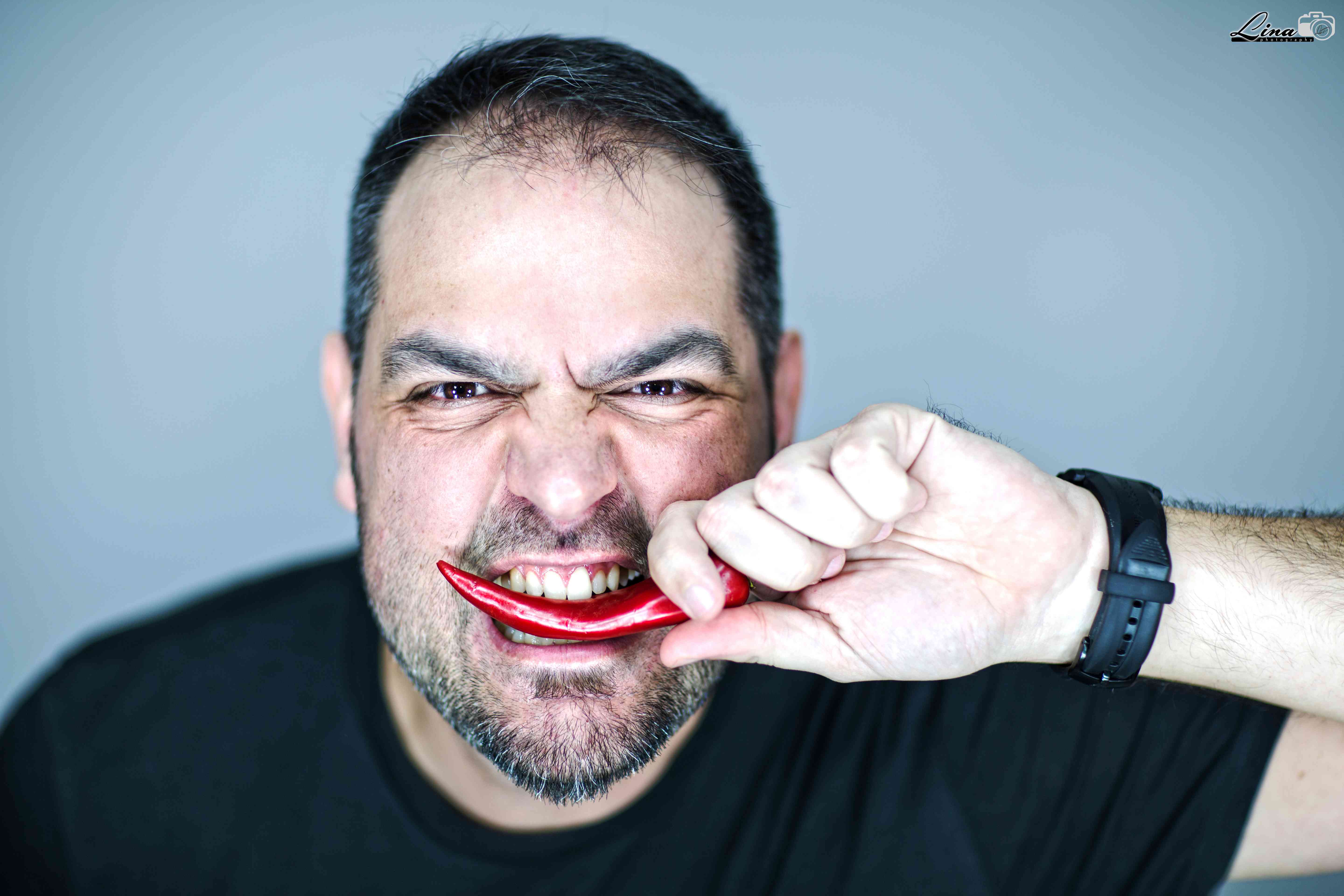 Fotó: LinaPhotography
Két dolog örök: a rock and roll, és az evés. Fazekas Richi, - vagy ahogy sokan az online világban ismerik: Rockandchili #gasztrocker - az egyik legeredetibb hangvételű hazai blogot vezeti, ahol otthoni főzőcske tapasztalatait zenei utazásokkal fűszerezi...vagy fordítva. E mellett igazi koncertre járó arc, egy igazi eltökélt zenerajongó (tudjátok, az a fajta, aki akár országhatárokat is  átlép egy-egy kedvencért, és aki fizetni szokott a koncertjegyekért mega  merch cuccokért). A Sorsfordító Korongok történetében szinte minden felkért zenész/zenei szakember kevesellte a 10 lemezt, mindenki sokat rágódott rajta, mit hagyjon bent, és mit húzzon ki. Nem volt ez másként Richivel sem, ő egy igazán személyes megszólítással kezdi cikkét:
Jaaaj, Kiss Ákos, jaaj ember… ilyen terhet rakni rám azzal a kérdéssel, hogy mi volt a tíz sorsfordító korongom… No nem baj, jó kis gyakorlat ez így év elejére, kicsit visszanézni az elmúlt khm, - maradjunk abban, hogy - időszakra.
Queen – Live at Wembley (1986)
Nagy Queener voltam: póló, könyv, újságcikkek, poszter és persze rengeteg másolt kazetta. Az első eredeti kazettám a dupla koncert album volt, baromi büszkén hoztam haza az MCD-ből. Aztán hallgattam hajnalokon keresztül a buszon nulladik órára menet – nem nagyon érdekelt hogy milyen baromi korán van, amikor megszólaltak a One Vision első taktusai már a kapuban, induláskor. A zenén kívül tetszettek a külsőségek, ahogy Freddie áll a színpadon, a sárga kabátjában, Brian May a saját készítésű gitárján penget, Roger Taylor csíkos pólója is beleégett a retinámba…  Sokáig el sem tudtam képzelni, hogy hallgatni fogok mást is, mint Queen-t. Persze tévedtem, de a tizenéves önmagamnak megbocsájtom – ezt is.
Na most, hogy elkezdtem nézni a youtube-ot, ennyi, mára elvesztettetek! :P
Guns N' Roses – Use Your Illusion 1&2 (1991)
Úgy látszik, én ilyen dupla lemezes fickó vagyok, a második album is dupla, még ha külön is árulták… A rengeteg számból nekem kiemelkednek a hosszúak, a November Rain, a Coma és persze a legkedvencebb Estranged. Imádom és a mai napig libabőrős tudok lenni tőle. Jó értelemben…
Van egy saját gyártású bestof CD-m, de tulajdonképpen ennek a két lemeznek az anyaga szerepel rajta egy az egyben – na jó, még belegyömöszöltem a Patience-t. Meg a Sweet Child o' Mine-t (és az It's so Easy-t). Pffú, mennyi jó szám!
Nirvana – MTV Unplugged in New York (1994)
Igen, a másik kedvenc vonalam a koncert albumok… Nemhiába, szeretek koncertre járni, de mivel botfülem van, nem feltétlenül a csúcs-szuper és stúdióhelyes hangokat keresem, mint inkább az energiákat, a kedvet, amivel a színpadon lévők zenélni akarnak a közönségüknek. Na, ez annyira nem jött le sosem a Nirvana-tól, de mégis megfogott a dalok lüktetése, Kurt hangja és az egyszerű dallamok. (khm, értik ugye?)
Persze van egy másik ok is, amiért ezt az albumot annyira szerettem: másolt kazettán kaptam meg egyik legjobb barátomtól, és hát egy másik kazettát is másolt nekem, de elfelejtette kicserélni a kazettát, így az első húsz másodpercben súlyos metál riffek szólnak a kazin, majd gyér, bátortalan tapssal folytatódik, amibe belekúszik a lassú gitározás és az I need an easy friend kezdősor. Most is vigyorgok. Kösz Zoli!
Navity In Black – A Tribute To Black Sabbath (1994)
Húúúúú! Yeeee! És a többi. Ezért a lemezért tudok igazán lelkesedni! Felőlem jöhetnek a tribute-ok, nekem ez volt az első, és ilyenre bármikor vevő vagyok! Kis túlzással előbb ismertem ezeket a számokat, mint az eredetieket, de hát ezeket nem ismerni nem lett volna jó – az eredetiek úgy is metál alapvetések. Biohazard, White Zombie, Therapy?, Sepu, na meg a zseniális Faith No More… Itt találkoztam velük először, egy rakáson. Elő is túrom a CD-imet, mától ezt hallgatom egy héten át! És milyen szép a CD, már a borító is (emiatt vettem le a boltban a polcról), azok a betűk, és belül minden szám kapott egy saját kártyát… imádom. Tudom, furán hathat, hogy a zene helyett borítóról áradozok, de ez is része a teljes élménynek, ma már egy mp3-on, spotify-on hallgatott zenének ez a része már elmarad. #régenmindenjobbvolt Se!
Type-O-Negative brutál, hidegrázás – ezt még ide kellett írnom!
Kispál és a Borz – Ágy, Asztal, TV (1993)
Az első CD-m. A METRO áruházban vásárolt Hifi toronnyal együtt bezsákoltam ezt a CD-t is. Naná. Ha már sikerült kicsikarnom a szüleimből egy CD-s lejátszót (Anyaaa, ez a jövő, a kazetta nem lesz már sokáig – tisztára jövőből jövő lövő, nem?) A hazudós zenekarok turnéján láttam őket először. Addig még csak hallani se hallottam róluk. Nyilván a Tankcsapda miatt mentünk oda, de aztán új kedvenccel tértünk haza – Lovasi úgy beszélt a színpadon, olyan átkötéseket rittyentett oda elénk, hogy szakadtunk a nevetéstől. És nem mellesleg a zenéjük is tetszett. Hárman mentünk egy csapatban, mi hárman elég sok Kispál koncertre mentünk ezután és szépen fertőztük a többi barátunkat is. Pár évre kiestek nálam a pixisből, a Bálnák, ki a partra megjelenéséig bírtam őket, aztán meghallottam az Emesét, és azzal a mai napig ki lehet kergetni a világból (de a kerületből biztos…), meg ők se voltak akkor már olyan lelkesek együtt a színpadon sem, úgyhogy jegeltük egy időre őket. Aztán mostanában (meg a Szigetes búcsún) a Fishing On Orfű miatt visszakúsztak a fülem csücskébe. A legjobb, legérdekesebb fesztivál a FOO, menjetek, ha tudtok. JA, de várjatok, nekem is hagyjatok jegyet!
Pearl Jam – Ten (1991)
Nemrég, a Grungery szervezte Let's Play Two koncertfilm hazai premierjén (ITT írtunk róla mi is) - a szerk.) jöttem rá, ahogy ültem abban a gyönyörű teremben, hogy mekkora hatással volt rám a Pearl Jam… Nem volt sokáig előtérben, de ott hátul a tudatalattimban formálta a zenei ízlésem. Szépen csendben (szüleim szerint baromi hangosan, ha a zene-hallgatási szokásaimat vesszük) rájöttem, nem kell nekem feltétlenül zúzdákat hallgatnom, ezek a gitár-centrikus, dallamos zenék jobbak lesznek nekem.
A Pearl Jam volt nekem a grunge kapudrogja, Audioslave, Soundgarden és Alice in Chains csak ezek után jöhetett. Hihetetlen sokat köszönhetek Pintér Mike-nak, a grugery.hu –n keresztül olyan infó-özönnel lát el grunge vonalon, hogy egész jól kikupálódtam a seattlei szcénában… Talán nem is ez az egy album ezen a téren a sorsfordító, hanem az oldalon megjelenő írások – meg a Nap dalai a Facebookon…
Metallica – Live Shit: Binge & Purge (1993)
Imádom, ahogy kezdik. A nyugis, izgalmat fokozó Jó, a rossz és a csúf zenéjét, utána meg ahogy letolják az ember arcát az Enter Sandman-nel… (Méghogy a fekete album vacak, pfff!) Az a helyzet, hogy a dupla CD (milyen meglepő a listámon, mi? Ja, nem. ;) ) anyaga nem fért rá két 90 perces kazettára – így hát Bécsbe mentünk 100 (!) perces Sony Metall XR kazettáért. Horror volt, de megérte, már csak a kinézete, meg hát ugye a neve miatt is!  Szerintem a walkmanom ebbe a két kazettába nyiffant bele, annyit hallgattam, ahogy zötykölődtem a Lőrincről Csepelre a hajnali buszon a nulladik órára (ki a tököm találta ki a nulladik órát?!). Na mindegy, azóta is imádom azt az őserőt, amivel a színpadon vannak és imádom (majdnem) minden megmozdulásukat. Ja, az meg, hogy a második szám a Creepin' , hát már majdnem lehet is haza menni, megvolt minden, aminek lennie kell! Na jó, még azért a negyedikként előhúzott Welcome Home örökbecsűt (is) érdemes megvárni. És a többit, és a többit…
Monster Magnet - Powertrip (1998)
Ez a space-rock / stoner rock nekem nagyon bejön, ha kicsit fáradt vagyok, simán fel tud pörgetni, energiát ad – legalább addig, amíg hallgatom!
Dave Wyndorf meg egy isten. Egy úrhajón jött rock-isten. Ez olyan tény, amit kár vitatni, legalább hárman vagyunk, akik ezt állítják. Ebből kettőnknek van egy közös képe is vele. Egész hihetetlen körülmények között készült, nyilván akkor is mi zártuk a helyet, de nem mi voltunk az utolsók, akik elindultak kifelé a bécsi koncerthelyszínről, hanem Dave, frissen zuhanyozva, gurulós bőröndjét maga után húzva… Mi meg voltunk olyan szemtelenek, hogy kértünk egy közös fotót. És nem, nem küldött el minket a fészkes fenébe, hanem közénk állt, vicsorgott, és mi meg csak nem hittük el… De ugye "God Doesn't Say No", ahogy a cikk is mondja, és tényleg nem mondott nemet…
Na az egy óriási buli volt, emiatt is, meg hogy ott botlottunk bele a következő kedvenceim főkolomposába…
Ozone Mama – Freedom EP (2013)
Viszonylag új kedvencek, de mégis sorsfordítóak, velük visszatért a hitem a magyar bandákba. És hogy miért ezt a számot linkeltem be? Nem egy tipikus szám tőlük, de annyira magával ragadó, hogy ha ez a CD van az autóban, akkor tuti, hogy minimum ötször hallgatom meg egymás után. Egyébként is, ez volt az egyik első dal, amit hallottam tőlük, ahogy a koncertekre járó baráti-kolléga különítménnyel autóztunk, belehallgattunk a lemezbe, ha már mentünk a (számunkra) első koncertjükre. Már a szám közepén repültek a jelzők, hogy ezt nem hisszük el, itt van Amerika, kell nekünk ez a banda. Őrült jó bulit nyomtak, ha jól emlékszem az új dobosuknak, Máténak ez volt az első koncertje velük, és ennek megfelelően véresre verte az ujjait, úgy igyekezett.
Azóta sok (de nem elég) koncertjükön voltam, mindig jók, és hihetetlen jó arcok is, Gábor Andrissal, meg Borbola Katival többször zártuk már a hajót, vagy bármelyik másik egységet, és még utána is tudtuk folytatni a bulit itt-ott…
Fish! – Idő van (2016)
Mostanában őket hallgatom a magyarok közül a legtöbbet, nem véletlenül. Egyrészt mert tényleg remek, 100%-ig hardpop-ot nyomnak, mert imádom a szövegeiket, és mert a világ legjobb magyar koncertzenekara. Amit Kovács Krisztián a színpadon művel, na, az állat. A legutóbbi A38-as koncertjüket végig ugráltam, mint egy óvodás, és nálam a Parkban is ők voltak a jobbak, ami nagy szó, hiszen a Supernem volt az ellenfél…
És persze egy csomó kimaradt, vagy pont nem jutott az eszembe, vagy épp' nem fordított akkorát rajtam. Supernem, Motörhead, TEJ, Clutch, Black Sabbath, Tankcsapda, Ramones (főleg a We Are Happy Family tribute album, bocs), The Dead Daisies, Nomad, Machine Head és még sokan mások, (na, mindjárt kész van még egy tízest…) köszi nektek is, hogy a sorsom mellett meneteltek. De hát ez így van valahogy a Rockandchili-s gasztrockerkedésben is, legközelebb még ezt vagy azt a fűszert is bele kellene rakni az ételbe, és persze nem csak a Foo Fighters jó a kólás húsvéti sonka főzéshez, hanem mondjuk egy jó Walking Papers is szólhatna, míg visszafogottan bugyog a Coke a lábosban…