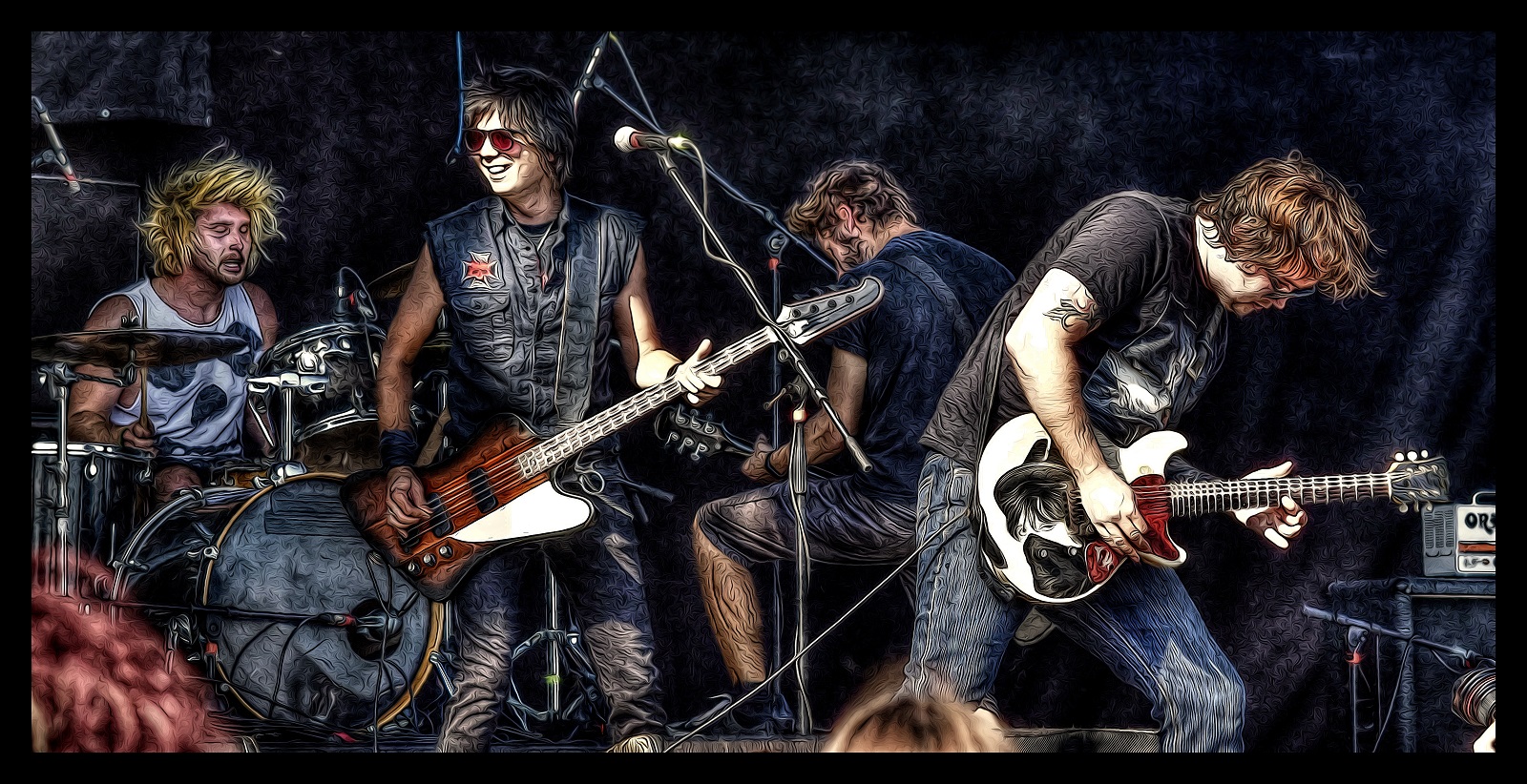 The Ostrava based punk-R'N'R group Degradace has become one of the most dominant czech punk groups today. The guys have already shared the stage with huge names of the genre and after nearly two decades they count 5 albums as well. Degradace will perform in Budapest with Trousers and Turn Signals on the 9th of February at Robot Club. We were talking about the band's life with the  frontman, Rudee.
OTRNR: - Hey Rudee Thanks for your time! So! Let's talk a little bit about the beginnings! How did you form Degradace?
Rudee: - Thank you too, it´s my pleasure. So I met our ex-singer Sid in 1997 or 1998, we were only thirteen or fourteen years old and we were listening to that teenage popular music like Green Day and Offspring. Then somebody introduced Sex Pistols to us. And from that point we were lost.  A life changed. :) We tried to do our first steps, bought our first guitars etc.  Later I met at school one guy with a police cap who played on harmonica during the lunch breaks at school to earn some money for a lunch. He was a little bit crazy which seemed to be good for the band. I asked him to join us. He agreed, his name was Tommy. Back then he played on drums, since  I think 2007 he´s been on guitar. We started to rehearse with cans and barrels instead of drums and tried to write our first songs. We had a lot of fun. Our first gig was in Havirov, Czech republic, on 13th November 1999 although under a different name. We started using the name Degradace few months later. It was a crazy gig, we couldn´t play our instruments, had no skills, nothing, people in the audience (our friends) were going wild, they ripped the carpettes and stuff like this. We were the last band which played in this club, shortly after our show they closed but our story had begun.
OTRNR: - How could you describe or chategorize your music?
Rudee: - We describe our music as punk´n´roll. It´s simple because we love punk and rock & roll music. :) We weren´t always just a punk band. We always liked lots of stuff, punk rock, hard rock, 60´s bands, new wave, or in my case even reggae music. We were always musically open but yes, punk is what we love the most :) Especially the old guys like Iggy, Ramones, NY Dolls, Thunders, Pistols, Clash etc. 
OTRNR: - Your last album was released in 2016 via PHR Records. Last december you also came out with a digital compilation stuff which eternized the band's 18 years. Are there any plans for a new one?  
Rudee: - We have no plans for the album yet. On that compilation there are three brand new tracks and we plan to make one single in English soon. There will new material from us for sure but now we don´t know when. We´ll play the gigs now and will see what happens and if some new ideas will come to our heads.
OTRNR: - If I'm right, you had a change in the band's lineup. Could you tell us something about that?
Rudee: - Me and Tommy, we are the only original members in the band. In december our long time guitarist Blinky left the band. He didn´t want to play the gigs and travel with the band. He was little bit tired of it. He was real gentleman and he prepared us for this change so we had enough time to find a new guitarist. We´re still good friends and I think we can cooperate in the future. Anyway, we have a new member, his name is Alec Munro, he´s from Scotland but he´s been living in Czech republic for maybe 6-7 years. We have known each other for a long time, we hang out together a lot, drank a lots of beer. He´s a great guy with great sense of humour so he was the first who came to my mind when I was thinking about our next guitarst. He likes Degradace so he agreed and during the one week he learned twelve songs so we were ready to rock! I think he also brought new elements into the band and I think it sounds great now. You can hear it soon in Budapest! ;)
OTRNR: - Most of your songs had been written with Czech lyrics. How hard was it to prevail abroad with it? What do you think about that?
Rudee: - It´s something like a challenge for us. You know it´s easier for the bands to sing in English and play abroad. You have to try harder when you play outside of Czech Republic with Czech lyrics. It´s definitely harder but it´s a bigger victory for us if someone comes to us and says that he liked our show or he buys a record. Of course some people says: "it´s great but with english lyrics it´ll be better," I can understand that. And that´s why we want to record a few songs in english in the future but we´ll still do the lyrics mainly in czech. We just want to turn a few of our old songs into english versions. That´s our next step.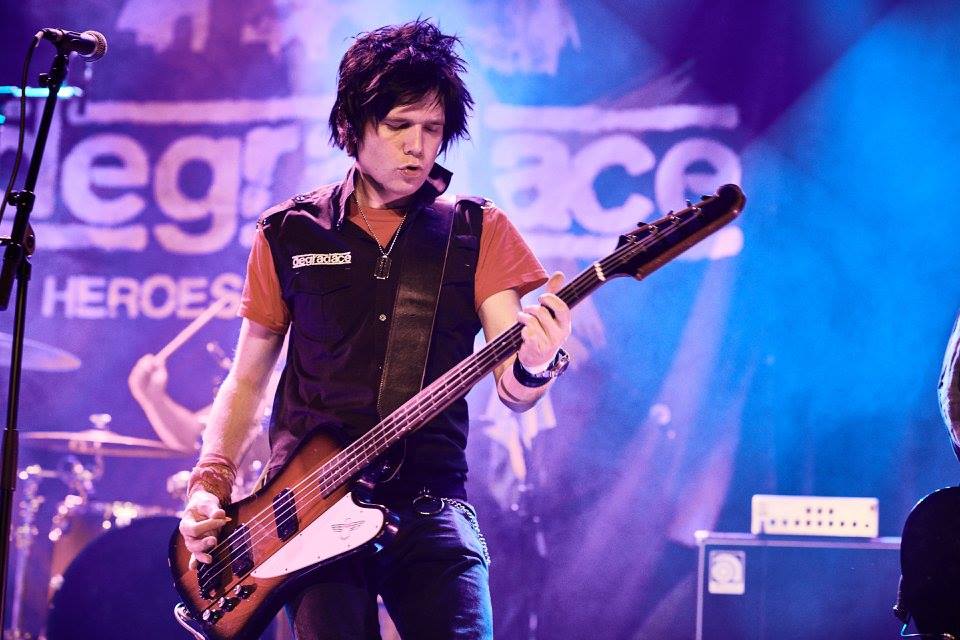 OTRNR: - Which was the most memorable concert in your career?
Rudee: - It´s very hard to choose only one. I don´t know, one great gig was when we supported GBH for the first time in Prague in 2003, we were eighteen years old guys and it was like a dream for us. Gigs with UK Subs were also fantastic. Playing with all of our heroes is always fantastic. Except of Richie Ramone, haha. We supported him three years ago in Prague on his european tour with Lester Greenowski. Richie was okay but his female bassplayer Clare and the other guy from the band were awful, they treated us like shit. I had an argument with them right on stage in front of the crowd waiting for their gig. Haha it was fun. But the good thing about that show was that we met Lester and we became friends.
OTRNR: - What are the Top 5 punk albums for you?
Rudee: - Another difficult question. It should be Top 100 at least. :D Stooges - Fun House, The Clash - London Calling (or Sandinista!), Johnny Thunders & The Heartbreakers - L.A.M.F., Ramones - End Of The Century (but I love all the Ramones albums ), Sex Pistols - Nevermind The Bollocks...these are probably my all time favourites. What about the Rolling Stones, MC5, Peter Perrett & The Only Ones, Hanoi Rocks, Mötley Crüe, Generation X, Richard Hell and tons of other bands? Jesus, there are so many great bands and albums...
OTRNR: - What does punk music mean to you?
Rudee: - Punk music is freedom. I know it´s a cliché but that´s what it is. As Chelsea sings in one of their songs: "Be what you want to be." Simple as that. :) Punk is a timeless thing, listen to  London Calling or Nevermind The Bollocks. These records are 40 years old and still sound fresh and new. Punk is not only about music it´s an attitude, it´s a life style, it´s everything to me!