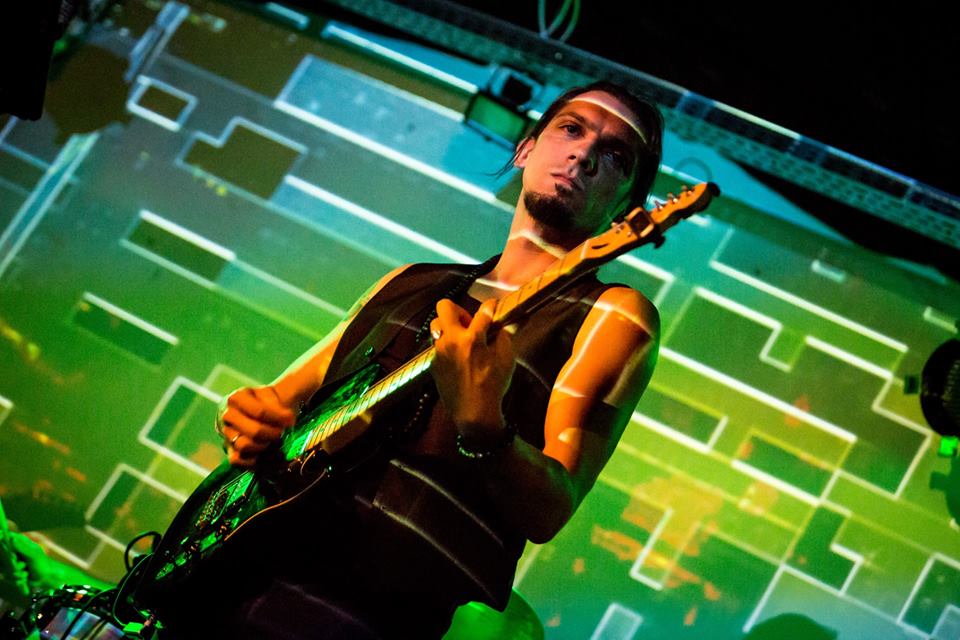 Tavaly elég alaposan szemügyre vettük a Marcello's Mystical Mind nagylemezét, és a Facebook oldalunkon a Vicodin új EP-jét is hallhattátok már. Most pedig állandó rovatunk új részeként Török Viktor énekes beszél sorsfordító lemezeiről.
Mindenkinek vannak kedvenc számai, esetleg egész albumai, amiknek stabil helyük van az élete soundtrackjében, főleg mert éppen azok szóltak, amikor először...
Nincs ez másként azzal sem, aki valamilyen formában zenével foglalkozik, de ezek mellé felsorakozik néhány olyan lemez, ami különleges jelentőséggel bír. Amikor annyira elvarázsol és magával ragad a zene, hogy azt sem tudod, hol vagy, akkor az képes a gondolkodásodat, a felfogásodat is megváltoztatni, mert felnyitja a szemed valami újra és fontosra. Örökre beléd ég, magaddal hordod mindenhová, a személyiséged részévé válik. Valakinek ezek a sorsfordító korongjai egy irányba mutatnak, másnak egészen eklektikus gyűjteményt alkotnak.
Az enyém kábé így néz ki:
Guns 'N' Roses - Use Your Illusion (1991)
Az első CD, amit saját pénzből vettem magamnak tinédzser koromban, rögtön megfejelve az Aerosmith Pump című, szerintem szintén korszakos lemezével. Persze piacos Takt kazettán már megvolt, de arról néhány számot egyszerűen lehagytak, gondolom, nem fért rá. Rommá hallgattam mindkét lemezt, azt is megfigyeltem, Axl melyik számban hogyan vesz levegőt. Elképesztő éneklés, aprólékosan kitalált zenei szövet, még a furcsább számoknál is. Ami odabasz, az nagyon odabasz, ami sláger, az nagyon sláger.
Sokan utálják a UYI eklektikusságát és túlproducereltségét, én viszont mindig értékeltem benne a sokszínűséget,  és első hallásra tudtam, hogy ez egy sosem múló szerelem lesz részemről. A Freddie Mercury emlékkoncert és a '92-es Népstadion-beli Guns buli is megerősített benne, hogy nekem majd zenével kell foglalkoznom. Csak ezek után szereztem be a LIES-t és az Appetite-ot (meg a Spaghetti-t), mindet volt miért szeretni. Aztán a hosszú várakozás után nagyon örültem Slash Apocalyptic Love-jának, szerintem ha ez készült volna '87-ben, most ugyanolyan mérföldkő lenne a zenetörténetben, mint az Appetite.
Pink Floyd - The Wall (1979)
Egyszer vendégeskedett nálunk egy svéd csellista cserediák, és két kedvenc CD-jét magával hozta, egy Metallicát, és ezt a duplalemezt. Főleg esténként és éjszaka hallgattuk, minden nap. Aztán már reggel is. Aztán előkerestem apám Another brick in the wall kislemezét a fiókból...
Ahogy mondani szokás, új világ tárult fel előttem. Annyira elvarázsolt ez a lebegős, misztikus, néhol mégis csontig hatoló zene, hogy sokáig azt sem akartam elhinni, hogy ugyanolyan akkordokat használnak, mint az összes többi zenekar. És még csak nem is értettem igazán a lemez sztoriját, csak később, a szintén elementáris film alapján esett le.
Az albumot talán nem kell nagyon bemutatni: a világ egyik (, ha nem A) legjobb konceptlemezéről beszélünk. Az egyes számok önmagukban is tökéletes képet adnak az ember belső világáról, de az egész album egyben az érzelmi hullámzás non plus ultrája.
Szeretem a Dark Side of the Moon-t, az Animals-t, a Wish You Were Here-t, sőt a Division Bell-t is. A Floydos hangulat azóta is meghatározó az életemben, és a Marcello's Mystical Mind-dal is hasonlóban utazunk.
A sors fintora, hogy amikor mi utaztunk Svédországba, kaptam ajándékba egy CD-t a vendéglátómtól. Reménykedve bontogattam a csomagolást, aztán megláttam a borítón a címet: Ride the lightning :-)
Earth, Wind & Fire - All 'n' all (1977)
A '90-es évek végén nálunk is beindult a funky retro, és én mindent felkutattam, amit lehetett. Sok értékes felfedezést köszönhetek ennek, az énekléshez és a hangszereléshez, megszólaláshoz való hozzáállásomat is alaposan megváltoztatta pl. James Brown, a Tower Of Power, Johnny Guitar Watson, Stevie Wonder, Pély Barna (igen), és így kerültem közel a Motownhoz és a Stax-hez is (Marvin Gaye, Otis Redding, Sam&Dave, Ray Charles stb.). A legnagyobb hatással mégis ez a lemez volt, mert annyival túlmutat a műfajon mind mondanivalójában, mind formanyelvében. Ennél jobban kitalált zenei szerkesztést, légies, mégis dinamikus hangzást és elragadó hangszeres teljesítményt még nem hallottam máshol. És azok a vokálszekvenciák! Utolérhetetlen.
Kedvencem még tőlük a korábbi Head to the sky album: más jellegű zene, de zseniális. (Mellékesen ezt az albumot játszották '74-ben a California Jam-en az új tagokkal felálló Deep Purple előtt.)
Boom Boom - Live (1999)
Sziget, Blues sátor, kora este, alig lézengő közönség, másnapos fejfájás. Aztán leesik az állam, ahogy sorban jönnek fel a színpadra a zenészek: Tátrai, Mohai, Szappanos, Borlai, Winchester. Mondom, ilyen nem létezik. Aztán elkezdenek muzsikálni valami korábban sosem hallott módon. Ennek a supergroupnak a halhatatlanok között van a helye, a Cream, Blind Faith stb. mellett.
Egészen elképesztő energiák szabadulnak fel még a felvételen is, az eredeti dalok lehengerlő átértelmezése, zenei csúcsteljesítmény. Nem mellékesen miattuk kezdtem el beleásni magam a rhythm&blues-ba, mert az nem lehet véletlen, hogy pont ezeket az előadókat dolgozták fel... Utólag már sokkal többet hallgatom a zseniális saját számaikat tartalmazó Intergalactic Megahello-t, ami saját korában méltatlanul kevés nyilvánosságot kapott.
Dioptrió - Do what you like (2004)
Tóth János Rudolf és Ferenczi György ezen az élő felvételen megidézi a városi blues hagyományt akusztikus formában. Később Bizják Gáborral lett teljes a csapat. Lüktető életösztön, tisztelet az elődöknek, és remény a sok megpróbáltatás közepette. Hihetetlenül őszinte és tiszta anyag, mint Tóth Janó formációi általában (Trendetlen, Ütött-Kopott Angyal).
Miattuk kezdtem igazán az unplugged zenélés iránt érdeklődni, ami nagyon nagy iskola énekesnek és hangszeresnek egyaránt. Itt nincs hová bújni, csak te vagy és a lelked, mert ha nem ásol le addig, sosem lesz elég jó a produkció. Ja, és technikailag sincs kamuzás. 
Glenn Hughes - Building the machine (2001)
A már emlegetett California Jam-ről ismertem ezt az arcot, de ez a szólólemeze teljesen random jött szembe a neten. Inkább a Soul Mover-t szokás kiemelni a józanul/tisztán visszatérő sorlemezei közül, de szerintem már itt is minden megvan a signature soundból. Glenn Hughes zenéje a hard rock és a funk szintézise, én pedig tudat alatt mindig is ezt kerestem: sodor, ledózerol, de közben lazán lüktet. A legutóbbi Resonate és a Black Country Communion is bejött, és még mindig emberfeletti az az éneklés...
Nagyon nehezen szűkítettem le a kedvenceket néhány lemezre, főleg, mert vannak olyanok, akiknek nem is bizonyos albumai, hanem egész munkásságuk hatott rám elementárisan.
Ilyen pl. Jimi Hendrix, aki azóta is minden alkalommal magával ragad, vagy Eric Clapton, akitől sokat tanultam az éneklésről, vagy akár a komplex, mégis befogadható Steely Dan. De ide tartozik akár az Audioslave is. Ráadásul én nem idegenkedem a Best of lemezektől sem, bár a zenészek általában utálják. Szerintem jó eszköz, hogy megismerkedj egy számodra addig ismeretlen művésszel, mert ha a legjobbnak tartott számai bejönnek, érdemes a sorlemezeit is meghallgatni, ha meg nem, akkor valószínűleg a többi sem lesz rád nagy hatással. Nekem ilyen fontos felfedezésem volt a Blood Sweat and Tears, a Tower Of Power, Peter Gabriel, de a Deep Purple, a Rainbow, a Led Zeppelin és a Rolling Stones is. És ahogy öregszem, egyre többet hallgatok Bob Dylan, Nina Simone, Bill Withers vagy Richie Havens válogatásokat.
Végezetül hadd ajánljak még pár lemezt, amik nélkül biztosan nem a mostani önmagam lennék:
Hobo: Vadászat
Generál: Zenegép
Robert Cray: Time will tell
John Mayer: Where the light is, Live in Los Angeles
Lenny Kravitz: Are you gonna go my way