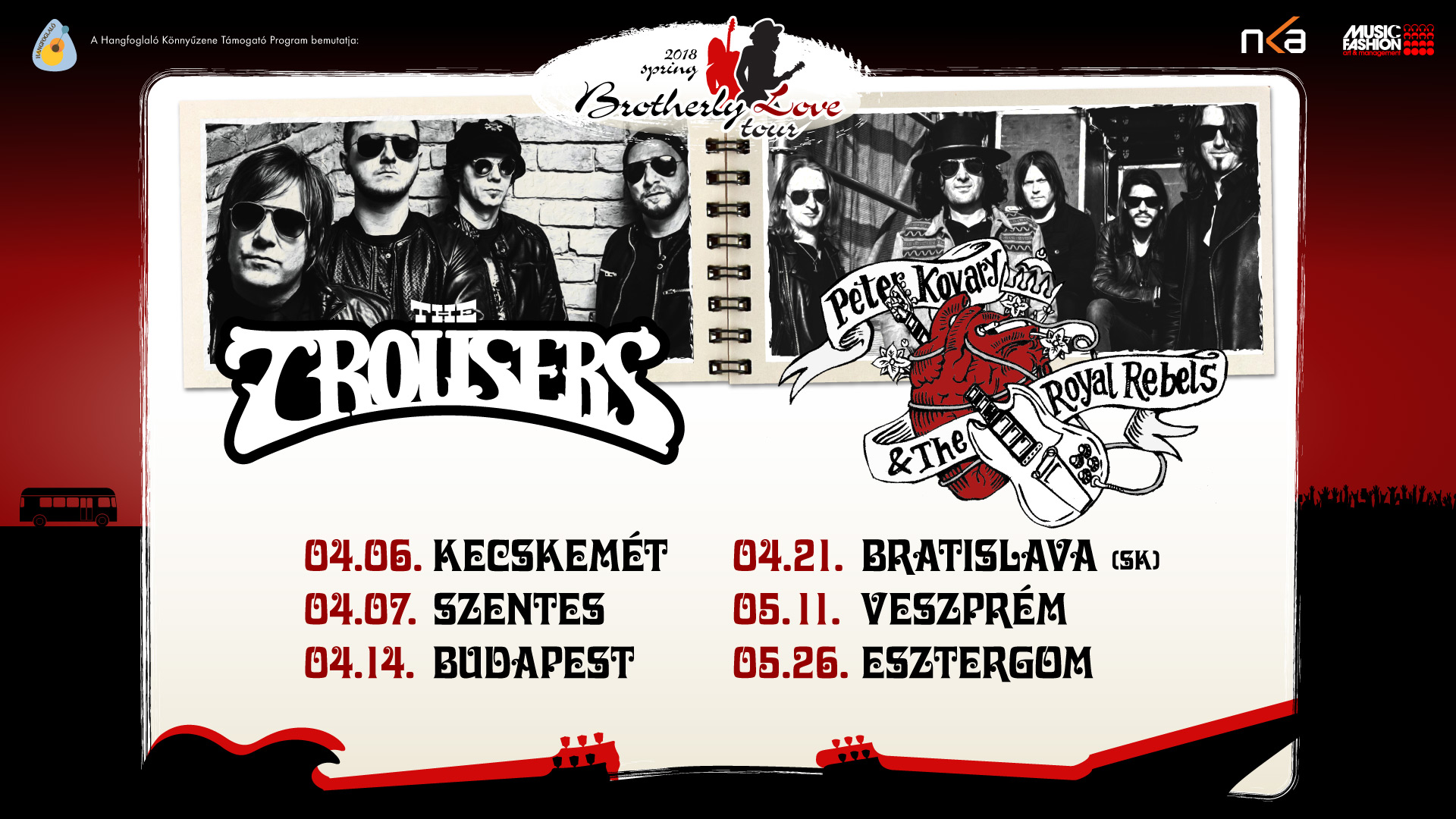 Közös tavaszi turnéra indul a Kőváry tesók vezette The Trousers és a Peter Kovary & The Royal Rebels csapata. A "Brotherly Love Tour" a Nemzeti Kulturális Alap Hangfoglaló Programjának támogatásával valósul meg, 5 hazai, valamint egy pozsonyi koncerthelyszínen.
A The Trousers egy német-osztrák-cseh turné után vág bele a hazai koncertsorozatba. Kőváry Zoliék jelenleg ötödik, Invisible Darkness című nagylemezükön dolgoznak. Az új albumról már bemutatták a 'You Got Me Rollin'', valamint a 'Drown By Numbers' című dalokat. A budapesti Instantos bulin egy harmadik dalt, a 'The Dancer From The Dance'-t is megismerhet közönség, hiszen a rendezvény az új single klipbemutatója is egyben.
I  WEB  I   I  YOUTUBE  I   I  SOUNDCLOUD  I   I  INSTAGRAM  I
A Peter Kovary & The Royal Rebels friss Fonogram-díjasként kezdi meg a "Brotherly Love Tour"-t. Kőváry Petiék tavalyi debütáló lemeze, a 'Halfway Till Morning' az év (2017) hazai klasszikus pop-rock albuma, vagy hangfelvétele kategóriában nyerte el a "magyar Grammy-t".
I  FACEBOOK  I   I  WEB  I   I  TWITTER  I   I  YOUTUBE  I   I  INSTAGRAM  I
A turné részletes programja:
Április 6. -  Kecskemét, (Kilele Music Cafe)
Április 7. - Szentes, (Kávézó a Belvárosi Favágókhoz) + The Bounders
Április 14. – Budapest, (Instant)+ Attila Talan lemezbemutató, és The Trousers video release
Április 21. - Pozsony/Bratislava(SK) (FLAME Music Bar) + Z3 The Blues Wheels
Május 11. – Veszprém, (Szigony) + Dogs N Roses
Május 26. – Esztergom, (Sportalsó)