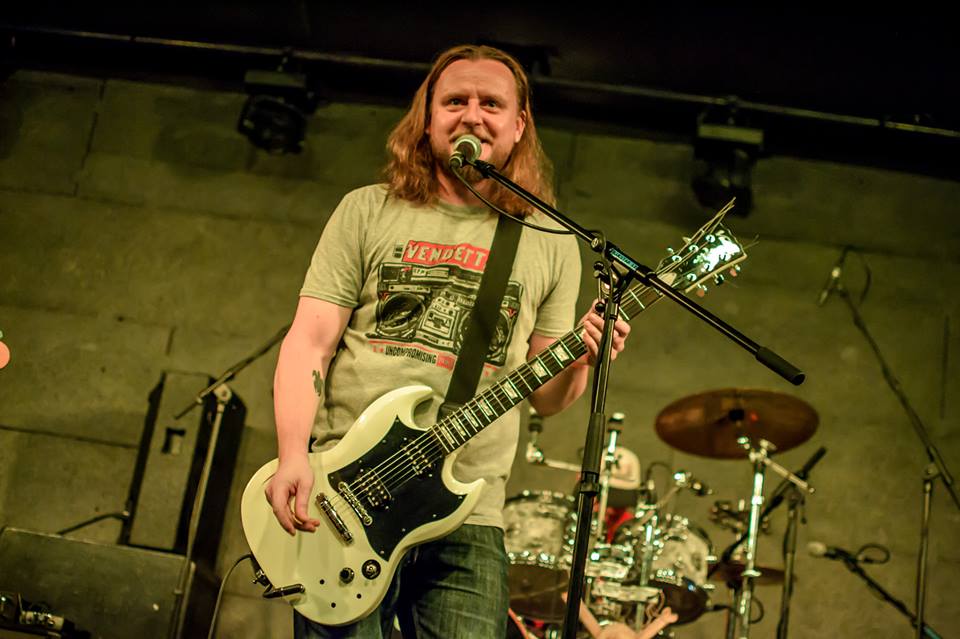 Először is köszönöm a felkérést Kiss Ákosnak, és Sebők Tominak! 
Jó volt a cikk miatt egy kicsit megidézni pár dolgot, eseményt, helyet, embereket, és persze zenéket! Olyan dolgok is eszembe jutottak, amiket már azt hittem nem is léteznek! Pár dalt újból meg is hallgattam, előcsalni az emlékeket, érzéseket, örömöt, bánatot, amivel szerintem nemcsak én vagyok így!
De hát, nem ez az egyik célja a zenehallgatásnak?
Guns N' Roses - Use Your Illusion II (1991)
Általános iskola hatodik osztályában, Zoli batárom mutatta meg nekem ezt a lemezt, a VII. kerületi lakásuk szűk konyhájában, egy kétkazettás magnón, miközben az Édesanyja éppen mosogatott! Ez volt az első alkalom, hogy a Rock Kék Démona szájon csókolt, és ez azóta is tart!
Alig vártuk például, hogy a megboldogult MTV-n (Music Television) elinduljon a Guns N' Roses hétvége, hogy láthassuk az összes klipet, riportot, és amiket azokban láttunk, a leglazább dolognak számított a világon. Meghatározta a kamaszkorunk további zenei irányát, öltözködését, hajviseletét, és az első koncertélményünk is hozzájuk köthető! Zoli barátomra annyira nagy hatással volt ez az időszak, hogy a középiskolás évei után Los Angeles-be költözött, és felvette a William Rose nevet. 
Tankcsapda - Jönnek a férgek (1994)
Mikor a hetedik osztályt befejeztem, a családommal együtt Debrecenbe költöztünk. Itt nyilvánvalóan nem ismertem az akkori zenei életet, de sokat segített beilleszkedni és barátokat szerezni azáltal, hogy GN'R rajongó voltam. És így elkerülhetetlen volt, hogy több debreceni zenekar mellett, mint például a később megismert Replika, Necropsia, Bugs vagy a Frogshow mellett, valaki által kezembe került egy Tankcsapda anyag. Az akkori élethelyzetem, korom miatt szinte azonnal tudtam azonosulni a szövegivel, gondolatival, amik akkor engem is foglalkoztattak, zavartak, vagy éppen amiket nem mertem kimondani. Egyszer Anyukám meg is kérdezte - miközben természetesen diszkréten kihallatszott a szobámból –, hogy azt hallja tényleg, amit Lukács mondott? Mondtam, hogy igen! A "Jönnek a férgek" című számot hallgattam akkor.
Black-Out – Fekete-Kék (1994)
Egyik reggel úgy jött hozzám oda a szakközepes osztálytársam, hogy úgy gondolja nekem ez biztosan tetszeni fog, és kezembe adott egy sötétkék színű kazettát, amit ahogy hazaértem meg is hallgattam. És igen, igaza lett. Tényleg megtetszett a hangzás, az elsőre értelmezhetetlenül értelmezhető szövegek, és a furcsa színű borító. Követtem is a munkásságukat tovább egészen a zenekar végéig. Az akkor még létező E-klubban is sikerült eredeti felállásban látnom őket, és a debreceni Klinika Moziban is elcsíptük őket Papp Laci barátommal, aki most Ghost Toast-ban bőröz. Bár sokra szerintem nem emlékszik belőle, hála egy üveg igen jó minőségű bornak.
Stone Temple Pilots - Purple (1994)
Utánzó zenekar! Ezt hallottam sok olyan havertól, akik tudták szeretem a S.T.P.-t, de nyilván nem igazán érdekelt. A 'Core' is egy remek album, és a "Plush" is egy rockhimnusz, de nekem a 'Purple'-volt az, amivel megkedveltették magukat, és belehúztak a grunge műfajba.
A "Vasoline", a"Big Empty", vagy az "Interstate Love Song" zseniális műfajnóták, és Scott Weiland hangja pedig tökéletesen passzolt a DeLeo tesók zenéihez.
Nem is örültem neki, hogy elszerencsétlenkedte ezt a dolgot, de annál jobban örültem amikor bekerült a Velvet Revolver frontjára, bár nagy bánatomra ott sem maradt sokáig. A végét szerintem már mindenki tudja sajnos. Nagy hang volt, és kár érte. Na de az S.T.P. most visszatérni látszik az új énekessel, és reméljük szerencsésebbek is lesznek vele.
The Doors – Morrison Hotel (1970)
Bár a Majdnem Híres című filmben Lester Bangs a Creem magazin kritikusa egy iszákos baromnak nevezi Jim Morrison-t, valljuk be azért elég nagy hatást gyakorolt amerikai rockkultúrára. Az első album slágerit a "Light My Fire"-t vagy a "Break on Through"-t nyilván már ismertem, hiszen a rádiók nagyon nem játszanak mást tőlük, tisztelet a kivételnek persze! A 'Morrison Hotel' nem egy tipikus doors anyag, inkább bluesból merít inspirációt, mint a pszichedelikus rockból, de nálam akkor is ez a kedvenc. Persze itt is található irodalmi, művészi, és gyerekkori utalás Jim-től, mint a "Ship of Fools", vagy a "Maggie McGill", de ha már ajánlani kellene egy számot a lemezről, az a "Peace Frog". A The Doors jelentősen hozzájárult ahhoz is, hogy táplálja rajongásomat a 60-70-es évek amerikai zenéihez, kultúrájához, íróihoz, hosszú országútjaihoz, és persze izomautóihoz!
Kyuss – Blues For The Red Sun (1992)
Arra sajnos nem emlékszem, mikor találkoztam pontosan a stoner rock egyik alapzenekarának számító Kyuss zenéjével, de azt tudom, hogy Jimmy barátom mutatta meg nekem először. Akkoriban ódákat mesélt róla, és teljesen rá volt kattanva, így nekem is bele kellet hallgatnom.
Na, és én itt vesztem el, és fertőzött meg ez a már gusztustalanul mélyre hangolt, búgó, borotválatlan, szőrös hangzás! És innen indult a vesszőfutásom a műfajban, amiben szépen jöttek egymás után a zenekarok, mint a Spiritual Beggars,'On Fire' lemeze, ami igaz már a Janne "JB" Christoffersson szériából származik énekes szinten, de számomra a legkiforrottabb S.B. korong. Persze itt inkább már a hard rock dominál, de kiváló nóták találhatók rajta, remek ének, és gitártémákkal. Nálam a lemezfavorit, a bónuszszámként szereplő "Burden of Dreams".
Monster Magnet – Powertrip (1998)
Dave Wyndorf zenekara is egy magbanda a stoner, space-rock műfajban, és mielőtt a drogok teljesen szétcsapták volna Dave-et, megírta a M.M. egyik talán legismertebb dalát, a "Space Lord"-ot.  Szerencsére pár éve kijönni látszik a lejtő vonzásából, külsőre is látszik, hogy összekapta magát, és vagy folyamatosan turnén van, vagy lemezt ír. Most márciusban is megjelent egy, 'Mindfucker' címmel.
Clutch - Blast Tyrant (2004)
Ez a teljesen megunhatatlan zenekar és lemez számomra. Varázsuk az őszinte egyszerűségükből, és a zseniális zenei tudásukból fakad. Az egész lemez elsőrangú, de ha pár dalt ajánlanom kéne az a "Cypress Grove", a "Ghost", a "The Mob Goes Wild", vagy a "The Regulator" lenne. Szerencsémre már kétszer is sikerült látnom őket, és a következő alkalmat sem fogom kihagyni az biztos.
Corrosion of Conformity – Deliverance (1994)
Persze zárásként a C.O.C.-ról sem feledkezhetek meg, akiket újból a Down-ból jól ismert gitáros, Pepper Keenan vezényel, és olyan szerzeményekkel, mint a "My Grain", a"Clean My Wounds", vagy a szintén már stoner-indulónak számító "Albatross"-al, kellő magasságokba emelte, mint a lemezt, mint a zenekart. Nincsenek nagy igényeim, de  ha őket még elkaphatnám élőben, akkor  visszaállna számomra az egyensúly a démoni erőkkel!
Köszönöm még egyszer a lehetőséget Old Timer R'N'R Magazine-nak, és nyilván több oldalt teleírhatnék még zenekarokkal, mint külföldi, mint a magyar előadók közül, de most egyelőre elég ennyi! Talán majd legközelebb!