Bob Dylan költőiségét megfogni, és mindezt magyarul előadni nem mindennapi feladat. Azt gondolom, keveseknek menne hitelesen, de az tuti, hogy Földes László Hobo köztük van. Mindezt bizonyítja a napokban a GrundRecords gondozásában megjelent Dylan átiratokat tartalmazó lemeze, a 'Lassú Vonat'.
Nem egyedi eset, hogy Dylan munkásságát magyar formában fogyaszthatjuk, említhetjük Barna Imre könyvét, mely egy csokor Dylan örökzöldet tartalmaz eredeti nyelven, valamint sajátos fordításban.  Földes László új lemezén 15 dal kapott helyet, melyeket egyedi hangszerelés és egyedi dalszövegek jellemeznek. Mit is lehet így elsőre elmondani? Talán azt, hogy igazán Hobos!
Nézzük a zenei részt! Nincs túlgondolva, a korai Dylan-es stílushoz ragaszkodtak, ahol az akusztikus gitár dominál, megjelenik a szájharmonika, ezek mellett azonban kicsit rendhagyó is a történet, hiszen van még itt tangóharmonika, nagybőgő, zongora és orgona, többféle ütőhangszer, valamint steel gitár is. Ezeknek köszönhetően a dalok bár zeneileg megtartották eredeti mivoltukat, mégis többet kapunk egy szál akusztikus gitár-harmonika kombónál. A hangszerelés óriási 10-est kap!
 "Bob Dylan volt az első, aki a rockzenében magas minőségű szövegeket írt." – nyilatkozta Földes László egy internetes hírportálon. Tökéletesen egyet tudok érteni ezzel a kijelentésével. Egy másik, ugyanebben a cikkben megjelent állításával már vitatkoznék, miszerint a hazai zenészek lenézik Dylant, mint énekest, és nincs itthon közönsége. Talán nem a legnépszerűbb ikon a ma zenésze számára, de véleményem szerint még így is sokan felnéznek rá és elismerik nem mindennapi munkásságát. Köztük én is.
Nah, de vissza a lemezhez. Tizenöt dal. Van itt minden, mi szem-szájnak ingere. A sokak által Jimi Hendrixhez kötött All along the watchtower (Végig az őrtorony mellett), az Amerikában már himnuszi magasságokba emelkedett Blowin' in the wind (A választ a szél fújja), vagy az egyik személyes kedvencem, a Like a rolling stone (Mint egy rolling stone), vagy épp a címadó Slow train comin' (Lassú vonat). A szövegek pedig ötletesek, hiszen mindegyik magában hordozza a Hobo-s világot, gondolatokat, kritikákat. Azonban így sem távolodtunk el a Dylan által írt dalok lényegétől, alapkoncepciójától. A központi témák jelen esetben sem változnak, a társadalom, filozófia, politika, az irodalom, vagy maga az élet kerül terítékre 'Lassú vonat' dalaiban, Hobo előadásában is.
Összegzésként azt tudom elmondani, hogy ez a lemez egyszerűen zseniális. Amikor megtudtam, hogy készül, biztos voltam benne, hogy nem fogok csalódni, és ez így is lett. Zenei tekintetben és irodalmilag is egy igazán igényes és egyedi mű. Magában hordozza Bob Dylan kiváló dalszerzői készségét és költőiességét is.  Mind ezek mellett ez a lemez egy küldetés is. Dylan munkásságának életben tartására.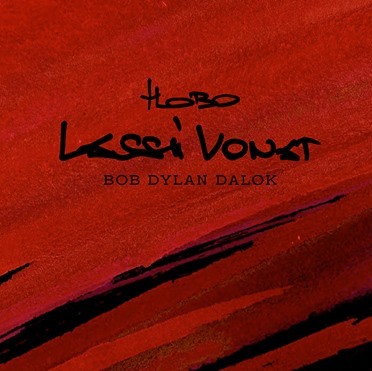 (Megj. 2018. április 5. - GrundRecords)
Hobo - Lassú vonat dallista:
Várok rád reggel (Meet me in the morning)
Magányos hobó vagyok (I am a lonesome hobo)
Végig az őrtorony mellett (All along the watchtower)
Egy sovány ember balladája (Ballad of a thin man)
Egy kerék lángol (This wheel's on fire)
A szabadság harangjai (The chimes of freedom)
Nagybetűs blues (Call letter blues)
A Pusztítás során (Desolation row)
A választ a szél súgja (Blowin' in the wind)
Mint egy rolling stone (Like a rolling stone)
Mindennek vége, baby blue (It's all over now, baby blue)
Az idők változnak (The times are a-changin')
Minden homokszem (Every grain of sand)
Csak egy hobó (Only a hobo)
Lassú vonat (Slow train comin')
Sebők Tamás