Ötven évvel ezelőtt adott otthont a rocktörténelem egyik legkülönlegesebb koncertjének a kaliforniai Folsom fegyház. A rock 'n' roll fenegyereke, Johnny Cash súlyos kábítószerfüggősége után egy hatalmas dobással hozta egyenesbe vakvágányra siklott karrierjét. Az 'At Folsom Prison' című live albuma fél évszázada, 1968 májusában látott napvilágot a Columbia Records gondozásában.
Drogfüggőség, alkoholizmus, szétcsúszás, elmaradt sikerek. Ezekkel a szavakkal jellemezhetnénk Johnny Cash karrierjét a hatvanas évek közepén. A derűsebb napokat is megélt zenész azonban visszatalált a helyes útra, és egy óriási húzással ismét régi fényében tündökölt. Tíz évvel korábban még Sam Philips legendássá vált stúdiójában, a Sun Recordsban spontán, amolyan isteni szikraként játszotta fel zenekarával a Folsom Prison Blues című dalát, mely belépő volt a siker világába, és szinte azonnal Carl Perkinsszel, Elvis Presleyvel, és Jerry Lee Lewisszal említették együtt a nevét.
Még a légierőnél szolgált, amikor Crane Wilbur filmje, az Inside the Walls of Folsom Prison (1951) felkeltette érdeklődését. A film ihlette meg a legendás dalt, mely amellett hogy a kor egyik legnépszerűbb darabja lett, a börtönlakók körében is osztatlan sikert ért el. Cash számtalan levelet kapott a raboktól, melyekben arra kérik, hogy egyszer lépjen fel a Folsomban.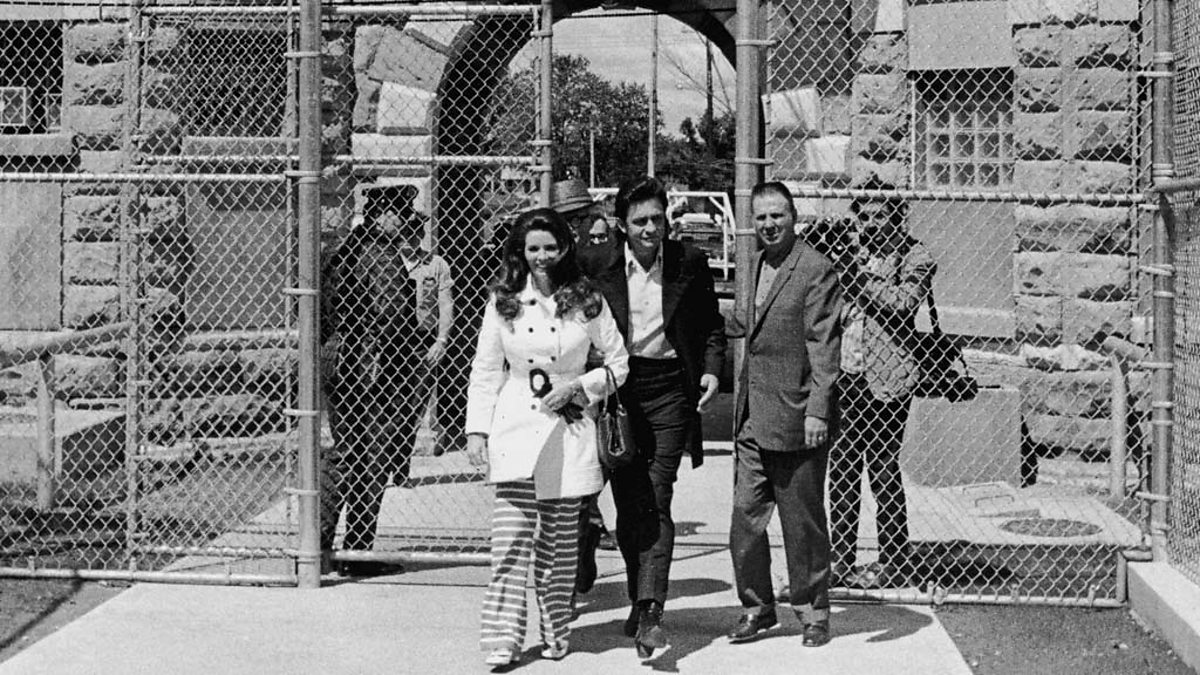 Az eseményre 1968 januárjában került sor. Cash és June Carter január 10-én érkeztek meg Sacramentoba, ahol Ronald Reagen kaliforniai kormányzó társaságában tartották meg a főpróbát. Másnap délelőtt került sor a koncertre, pontosabban a koncertekre, hiszen Cash két előadást is tervezett, egyet a délelőtti órákban, egyet pedig közvetlenül ebéd után. Mindkettőt a Folsom Prison Blues-zal kezdte. Elsőkörben 19 dalt tartalmazott a setlistje, második alkalommal a fáradtság miatt 17 dalt játszottak el, mindkétszer óriási sikert aratva. A lemez dalai 90 százalékban a délelőtti műsort örökítik meg.
Az 1968 májusában megjelent 'At Folsom Prison' egyfajta defibrillátorként élesztette újra Cash karrierjét, annak ellenére is, hogy a Folsom Prison Blues-t '68-ban egy időre levették a rádiós szórásból Robert Kennedy meggyilkolása miatt. Cash-t arra kérték, hogy változtassa meg az "I shot a man in Reno, Just to watch him die" – "Lelőttem egy embert Renoban, csak azért, hogy meghalni lássam" sorokat, amibe némi hezitálás után belement.
Ezt követően a koncertlemez zabálta a sikereket, a Billboard lista élét is meghódította. Amerikában háromszoros platinalemez státuszt élvez 3 millió eladott példányszámot meghaladva, az Egyesült Királyságban arany, Kanadában egyszeres platina státuszt kapott.
Johnny Cash – At Folsom Prison tracklist:
Folsom Prison Blues
Dark as the Dungeon
I Still Miss Someone
Cocaine Blues
25 Minutes to Go
Orange Blossom Special
The Long Black Veil
Send a Picture of Mother
The Wall
Dirty Old Egg-Suckin' Dog
Flushed From the Bathroom of Your Heart
Jackson (June Carterrel)
Give My Love to Rose (June Carterrel)
I Got Stripes
Green, Green Grass of Home
Greystone Chapel