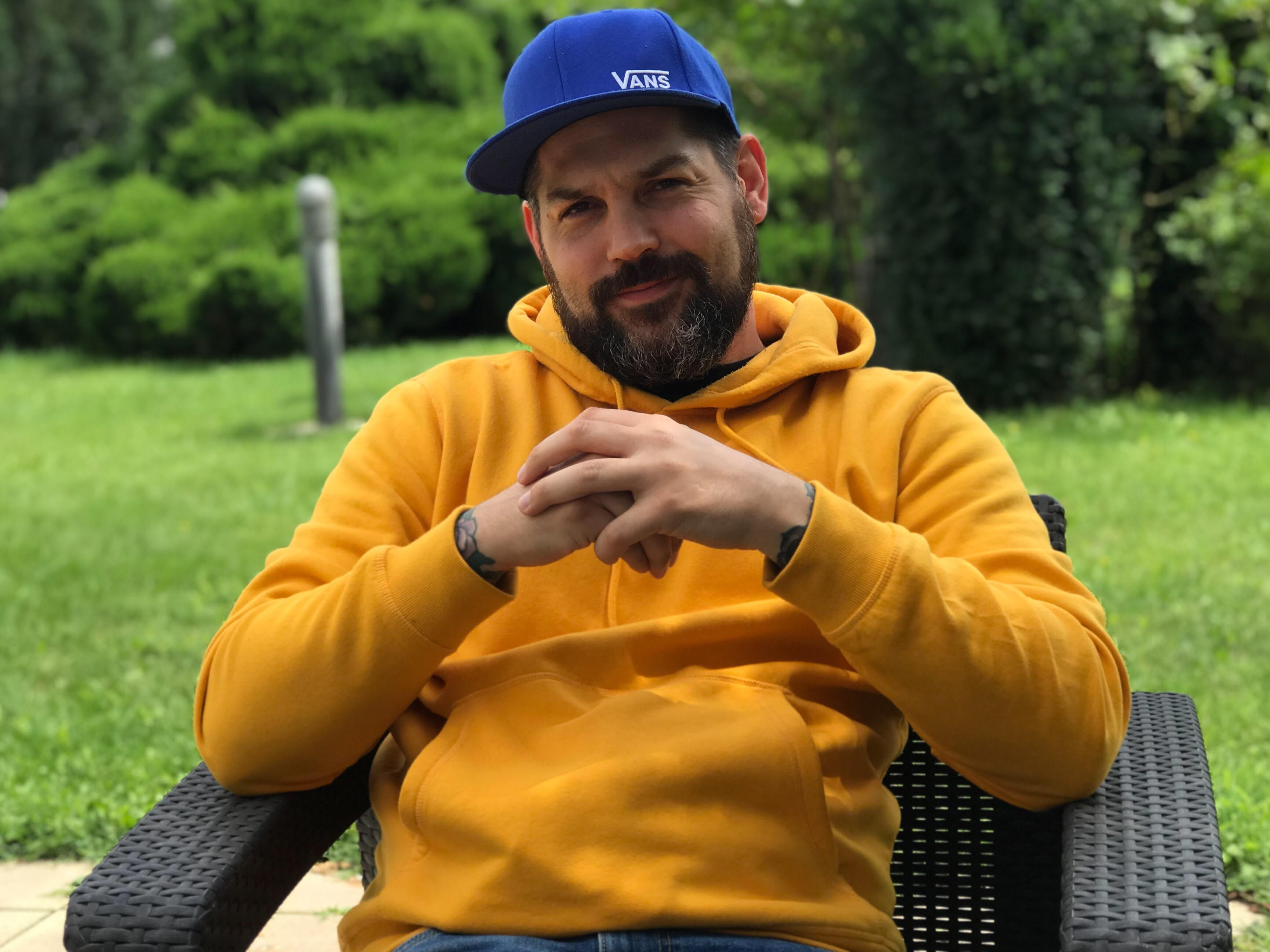 Az iskolákban már kicsengettek, és hamarosan mi is nyári szünetre vonulunk Sorsfordítók tekintetében, előbb azonban lezárjuk ezt az igazán színesre sikerült évadot. Nagyon kedves barátom, a Positive Mental Attitude frontembere, Kovácsházi Attila is elfogadta a felkérésünket, és mesél nekünk/ nektek 10 meghatározó lemezéről.  Hajrá!

Mikor sorsfordító korongokról beszélünk, azt gondolom, nem azokat a klasszikusokat kell kiemelnem, melyek a rockzene szeretetéhez vezettek, hiszen már kisgyermek koromban kaptam otthon az íránymutatást a Black Sabbath, Steppenwolf, Led Zeppelin vonalra, ahol ugyanúgy volt jelen a Deep Purple, mint a Pokolgép vagy egy-egy Iron Maiden lemez (Modern Talking-ról nem is beszélve).
Aztán amikor nagyon elkezdett érdekelni kamaszkorban a rockstárkodás (nem kimondottan a zenélés), akkor mindent légdoboltunk, léggitározunk, halandzsáztunk, a KISS-től a Guns N' Roses-ig, de nem ezek voltak azok a dolgok, amik igazán arra késztettek, hogy változtassak az életemen.
Persze felsorolhatnám a 10 kedvenc lemezemet is, ami most annyira népszerű a Facebookon, de lehet, hogy majd az írás végén, inkább azokról írnék amik ténylegesen mérföldköveket jelentettek, az életemben.

Agnostic Front - Live at CBGB's (1989)
Kazettán hallgattam, általában suli előtt hifin a korra reggeli órákban tesóm biztos szerette mert ilyenkor még aludt. Emlékszem a kazettán volt még Cro-Mags meg Bold, de egyik sem mozgatott feleannyira sem, mint az Agnostic Front. Az első számtól az utolsóig felforgatott bennem mindent. Figyeltem a konfokat, a szöveget, mert persze azt csak úgy nagyjából tudtam kiszűrni, hogy mit is akar mondani, de ahogyan én értelmeztem, úgy nagyon is megérintettek. A Last Warning és a Crucified, több zenekaromban is erősítette a feldolgozások sorát, sőt a nyitódalt a Victim in Pain-t a PMA-val is szoktuk játszani.
Ignite - Past Our Means (1996)
Emlékszem, hogy a CD-t a születésnapomra kaptam, de amikor a lemez megjött azon a napon jött a hír is, hogy nagyapám meghalt. Ez a lemez lett a vigaszom, akkor döntöttem el, hogy én bizony ilyen gyorsan fogok dobolni :), el is kezdtem gyakorolni… Érdekesség, hogy körülbelül 10 évvel később eljutottam egy Ignite koncertre, talán napra pontosan 10 évre rá és meghallottam ezeket a dalokat, könnyfakasztó volt. (Egyébként pont a Szalkai Tibi hívott el arra a bulira :-))
Morning Again – Martyr (1997)
Itt aztán teljesen megváltozott minden, nagyon megérintett a metalos hangzás meg ezek a témák, a kritikus szövegek, amik egyből szembesítenek azzal, hogyan is élsz a mindennapokban, radikálisan változtatni akartam minden. Ennek a lemeznek a hatására kezdtem el szövegeket írni, mikrofont ragadni. (Bár ha ki lehetne hozni egy döntetlent, akkor megjelölném a  Strife - One Truth lemezét is :) , mert ezek nekem valahogy kéz a kézben jártak akkoriban.) Ami itt érdekes lehet, hogy a Morning Again egyházról alkotott véleménye nagyban hozzájárult ahhoz is, hogy a transzcendens felé forduljak, mert nem tudok elfogadni úgy egy véleményt, hogy nem vizsgálom meg a másik oldalt is, és hát nem azt találtam, amiről a srácok beszéltek ;-)
Shelter – Mantra (1995)
Süt belőle az isteni energia, Ray Cappo hangja. Frontemberi jelensége a mai napig etalon a számomra, persze már a Youth Of Todayben is az volt, de itt megtelt minden ezzel a földöntúli plusszal, ami annyira magával ragadott, hogy hagytam hadd vigyen. Egyfelől persze bonyolított is mindenen, mert amit addig gondoltam az isteni energiákról a hitről, az "igazságról", hogy egyetlen út van, az nagyon is szerteágazott.
Maximum Penalty – Superlife (1998)
Ez az a lemez, ami mindig nálam van, a kocsiban, a telefonomon stb. mindenhol. Az énektémák lenyűgözőek, egyébként nehezen szerettem meg, nagyon fura volt elsőre, de még mindig lesek amikor hallgatom, a világ egyik legjobb lemezkezdése… énekelteti magát, énekeltet engem, rengeteget dúdolom,  így akartam énekleni ezért is vágtam neki, így akarok énekelni, ez motivál(t).
Converge - Petitioning The Empty Sky (1996)
Ez egy nagyon érdekes dolog. A kilencvenes évek végén Budapesten, a Tűzoltó utcai Jailhouse-ban voltunk valami koncerten, fogalmam sincs talán ShaiHulud, Newborn, Dawncore plusz nagyon korai Embers? Mindegy is. 
Akkor már nagyon mentek ezek az "újvonalas" metalosabb muzsikák és én nagyon éltem őket, főleg az egyszerűbb, érthetőbb, nagyon erőszakos vonalat. Szóval a koncert végén az összekuporgatott kis pénzünkből nagyon akartunk valami hanghordozót hazavinni. Végül sikerült egy barátommal egy-egy lemezre összerakni a pénzünket, már csak azt kellett eldönteni, hogy melyik zenekartól és melyik album legyen az? Nem volt internetünk, csak az akkoriban divatos papíralapú katalógusokból választhattunk, vagy a lemezborító alapján dönthettük el, szimpatikus-e az adott lemez vagy sem. Szerencsésebb esetben valaki olyanra támaszkodhattunk, aki már ismerte az adott zenekart, mint például a "disztrós" vagy egy haver, aki pár gondolatban el tudta mondani, mire hasonlíthat, vagy mire számíthatunk. A cimborám megvette az All Out War – Truth In The Age Of Lies albumát, ami akkoriban nagyon friss volt és tökéletesen megfelelt az egyszerű, érthető és nagyon erőszakos "szentháromságnak".
Nekem pedig a következő ajánlót mondták a Converge  - Petitioning The Empty Sky-ról, "Nagyon jó, olyan, mintha egy Backstreet Boys lemezt összegyúrnál valami nagyon durva metallal" – értetlenül álltam a leírás előtt, elképzelhetetlen volt, ugyanakkor nagyon felkeltette az érdeklődésemet (a lemezt azóta is féltve őrzöm). Mikor hazaértünk Szentesre (reggel 6-7 körül) még suli előtt beleakartam hallgatni. Nagyon ki voltam akadva, hogy hogyan költhettem a pénzem ekkora "szarra" :-D Már ott a helyszínen el akartam cserélni az All Out War-ra  de hála az égnek nem sikerült…
Kellett vagy egy év, mire jött egy kattanás, hogy lássak a sorok között, pontosabban, hogy leesett mi is akar lenni ez az összevisszaság. Sőt, ha egyetlen zenekart kellene megneveznem, akitől a legtöbbet kaptam, akkor Őket nevezném meg. Nem az a kérdés, hogy szereted-e a Converge-t (természetesen itt azokra gondolok, akik kedvelik a durvább zenei dolgokat) , hanem az a kérdés, hogy mikor jön el az a pillanat, hogy szereted? :- )
Integrity – Humanity is a Devil (2006)
Persze az egész Integrity jelenség, baromira sorsfordító, Gnoszticizmuis, Végigtélet egyháza, Sátán és Isten kapcsolata, transzcendentális delírium a pokolból, őrület.  Ezek mint jelen vannak ezen a lemezen (is), mégis előre mutat.  Ahogy elkezded feltérképezni a hátterét rengeteg dolgot fogsz találni, nem feltétlen olyan értelmezésben, mint ahogy Dwid gondolta, vagy amilyennek hinni szeretné, de ezzel nincs is semmi gond.  Sokat köszönhetek ennek a zenekarnak sőt a lemezt volt szerencsém egy koncerten eljátszani elejétől a végéig a Penalty Kick-el. Már a felkészülés is, nagyon mélyen érintett. Nyolcadik lemez következik és még semmi könnyedet nem írtam (nevet)
Circa Survive - Juturna (2005)
A kétezres évek közepén kellett hallgatnom ezt a lemezt, és direkt írom, hogy KELLETT, mert nagyon kivoltam tőle. Akkoriban Vans meg DC cipőket (nomeg ruhákat is) árultam a Zone+ -ban és az volt a megállapodás, hogy mindenki választ egy lemezt amit végighallgatunk, így egy műszakon belül folyamatosan forogtak a korongok (a sorsfordítók is). Itt aztán megszólaltak olyanok, amikkel nagyon nehezen lehetett megbarátkozni és a Circa Survive – Juturna, pont ilyen volt.
Szerintem már 100-szor hallottam, mire leesett, hogy mi van. Mert hát ki akarna egy lányhangú fiút hallgatni, meg különben is, miért szól így, meg mi ez az egész? Máskor is volt olyan, hogy valamit többször meg kellett hallgatnom, de olyan, hogy rengetegszer meghallgatom (mert nincs más választásom) olyan nem nagyon. Szóval itt kinyilt a világ egy újabb szeglette. Ennek köszönhettem a szerelmemet a My Epic-kel is, akik mikor kijöttek a Behold lemezzel, akkor nem győztem hálát adni, hogy az az anyag eljutott hozzám.
Midnite - Be Strong (2003)
Elég nagy reggae és dub fannak gondolom magam, rengeteg ilyen lemezt hallgatok, és mindig szívesen böngészem az új dolgokat, így talátam rá 2013-ban erre az igazi gyöngyszemre (akkorra persze nekik már volt 54 hanganyaguk :D szóval csak nekem volt új). Ez a lemez nem túl régi mégis sorsfordító eseményhez köthető, a kisfiam születéséhez. Mint zenész apuka, titkon vágysz arra, hogy a gyerekeddel azokat a zenéket, ami neked örömet okoz. Mi ezzel a lemezzel indultunk, esténként lefekvés előtt külön kis ritálé volt meghallgatni pár dalt a lemezről, már ahogy indul a mesés Afrikában találod magad, ugyanakkor Vaughn Benjamin (sámán) hangja, énekstílusa megtölti az ember szívét békével, amire az első 8 lemez után már szükségem volt ;-)
Hot Water Music – Light It Up (2017)
Éneklek pár éve, de ettől a lemeztől (is) még inkább énekelni akarok! Ezzel keltem és ezzel feküdtem egy időben. Jelenleg minden családi utazás elengedhetetlen kelléke, mert ez az első olyan Punk Rock lemez, amit a kisfiam kér, minden alkalommal amikor elindulunk ez neki az első, lehet nem csak nekem sorsfordító, hanem neki is.
A TOP 10 amiről beszéltünk... Számora ezek minden idők legjobb lemezei (ebben a pillanatban)
Wu-Tang Clan – Enter The Wu-Tang
Lords of the Underground – Here Come the Lords
My Epic – Behold
Times of Grace – The Hymn of a Broken Man
Maximum Penalty - Superlife
P.O.D. – Satellite
Agnostic Front – Something Gotta Give
Shelter – Mantra
Madball - Set it Off
Hot Water Music – Light It Up
+1 Isis Panopticon vagy Oceanic.. lehetetlen ezt eldönteni :-D
+ a végtelenségig lehetne folytatni a sort, ha zenéről lehet beszélni azt én nem tudom abbahagyni.