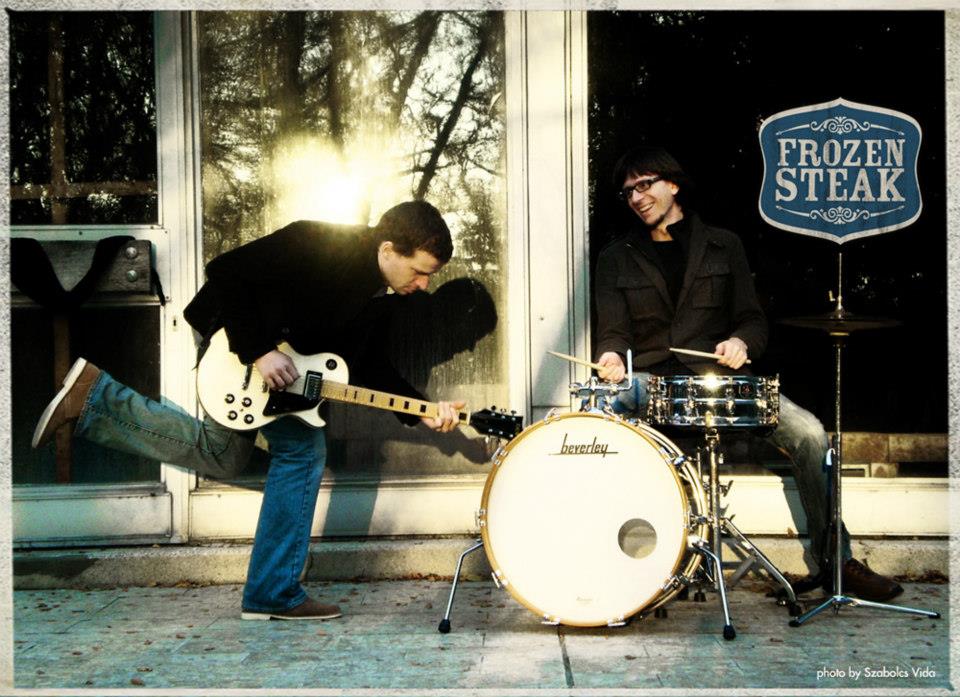 A Frozen Steak a magyar The Black Keys, két multiinstrumentalista (Adam Demeter és Borza László) zenei projektje, akik a blues, pszichedelia, indie és alternatív hatásokat gyúrják egybe. (meg kell jegyeznem, hogy az elődzenekarnak tekinthető Nemereszt is kiváló talpalávalót szolgáltatott, még csendes ülős sörözésekhez is...).
Az Old Time Rock And Roll Magazine-hez képest kicsit sok a modern hatás a zenében, így az olvasóknak talán fura lesz, hogy ezt ajálnjuk-de ha elengedük a megszokásokat, és kicsit kitekintünk a megszokott zenéktől, akkor rájöhetünk, hogy ez a régi zenéken alapuló új zene kifejezetten kellemes. Olyan, mintha a rock and roll elment volna jógázni.
A leginkább második vonalas angol indie -alter mozgalmat (Kasabian, Arcade Fire, Kaiser Chiefs stb.) idéző anyag sem a nagy elődöktől, sem a hazai képviselők anyagaitól nem különbözik, sőt: a hangzás irtózatosan sűrű, vastag, és gazdag ( a hagyományos hangszerek mellett megjelenik az autoharp, a legkülönbözőbb billentyűk, a MIDI gitár, sőt a mandolin is). 
A nagy különbség az, hogy ezen az anyagon hallatszik, hogy nincsen megfelelési kényszer. Az előadók sokszor még számokon belül is simán ugrándoznak műfajok közt, és simán megjelenik egy 90-es éveket idéző vidám szinti, egy szűrt dob, vagy egy berobbanó vastag basszusmenet a legváratlanabb helyeken. Ez persze nem azt jelenti, hogy a The Verve találkozik Marilyn Mansonnal, a dallamvezetés kifejezetten kellemes mindegyik dalban. Aki kántálós punkra, vagy 2/4-es rockcsápolásra vágyik, az ne ezt az anyagot halgassa...akinek viszont bejön az éteri ének, a keleties dallam, vagy csak egy kis újszerű megnyugvásra vágyik annak hajrá...én nem tudom mikor hallgattam végig utoljára komlett lemezt, de ez kétszer lement egymás után teljesen simán. 
Az egyetlen kétely: komolyan kíváncsi lennék rá, hogy egy két emberes formáció mindezt hogyan produkálja egy élő koncert keretében, mert így stúdiókörülmények közt ez tényleg lehengerlő. Remélem, hamarosan megtapasztalhatom ezt is...addig is vigasztalom magam a Frozen Steak BandCamp oldalán, ahol teljes egészében hallgatható a Stardust on the Rooftops of Albuquerque címre keresztelt anyag.