A Campus az erős nulladik nap után indult be igazán. Egy tavalyi interjúban Süli András, a fesztivál programigazgatója azt nyilatkozta, hogy rockzene tekintetében erősíteni kell a kínálatot. És bár nagyon erős elektronikus és hip-hop  felhozatal volt tegnap (AKPH, Brains, NB, SIGMA- bár nyilván ennek a blognak az olvasóinak nem annyira releváns ez), de mindemellett látni kell, hogy a rétegműfajokat képviselő, és élőzenei produkciók közül többen is most léptek először színpadra Debrecenben-mert a fesztivál van annyira nyitott, hogy feltörekvő csapatok is helyet kapjanak egy egy cívisvárosi bemutatkozás erejéig.  
Így eshetett meg, hogy a kedvenc szaklapunk, a Grungery egyik kedvenc hazai bandája, az Alone In The Moon bemutatkozhatott a debreceni közönségnek (az énekesükkel egyébként korábban készült egy remek anyag , ami ITT olvasható. ) A csapat egy viszonylag kicsi, de lelkes közönség előtt mutatkozott be, a koncert első részét én is megnéztem, a második felére viszont elhagytam a helyszínt, mert a szintén első debreceni koncertjét prezentáló Follow The Flow -ra mentem. És, mielőtt elindul a fikaáradat személyem, vagy a OTRNR blog irányába: igen Kiss Ákos az nem Sebők Tomi, hallgat önmegfejtős szerelmes popzenét is. Zenei stílusokon lehet vitatkozni, csak nem érdemes, ezért -egy kicsit a rockzenei közeg edukációja céljából- egy egyébként élő hangszerekkel előadott - alig egy éves pop produkció első itteni koncertje alkalmával meg tudta tölteni a Pepsi Music Hallt, ami a 100.000 fős Campus fesztivál harmadik legnagyobb koncerthelyszíne....én tényleg szeretném, ha a rockzenekarok eltanulnák azokat a módszereket, amivel ezt meg lehet csinálni.
Ezen azonban csak 4-5 számni időt tudtam agyalni, mert jött a szintén elsőként debrecenben bemutatkozó SLOWMESH, akik tavaly számomra az év lemezét tették le az asztalra. Nagyon vártam ezt a koncertet, és, hogy még egy Black Stone Cherry feldolgozást is betettek a műsorba az csodálatos. És -hála a vezeték nélküli technikának-még a keverőpultig is elmehet a gitáros a koncert közben.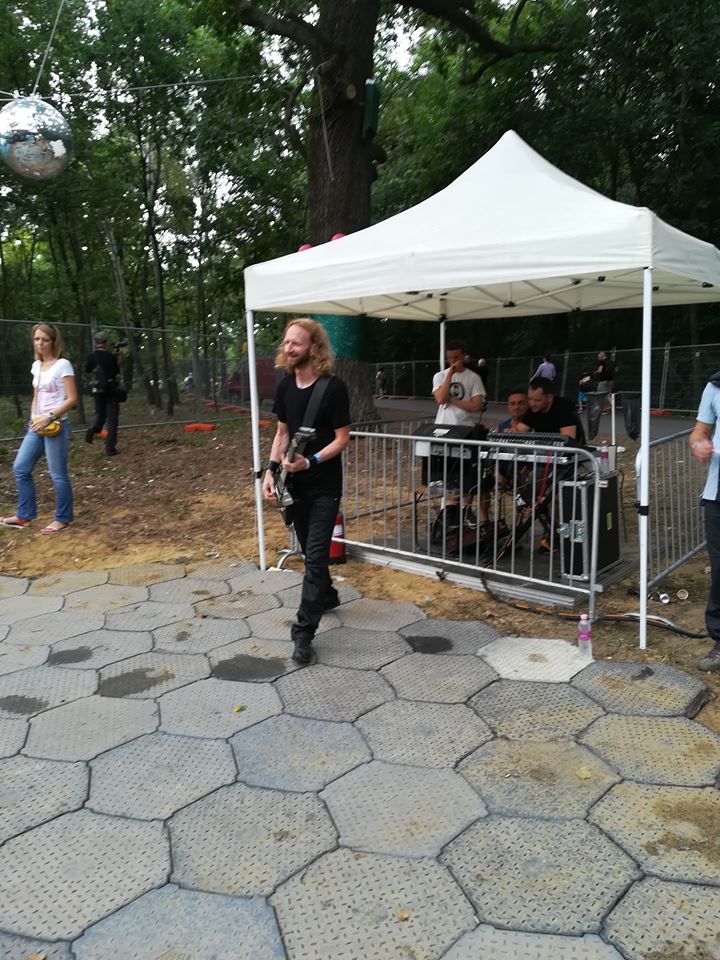 A csapat egyébként iszonyat jó bulit nyomott, de szegényeknek a koncert felével versenyezni kellett a FISH!-el, akik 19.30 -kor, a koncert felénél sokan- jelen cikk írója is- fájó szívvel, de kénytelen voltam otthagyni őket, láthassam Gajda Mátyást és Népi zenekarát.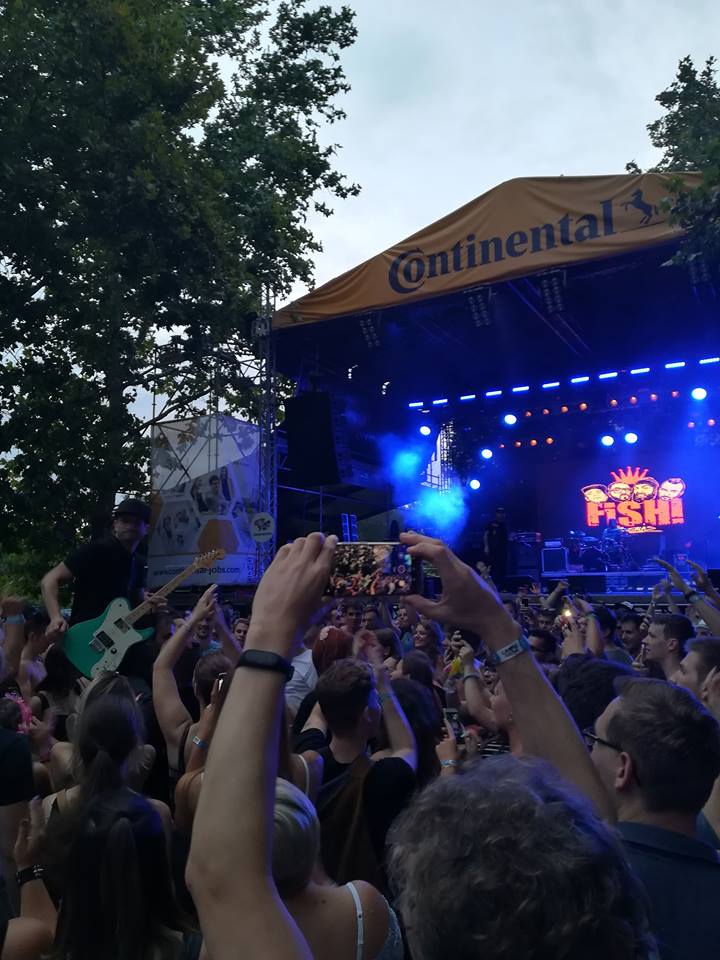 És innen üzenem, hogy bocs, kedves SLOWMESH, de nekem a Fish! olyan, mint Pintér Mikinek a Pearl Jam...
Nem írom le, hogy a Halak az ország legjobb koncertzenekara (amúgy igen...) és hogy mekkora hangulatot csinálnak, viszont egy tanulságos sztori: egy fiatalabb (huszonkevés éves) hölggyel beszélgettem, a csapat épp a Keep Your Secretet játszotta, mikor a elhangzott a mondat, hogy "játszhatnának régebbi dalokat is, ezt az újat nem ismerem". Mondtam neki, hogy ez már 10+ éves dal. Erre az volt a reakció, hogy, ja akkor meg túl régi....és ebben a pillanatban jöttem rá, hogy a Fish! azon kevés zenekarok egyike, akik sok év (évtized) alulról építkező munkával felépített egy több generációból álló közönséget...és ez nagyon ritka, ámde üdvözítő jelenség a hazai zenei életben. Ha így megy tovább, ők lesznek az új Tankcsapda. 
Az este folyamán-mint írtam-egy erős elektronikus szettet nyomtam le- de mindenképp fontos momemntum volt rockzenei szempontból az Apey And The Pea súlytásos metálja, és az idén 20 éves jubileumát ünneplő debreceni poszt-grunge zenekar, a jelenleg Three Days Grace tributeként működő FrogShow bulija, amely számomra a Campus aznapi befejezését is jelentette.